New York Gothic restaurants & nightlife! HP Lovecraft bar, Defcon Pyramid Club, Hanamizuki cafe.
Meow — time for an updated guide to Goth New York! NYC is known as Gotham City for a reason: there's a wealth of alternative clubs, bars and fashion to be found here.
This year, I rang in New Year's Eve in the Lower East Side. My friends and I taste-tested the new Lovecraft Bar, dedicated to the horror author and his Old Gods. We then danced to Industrial / Synth / EDM at Defcon, a weekly party at Pyramid Club.
Read on for our spooky reviews  — and for more tips, check out my NYC Goth travel guides from over the years! 
Yukiro and I were excited to visit the recently-opened Lovecraft Bar NYC. The theme restaurant / lounge honors H.P. Lovecraft and his dark, cosmic literary works.
(Address: 50 Ave B, Lower East Side, New York, NY)
The spacious bar has two floors, including a performance space in the basement. The decor pays homage to the Lovecraftian universe; all of the artwork and materials are elegantly curated. (I'm wearing this exact Disturbia top with the Lovecraft gate symbol on it. It also comes in this grey version.)
If you've read Lovecraft's stories, such as his Necronomicon collection, you'll recognize his occult symbols on this mural. Pyramids, tentacles and fear: our favorite combination!
Upstairs, there is a fully stocked bar. The tattooed bartender prepared the favorite drink of the Goths — absinthe — and lit it on fire. 
The New York Lovecraft bar is haunted by his evil deities, particulary Cthulhu. Part octopus, man and dragon, he lies in wait at the bottom of this fish tank. "Iä! Iä! Cthulhu fhtagn!"
HP Lovecraft has a cult following, and my friends and I love his works. If you haven't read his books before, I recommend starting with "Necronomicon: The Best Weird Tales."
The Lovecraft bar has an extensive food and drink menu. We had a hard time choosing from the craft cocktails, with delectable names like Tesla's Blood, Mythos Margarita, Dagon's Bite (named after the sea deity in one of his early tales).
The bartender also makes his own infused spirits, with unusual ingredients like carrots and chai. The pumpkin spice was tangy perfection.
At theme restaurants, the food is often an afterthought. Thankfully, this is not the case at Lovecraft NY.
The very first dish was possibly our favorite: a martini glass of watermelon, avocado and tuna ceviche.
In honor of the octopus god Cthulhu, we ordered this fresh salad with tentacles. 
Lovecraft introduced this malevolent being in one of his most famous stories, 1928's "The Call of Cthulhu" (found in the Necronomicon collection). The Elder God is hibernating in an underwater city, causing ripples of subconscious anxiety in our minds.
His worshippers chant: "Ph'nglui mglw'nafh Cthulhu R'lyeh wgah'nagl fhtagn." ("In his house at R'lyeh, dead Cthulhu waits dreaming.")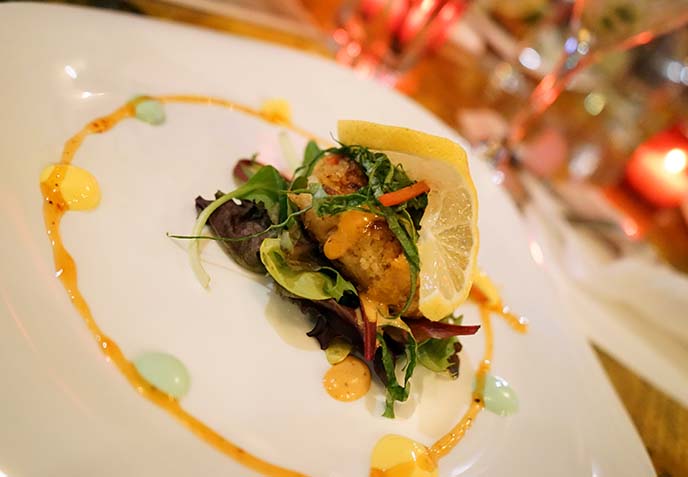 Chef Shapan Karmaker brought us a wide selection of stand-out dishes, including crab cakes with homemade sauces, and other Western-fusion creations. The chef has cooked at restaurants of different genres for over a decade, and brings his expertise to the Lovecraftian menu.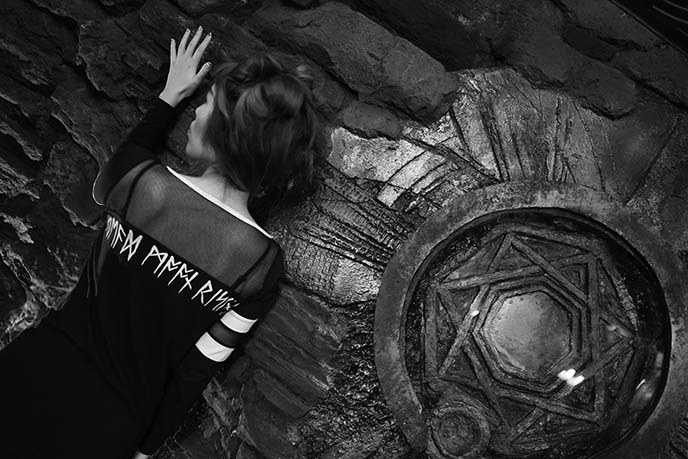 (In honor of the occasion, I'm wearing a Lovecraft Disturbia top with his symbols; it also comes in a grey version. Shop more occult fashion below.)

The Lovecraft's dark interior design, drinks and cuisine are an impeccable tribute to the author. We encourage you to visit Manhattan's Lower East Side, and dine in a space full of mystical wonder and terror.
(Photography by Joey Wong.)
In the same neighborhood, you'll find one of the best alternative venues in the city. The Pyramid Club is a New York institution. It opened in 1979 and was a center of Goth, drag and LGBT gatherings in the 1980s.
I first went Goth clubbing at Pyramid while at university in NYC. Today, the dark dance parties are still going strong. (Address: 101 Avenue A #1, NYC)
Every Saturday, Defcon rages in the basement of the Pyramid. DJ Mike Stalagmike (above) and his crew serve up an epic playlist of electronic body music, Industrial, New Beat, synth, electro, dark disco. Instead of flipping through the usual "Goth club" favorites, the DJs go for more obscure tracks and let them play out.
As you know, I've been to a hell of a lot of Gothic parties worldwide (chronicled here). If you're in it for the music — Defcon delivers. We couldn't have picked a better place for our New Year's Eve "final countdown."
The dance floor is also a perfect balance of underground and welcoming. The DJs are friendly and came up to introduce themselves, and all the club-goers were spooky types (you won't see tourists here). Eccentricity is welcomed, and yet everyone is respectful of your personal space.
Defcon goes down every Saturday at Pyramid Club. Kudos to the organizers for maintaining one of most authentic Goth parties in NYC (check out their Facebook for event announcements and more).
New York is also one of the best US cities to experience J-pop culture. My friends and I had dinner at Hanamizuki, an adorable Japanese cafe that recently hosted a Sailor Moon pop-up event.
(Address: 143 West 29th Street, between 6th and 7th Aves, New York, NY)
My pink haired pal Jenny Zych is an illustrator influenced by Japanese aesthetics. We're flipping through Strange Paradise, a zine dedicated to Asian horror films that she contributes to.
Jenny delighted me with this creepy-cute portrait of me and Basil Farrow! (Also pictured are illustrations of my cat by Lili Chin and Naomi Rubin).
Jenny's shirt and choker were to die for. (More eerie fashion below):

Hanamizuki's mission is to serve simple yet scrumptious Japanese favorites, made with the healthiest ingredients. New Yorkers can live a stressful lifestyle, and the cafe aims to be a Zen-like environment where they can chill out and feel good.
The airy Midtown location is filled with plants and natural materials. On the wood shelves, I browsed organic teas and cute gifts.
Hanamizuki's signature dish is onigiri, or rice balls. Here, these snacks are anything but basic.
The cafe serves dozens of varieties, including vegetarian options stuffed with ingredients like seaweed, yukari (dried red shiso leaf) and several types of pickles. I also couldn't resist getting seconds of the unagi (eel) and ume (plum) o-musubi. 
We tried several varieties of miso soup, made with fresh and clean ingredients. Hanamizuki isn't afraid to innovate with fusion rice balls, such as Hawaiian teriyaki-spam, semi dried tomato and chili wrapped in nori-seaweed.
A photo is worth a thousand words — you can tell guess how much we loved this octopus and veggies bowl. 
Simple flavors, with offbeat execution. Everything we tried tasted like it was made with love.
Happiness is a round of desserts to share. Organic cookies, chiffon cake and mousses made us smile.
With it cool design and homestyle menu, Hanamizuki is a New York gem. I had the loveliest dinner here with friends, and we couldn't resist getting more rice balls to take home with us.
Yukiro and I hope your 2016 is going devilishly so far! We're thankful we got to reunite with friends in one of the world's greatest cities.
If you're planning a trip to New York, I hope you find my NYC alternative travel guides helpful. These include tips for where to buy clothing (St Marks, vintage), eat, party and sleep. 
Are you a Lovecraft fan? Have you heard of Pyramid Club, or the Sailor Moon theme cafe that Hanamizuki hosted?