Indie Travels in Singapore! Youth malls, Haji Lane, Naumi hotel, Burnt Ends restaurant.
If you've been following my Instagram, you'll know that I thoroughly enjoyed my time in Singapore!
The city is known for having big malls, indoor attractions, and nothing too gritty. But is there an indie, alternative side to Singapore? 
Let's see what I found out. It may surprise you. (And in case you're wondering, my hat is from here.)
Singapore is packed with big-name accommodations, but when I researched them, most felt rather hollow. I wanted a more artistic, authentic experience — and found this at Naumi Hotel. (Address: 41 Seah Street, Singapore.)
Naumi is an award-winning boutique hotel that puts you in a playful, art-filled atmosphere. "Naumi" refers to a fairy-like spirit who lives in these halls, adding a special energy to your stay.
These chic touches include holographic paintings in the hallways, and fun messages on the walls like "Dance with Me."
The 73 rooms are spacious and have a modern, Asian-influenced design. Naumi knows how to make her guests happy… all of the room snacks and alcohol are free, and there's a cocktail hour every afternoon!
Several of the rooms have theme designs. My favorite was the Andy Warhol suite, which looked like a funky New York penthouse.
That day, my "Age of Aquarius" outfit was a proper match for the Factory Girl decor!
What I wore:
– Montana black hat from Lack of Color Australia
– Round hippie sunglasses by John Lennon
– Zodiac top from Pretty Attitude (they also sent me the Goth Pentagram swimsuit that you loved so much.)
Shop my 1960s style below:

Despite the Mod Sixties vibe — how cool is the soup bowl bathtub! — Naumi is equipped with today's technology. I had an Apple TV and fast Wifi, and even the option to rent a video game console.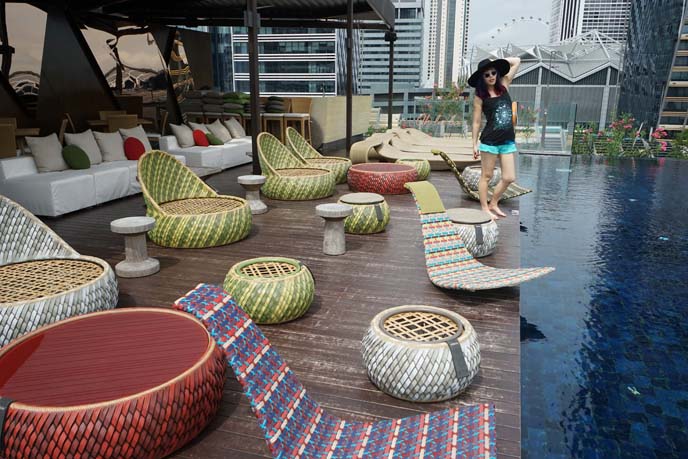 The rooftop is not to be missed: there's a bar and infinity pool! I had the space to myself, and a grand view of the Singapore Flyer Ferris wheel.
Trust me — this infinity pool is better than the famous one at Marina Bay Sands, which is overrun with children.
Looks like the resident fairy left some street art for me to find! I loved the playful attitude of this hotel. The location is also ideal — right next to Raffles, and 20 minutes from Changi International Airport.
Shout out to the friendly staff, for making my stay at Naumi Hotel a pleasure. In an upcoming post, I'll show you their Naumi Liora branch in Chinatown as well.
I was within walking distance of Haji Lane, a narrow street lined with psychedelic murals, hipster cafes and vintage shops. Young locals come here to chill with friends, and look for handmade items that you won't find in the big malls.
My 1960s look of the day went well with the Haji Lane hippie atmosphere. "Going Om" is about right.
Even my Hindu / Buddhist / Sanskrit nail art fit the theme. These gel nails are by Glam Nail Studio, award winning Japanese artists in Vancouver.
This road is located near Arab Street, and you'll see shisha bars amidst the colorful storefronts. Singapore's ethnic neighborhoods are worth visiting; I'll later show you Little India, Chinatown and more.
Photographer Ken Yuen and I wandered by a cafe called Selfie Coffee, which prints your portrait on a latte. We had never seen this type of store before, and simply had to give it a try.
The staff handed me an iPhone, and I took a self-snap. Then, with a secret process that they wouldn't let us witness, the barista printed my edible selfie in color, on top of an iced coffee drink.
Pretty neat, isn't it? Although it felt zombie-ish to drink my brains from a straw…
Haji Lane is a longer street than you may expect. I popped into the cute artisan and vintage boutiques, run by local designers.
A lot of Singapore feels hectic and high-tech, but Haji Lane has the opposite vibe — as epitomized by this lazy cat.
Inside this craft and home goods store, I found Scottish Fold cats in tea-cups.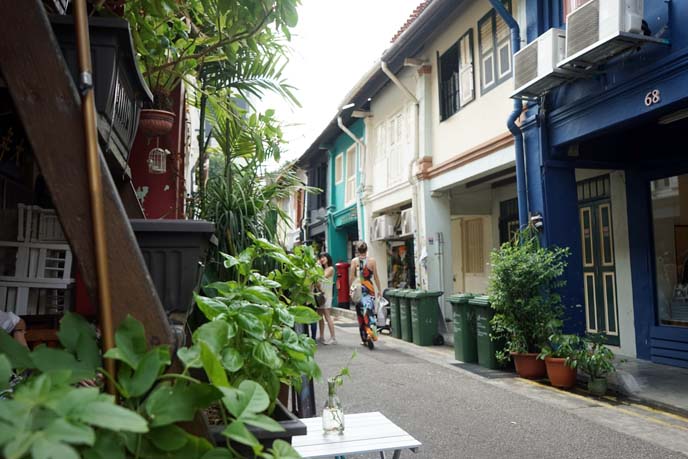 I encourage you to support local, indie designers by shopping on Haji Lane! Bring your camera, as you'll want to take snapshots of the bright walls and murals.
Since we were a short taxi ride from Orchard Road, we went to check out this famous shopping area. I confess I'm not interested in 95% of Orchard Road's malls, which sell international brands that you can find anywhere in the world (like Nike and Zara.)
However,  *SCAPE Youth Mall takes a different approach. This building is run by a non-profit organisation whose mission is to support young talent and leadership. (Address: 2 Orchard Link, Singapore)
*SCAPE is the site of various community programs that nurture burgeoning dancers, filmmakers, musicians and other artists.
We saw a group of teenagers working together on choreography. On another floor, a team was making posters with empowerment messages like "dream it, live it".
In addition to workshop studios, *SCAPE has shops and restaurants for hanging out. An entire floor held youth recreation centers — something I've never seen elsewhere in Asia. Teens are welcome to drop in for film screenings, play pool and video games, and practice Kendama (a cup and ball catcher toy, above).
Nestled by the big malls is Keepers Singapore Design Collective, which sells fashion made only by local and independent designers. The store carries small-batch treats too, like nougat and popsicles. (Address: 230 Orchard Rd, at Orchard Green and Cairnhill Road)
At Keepers, you'll find designs such as silk blue dresses with asymmetrical collars, and clockwork statement necklaces.
This Collective also lets shoppers get to know Singapore artisans with talks, exhibitions and other creative showcases.
I poked my head into a few more Orchard Road malls, just to see what they were like. I wasn't impressed by the big-box shopping selection, but saw some fun optical illusion art and cute displays.
And… we discovered that there is a new Singapore Line Friends store!
I have a soft spot for this bear character, especially when he does this morose "finger tips together" signature pose. Remember when we went to the Line Friends Harajuku shop, and I hugged a giant Brown?
We ended this spectacular day with dinner at Burnt Ends, a modern barbeque restaurant that is lauded as one of the best dining experiences in Singapore. The charred-looking exterior hints at what is in store for me.
We sat down at a long counter top table, which looks right into the open kitchen. Australian Chef Dave Pynt prepared a selection of plates right in front of us. My mouth watered as I watched him smoke up ingredients in custom built ovens and on elevation grills.
What I wore:

Burnt Ends' menu changes daily and uses only the freshest ingredients, including wines from family-run wineries.  I recommend that you let the chef prepare whatever he feels is best.
Chef Pynt started us off with a smoked quail egg topped with caviar, a tasty burst in our mouths. His specialties are, of course, the proteins: slow roasted, baked, and coal-grilled to primal perfection. 
The photos above aren't exactly "Instagram-friendly" — but they were some of the best dishes we had in Singapore. The top shows a charred marshmallow on a stick. I'd return just for another bite of the juicy sesame chicken at the bottom.
Burnt Ends has mastered the fine balance of charred exteriors and moist interiors. One of their specialties is a Onglet hangar steak, with bone marrow infused bread on the side.
We ended with a palate-cleansing mint chocolate dessert, and flamed creme brulee. Out of all the meals we ate in Singapore, we're most looking forward to coming back to Burnt Ends again.
Did my travel stories give you a different perspective of Singapore? If you've been here, what did you enjoy most about your visit?