Whitby Goth Weekend: Travel Tips & Accommodations! Steampunk Gothic fashion, Andi Sex Gang.
Thousands of Goths came out to play… at Whitby Goth Weekend 2015! (Above — ran into steampunk designer/model Kato Steamgirl, and Derek Brown of the band Abney Park.)
WGW began as a small gathering in 1994, and is now one of the world's biggest celebrations of Gothic music, fashion and culture. Twice a year, the festival brings alternative types together, in the charming seaside town of Whitby, England.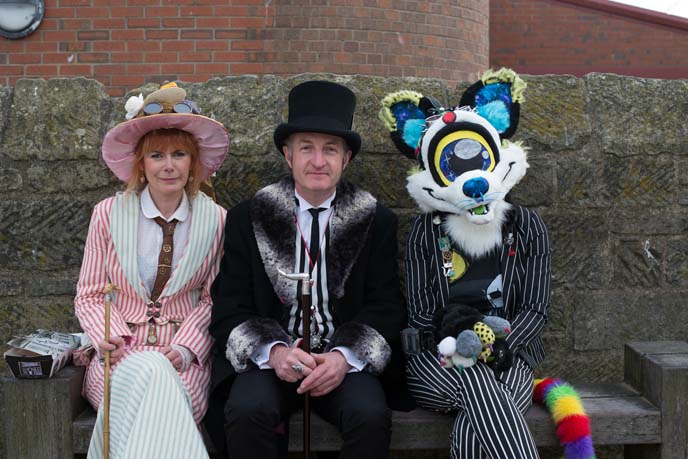 It's quite the sight… Locals mixing with Victorian gentlemen, steampunk ladies, and even furries! But I'm getting ahead of myself. Let's start with the travel basics, followed by style snaps and a performance by Andi Sex Gang.
First, how do you get to Whitby Goth Weekend? Most people first travel to a nearby city, such as Liverpool or even London. I was already in Manchester with my crew, so we easily rode the train and changed tracks at Darlington or Middlesbrough. Our ride was about 5 hours long, and gave us a gorgeous view of the English countryside. However if you have a car, driving is usually the most direct way to get to Whitby. The festival also runs a "late bus" to nearby Scarborough, which is where some people stay.
Now, how can you find accommodations during Whitby Goth Weekend? Let me warn you: on these festival dates, Whitby hotels and rentals get booked up months in advance! Plan ahead, and don't expect to "wing it" or you'll be in trouble.
I stayed in a Sykes Cottages rental with my friends, and it was the perfect solution. We got a cute cottage to ourselves, within walking distance of the city center. The location (Captain Cook haven) was picture-perfect, as you can see above. We even saw bunnies in our yard!
We rented this Sykes Sunnybrae cottage, which mixed countryside charm with modern appliances. I did my best to haunt the kitchen. (Perhaps that explains the mystery of the disappearing cookies?)
Sykes makes it easy for you to search and book cottages all over the UK, via their site. Our cottage had 3 bedrooms, 2 bathrooms, and a spacious living room and kitchen — what a deal, especially when shared between a few friends. Sykes even provided us with snacks and everything we needed for English afternoon tea! (I'll show you more in the next post.)
We were a stone's throw away from the Larpool Viaduct, which was built in the late 19th century and spans the River Esk.
My friends and I walked on the viaduct, and it led us straight to Whitby town center. I'm wearing a Victorian dress and Da Vinci print corset from Dracula Clothing.
(Shop corsets and steam punk clothing below)

How gorgeous is Yorkshire, Northern England? This was my first time in this county, and it's so different from London: lush landscapes, friendly folk.
Tip: wear good walking shoes (I wore "trainers" and carried my heels in a bag). While this is a pleasant walk, it's a long one and there are some steep areas. Bring a coat too, since the weather can get chilly especially near the ocean.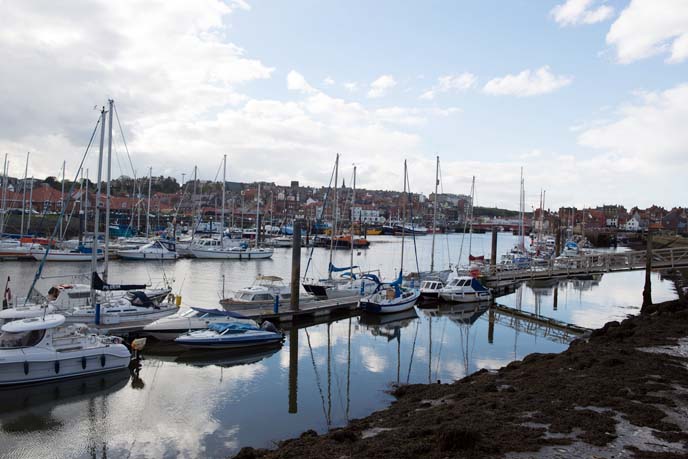 At the end of the path, we descended a steep set of stairs and arrived at this adorable row of boats. While Whitby is a small resort town, there are a good number of shops and restaurants, so you'll have plenty to see and do.
Seagulls chirped and circled though the air. Whitby is known as a prime fishing port, and their fish and chips are considered the best in Britain.
Why is Whitby the location of a Goth festival? Because Bram Stoker wrote Dracula while staying in this fishing town. Whitby Abbey (to my left) provided dark inspiration for his vampire novel.
The ruins of the Abbey called to me… We went there later, to shoot a magazine cover. Stay tuned, and I'll take you up there. (All photos by Joey Wong)
Everywhere we walked, there was a Goth! We saw people of all ages in alternative fashion, ranging from Steampunk to Fairy to Cyber to Horror. (I'll show you more snaps of festival-goers in the next post.)
The walk worked up our appetite. We stopped for lunch at the Magpie Cafe, one of the top-rated restaurants in Whitby. They're famed for their fish & chips, and have a extensive menu featuring fresh seafood. (Tip: go during off-hours. We went on a Friday afternoon, and were lucky to get a table. On Saturday and Sunday evenings, the lineup will snake around the block).
I posed at the Magpie Cafe entrance with my friends Nyx and Truls, who is the designer of Dracula Clothing. We're all wearing his dark designs.
The "Bizarre Bazaar" and concerts are all held at "The Spa" Pavilion. Where is this venue exactly? On the cliff, not far from the whale bones sculpture. (Address: West Cliff, Whitby, North Yorkshire)
Below the Spa is a long stretch of beach. Some cheeky Goths drew a giant pentagram in the sand.
It was wonderful to see so many "creatures of the night" gathered in one place. I loved how people dressed and expressed themselves in their own ways, like this steampunk lad playing a ukelele. My friends found a Dracula store that matched their aesthetic!
Dracula Clothing also designed the brass goggles that I'm wearing as a necklace. My purple-blue hair is the work of Stephanie Hoy at Stratosphere Salon in Vancouver.
We passed by a row of decorated Goth cars. This license plate says it all.
Now that's "Dead-ication" to the spooky lifestyle.
There were a lot of photographers asking to take images. Some have complained that "looky-loos" are turning the weekend into too much a "circus attraction," but aside for a few moments on the busiest streets, I didn't feel hounded or on display.
21 years after the first Whitby Gothic Weekend, the scene retains an inclusive, genuine atmosphere. Many of the attendees have been part of the lifestyle for decades, and still going strong.
During the day, anyone is welcome to browse the shopping "bazaars" (there are three locations) and attend free events, like a pool and golf tournament. However, when night falls, only wristband-wearers are allowed into the Spa pavilion, where the bands perform.
This year, WGW performers included Cruxshadows, The Birthday Massacre and Abney Park. I only attended Friday and Saturday night, so I didn't see all the shows. However, I was front and center for Andi Sex Gang (above).
My friend Justin Minister was playing bass in Andi Sex Gang. (Remember I saw him play with Amy's Arms in Toronto?)
Oh, Andi. The founder and singer of Sex Gang Children (seminal 1980s Goth band) is powerful as ever, in his solo incarnation. He crouched and splayed his hands, moving like a Japanese butoh artist. Paint divided his face in two halves, which shone in different colors as the lights changed.
The group played tracks from the past, and from their new album Achilles In The Eurozone. The latest songs are as evocative at ever, pulsing with a modern sound — Andi is always stepping up his game.
(We had press passes, so Joey got to shoot these dramatic photos from the foot of the stage.)
He's a study in stage presence: scuttling across the stage like a spider, and hitting every note with intensity. Between songs, Andi wished Whitby Goth Weekend a happy birthday, in his best horror-film voice.
The band grounded the tracks with dark, pulsing rhythms. The background showed eccentric film clips, like a Hindu god spreading a multitude of arms.
If Uncle Fester could sing… Bravo to Andi Sex Gang for a magnificent headlining performance. They're currently on tour in Europe; check out their Facebook for upcoming show dates.
I filmed some clips of Whitby bands performing — I hope these give you a sense of the energy on stage. Watch the compilation video above and on VideofyMe.
Attending Whitby Goth Weekend was a dream come true! I have a lot more to share with you — please take a moment to bookmark this site and add me on Facebook, to make sure you won't miss it.
The next Whitby Goth Weekend takes place October 30 to November 1 (Halloween 2015!) More info about tickets, performers etc can be found on their website.
Have you heard of WGW? What's your impression of this Gothic festival so far?
(Shop my favorite Steampunk fashion, shoes and accessories below)