Category Archive for
England
When you're in London with your Gothic comrades… there's no better place to hang out than in an English graveyard!
Zoetica, Trevor and I spent a spooky afternoon exploring Highgate Cemetery in North London, the final resting spot of George Michael, Sex Pistols punk manager Malcolm McLaren, and other famous Brits.
Beware: according to local lore, these burial grounds are haunted by a vampire. Read on for the ghostly legends, as well as a tour of my classic City Relay flat.
I was happy to reunite with my long-time friends Trevor and Zoetica Ebb, who both relocated from California to London. They're thoroughly enjoying life in the UK: there are lots of alternative and underground events here (occult life-drawing, and witchcraft courses at the British Museum, to name a few. We also visited the Viktor Wynd cabinet of curiosities together, as you may recall from this post.)
It was our first visit to Highgate Cemetery, established in 1837 and a favorite haunt for Goths. We adored the setting from our first glimpse of these black and gold ornate gates, surrounded by autumn leaves.
Visitor info: Highgate is easy to access by the tube on the Northern Line, which passes through Camden. (Might as well visit Camden Market on the way — here's my guide to Camdenlock). There's a small entrance fee, and the gates close at 3:30 or 4:30pm, so be sure to get here early).
Graveyard address: Swain's Ln, Highgate, London N6 6PJ, UK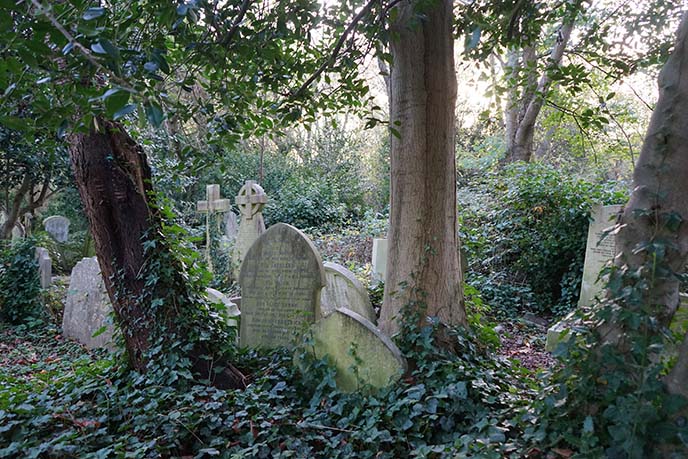 Highgate Cemetery is split into West and East portions. West Cemetery can be accessed only if you pre-book a tour in advance, since you'll need a guide to traverse these crumbling older graves. We'll have to visit the western side next time: it contains some of the most impressive architecture, including the pillared Egyptian Avenue, and Circle of Lebanon.
However, there's still so much to see the East side. We arrived as the sun was setting, and light was glowing through the crucifixes.
Highgate Cemetery holds 53,000 graves. I confess that we added one more…
… it's a long story, but Zoetica's Luichiny boots gave up their last breath during our hangout! We gave these gorgeous shoes a proper send-off in the most Gothic of graveyards.
Highgate Cemetery was established in 1839, and dedicated to St. James. Fifteen acres are set aside for the Church of England, and two acres for the Dissenters.
The tombs are especially striking in autumn, covered in creeping vines and fallen leaves
The cemetery's grounds are lush with vines, shrubbery and wildflowers, most of which have grown naturally and intermingle beautifully with the gravestones.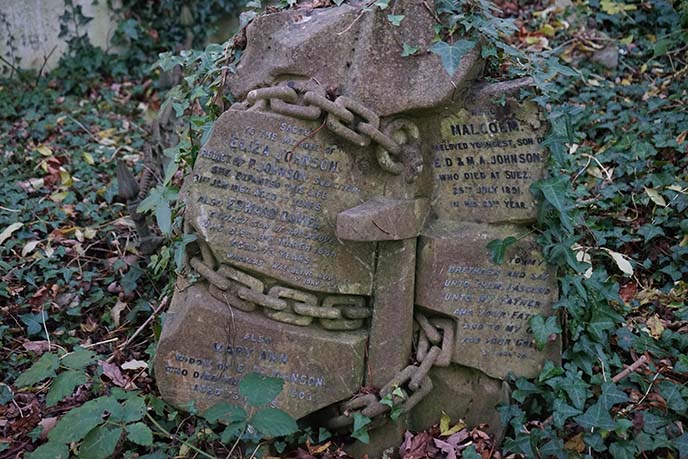 Many of the gravestones are works of art, made more beautiful through decay. Love the effect of the stone-carved chains bound by vines.
In the early 1970s, locals began reporting sightings of a ghostly figure. Soon, the legend spread that a vampire was haunting Highgate Cemetery!
According to one tale, this supernatural being was a King Vampire of the Undead, who practiced black magick in medieval Wallachia (Romania).
It's easy to understand why Highgate is the site of ghost stories, as you stroll through the overgrown pathways and stumble upon hidden crosses.
I think the only vampires you might come across…. are Goths lurking amidst the headstones!
The graveyard is especially striking around Halloween, when the tombstones are covered in creeping vines and fallen leaves.
Many famous artists are buried in Highgate, including musician George Michael, and author Douglas Adams (The Hitchhiker's Guide to the Galaxy).
Outfit of the Day: I wore a rose top by Jawbreaker Clothing, faux leather panel leggings by UK Tights, and an old faux fur jacket.
Close-up on my  Jawbreaker red rose tank top, which I layered over a long sleeved shirt. Love the cross-stitching down the center, and the embroidery detailing. They also have a 90s style tartan and mesh dress that I love.
In the 1970s, quite a few acts of vandalism took place. In response, an organization called Friends of Highgate Cemetery Trust was founded in 1975. The Friends took steps to restore the damage, and carefully maintain the property to this day.
As the sun lowered, a groundskeeper walked through ringing a bell — time to clear out. I imagined that he was protecting visitors from vampires, who come out to feast at dusk!
Look for wild strawberries peeping through the leaves. Edible fruits, sprouting from the flesh of the dead.
If you're an artistic, Gothic type like us, Highgate will stir your imagination.
So lovely to reunite with Zoetica Ebb, artist / writer / photographer / designer. You might recall I modeled her Alien Botany dress here.
Trevor pointed out this frightening statue of an angel, who looks like she could use an exorcism. He stands in front of a grave marked with the Cross of Lorraine, the double-cross symbol with connotations to the occult, alchemy and Freemasons. 
Trevor is a stylist at Bubblegore Productions / Torso Vintages, and the founder of Sector Spectre Showroom. He once styled me for a shoot at the Conservatory of Flowers (click to see).
Trevor wore something fitting for the occasion. (Find a similar Marilyn Manson top here and and here. More below):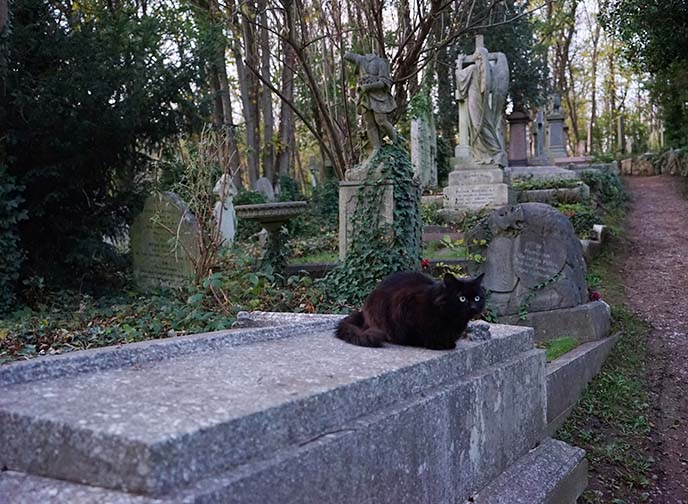 The grounds are a haven for birds and small animals such as foxes. We came across this creature of the night… a black cat, sitting on a sarcophagus!
If Highgate Cemetery is indeed haunted, this black kitty would know…
I leave you with two of the most famous burial sites. On the left is MM – Malcolm McLaren, punk impresario and original manager of the Sex Pistols. On the right is the memorial to Karl Marx. The socialist theorist's tomb was the site of two attempted bombings by discontents.
Don't forget to stop inside the chapel, and browse the selection of artisan products — including fine books, and this irresistible black Highgate candle.
I leave you with this spectral view of the chapel after dark. The imposing Tudor Gothic building is topped with turrets and a bell tower. Inside, there are two chapels: one for the Church of England and the other for Dissenters.
If you're intrigued, you can plan a visit and find out more about Highgate Cemetery here.
Between my adventures, I looked forward to relaxing in my Miffy pajamas! 
London hotels are notoriously small and expensive. I solved this problem by renting an apartment from City Relay. On their site, you can see that they offer short-term rentals and holiday apartments all over London, including the best locations (Chelsea, Kensington, etc).
My large, airy flat (The Fulham Road Residence) was conveniently located near Earl's Court tube, and had plenty of space to cook and entertain friends. I enjoyed living like a Londoner, and feeling right at home in this cute living room. TV, fast WiFi and all amenities are included.
City Relay manages the flats, and made it easy for me to check in. City Relay has a front desk where you can get help from staff, and leave your luggage if you aren't ready.
It only took a few minutes for me to get my key, and read the document that explained the WiFi connection and other info. The two bedrooms were stocked with fresh towels and bath products, so I had nothing to worry about.
Nothing like brewing a cup of tea, and kicking back in my bunny PJs!
I was glad to have a modern kitchen at my disposal. I went around the corner to Sainsbury's for soup, and cooked it up on the stove with the pots provided. (A great way to save money as well, since eating out in London can be costly.)
Staying with City Relay meant that I could experience living the posh life in Chelsea. How beautiful is the exterior of my rental flat, The Coleherne Road Nest?
The living and dining area have high ceilings, and lots of light. There are two bedrooms and a bathroom: the apartment has plenty of room for several people to share.
I was within walking distance of the Saatchi Gallery, Taschen bookstore, contemporary couture boutiques, antique shops, cute bakeries… Chelsea is the perfect neighborhood for a stroll.
City Relay is the perfect balance between a hotel and AirBNB. You get to live in a spacious home filled with personality, supplied with fresh linens, water bottles water and toiletries.
The comfortable sofa called my name, after a long day of sightseeing.
If you're looking for a reliable, modern yet affordable place to stay in London, City Relay has my hearty recommendation.
I'll end my London stories with two fine meals. I had the opportunity to dine at the renown Skylon Restaurant Bar & Grill. (Address: Royal Festival Hall, London SE1 8XX)
Part of D&D London, the restaurant is located in Royal Festival Hall, with panoramic views across the River Thames.
Skylon is located in Southbank, an area worth visiting. The waterfront has cute stores, public art exhibitions on display, a skate park, a luminous carousel, and the iconic London Eye Ferris wheel. Sit by one of Skylon's picture windows, and take in the lively view below. (Photos by Joey Wong).
Inside, the upscale bar splits the space into two sections: the grill, and fine dining. Skylon has a large selection of cocktails based on various flavor families such as "spice, smoke and cinnamon". I loved my tequila-infused lemongrass, with red bell pepper and paprika syrup, and egg whites.
The outstanding bartenders also made me custom cocktails, based on my favorite tastes and decorated creatively.
Skylon offers a set tasting menu based on truffles. We decided to order a-la-carte, beginning with a refreshing smoked salmon cannelloni with creme fraiche, salmon caviar, and chervil.
The juicy, braised ox cheek was served with a flavorful sauce, which paired well with freshly grilled vegetables.
I ended with what appeared to be a poisoned apple — but turned out to be a light and nuanced dessert. The cloud meringue also made a sweet end to the meal. If you're looking for a special meal with an epic view of London, Skylon is the place to be.
Before seeing The Exorcist live in theater, I had dinner at the nearby Quaglino's. (Location: 16 Bury St, St. James's, London SW1Y 6AJ, UK)
The enormous brasserie-style restaurant is located in the heart of St. James. Recently renovated, the glowing bar and staircase are… "lit." 
Quaglino's has been a "happening" dining establishment since the 1930s; Queen Elizabeth II even dined here in 1956.
The bar has a massive cocktail selection, from fresh botanicals to vintage liqueurs. On the right, I'm savoring every sip of "The Happy Widow" — made with vintage Remy Martin XO, benedictine, yellow chartreuse, apricot brandy and bitters.
Quaglino's was revamped with flair by D&D London. The result is modern meets old-school Mayfair charm. Don't miss out on the bathrooms, which remind me of Beetlejuice's suit.
The menu is based on seasonal flavors. Since I was there around Halloween, I got to savor the perfectly cooked saffron risotto, with winter greens and aged pecorino. My friend Vanessa loved her roast sea bream with caramelised cauliflower, curried raisin and coriander.
We had a healthy starter: salmon tartare with herb and green chili emulsion. This gave us a great excuse to indulge in the chocolate marquis dessert. Quaglino's was a West End meal to remember.
It's time to say "cheerio" to London for now… but I'm sure I will return soon. I hope you enjoyed these stories from Great Britain! For more travel tips (including Shoreditch, Camden, Goth clubs and shopping), check out my England blog posts here.
PS: I'm doing a travel AMA (Ask Me Anything) here on AMAFeed. Feel free to submit questions to me, and I'll answer them in depth!
Happy Nightmare before Christmas!
I'm not much of an X-mas person…. so in the spirit of Jack Skellington, this post is going to be about how to celebrate Halloween in London, United Kingdom!
Ye ol England was one of the original centers of Goth subculture, and remains one of the best cities for Gothic, bizarre and underground festivities. I spent Halloween 2017 with my friends in London, and it turned out to be one of the best All Hallows Eves yet.
Our dark bacchanal included the Black Devil Disco Club with the Satanic Temple (above), seeing The Exorcist stage play, enjoying monster-movie themed afternoon tea, and drinking absinthe at a cabinet of oddities. Keep reading for details of these London Halloween bars, events and parties! 
But first, a peek at my Nightmare Before Xmas outfit. You won't catch me wearing red and green this season. Instead, I like to layer faux fur during the winter, and break out my Sorel knee-high boots. (Click below to see where I got these items.)

Tis the season… for unique stockings and socks! My go-to source is always UK Tights — they ship worldwide, and have the largest online selection of legwear, including fishnets, patterned and luxury hosiery.
Since it's now too cold to go barelegged, I've been reaching for above-the-knee or thigh-high socks. I love the alternative look of these Girardi Meredith hold-ups, especially when paired with a short black skirt and sweater. The faux leather cuff at the top stays securely, and is decorated with an adorable bow.
You can find these socks and other fashion legwear from my friends UK Tights. I'll be wearing these and more all winter.
– Here's a different spin on this look. I'm accessorizing with a holographic Cyberdog backpack, and Moat House wood sunglasses.
– My faux fur jacket is from Pretty Attitude, similar to this furry and this ombre jacket.
– I'm wearing these exact Sorel boots (the After Hours no tongue lace-up boots in redwood leather). For more info, click below.

Now, let's descend into the London Underworld. When you see Baphomet and a pentagram… you know you've entered the den of the British Satanists!
This pre-Halloween event was organized by The Satanic Temple London & UK. It was the first edition of their "Black Devil Disco Club," which brings together two of my favorite things (the devil and disco).
Established in 2016, The Satanic Temple's mission is to "encourage benevolence and empathy among all people, to reject tyrannical authority, and to advocate practical common sense and justice."
The members are atheist, and advocate for fact-based science, and marginalized communities. Everyone I met at the event was kind and inclusive.
At the Black Devil Disco night, the DJs played tracks by Patrick Cowley, Giorgio Moroder and other Italo Disco heroes. Between boogieing, you could get a tarot reading or "leave something witchy" in the candlelit back room.
The Satanic Temple of London and UK hosts gatherings like this year-round. Check out their chapters's Facebook page to see what's coming up next.
I wanted to do some "only in London" excursions, such as seeing a play in the West End. I'm not a fan of cheesy musicals, so I didn't come across anything appealing… until I learned The Exorcist was opening at the Phoenix Theatre! 
I reunited with my friend Vanessa, and we went to one of the first showings of The Exorcist. I was keen to see how they'd adapt William Peter Blatty's horror novel and 1970s movie, for a live stage production.
We weren't allowed to shoot photos during the performance, so I'm doing my best impression of Regan, the little girl possessed by a demon (voiced by Sir Ian McKellen.) The cast nailed their parts, especially during the battle against the evil spirit Pazuzu.
The Exorcist's lighting and set were outstanding, especially the spooky candlelight confessions and blood writings on the wall. There were jump-scares, and fantastic effects — let's just say, they're literally hair-raising and head-turning.
If you're in London and a horror fan, The Exorcist is the play for you. Tickets and info here — this is a limited run show, which ends on March 10, 2018.
What else is a rather British activity? Afternoon tea.
There are many London venues for tea and finger sandwiches. However, when I read that Royal Lancaster Hotel was offering a Halloween afternoon tea, I knew I'd found my place. (Address: Lancaster Terrace, London W2 2TY, UK)
I entered the recently-renovated modern hotel, and was delighted to see that the tearoom was decorated in the theme of 1960s horror movies! Royal Lancaster nailed the classy details: everything is in black and white, with celluloid-printed menus and a clapboard that read 666.
Out came a black-and-white themed tray, with a fog of dry ice! Royal Lancaster's ArTea set included a mix of creatively-designed, delicious savories and sweets.
My favorites included the cucumber and pumpernickel sandwiches, sushi with black caviar, a scotch egg with black crust, and popcorn in a coffin (a nod to the film theme). The macaroons and checkered cake went perfectly with our pots of tea: we ordered a selection, including classic Earl Grey, and a ginger medley.
Royal Lancaster chose a 1960s classic horror theme since this year is the hotel's 50th birthday. The tearoom set the mood with black-and-white footage from Hitchcock's Psycho.
I loved the imaginative, classy take on the theme (this doesn't feel like a kid's kitschy Halloween experience). All around the room, there were carnivorous plants in homage to Audrey, the Venus fly trap from Little Shop of Horrors. 
We ended our monochrome meal with freshly-backed black scones, with clotted cream, marmalade, and cake pops. Royal Lancaster ArTea offers seasonal afternoon teas year-round, but their Halloween one is especially a treat.
Also open year-round is the mysterious Viktor Wynd Museum of Curiosities. The glowing exterior looks like something out of a Victorian fantasy novel — and that just about sums up the experience of visiting Viktor's lair. Push open these doors, and you'll find yourself surrounded by bizarre, macabre and kitschy oddities from around the world. 
(Viktor Wynd / Last Tuesday Society address: 11 Mare St, London E8 4RP)
Viktor leads tours that are a mix of story-telling and performance art. The space is a throwback to Wunderkabinetts of past centuries: mesmerizing collections of taxidermy, natural phenomena, tribal art, and other esoteric wonders.
In addition, the museum is home to East London's Most Curious Cocktail Bar. A giant lobster overlooks the bar, stocked with tinctures for pre-Prohibition drinks.
My friends Zoetica Ebb and Trevor cuddled up with the top-hatted lion, and we enjoyed absinthe with a sugar cube and water drip. Behind them, you can see spellbinding works from the temporary "Of Shadows" exhibition on loan from the Museum of Witchcraft and Magic. (Next time, I'll share our photoshoot in Highgate Cemetery.)
The charismatic Viktor leads his guests down a winding spiral staircase, and into a basement filled with thousands of strange objects. He begins at a glass case dedicated to dandies such as Quentin Crisp and Stephen Tennant. He especially admires Sebastian Horsley, and keeps his Saville Row suit and nails from his crucifixion down here.
The theme of decadence, excess and self-creation carries through all the cabinets of wonders. Viktor Wynd's collection includes shrunken heads (he spoke of spending time with the tribes of New Guinea and Congo), Happy Meal toys, rare and perverse books, mermaid skeletons…
You can interact with many of the objects, and ask Viktor about their origins. True to the mad dandy personality, he'll probably answer with a cryptic tale that has you thirsting for more. 
For a dark dining experience, you can rent out the room on the right for a private meal. Guests sit on crimson banquettes, under a preserved sea monster, and feast on a sarcophagus table with a skeleton inside!
On the left, Viktor sits at a table that was once used for secret occult rituals. The Gnostic Temple of Agape was discovered beneath an old building, and brought here for preservation.
He writes in his guidebook (which everyone on the tour receives for free): "For hundreds, if not thousands, of years, The Temple, under the guardianship of the initiates, has been used as a place to celebrate the divine gift of love, to create spells, practice alchemy and summon angels and spirits from the other world." The book of magic sits outside, beckoning you to decipher its spells.
Let your imagination soar at  Viktor Wynd's Museum of Curiosities and The Last Tuesday Society. Check out their site for special events, and I encourage you to come for a glass of absinthe and tour with Viktor for a delightfully bizarre experience.
London turned out to be one hell of a destination for Halloween! There was plenty of spooky decor, food and attractions all around the city (I didn't get to check out the London Dungeon or Jack the Ripper walking tour, but both were also recommended by local friends).
I leave you with some snaps from Chelsea. Skeleton and skull cookies from Gail's Bakery, and a staring statue of Lucifer.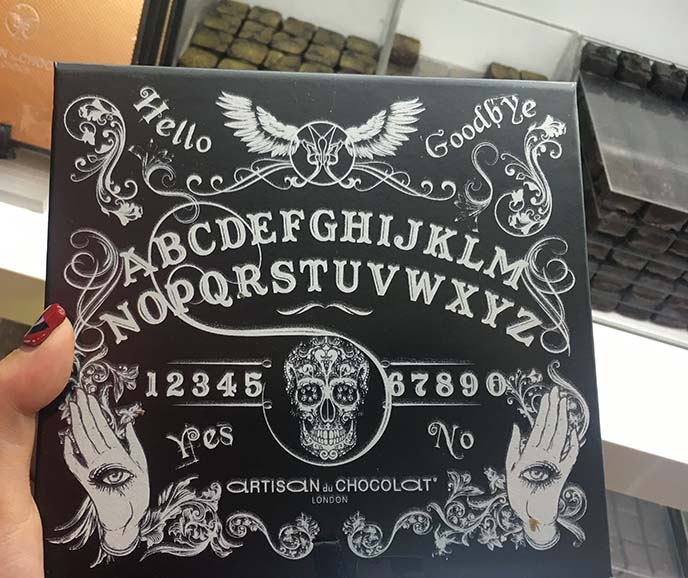 And how fabulous is this Ouija board box of chocolate, from Artisan du Chocolat? They also had pumpkin-shaped and flavored chocolates.
I still have another Gothic post from London to come, about Highgate Cemetery. And if you're looking for Goth and alternative shopping, check out my Camden Market and Shoreditch guide.
Did you know that London had these dark attractions? If I missed out on anything, let me know in the comments and I'm sure I will be back in Britain soon.