Pokemon theme restaurant in Tokyo! Pompompurin Sanrio cafe, Line Friends store Harajuku.
Get ready… for a lot of cute, yummy characters in this post!
Yukiro and I went to three new attractions in Tokyo: the Pokemon cafe, Pompompurin theme restaurant, and Line Friends shop. Follow along on our funny adventures, which include eating Pikachu pancakes, and posing with a 10-foot-tall stuffed Brown bear!
First, we waltzed into the very popular "Ruby & Sapphire" Pokemon-themed cafe, located at The Guest diner in Shibuya Parco. We couldn't wait to chow down on the adorable food.
(Address: 7F Parco Part 1, 15-1 Udagawachō, Shibuya, Tokyo. Open 11am to 10pm daily. Phone: 03-3477-5773)
We walked to the seventh level of Shibuya's Parco department store, and saw lineup of Japanese girls snaking down to the floor below. Were they waiting to see a pop star? Not quite, but close. They had come to dine with Pikachu and friends.
The cafe has a "first come first served" policy… and these diehard fans usually end up waiting 2 hours in line. Fortunately, we had made press arrangements, and were able to walk right in for a table.
The themed experience starts as you get inside. There's a rack of Pokemon costumes, ears and props for you to wear. Yukiro and I climbed into the funny backdrop, and posed away.
A waiter led us to a booth filled with colorful toys. If a diner comes alone, she can sit with a big plush Pikachu to keep her company.
(Behind me: do you think the girl is laughing at my conversation with this stuffed toy?)
Everything on the menu is cute. We drank lattes that looked like Pikachu's smiling yellow face.
All of the food is creatively decorated to look like various Pocket Monsters. This is a hamburger wrapped in an omelet sheet, and dolled up with carrot cheeks and nori eyes.
Our waiter brought over a giant red Poké Ball. When he opened it, steam poured out… and a smiling cream puff Pikachu appeared!
Yukiro used a chocolate pen to draw his favorite Pokemon character on a crepe. Can you recognize it?
Everywhere we looked, there was something Pokemon going on. You can see the wallpaper and stuffed toys behind us.
This Pokémon Omega Ruby and Alpha Sapphire video game just came out on Nintendo 3DS, hence the pop up cafe.
Stop by the gift store at the entrance, to pick up limited edition Pokemon goods. There's a good selection, although the Pokemon Center has more.
Hurry and visit the Pokemon cafe, since it closes at the end of the month! However, it will transform into yet another cute theme cafe — this time, dedicated to the Sanrio characters My Melody and her sheep friend "My Sweet Piano."
(Find out more info about the upcoming My Melody cafe, at The Guest cafe from April to June 2015.)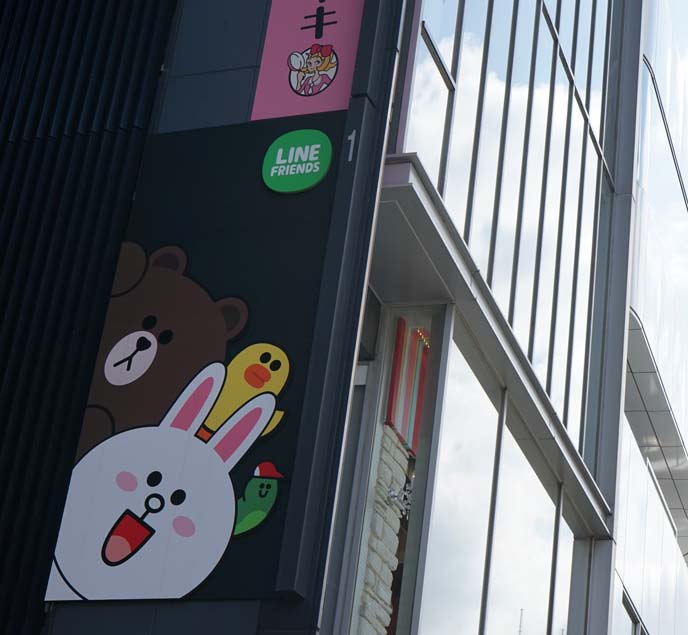 Let's continue our "kawaii characters" adventure… at the Line Friends Store in Harajuku! Located on the main street near Laforet department store, these waving cuties are hard to miss.
(Address: 4-32-13 Jingumae, Harajuku. Phone: 03-6434-0597)
It's astonishing to see how popular Line has become, in only a few years. The messaging app debuted in 2011, and grew to 500 million worldwide users. Now, Line's cartoon mascots have their own stand-alone store in Tokyo.
Fans can take photos with Line Friends statues and backdrops. I hugged a towering plush Brown the bear — he's my favorite Line character, probably because he lacks expression. This bear is so tall that his ears hit the ceiling!
On the main floor, you can pick up eccentric gifts. These range from Sally the Chick toys, to cushions shaped like Cony the rabbit's head.
Downstairs, Brown has his own hibernation den. Looks warm and cozy.
Also in this area are more luxurious items, including a Line crystal jewelry collaboration.
I encourage you to visit the Line Friends store, and do Brown's signature "fingers together and sad face" pose!
Not far from Harajuku station, there lies another cute new cafe… this time, dedicated to the yellow Sanrio puppy, Pompompurin.
(Address: Cute Cube Harajuku, 1-7-1 Jingumae, Harajuku, Phone: 03-6212-0639)
Pompompurin is one of the lesser known characters in the Sanrio universe. However, as the saying goes, "every dog has his day." At this Harajuku theme cafe, he is finally the star of the show.
The beret-wearing golden retriever is everywhere you look: playing on the wallpaper, and smiling from the placemats. (My trippy prism sunglasses are a gift from H0les Eyewear.)
At the center of the room is a statue of Pom Pom Purin, surrounded by dancing animal friends.
The dog in the back right — with a top hat, pipe and bow tie — made me crack up.
Yes, this drink is called "Floating Tush"… and it shows Pompompurin diving into your hot chocolate.
Like the Pokemon cafe, there can be long lineups and it's not possible to make reservations in advance. I suggest coming on weekdays and at off-hours.
The food is as adorable as the decor. I've never had pancakes and mashed potatoes together… but when they're shaped like these cuties, why not.
Many of these entrees came with a free ceramic Pompompurin cup — a nice souvenir to take home.
This omelet looks like a sleeping puppy with a hat. Vegetables taste better when they are shaped like hearts and stars, right?
The menu includes seasonal items, like a White Day dessert. (Photos by Melissa Rundle and me)
Be sure to stop by the gift section, since these Pompompurin items can be hard to find in regular Sanrio stores.
I leave you with some bonus photos of theme cafes in Tokyo. We passed by the Moomin theme restaurant, in Roppongi Hills. Customers can sit with this giant family of Moomins!
This Finnish character is surprisingly popular in Japan. One room is filled with framed prints of the comic strip.
We also took our friends to our much-loved Kagaya, the theme izakaya that defies description. (I wrote about it many times here.)
Mark remains at the top of his game. I've been coming to Kagaya since 2008, and it hasn't lost its magic. One guy performing the most surreal, hilarious, surprising, ribald acts — while his mother cooks Japanese homestyle food in the back.
I encourage you to try at least one theme restaurants when you come to Japan. For more inspiration, read about the dozens of theme bars and cafes I've visited over the years.
Are you a Pokemon, Sanrio or Line fan? Which of these places are you adding to your dream-list?