Hello Kitty Cafe in Seoul, Korea! Sanrio theme cafe & gift shop, Hongdae.
Life is now complete (joking, sort of)… because I've been to the Hello Kitty Cafe in Seoul, Korea!
I know you want to step inside this Sanrio theme restaurant, and eat Hello Kitty cake… so let's hop right to it.
First, how to get to this pink house? If you're taking a taxi, tell the driver to go to this address: 헬로키티카페: 서울시 마포구 서교동 358-11
In English, this says Hello Kitty Cafe: 358-112 Seogyo-dong, Hongdae, Mapo-gu, Seoul
If you're riding the subway, disembark at Honggik University station (aka Hongdae) and walk out of exit 5. The tall pink facade, topped with her signature bow, is impossible to miss.
Hello Kitty's most diehard fans come to Seoul specifically to visit her theme cafe. Try to come on a weekday and during off-hours, since this is a popular destination and the two floors may be packed. If you're lucky, you can nab a table and plush chairs, overlooking the Kitty-faced window.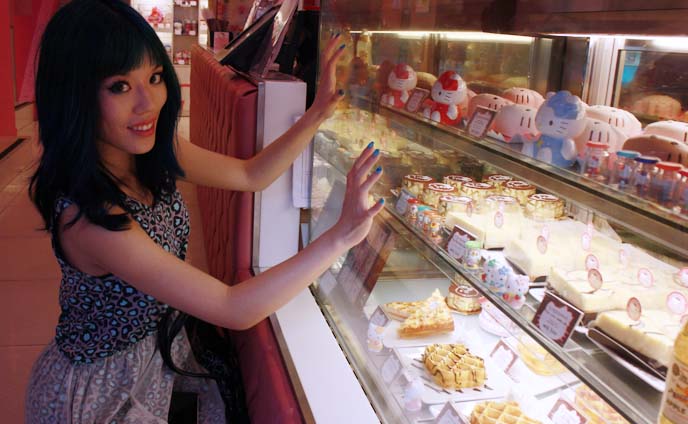 At the entrance, you can place your order for cakes, waffles and lattes decorated like Hello Kitty (6000-10,000 won each, or $6-10).
How can you resist getting a cheesecake shaped like Hello Kitty's face? It comes in three different flavors and colors.
The pink one tastes like strawberries. Only sweet dishes are served here, so be prepared for a blood sugar spike.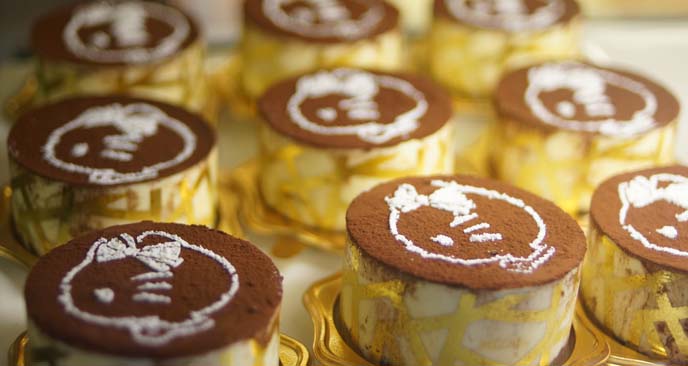 I also ordered a tiramisu. I don't usually have much of a sweet tooth, but this is one of my favorite Italian desserts.
Rounding up the sugar-loaded meal: a decorated mocha and cappuccino, a pink milkshake that celebrates her 40th anniversary…
… and chocolate-covered waffle, shaped a la Hello Kitty. This one looks more like an earless Scottish Fold cat face to me.
To be honest, the pastries are priced on the high side, and look far better than they taste.
We cut Miss Kitty open, and poked at her sugary, bland insides. Not exactly the meal of a lifetime.
But if you're a fangirl, the "kawaii" decor — including a Hello Kitty statue in a sparkly pink dress! — make up for it.
On the back wall, there's a mural showing Hello Kitty shopping in Paris. Visitors write notes or leave their signatures here. One of the customers seems to be giving me the side-eye…
Another window shows white stones, scrawled with Korean wishes. (Photography by Ken Yuen and Noircorner)
"Kitty's room is full of fun and play!" Why not. I'm a fan for life.
Downstairs, you can shop for special edition Sanrio souvenirs, including Korean-style ones. Shop for Hello Kitty items below >>

I was tempted to get this keychain of Hello Kitty in a hanbok (traditional Korean dress).
Let me warn you, the hurried staff is not known for its customer service. They pointed aggressively at an English sign, to make sure we understood we had to return the plates after eating. I guess some naughty diners tried to smuggle the custom dishes home as souvenirs.
Since the cafe has such a high turn-over, the tables and restrooms may not be satisfactorily maintained either. Perhaps I came on an off-day, but there was no toilet paper in the stalls — not even a square to spare! — and the staff neglected to mop up a spilled drink.
However, this didn't damper the mood of these smiling Korean girls. Most of the customers are young and female, and come here in groups.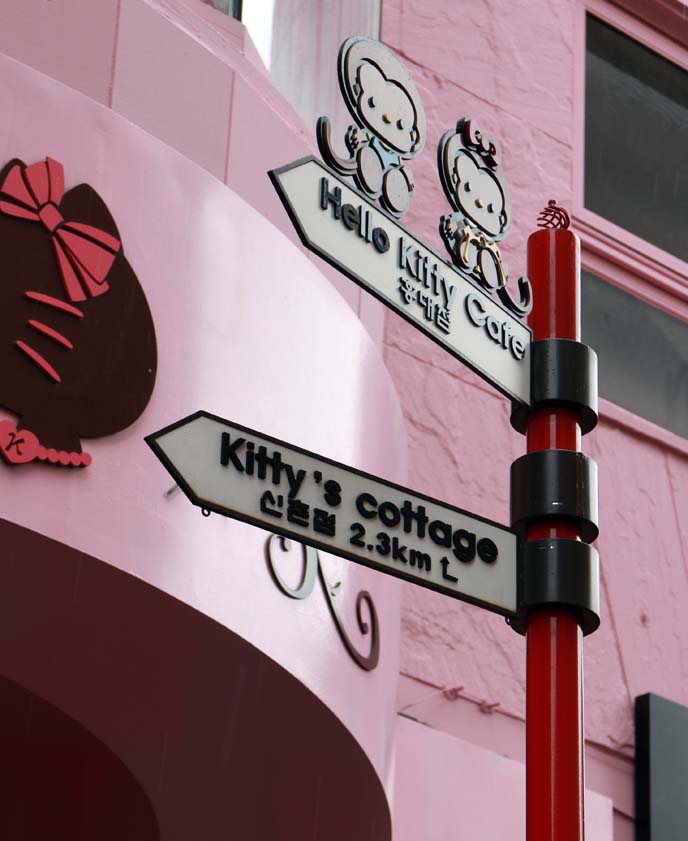 The "cottage" doesn't really exist (unless I'm mistaken), but the Hello Kitty Cafe is a must-see if you're in Seoul, and a lover of all things Sanrio.
● For more tips about places to see in this neighborhood, check out my Hongdae guide featuring Eat Your Kimchi.
● I've covered various Hello Kitty attractions in Asia; here are my blog posts about Japan's Puroland theme park, and the Hong Kong Hello Kitty pop up cafe. And don't worry if you aren't in Asia; you can still find her products below!