Alternative Art in New Orleans: Goth cute fantasy paintings! Royal Street galleries, French Quarter.
New Orleans, you're my kind of place! The photo above says it all — NOLA is full of eccentric characters, flamboyant costumes, and live jazz in the streets.
I dove into the "American Horror Story" side of the city, and felt the magic from the very first day. Together, let's explore the alternative art scene, including the galleries on Royal Street and a "kawaii" portrait painting.
What I wore in New Orleans…
– Deconstructed top/jacket from my friend Ako, creator of Japanese punk label Blablahospital.
– Black crop top like this one, a versatile garment that can be worn under layers.
– Checkered skirt from Alice's Pig. Winter is the perfect time to rock a long plaid blue skirt.

Shop this look:

New Orleans has been on my "Goth bucket list" ever since I was a teenager. Thanks to the CVB, I got to visit the American South for the first time.
Louisiana was colonized by both the Spanish and French, which gives the architecture a feeling found nowhere else. I couldn't resist taking photos of the curving iron railings, balconies and doors.
As long as you avoid Bourbon Street, there's a ton to love about the French Quarter. I recommending strolling along and near Royal Street. This part of the Quarter feels far more authentic — you'll come across gems like antique shops, art galleries, street performers, and these horse head posts.
Can you tell the difference between the street artists, locals, and tourists? Molly, my travel companion and photographer, remarked: "I loved that you could see a performance artist for a dollar on the street, in front of housed galleries where pieces sold for thousands."
– My dark purple purse is this one by Paule Ka (click to buy)
– Tip: wear good shoes, since NOLA has cobbled streets and is a walking city. My studded ankle boots are by Japanese brand Yosuke; Jeffrey Campbell's boots look just like mine.
That morning, Molly and I had an appointment at Lisa Victoria Gallery (616 Royal Street). The masked figures on the door were a sign we were at the right place.
We stepped into the most charming little courtyard. The focal point is a lion fountain, strung with Mardi Gras beads. 
Not a bad workspace, don't you agree? Here, I met local artist Kevin Thayer. We first connected through Instagram!
K Thayer's paintings resonated with me because they're haunting, ethereal, and have a touch of Japanese "kawaii." He says his art is influenced by everything from Mardi Gras, to the films of David Lynch and Art Deco.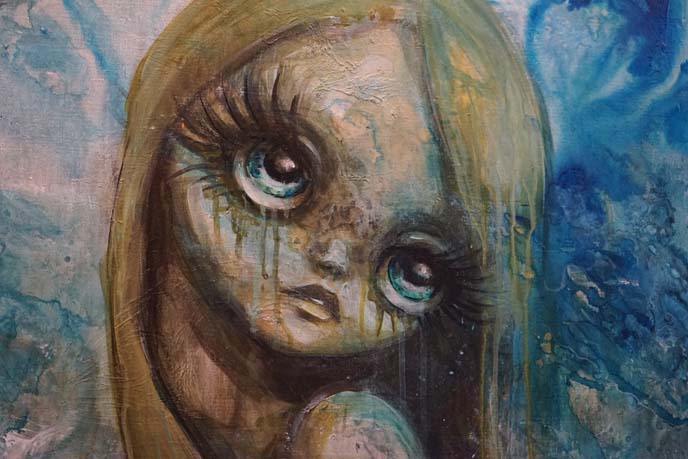 One of Kevin's signatures: big-eyed, long-lashed, doll-like portraits. 
Kevin invited me to sit down for a live painting. We chatted while he worked, and the whole process felt easy. In only 30 minutes, the image came together.
What do you think? So cool how Kevin Thayer captured my new blue-purple-red hair color and vampire bangs (my stylist is Stephanie Hoy at Vancouver's Stratosphere Hair).
Kevin started with a colorful background wash, and painted the layers on top, letting them flow together. He adds the final touches, and "more purple!"
What a cool experience, and I got to take home personalized canvas from a New Orleans artist.
With Kevin, sitting for a portrait is fun, quick and natural. You can keep track of his current exhibits and art on his site and Instagram.
After, Kevin took us to some of his favorite galleries in the French Quarter. Oh, these genteel iron balconies! I imagined Madame Lalaurie and the Coven witches peering over me.
AFA Gallery is dedicated to dark, fantastical art. (809 Royal Street New Orleans, LA).
I talked to the gallery owners, and was glad to learn that New Orleans has a dedicated community of artists. The local art market is not just about selling wares to tourists.
AFA represents artists with dark inclinations, like these cute-melancholy paintings by Kathie Olivas…
… and a giant metal octopus sculpture.
We continued our walk. What a treat, to feel sunshine in December! New Orleans is a fantastic place to escape during the winter, and it's a quick and inexpensive flight within the USA.
The French Quarter has a "frat party" reputation, but as you can see from our journey, you can avoid this touristy scene altogether.
Such charming architecture. We stopped to take photos at the distinctive front gate of the Corn Stalk Hotel.
This elegant, Victorian-style house is supposedly haunted, as many places in the Quarter seem to be. (My wood sunglasses are from Moat House. Other outfit details above.)
Can't get over the Southern elegance of the gardens and fountains.
Onward to La Madama Bazarre gallery (910 Royal Street, NOLA). American Horror Story fans, you might recognize the above work from AHS Freak Show.
Molly and I wanted to take home everything in the gallery. La Madama Bazarre often has special exhibits, with themes like "The Opulence of Darkness," where "beauty and strangeness abound in equal doses."
Owner Jennifer poses with "SideShow Sirens of the Swamp," a series of music boxes featuring voodoo queen Marie Laveau, a two-headed person and other oddities. (And yes, that's a coffin case on the right.)
Kevin Thayer's art is a natural fit for this gallery, and several of his pieces hang on the walls. What a wonderful space they have created, to showcase morbid, lowbrow and outsider art.
We continued down the road to the fabulous Fifi Mahony's (934 Royal Street). Masks, wigs and glitter aren't reserved only for Mardi Gras.
The shop supports local alternative events, like Goth Con, a Hedwig and the Angry Inch performance, and its own Wig Show. Kevin's lightning-girl sits above the counter.
In the back room, the salon offers makeovers. You can be as flamboyant as you want to be, in New Orleans. Nobody will bat an eye if you walk down the street looking like Cher.
Now, let's visit two outdoor art markets. Every day, locals with permits display their works at Jackson Square. Molly reflects, "One of my favorite aspects about Jackson Square was the mix of artists working from their own experiences and those selling more traditional images of Mardi Gras. I got a sense of a strong artist community that respects and supports its members."
We had a chat with Eden Gass (left), whose illustrations took on a different focus after she was diagnosed with breast cancer. Molly says, "I was struck by the authenticity and personal nature of her paintings. I loved her raw, honest approach to her canvas and her warm demeanor."
Just a typical day in NOLA here — artists stopping to greet each other, decked in bows and feathers.
We also loved the Frenchman Art Market, which opens up in the evenings. Here, local and regional artisans sell handmade jewelry and crafts. 
I'll leave you with some more night-time scenes. Antieau Gallery had a tribute to James Brown in the back.
Quite a few galleries have a spooky aesthetic, like this "Phantom Limb" installation.
At night, Fifi Mahony's wigs have a ghostly feeling, peering out the window.
I walked by impressive displays of antique furniture.
The Corn Stalk hotel has an upside down keyhole to confuse vampires and ghosts, and hopefully prevent them from entering.  
I think it's obvious why New Orleans is one of the spookiest cities in the world! Did you know that the city had such an edgy art scene? 
Thanks to Molly for the photography. Next, we'll show you how we kissed a Sphinx, and ate alligator wings…
Shop my outfit of the day below: