The Upper House, Hong Kong's most luxurious hotel! Video review of our 5 star suite.
One of the perks of travel writing: you get to stay in a lot of nice hotels. At this point, it takes a lot to knock my fishnets off.
But Hong Kong's modern luxury hotel, The Upper House, left me speechless. I can't stop thinking about the Zen interior design, and attention to "guest experience" that goes far beyond 5-stars.
And boy did we have fun, partying in our mega-suite overlooking the harbor! We hope you smile at our video about the Upper House, and Miffy-madness below.
The seamless service began as soon as Yukiro and I arrived at Hong Kong Airport. A driver welcomed us with a "La Carmina" sign, and drove us straight to the Upper House hotel in a luxury black car. Instead of having to wait in a check-in line, our "Guest Experience Manager" immediately took us up to our upgraded suite on the 41st floor. After he gave us a tour, we fell over on the floor, dazed by the unpretentious yet majestic treatment we had received!
Death rang the doorbell (aka John Skeleton). Outside, Hong Kong is humid, aggressive and stifling. But here, we felt like we were floating in a Zen cloud, far above the madness.
The bathroom is as large as an apartment in Japan (400 sq ft), and stocked with every amenity imaginable. Tweezers? Check. Eye cream? Check. The star of the show is the limestone free-standing bathtub, fronted by a curved, abstract sculpture made of sandstone.
The Upper House is located at Pacific Place in Admiralty — an ideal location, only a few stops from Central and Causeway Bay. The staff knows every guest by name, and greeted us as we entered and exited. Yukiro was easy to remember, with his rockabilly hair and fiery disposition!
We were so inspired by our heavenly suite that we made a video about it. Watch our funny Upper House shenanigans above and on YouTube. (And check out more of my travel videos here.)
An epic view requires an epic pose. My dress is a present from Nanette Lepore: it's this exact Runaway Stripe design, which is great for traveling since it can be dressed up or down. The crochet top is by Liz Lisa.
The Upper House staff goes out of its way to make guests blissfully happy, and left these thoughtful gifts in our room. During our room orientation, Yukiro mentioned that he wanted to buy Chinese tea. The next day, there was a complimentary tea box in the room, along with a handwritten note!
The Upper House is under the Swire Hotels umbrella, and designed by young architect Andre Fu. He received international accolades for his work here, and deservedly so.
At first glance, the interiors are minimal. However, the longer you stay here, the more you'll notice subtle elements that convey a warm and peaceful feeling. Such as symmetry, rounded shapes, and natural materials (ceramics, wood, sandstone).
Case in point: the elevator has no "Close" button, to encourage guest to slow down and breathe. Yukiro decided to push "Yes" on Death's t-shirt instead.
The 6th floor has a secret garden with a grassy lawn. Guests can relax and join yoga classes in this oasis.
We couldn't keep our 1230 square foot Upper Suite to ourselves. So we invited over a few friends…
Once again, an example of the glorious guest service: the manager heard we were having a get-together, so he sent up a bottle of champagne!
Have you noticed that at my parties, someone always ends up on the floor, getting kicked?
Soon, we had a fabulous mix of fashion bloggers, designers, models, photographers, illustrators, Instagram stars…
Hong Kong doesn't really have an underground or alternative clubbing scene. The best parties tend to be private get-togethers, like ours.
Everyone enjoyed relaxing on the bespoke furniture. Each room has an iPod touch and stereo set-up, so Death plugged in and DJ-ed.
Erm… things got a bit crazy…
How spooky, the far left face! Our guests ate up everything in the complimentary Maxi Bar: free coconut water, juices, beer, sweets, cookies.
We put the big bathtub to good use. I think we fit about 10 people in there!
The lighting and design make the Upper House an ideal place for Instagramming.
Want to see our Italo Disco dancing and shenanigans? Check out our silly video.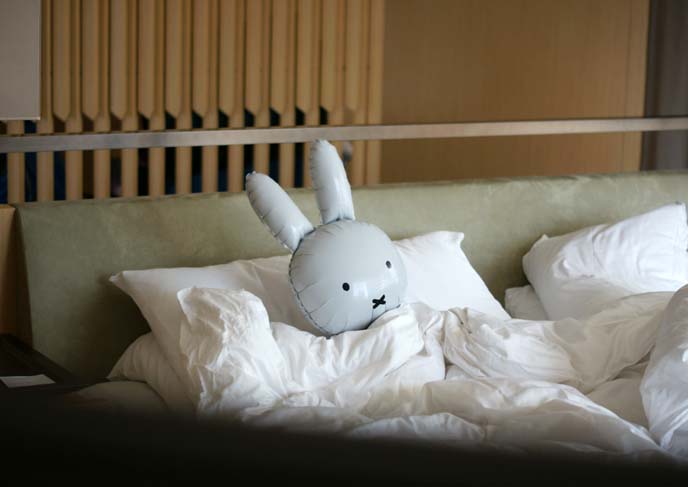 The next day, we discovered Miffy in the comfy bed. She refused to move from the 400 thread count linen.
She worked off her hangover by taking a bath, while gazing at the skyline view.
Oh Miffeh… that's enough beer for you! And don't try to leave with that robe!
One of my favorite parts of the Upper House was this dark entry tunnel. As guests ascend, they enter into a serene mindset, leaving behind the bustle and noise of the city.
My Cream Skull top and pink dress with Goth crosses are from Hyoma, Izzue / I.T store.
Andre Fu designed the space to feel like a private residence, hence the absence of a check-in counter and other typical "hotel" elements. Tranquility is the key here…
… communicated thorugh subtle design elements. We didn't notice this Zen sand arrangement by the escalators until a few days later.
A peaceful pool, to encourage reflection.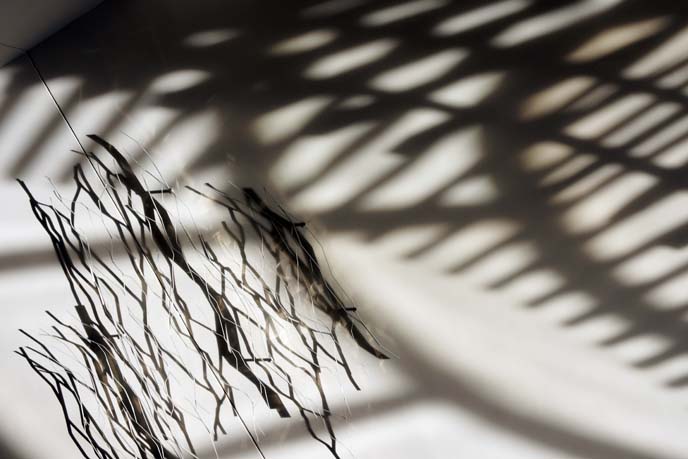 I particularly loved the choice of contemporary art. Light and shadow near the restaurant, a "cocoon" in the elevator, all integrated naturally into the design.
I'm still thinking of my breakfast at Cafe Gray Deluxe. Yukiro enjoyed berry pancakes with creme fraiche, while I had truffled eggs on a croissant. Everything is made fresh to order.
I wish I could have spent more time on the 49th floor Sky Lounge, which has a fireplace, snacks, and reading materials. How about this view of Wan Chai and the Peak?
This photo says it all: we didn't want to leave the Upper House Hotel! The most basic rooms are $700 US a night, but the numerous perks and attentive service make it worth the value. The staff cares about your experience, and doesn't nickle-and-dime you for extras. For a special occasion, this is a splurge that is truly memorable. At the very least, come for dinner with a view, at Cafe Gray Deluxe restaurant (we reviewed it in this post.)
Thanks to the Upper House for this unforgettable stay. I felt rejuvenated, and renewed my appreciation for my friends and Hong Kong. It does't get better than that.
PS: Don't forget to watch our funny video about how we enjoyed our suite!