Cape Town colorful murals, street art & Woodstock Exchange. Off to Shanghai, Cebu, HK!
Life has not been crawling at a snail's pace lately: I've been overwhelmed with dream jobs and trips this year. Bear with me, as I put together coverage from my trips to Africa and Asia. In this post, I'll give you a tour of Cape Town's colorful art in the Woodstock district.
But first, announcing my next destinations. I'm going back to Hong Kong, and for the first time, I'll be in Cebu and Shanghai! I'm working on a number of travel projects, including a partnership with a new hotel group. I'm also doing a major network TV shoot in Hong Kong, appearing on-camera as host and also arranging the production.
Finally, whenever my filmmakers and I have a moment to breathe, we'll capture stories about Asia subcultures for you. If you have tips for places to visit, especially in Shanghai and Cebu, please leave me a comment. (Above, I'm in front of the Cat's Living cat cafe in Hongdae, Seoul.)
Now, let's flash-back to my first time in Africa. Archbishop Desmond Tutu described post-apartheid South Africa as a "Rainbow Nation." His words describe Cape Town's Woodstock district particularly well. This neighborhood has developed from an inner-city slum into a colorful art haven. Locals live next to design studios, and in homes decorated by international artists.
Juma Mkwela took my team and me on a Woodstock art walking tour. He came to South Africa from Zimbabwe, and was a victim of the 2008 xenophobic attacks. Juma turned this tragedy into an impetus for change: he now uses art to educate children, and inspire social development in disadvantaged areas.
Not long ago, Woodstock was run-down with crime and drugs. In 2011, a local artist called Freddy Sam launched a revival project, aiming to bring pride and color back into the community. Today, Woodstock is a trendy hub with homes painted by dozens of international artists, mainly with messages of peace and love.
Using giant walls and buildings as canvases, these artists — coming from countries like Canada, UK, and China — created art in a mix of creative styles. We spotted what looks like an evil Bart Simpson. (Photography by Melissa Rundle, Eric Bergemann and La Carmina.)
Many paid tribute to Africa, by depicting animals such as the ones we saw at Aquila Safari. An elephant eye stares out from this wall.
Pets are a popular motif. This dog painting integrates with the existing materials of exposed brick and cracked walls.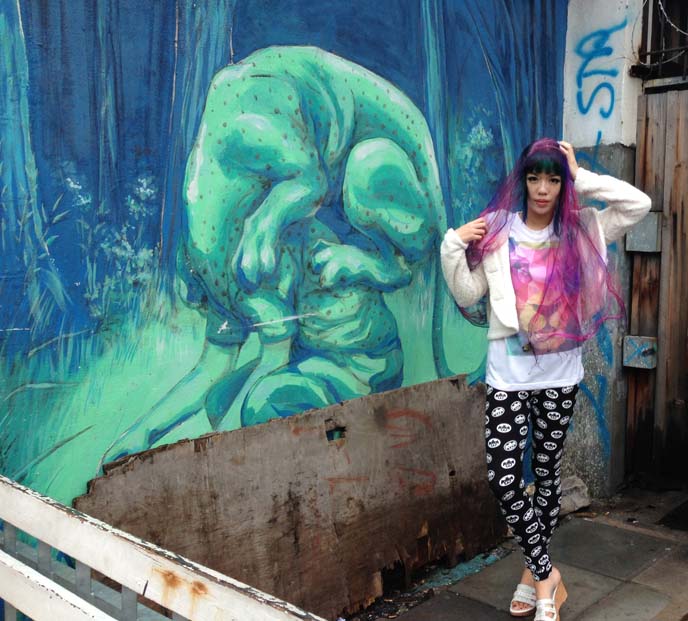 Some of the works are provocative. Argentinian artist JAZ made this "Not Eating" urban mural, showing a big cat devouring a man's head.
Here's another version by JAZ, with colors that match the rust of the pole in front. Juma told us that these murals revitalized the area, and created a sense of pride in the community.
The artists get permission to paint the walls, and work with residents to create a design. Many incorporate portraits of the homeowners, or elements that reflect their personalities. I suppose I'd live in this Victorian home with cute pastel elephants on the front.
Apartheid only ended in 1994, and locals still remember how it loomed over their lives. In the spirit of Nelson Mandela, many chose to paint messages of tolerance. One of my favorites is this "One Heart, One Love" mural by Boamistura, a group of five Madrid artists.
I'm dressed rather internationally: a rainbow lion t-shirt from Chatuchak Market in Bangkok, leggings from Hong Kong's Izzue, a fuzzy jacket from Peace Now Japan, and a scarf from San Francisco's Chinatown.
The "most fabulous" award goes to New York's Cern, who made this purple marvel starring the homeowner's deceased white cat. I like how he used the curve of the gate to make an elephant's forehead and trunk.
Juma walked with us all around Woodstock, pointing out hidden works and talking about their inspiration. Colors and cute faces peeked out from alleyways.
Andy Warhol would give a thumb's up to this wall of product labels.
The Woodstock art initiative has truly uplifted the district. Children help out with the painting, and locals say they're proud of their decorated homes.
What a coincidence: this segmented rainbow lion statue perfectly matches my Thailand t-shirt! Just by walking around and interacting with the designs, I felt uplifted. I'm a big supporter of using art as a means for positive change.
I could sense that the murals were made with passion. Some had important messages of anti-poaching; this one reminds us that hundreds of rhinos are still killed each year for their horns.
Some works were black and white, and abstract. This intricate design is by Yumanizumu of Japan.
Others encourage you to pose and have fun. Help, I'm being attacked by giant bees!
Quite a few hint at the tumultuous history of Cape Town. Woodstock is next to District 6, where 60,000 people of all ethnicities lived together until they were relocated by force in the 1970s. Today, District Six is razed and empty.
I thought the most successful works were the ones that were vivid, had a connection to Africa, and made you think. Interesni Kazki's "Zebra Suit" is a great example, and leaves the meaning open to your interpretation.
When Juma told us to look up, we all grinned and did the "Carleton dance." It's Will Smith, as the Fresh Prince of Bel Air!
Time to explore Woodstock Exchange or WEX, a modern building that incubates young artists and creative shops. The open space is very Portlandia-hipster, isn't it?
Woodstock Exchange features public installations, like this swing. I'll later take you inside the creative studios, where artists work and play.
I'm a fan of this sleeping dog statue by Frank van Reenen. Next door, there are multiple design and fashion boutiques, and art galleries.
We had a healthy lunch at Superette. I could eat their veggie sandwiches and protein-salad plates every day; everything is prepared with locally-source seasonal ingredients. For a drink, it's hard to decide between the fresh lemonade, ginger kombucha, local roast coffee, and craft beers.
On a different day, we ate fresh seafood at Ocean Jewels in WEX. $4 US for a plate of grilled angelfish and sweet potatoes. Once again, I could have this daily!
Leave room for a drink at Lady Bonin's Tea Parlour, described as a "Purveyor of Magical Infusions and Tasty Curiosi-Teas." I tried brewed buchu, a South African woody plant that has traditional medicinal properties, and is drunk to help digestion.
Lady Bonin also serves gluten-free and sugar-free snacks. We tried the matcha, and rooibos with mocha.
Isn't the street art in Woodstock incredible? Gotta love this blue fellow with Bam Bam hair. Thanks Cape Town Tourism and Juma for the inspiring tour.
I leave you with multicolored works by two Spanish artists. Okuda…
… and Remed. Without doubt, South Africa is a Rainbow Nation.
PS: Don't forget, I will be in the Philippines (Cebu), China (Shanghai) and Hong Kong soon! Let me know your travel suggestions, and follow along my trips in real-time on my social networks (@lacarmina, linked in the right sidebar).