Hello Kitty cafe in Hong Kong! Kuromi & My Melody pop-up, One Piece anime exhibit.
Ready for a double-dose of cuteness? My spooky friend John Skeleton has a special report for you — about the Hello Kitty cafe (My Melody & Kuromi pop-up) and One Piece exhibition in Hong Kong.
Quick, the "Sanrio Star Chef Institute" only runs until September 14 at Langham Place mall in Mongkok… so I hope you make it there on time.
If you miss it, you can instead visit the permanent Hello Kitty Secret Garden cafe (address: 19 Ormsby Street, Tai Hang near Causeway Bay). The "secret" seems to be arriving early, since this is a small cafe that is specially packed on the weekends. They don't take advance reservations, and patrons often must line up for hours to get a table.
Back to John, who braved the Sunday crowds to visit the Sanrio pop-up. "If you're looking for cute character goods in Hong Kong, Mong Kok is the place to go. The cuteness doesn't just stop with plush dolls and accessories though."
"Now at Langham Place, the kawaii invasion is in full swing, with a mini Sanrio village in the main atrium and Sanrio Star Dining taking over some of the stylish cafés in the upper floor." (Address: 555 Shanghai Street, Mongkok, Kowloon, HK.)
As you can see from his photos, the mall is filled with your favorite Sanrio characters, past and present. The Twin Stars, popular in the 1980s, have made a comeback (probably because their retro-pastel color scheme fits with the current pastel-goth and fairy kei styling).
You know the 1990s revival is in full swing when you see Bad Badtz Maru, the angsty black penguin. For some reason, I always thought he was a crow.
Kiki and Lala seem to be teaching a molecular cocktail lesson. All the Sanrio mascots appear in a food context, since this is a theme cafe takeover.
As you ascend the elevators, the statues indicate there is cute food on the way. Panda cake rolls, anyone?
Hana Maru, the white seal from the Bad Badtz universe, seems to be directing the crowd into an orderly queue. Hong Kong locals adore Hello Kitty and friends, so this exhibition got an enormous attendance.
It's interesting to note that the usual star of the show — Miss Hello Kitty — is not the main focus. In fact, Kuromi and My Melody are the major players since they have their own temporary cafe here.
These gates welcome you into the culinary institute of Kitty. Notice that her pink hair bow is topped with a chef's hat, forming a vaguely phallic symbol.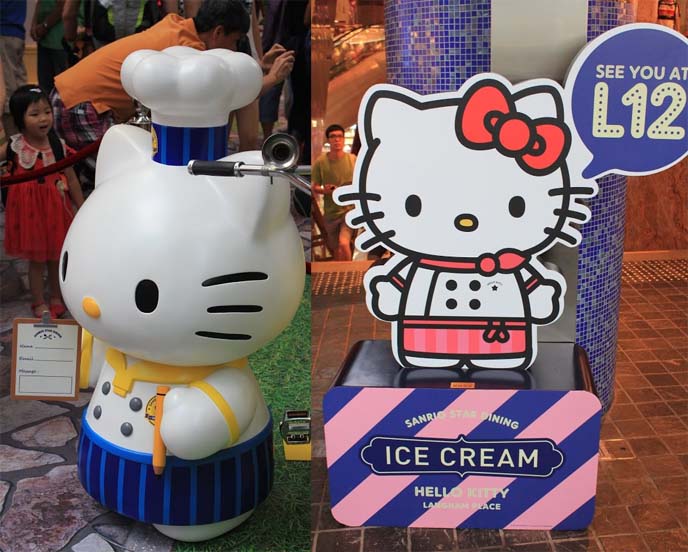 The kid's face on the far left says it all. This is fun, fun, fun.
Everyone can pose and take photos with the giant statues of Sanrio characters. The backdrops are designed for 3D interaction, so that you can pretend to ride an ice cream truck with Hello Kitty, or take the cone from her hand. (I went to a similar exhibition in Songshan Park, Taipei — photos coming up soon.)
Every section was packed with people, especially families. John and his friend ate lunch at one of the themed eateries, "a collaboration with ishiyaki+café, known for its Japanese stone pot (ishiyaki) dishes."
He says, "While the food is normally worth the price, now you can find enjoy your favorite cuisine surrounded by My Melody and Kuromi."
"My latte, wrap, and scrumptious dessert were graced with the image of the mischievous Kuromi…"
"… while My Melody was featured in the stone pot dish surrounded by fresh salmon sashimi."
"If you plan to visit, make sure you arrive well in advance, as the wait time was five hours when I stopped by! If you're willing to brave the queue, ishiyaki-café's My Melody and Kuromi pop-up café is more than enough to satisfy your craving for food, sweets, and extreme levels of cuteness."
Langham Place also has a Little Twin Stars Pop-up Café at the moment. How creative are these decorations? I'd be tempted to eat the pastel Twin Stars macaroons, Kuromi berry tart and Pom Pom Purin pannecotta.
Remember that this Sanrio food fiesta closes on September 14 in Hong Kong, so get there stat.
Mr Skeleton went to another quirky Hong Kong exhibition, this time starring your favorite Japanese anime pirates.
"Avast, One Piece lovers, and prepare to be boarded! One Piece Docks in Hong Kong's Times Square!"
The Straw Hat Pirates seem to have left a souvenir on top of the Causeway Bay clock. Unfortunately, the One Piece ship has sailed, but you should still check out Times Square Mall for its ever-changing free exhibits. (Address: 1 Matheson Street, Causeway Bay)
My Pirate reports, "First appearing in 1997 in the pages of Weekly Shōnen Jump, Oda Eichirō's beloved manga has spawned 74 volumes to date and has also become a hugely successful animated television series."
"One Piece (ワンピース) is now a global phenomenon, and Hong Kongers are also in love with the story of Monkey D. Luffy and his quest to become the Pirate King."
"I visited Times Square to relive these favorite moments with Luffy and his crew, and an 11-meter-tall replica of their pirate vessel! If you're brave enough to face the lines (up to 90 minutes!), you can even board the vessel for a one-of-a-kind photo opportunity."
"Inside Times Square there is more pirate mayhem to be found, including life-sized statues of One Piece's most memorable characters, and massive displays of the many figurines available."
This little boy seems more enraptured with the toys than the gargantuan Battle Frankies, a type of battleship.
"Don't forget to check out the Marketplace, where you can find a wide range of One Piece goods."
"And be sure to get your picture with everyone's favorite anthropomorphic reindeer, Tony Tony Chopper."
Photography is allowed — unlike in Japan, the attitude towards photo-taking is more relaxed in Hong Kong. Regardless, this statue seem to be crossing her arms to say "forbidden" (or "dah-meh") in Japanese.
Hong Kong always has funny, kawaii exhibitions — most are free, and open to the public. When you visit HK, make an effort to find out what's currently on (most take place at PMQ, Langham Place, Times Square, and Tsim Sha Tsui terminal).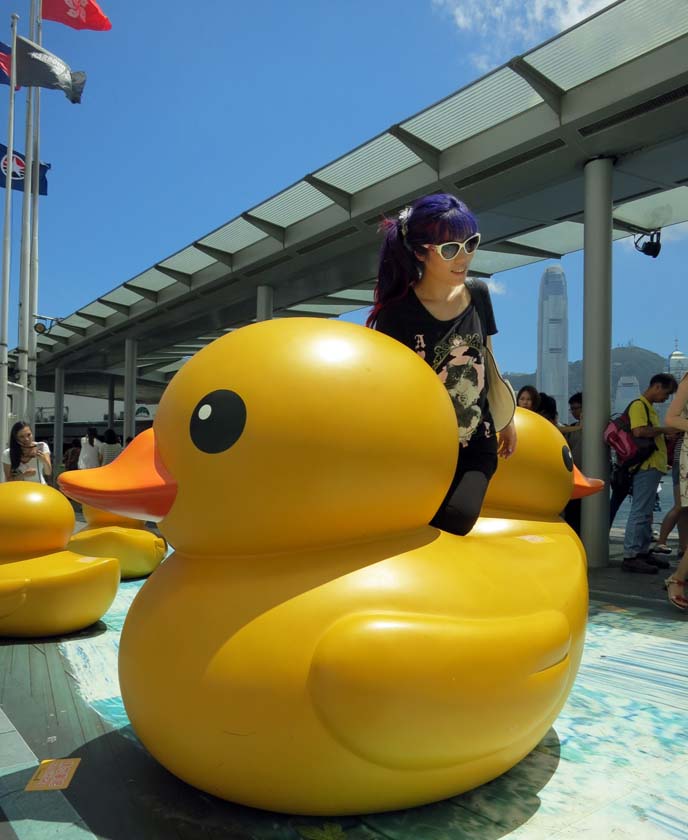 Remember when I saw the big floating rubber duck, and when John sat with 100 Doraemon statues? Or when I saw Chinese comic book characters on display in Kowloon Park?
We also posed for photos at a Batman display — I'll put those up soon too.
Thanks to John Skeleton for the photos and guest post on my blog! Stay tuned for the news about where I'll be next… hint, I'll be in three very different cities.
Who is your favorite Sanrio character? Do you watch or read One Piece?