Gloomth Gothic Lolita modeling at One King West Hotel & Residence, downtown Toronto! Victorian doll fashion.
As you can see from these photos… I had a ton of happy times in Toronto!
I flew to Canada's largest city for a mix of business and pleasure, which included a Gothic Lolita shoot at my hotel, One King West Hotel & Residence. Keep reading for a peek inside this ritzy residence, and the latest dresses from Gloomth.
It's funny that designer Taeden Hall and I have corresponded for years — I've featured her brand many times — but never met until now. (Vancouver and Toronto are still a five hour flight apart, much like LA and NYC.)
Since I was staying in a luxury hotel, we gathered some friends and posed in dark designs from her indie label, Gloomth & the Cult of Melancholy.
We had a bit too much fun playing with the mirrors… Blue-haired Linda Tea wore the Carmilla velvet dress with a high collar and cute ruffled sleeves. Wonderful, the bodice detailing and bow in the back.
Taeden wears her Valance cotton dress with corset details. It has a wide bell skirt, scalloped rows of ruffles and pretty sash. All of Gloomth's designs are handmade locally — support your friendly Canadians!
I got spooky in the Lyre babydoll dress, part of Gloomth's "Memento Mori" collection. The long skirt with bows and ruffles, and black sheer sleeves give it a Victorian Gothic vibe.
Everyone gushed over my suite at One King West. I had a "Mary Poppins" view of the Toronto rooftops, and the spacious room included plush chairs and a little kitchen (since they're designed for long-term residencies).
I've stayed in many hotels around the world, and One King West has a "pulse" — most likely because of its long and fascinating history. The address was first inhabited in the 1800s, and later became the Dominion Bank's head office.
In 2006, it metamorphosed into the current 51-storey condo hotel: a modern living space within a Beaux-Arts (Neo-Classical) heritage building.
The downtown location — Yonge and King — is impossible to beat. My friends and I walked to Queen Street West and Kensington Market (I'll later show you where we shopped). I also explored St Lawrence Market, the entertainment district and other major areas by foot.
Like the clothing I'm wearing, One King West is a mix of modern and historical. My room had the tech essentials like fast Internet…
… but preserved the rich architecture of the past. Such as this carved fireplace and gold mirror near the ground floor elevators.
We met up with Mao and Ashavari, and continued the photoshoot. Their Gothic style shines against the hotel's crystal chandeliers and gold staircase rails.
Toronto has a friendly and fluid alternative community. You might see the same faces at a Renaissance faire, steampunk meetup, anime convention and heavy metal concert.
Many are passionate about their their own creative projects, such as Ashavari, who sings vocals for progressive melodic metal band, At Dawn's Edge.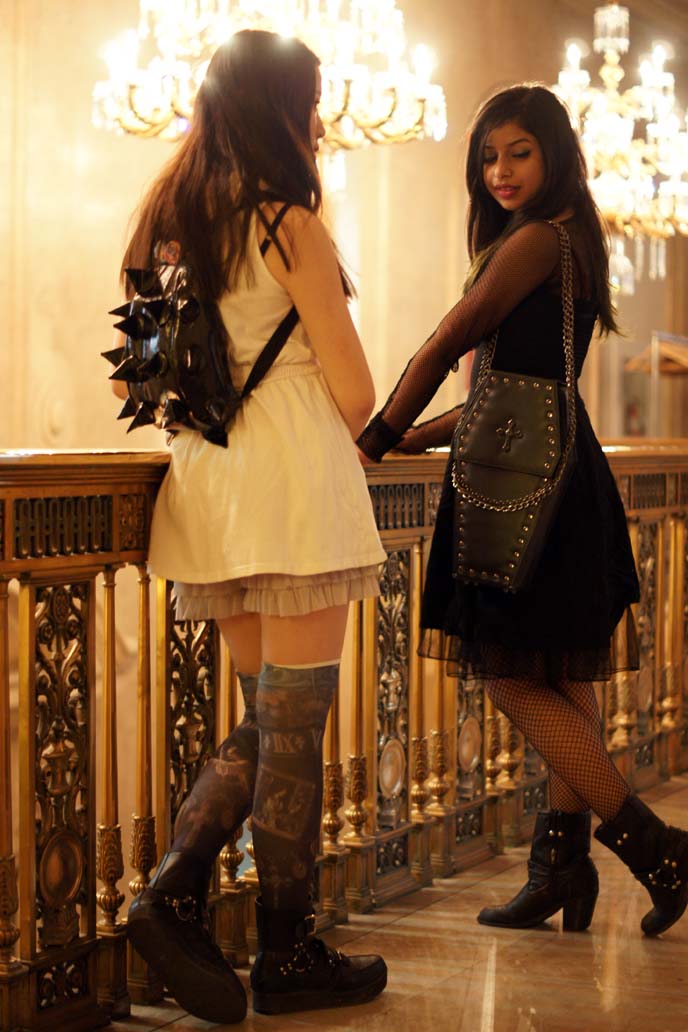 Would you rather wear the spiky backpack, or coffin purse with chain? I can't decide.
We'd all feel at home in the hotel's 40-ton round steel vault, built in 1913. You can even rent the space to throw your own "bank robbery" theme party. (We weren't able to take photos since an event was going on at the time, but here are photos of the One King West vault.)
The "Grand Banking Hall" was also a step back in time: high arches, Corinthian columns and massive cathedral windows. The girls perched on the 100 foot long bar (the longest in all of Canada), which was originally a teller's counter.
I found lots of delicious yet inexpensive food, minutes from the hotel. I made runs to Dineen Coffee Company on Yonge Street, for almond milk chai lattes.
Toronto seems to be fond of gourmet burgers, and there were two local favorites right across the street: Hero Burger and Big Smoke. They're made with high quality beef, and also offer homemade veggie, wild salmon and turkey varieties, wrapped in lettuce or served in a gluten free bun.
One King West was within walking distance of all the major downtown sights, including the Distillery Historic District. This is a quaint, pedestrian-only area that holds designer boutiques, cafes, art galleries, and towering sculptures like this spider.
I was also blocks away from the best alternative and vintage stores. I'll take you on a tour in my next post!
I hope you enjoyed this first taste of Toronto. I couldn't have asked for a better stay at One King West Hotel & Residence, a hotel that mixes history with modern trimmings and a friendly staff.
Thanks to everyone for making the shoot so much fun!
Have you been to Toronto, Ontario? What do you think of the city? For a dress like this (which can be customized for all sizes), I invite you to browse Gloomth's Gothloli catalogue.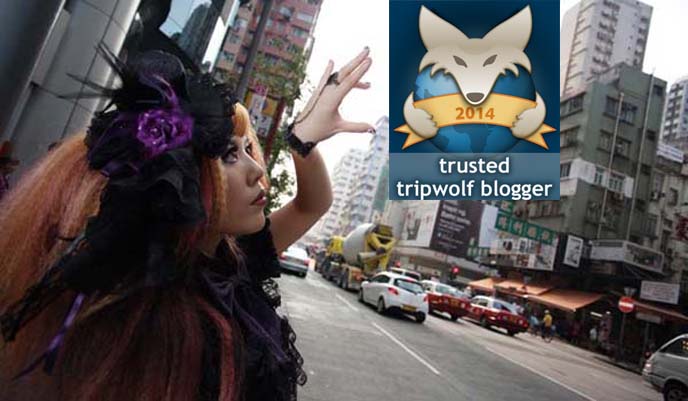 PS: Thank you to Tripwolf for naming me Travel Blogger of the Month. I talk about cultural misunderstandings and mishaps in this interview.