At the Temple of Artemis in Jerash, Jordan. Exploring Greco-Roman ruins with Ya'lla Tours.
It's interesting to see how this blog has evolved over the years. These days, it's travel-culture that really makes me tick. On this path, I feel I can make the most difference — especially by shining a positive light on subcultures, and encouraging people to explore the world with an open mind.
For these reasons, I can't wait to share my experience in the ancient Greco-Roman city of Jerash, in the Hashemite Kingdom of Jordan. Our expert hosts Ya'lla Tours — who also guided us through Petra — took us back in time, to a lost civilization.
Jordan is home to dozens of archaeological digs. The UNESCO heritage site Petra is the most famous, but Jerash is noted as one of the best preserved ruins in the Middle East.
Jerash (or Gerasa) is 30 miles north of the capital city, Amman. At the entrance, I saw display tables of scarves, stuffed camel toys and other souvenirs.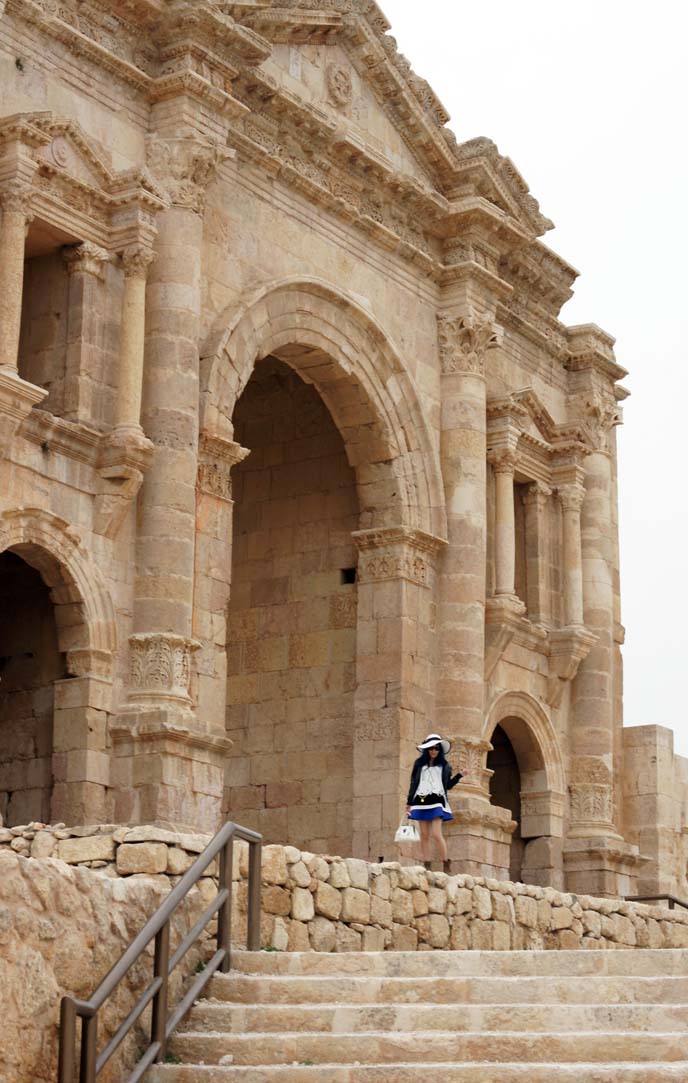 When you walk up the south stairway, you'll encounter the Arch of Hadrian — built to honor the Roman Emperor when he visited around 130 AD.
It felt like a dream, wandering through the three stone arches.
Outfit details: Cute bunny top from the Miffy store in Hong Kong, a Baby the Stars Shine Bright purse from Shinjuku Marui Tokyo, and a blue skater skirt from World Wide Love Tokyo.
Our Ya'lla Tours guide told us about Jerash's prosperous past, and how it was the hometown of the mathematician Nicomachus. He pointed out Greek words carved into fallen stones.
Jordan is a progressive country so there aren't any dress code restrictions. It is not a problem to have bare legs here, although you will want to wear sturdy shoes or boots for the unpaved ancient paths.
Amazing to see the Roman's advanced architecture and engineering, which has withstood major earthquakes.
Unlike Petra, Jerash didn't have too many tourists wandering about. Only a few vendors offered us a snack or a horse ride.
This added to the feeling that I was re-discovering an ancient world.
The path opened up to the Oval Plaza, surrounded by a colonnade. In the middle, I saw two altars and a fountain.
No wonder Jerash is nicknamed "the city of 1000 columns." If you're an art history buff like me, you'll recognize that these are in the Ionic style. (Other parts of the city have Corinthian columns.)
My filmmakers were shooting video the entire time. This photo is by our Ya'lla guide; the rest are by Melissa Rundle and me.
Wait… why are there bagpipes in Jordan? Our guide told us that a bagpipe-type instrument originated in the Middle East, possibly thousands of years before it appeared in Scotland. You learn something every day.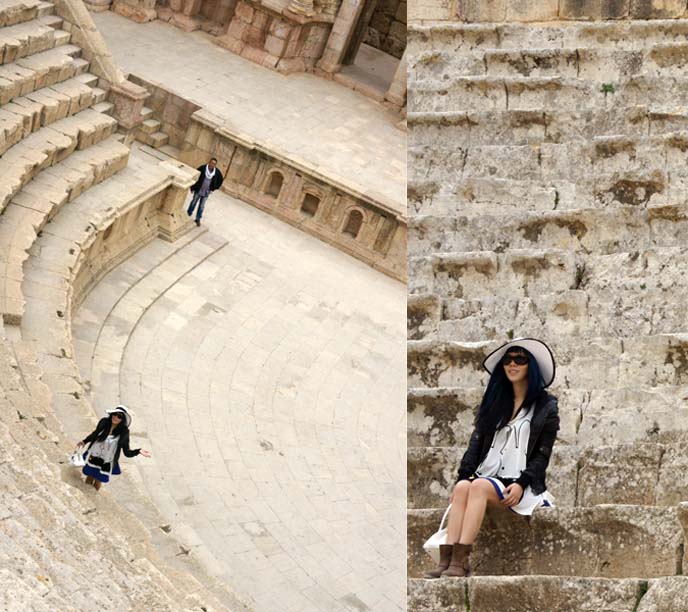 We perched in the South Theater, which held as many as 3000 spectators, and watched the performers. Funny enough, there was a seat reservation system back in ancient times. You could still see stones marked with Greek letters like alpha, delta, epsilon!
We climbed up to the top, and got this brilliant view of the sprawling ruins. However, descending proved to be a bit of a challenge… I ended up looking like a hunched grandma, as I crawled down the rows. (No, I'm not posting those photos!)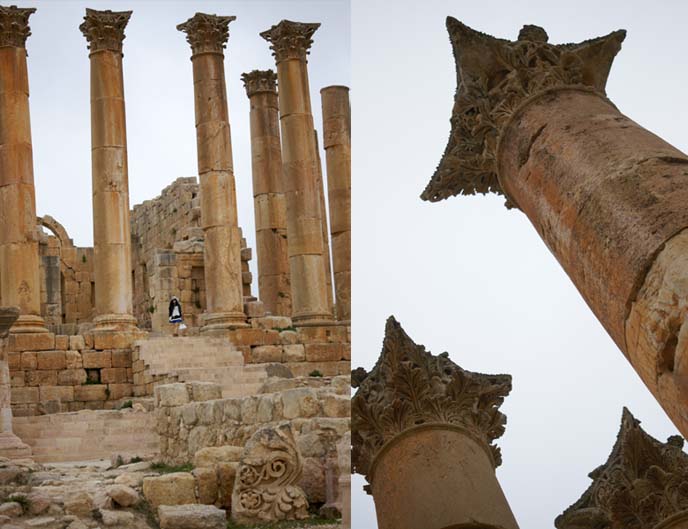 Perhaps my favorite monument was the Temple of Artemis. The daughter of Zeus was the protector goddess of Jerash, and they honored her with a grand processional entrance to this place of worship. Look up, and you'll see acanthus leaf carvings on the Corinthian columns.
I spotted a lion in the Macellum or marketplace.
Let's wrap up our journey with some Insta-snaps (follow my my Instagram for more). I'm standing on the "cardo" or long colonnaded street, which was the main route in Jerash. You can still see the marks of chariot wheels on the stones.
Filmmaker Melissa prayed for a hot beverage as we ascended the Artemis Temple. The goddess granted her wish: at the top, a young Jordanian man with a surprising British accent was selling cups of coffee and mint tea!
I leave you with the Hippodrome, or giant arena for chariot races and other sporting events.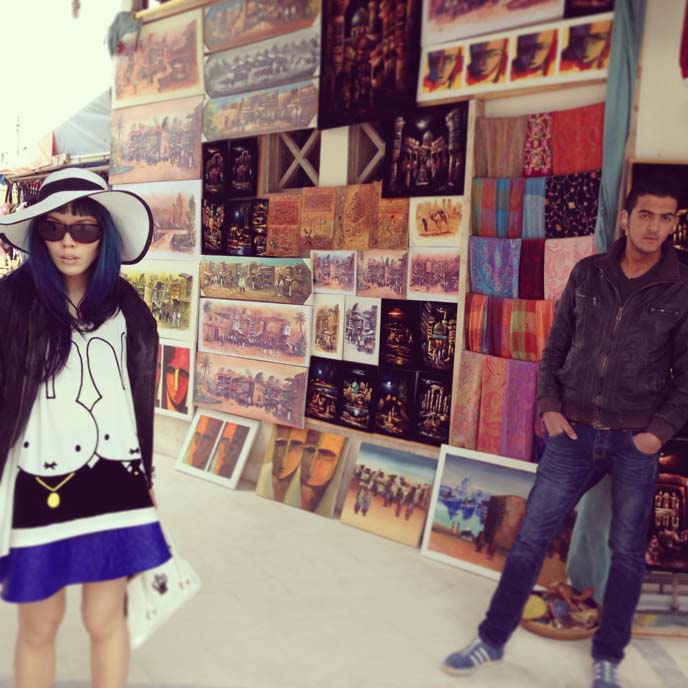 We learned so much about Jerash thanks to Ya'lla Tours. With a driver and expert guide, our trip to Jordan was stress-free. Ya'lla does custom, small group tours in many countries including Israel; I hope you'll keep them in mind for your travels.
Have you ever visited an archaeological site? What was your experience like? And do you like my Miffy outfit?