Off to Israel & Jordan: Travel video press trip! Cute Japan flower arrangements & Snoopy donuts.
I've been itching to return to the Middle East, and am excited to announce (Terminator style) that "I'll be back!" From late January to February, my filmmakers and I will be in Israel and Jordan for the first time.
Can't wait to explore Tel Aviv, Jerusalem and the Dead Sea, all thanks to the Israel Ministry of Tourism. Our friends at Ya'lla Tours are helping us get connected, and will also take us on a guided tour of Petra, the historical city and archaeological heaven.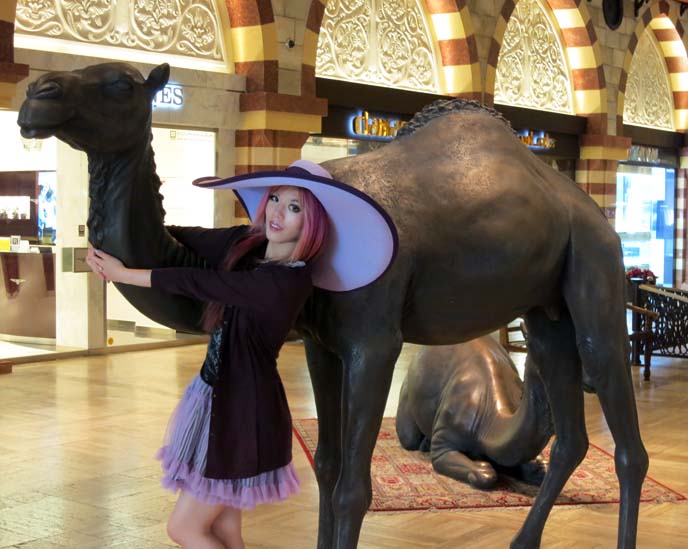 My travel team and I will be shooting stories about the alternative nightlife in Tel Aviv — there's a colorful LGBT scene here, including an Orthodox Jewish drag queen. We'll also make travel videos, photos and blogs about the modern local fashion, Israeli wines, and even a hummus restaurant.
Maybe this time, I'll get to ride a real camel? To get in the spirit, you can revisit last year's Abu Dhabi and Dubai coverage in my Middle East category. And send us your travel tips; we'll always keep them in mind.
Before we dive into tabbouleh and falafel, let's hop back to Japan: the land of cute food.
At the Swimmer store in Shinjuku Alta, I spotted these "hitsuji" or kawaii lamb-faced cakes. Clever, how they use a coiled cookie for the horns.
The bakery also sells "kuma-chan" or little bear cupcakes. I've never eaten anything from Swimmer; the pastries look too sweet and cute to consume!
Mr Donut, the Japanese doughnut store chain, has seasonal collaborations with cute characters. Around Halloween, they offered spooky Hello Kitty donuts. For Christmas, they teamed up with Snoopy and Woodstock. Unfortunately, looks trump taste. I tried one, and gagged at the flaky icing and bready interior.
While "character bento" recipe books aren't as popular as before, there are still kawaii food items everywhere. I found Rilakkuma bear cookie boxes in a convenience store.
Plus a bottle of white cat sake.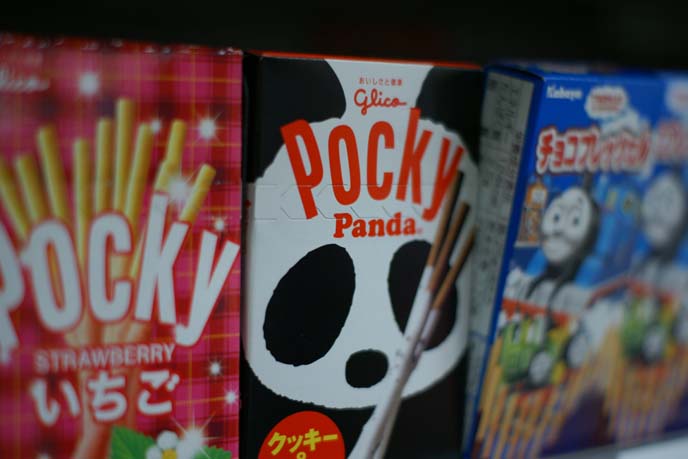 I grew up eating Pocky as snacks. Fun to see these panda versions, made with white chocolate over brown sticks.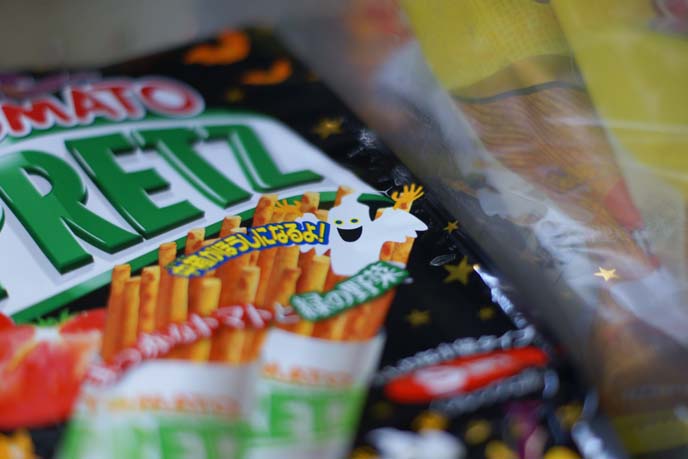 Do ghost tomato Pretz taste extra scary?
In Japan, you'll often see vans or trucks decorated to the nines. I stopped short when I saw this one, plastered with cute animals… made from flowers!
Similar to bento decoration, the flowers are arranged in clever ways to mimic figures like Santa Claus. Paper or felt cut-outs form the eyes, nose and details.
These panda bear flowers were my favorites. At first, I thought they were onigiri or rice balls.
Just when you think the Japanese have thought of every possible way to make things cute… a new idea comes along.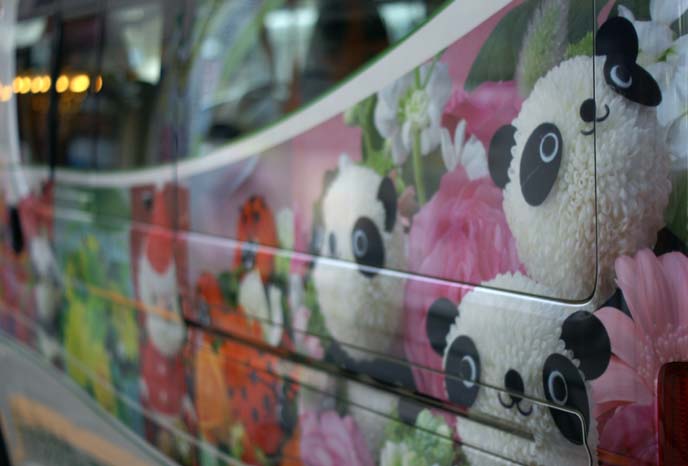 Perhaps these photos might inspire you to try "kawaii flower arrangements" of your own.
Back to food, minus the cuteness. Whenever I'm in Tokyo, I gorge myself on sushi since the quality is outstanding here. At "kaiten" conveyor sushi parlors like Hibari in Kabukicho, each plate is only about $1.40.
If you don't know Japanese, there is usually a photo menu that you can point to. My favorites are unagi (eel), hamachi (yellowtail), bintoro (albacore tuna)…
… and if I'm lucky, toro salmon topped with ikura, (fish roe). It melts in your mouth like nothing else, and is only about $2. I once ate about eight of these!
While not so pretty-looking, okonomiyaki or savory pancakes are a must-try, especially in Osaka. Also visit an izakaya, or homestyle pub, and pop into Coco Ichiban for mouthwatering Japanese curry.
How about dessert? If it's around October, you can find pumpkin flavored Haagen Dazs ice cream in convenience stores.
Basil and I hope you enjoyed this post about cute and yummy food in Japan. We urge you to step out of your comfort zone, and try new dishes whenever you are traveling. I'll be doing that soon in Israel and Jordan.
For more cat-ness, I just posted more photos of Basil Farrow on his Scottish Fold blog, and Facebook.
Also add us on Instagram and Twitter — @lacarmina — for previews of my Middle Eastern journey. Above are some snaps from Tokyo.
What type of reports would you like to see from Tel Aviv and Jordan? Do you have suggestions for places to see, and things to eat?