Wat Pho, Temple of the Reclining Golden Buddha: Bangkok sanctuary of stray cats & dogs.
After our shopping escapades at Siam Discovery, Seby and I were glad to discover Thailand's spiritual side.
Our personal tour guide, Sylvie from Destination Asia, brought us to the famous Buddhist temple of Wat Pho. (2 Sanamchai Road, Phra Nakhon, Bangkok.)
This is one of the oldest and largest wats (Buddhist monasteries) in Bangkok. Entry fee is a low 100 baht, or $3. The walled complex has 16 gates, guarded by menacing Chinese stone giants.
Wat Pho is a historic center of education for Thai massage and medicine; it's considered the first public university in the country. Many of the walls showed instructive yoga diagrams.
There are over 1000 images of the Buddha here, surrounded by colorful, gold-accented roofs.
One courtyard held statues imported from China and India. Interesting to see the different ways the Buddha is depicted in art.
Mythological lions and other spirit animals peered from the gardens.
We went inside to see the Reclining Buddha statue, a golden marvel that measures 160 ft long.
Who knew, the Buddha has big feet! The soles are laden with mother of pearl, and carved with stories and figures from Siddhartha's life journey.
Seby and I also went into this meditation room, where people prayed at the Golden Buddha's altar.
Once again, I accidentally violated the dress code! I thought I was sufficiently covered-up. But apparently, your shoulders cannot be on display at all, and a long skirt can't have a slit in it. The security officer glares as I put on skirts and scarves, provided by the temple.
My companion, on the other hand, was appropriately dressed. For future reference, one must wear long pants (no capris or shorts) and skirts must reach below the knee, without any slits. Shoulders and chests should be covered.
Close-up of the dynamic rooftop, with its gilded layers and fiery shapes.
The silhouette of spires against the sky.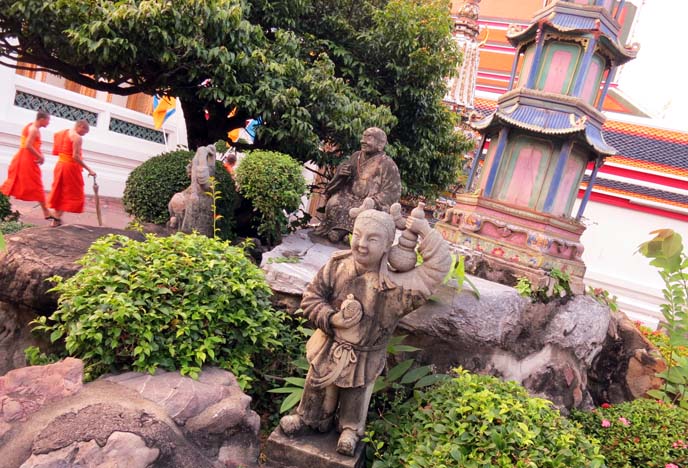 We glimpsed many Buddhist monks in orange robes, as well as young temple boys. Sylvie reminded us to maintain distance, out of respect. We learned that laypeople can become monks for a few years, or even a few weeks, and then go back to regular life.
Walking around, we saw that Wat Pho is also populated by dogs and cats!
The story's a sad one: these pets were abandoned. Thailand doesn't have many resources for animals, so they are left at Buddhist temples, in the hope that the monks will take care of them. While a bit scruffy, this dog looked calm in front of the famous Row of Golden Buddhas.
This white cat came over to say hi. Some were very skinny and lacked tails… what a difference from my rotund Basil Farrow.
The compassion of the Buddhists keeps these creatures alive, but the monks have few resources themselves. If you'd like to help, look up Temple Dogs Voluntourism programs, where travelers can help care for animals in Thai monasteries.
Having Sylvie as our Destination Asia guide made this experience special. We had a memorable conversation about Buddhism, and learned about the history and architecture in a natural, relaxed way. (I found out these mounds are called chedis or stupas, and they contain relics such as the ashes of monks.)
In a packed trip, we appreciated this moment to reflect and think about what's truly important. I hope you'll get to experience Thailand's gorgeous temples for yourself.
Have you visited a monastery like this, or read books about Buddhism? Do you consider yourself part of any religion?
I leave you with another spiritual statue — this one Hindu, and found in Bangkok's Suvarnabhumi Airport, of all places. The "Churning of the Ocean of Milk" or "Samudra manthan" depicts a mythological tale of devas and asuras. How funny to see the Gucci sign in the background.