Tokyo Christmas Lights display: Shinjuku southern terrace bakery. Vienna & Bratislava Goth travel video.
'Tis the season to be jolly! I had a wonderful time in Tokyo, working on a European TV shoot. During my downtime, I took photos of the city's Christmas light displays and cute holiday gifts, which I'll share with you in this post.
Another reason to make merry: my Vienna and Bratislava travel episode is published on the front page of Business Insider! Please enjoy my latest video (featuring Austrian Gothlolis) and the "bokeh-ful" photos below.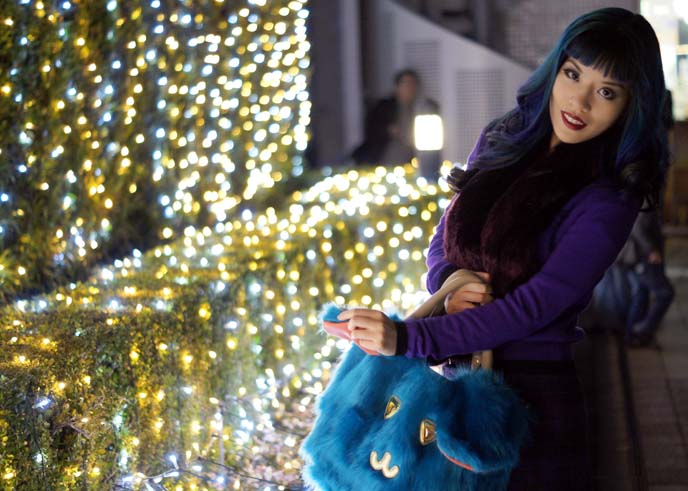 This wall of lights was the perfect place to shoot my new :3-faced purse, from the Mercibeaucoup store in Marui Shinjuku Annex. Isn't it darling? This dog-like creature comes in tan-colored faux fur as well, but I chose the blue one to match my current hair.
I went for an all-purple coordinate.
Sugar skull purple cardigan: gifted by Sourpuss Clothing. (I also own their cat-face cardigan, which you can buy online.)
Plaid purple skirt: Peace Now, similar to this one available for sale
Faux fur eggplant colored scarf: Holt Renfrew. Almost identical to this scarf.
My business partner Naomi shot these photos of me in Shinjuku Southern Terrace. During the holiday season, this passageway is lit up with little LEDs, which snake around the trees and walls.
Xmas displays are the perfect opportunity to produce "bokeh", or these nifty glowing balls of lights.
In Japan, not very many people identify as Christians. Nevertheless, Christmas decorations and lights are everywhere. This impressive annual display turns the Southern Terrace into a dream-land.
You'll rarely see religious iconography. Instead, the stars of the show are cute winter creatures… like these penguins!
Judging from the holiday goods for sale, the Japanese put "kawaii" above all else.
This Xmas ornament is a perfect example: it incorporates a teddy bear, stars and bon-bons.
Or how about this kawaii Rudolph the Reindeer sticker, from a 100 yen store.
Or a Santa Claus pig. People do exchange Christmas gifts and have gatherings with friends, but not many attend church.
Nonetheless, there's a merry feeling in the air. It's a great time of the year to pick up little presents, like these Russian Doll cookies.
The bright Southern Terrace is home to one of the best bakeries in Tokyo: Gontran Cherrier. This window image makes me think of "The Little Matchstick Girl."
I'm a big fan of gingerbread, and pressed my nose to this display.
Gontran Cherrier has many pumpkin baked goods, including pumpkin curry buns. I also found yuzu cheesecake and black squid ink pizza.
Croissants get a Christmas tree twist, and are dusted with powdered sugar snow.
All over Tokyo, you'll find wonderful department store displays. This child seems to like the steampunk-y window at Odakyu.
Ritzy boutiques like Laduree aren't the only ones that get into the Christmas spirit.
Even the Goth Punk store Algonquins "makes the Yuletide gay."
I did quite a bit of "me to me" shopping in Tokyo. My funny-faced Mercibeaucoup bag is among my favorite new purchases.
Lots more Japan winter fashion to show you, including a Nightmare Before Christmas collection from Lumine.
My faux fur purse is large enough to hold my Sony DSLR a700 camera, which I'm taking everywhere with me now. (The extra weight is worth it, for photos like these.)
To achieve bokeh and shallow focus, I use a prime lens (Sony 50mm f/1.8). A quick way to achieve this effect: get in aperture mode (A on the dial), and stop down to a low f-number.
I shot this string of rainbow lights right outside the Shinjuku station east exit.
The "Shinjuku" neon sign, with a traditional man and woman, always makes me smile. Isn't Japan amazing during the winter?
PS: My newest travel episode, about Vienna and Bratislava's cool culture, is released! Watch me hang out with Austrian Gothic Lolitas, visit a rockabilly stores, and drink absinthe in a Slovakian bar.
I leave you with a bonus photo of Slovakia's spooky street art. Would you do a European train trip like mine? I hope you learned something new from our Business Insider video; let us know your feedback in the comments. Happy holidays!