Nightmare Before Christmas musical! Steampunk clothing shop Wells & Verne, Portland pirates.
ARR you ready for XXX-mas yet?
While in Portland, my film team and I went all around town, shooting segments about the kooky subcultures here. We ducked into a Pirate Day-Glo golf course, Steampunk boutique…
… and wound up at a Nightmare Before Xmas musical, with live actors and a nine-piece orchestra! Read on for the spook-tacular story.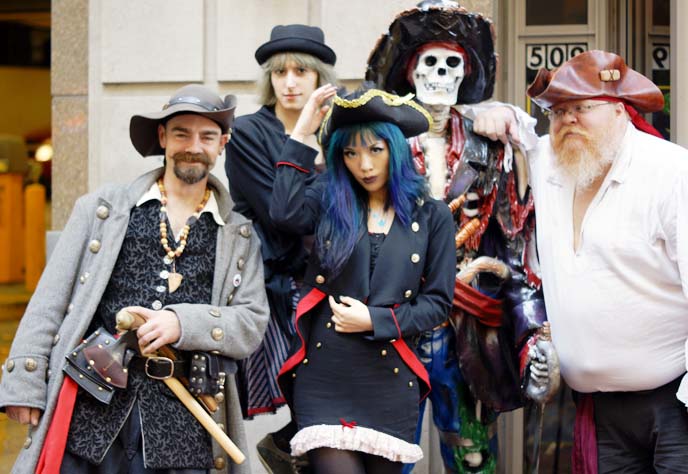 Let's begin with Captain Carmina and her band of pirates. These Portlanders are part of PDX Yar, the crew responsible for pirate-themed karaoke, balls and other scurvy deeds. First mate Naomi described their shenanigans in this post.
Pirate lace hat: gifted by Lip Service, similar to this pirate hat
Pirate jacket and skirt: gifted by Wheels & Dollbaby
Black laser-cut boots: Yosuke Tokyo
We met at Glowing Greens, a blacklight indoor mini-golf course with a pirate theme. (509 SW Taylor St, Portland, OR) Every square inch is lit up in neon, and decorated with piratical elements like sea monsters.
I've never seen a miniature golf course as crazy as this one. The themed holes included a graveyard, a mansion with a shaking gate, a pop-up zombie.
The acid-trip environment inspired filmmaker Melissa. On the spot, she dreamt up a pirate adventure tale, and we acted it out on camera. Can't wait to show you this funny footage.
If ye be in a piratical mood, and twitching for a round of golf… ye know where to sail!
I was excited to shoot travel footage at Wells & Verne, a neo-Victorian shoppe inspired by Goth, Industrial and Steampunk culture. (Located in the Sellwood district at 8315 SE 13th Ave, Portland, OR)
As soon as you walk in, you'll see this magnificent Art Nouveau steampunk gal on the wall. (It reminded me of the Alphonse Mucha art exhibit in Tokyo.)
This newly-opened boutique carries handmade goods from "our local Portland family," as well as artisans from all over the world. The display case had these brass goggles, a steampunk must…
… and a hand-crafted laser gun. (Photography by Melissa Rundle, Eric Bergemann, Naomi Rubin and La Carmina.)
At Wells & Verne, clothes are works of art. Great care went into the making of this leather mask and holster.
Many items, such as velvet three piece suits, are tailor made to order. This is the place to find something elegant and one-of-a-kind.
I fell in love with this steampunk Victorian dress, goggles necklace and mini top hat.
How cute are the vampire cat bat scarves? I hope you'll drop by to see my new friends at Wells & Verne in Portland. They often hold special events, which you can see via their Facebook page.
Darkness fell, as we drove to Secret Society for "The Nitemare B4 Xmas," a live-action musical tribute to Tim Burton's cult film.
The Mayor invited us to their final show. Audience members are encouraged to sing along as his nine-piece troupe, The Saloon Ensemble, performed every song in the movie.
We arrived early to witness the preparations. The actors and musicians transformed into the Nightmare Before Christmas characters, with the help of deft makeup skills and costumes.
The set design was spot-on, incorporating the movie's signature swirls and tombstones. On the left side, there was a normal Christmas tree. On the right… a scary X-mas one.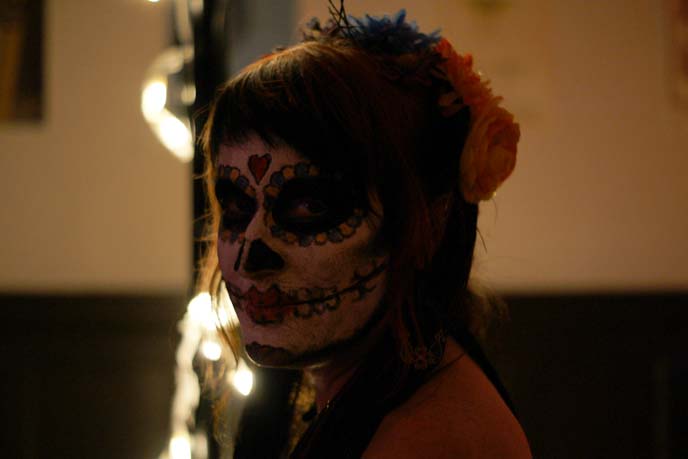 This show received lots of positive buzz, and was sold out that night. Quite a few of the ticket-holders wore Day of the Dead makeup, since it was November 1st. My film team and I ordered popcorn and Dark & Stormy cocktails (rum and ginger beer), and practiced singing "This is Halloween."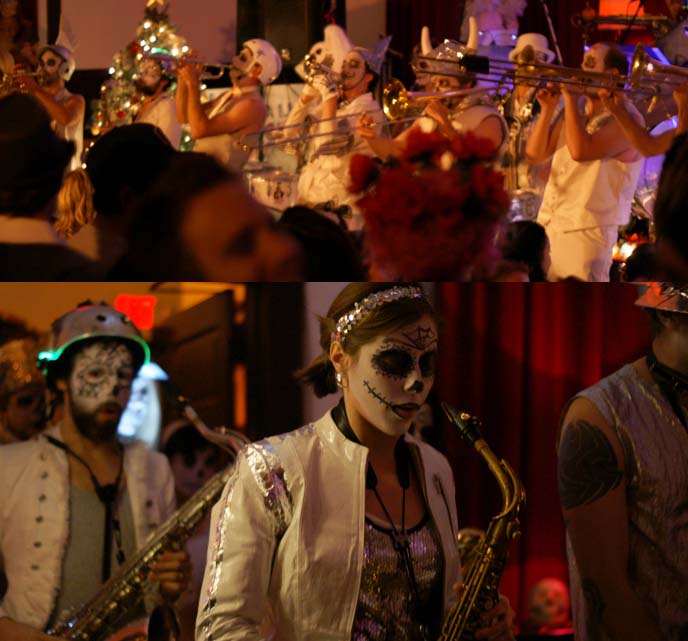 Each performance featured a different opening act. We clapped along to the Love Bomb Marching Skeletons, a go-go group of scantily clad, skull-faced musicians and dancers. They got us revved up and ready for the headlining musical.
What a treat for fans of Nightmare Before Christmas: the band played the songs, sang, and did hilarious character voices. Meanwhile, Jack and Sally tottered on stilts and acted out their parts to perfection.
I was smiling throughout the entire 60 minute show. To mix up the action, there were sing-a-long segments and contests. Everyone cheered for Zero the dog, a puppet manipulated by this ghostly lady.
Oogie Boogie's wacky dance was picture perfect. Amazing, how the actors captured the movements and expressions of the animated characters.
Several guests went on stage for a screaming contest, including filmmaker Melissa. It was a lock. She had by far the loudest, longest and shrillest scream!
What a delight to "make Christmas time" with The Saloon Ensemble and friends. They plan to do more musical shows based on films, so stay tuned to their website. And if you haven't watched Tim Burton's Nightmare Before Xmas film yet… what are you waiting for?
On a scale of 1 to 10, how much do you like this spooky musical? Would you visit the Portland Pirate golf course, or Victorian steampunk shop?
PS: if you're looking for a last-minute Xmas gift, please keep my Jpop books in mind. Click to order Cute Yummy Time and Crazy, Wacky Theme Restaurants: Tokyo via Amazon. Thank you.