Cecil McBee, Liz Lisa & Japanese gyaru brands: pastel lace fashion. In Tokyo for a TV show!
Earless cat backpacks? My Scottish Fold kitty, Basil Farrow, approves!
Japanese fashion lovers, you can rejoice. This post is all about gyaru-kawaii clothing…
… and there's more on the way. I'm happy to announce that I'll be in Tokyo (late Nov to mid Dec), working on a new TV show!
The Pirates (our Japan fixing, arranging and hosting company) are once again teaming up with a German television network. We can't reveal much about the episode, but it'll involve the usual kooky Jpop culture, and has something to do with the "Basil in a Box" photo above.
And of course, I'll find time to bring you reports about the latest Tokyo trends.
Since many of you enjoyed my post about Gothloli stores in Vivre, let's continue our tour of this Yokohama youth department store. This time, we'll focus on gyaru (gal) and kawaii brands, including Liz Lisa and Cecil McBee.
You may have noticed I've been wearing a lot of Liz Lisa, such as in Belgrade. I like to mix and match items, rather than wearing the brand head-to-toe (LL is too pink and girly for me). I think their aesthetic is well executed, from the swirling font to the rose-studded makeup.
How cute are the little plush lambs, with pink heart-shaped noses?
This lace-covered dress, from Liz Liza's My Melody (Sanrio) collection, is my current favorite. (Remember I wore it in my Adone Magazine cover shoot.) I bought the light blue one because of the Alice in Wonderland vibe. It was less than $100 US — insane, for the quality and design!
Cecil McBee is another well-known gyaru brand, with a more urban vibe. A favorite of trendy Shibuya girls.
In Japan, a cute cat-face purse fits every style subgroup (Goth, Lolita, gyaru).
Elegant pastel and black shoes with metallic accents.
Blue Moon Blue has a bright, casual look.
Light, wide-neck sweaters and soft pastels are everywhere.
A lot of gyaru boutiques sell the same or similar items. Prices are quite reasonable; these "set items" are about $50.
Happy face backpack, anyone?
I love these artistic cat purses and wallets. I wish I got some at the time…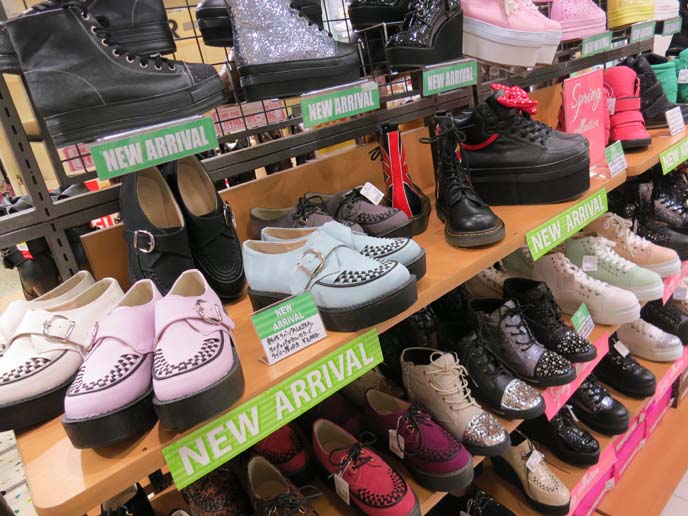 What's new in the world of Tokyo shoes? Pastel creepers, platforms and sequins.
Colorful punk pop. I always buy shoes when I'm in Japan, as they're very well priced and the designs are outstanding.
Not sure what's going on with this poster.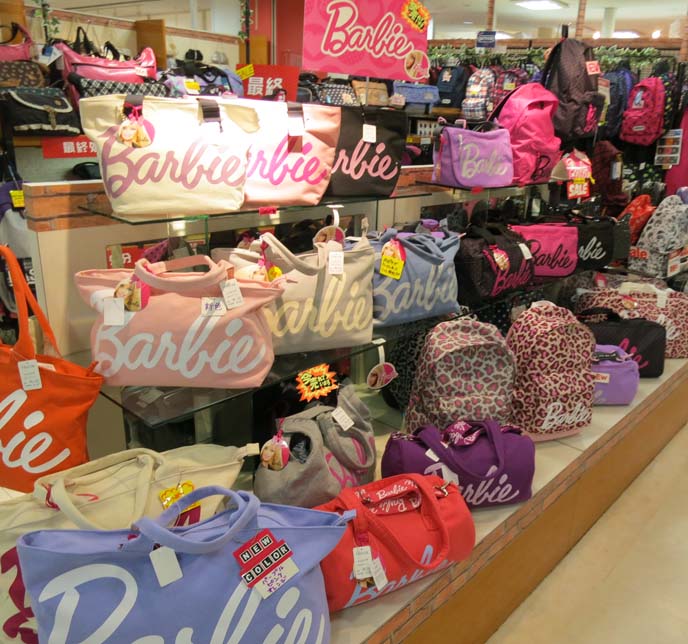 Tokyo fashion has something for everyone. You can be a Barbie girl, in a Barbie world.
Yokohama Vivre contains a Swimmer shop. No scuba equipment here, but tons of cute accessories and homewares.
Would you choose the cat or the bear purse?
Swimmer's a funny mix of cute and ugly. (More about Swimmer in this post.)
What do you think of Japanese gyaru and kawaii clothes? If you'd like to see more of Liz Lisa, check out my Hong Kong gyaru shop photos.
I think the only downside of going to Japan is being away from this cat-face!
Is there anything you'd like me to cover while I'm in Tokyo? Places, shops, bars?
All previous blog posts about Japan are here, and my shopping / clubbing guides are linked in the right sidebar.