Vienna Goth clubs, bars, shopping! Cabaret Fledermaus, Nexus Gothic shop & Kingpin pin-up.
I'm tickled pink to hear you are enjoying my Budapest travel posts. It means a lot to hear your feedback.
Our Eurail-Vision train journey actually began in Vienna. The Austrian capital has a reputation for being clean and formal, but leave it to us to find the Gothic grit.
Read on for Sweet Lolitas, a flying bat disco, and a psychedelic Scottish Fold cat!
If you're planning a trip to Eastern Europe, Vienna is a good place to start. We found it cheaper to fly into Austria (considered part of Western or Central Europe), and then ride the rails eastward to places like Budapest and Belgrade.
My lace black dress is a present from Sourpuss, and my hair was colored and styled by Stephanie Hoy of Avant Garde Hair Vancouver.
Vienna can be a bit expensive so my filmmakers and I walked or went around by subway (the system is excellent). We also stayed in a Go With Oh rental apartment, which is my favorite trick for living in comfort while spending less. (We'll give you the full low-down in the next post).
On the way to dinner, we walked by the Austrian Parliament Building. This neo-Greek marvel was completed in 1883, back in the days of the Austro-Hungarian Empire.
While my site focuses on subculture travel, I think it's also important to visit historical places. Focusing on only the modern/edgy can mean missing out on a large part of the experience.
When I find myself in places like this, I'm in awe that blogging has led to a life of traveling. (Photography by Melissa Rundle.)
Some of you asked how these opportunities have come about. It's been a gradual process (I started this blog in September 2007), with lots of hard work and constant learning. My site began with a Japan fashion focus, and has broadened to reports on alternative art and youth cultures worldwide.
Today, I'm fortunate to work with great companies, tourism boards and international TV networks that make these travels possible. I'm ever grateful to my readers, who have supported and encouraged me over the years.
Onto darker territories. My film team and I walked to Cabaret Fledermaus (Spiegelgasse 2), which means "flying mouse" or bat in German. The original Fledermaus was an Art Nouveau nightclub launched all the way back in 1907!
The club had various incarnations over the years. It's currently a "disco," or bar and dance club, near St. Stephen's Cathedral.
We met up with my local spooks: Eve and Nana of the band Lolita KompleX (remember when they performed in Tokyo?), plus Dani and Pato (both members of Lolita Fashion Austria).
Discotheque Fledermaus has different theme nights including rockabilly, 80s dance, Gothic and synthpop.
The decor is a clue to why this club is a favorite with Goths and Lolitas.
The red light bar served Tabu absinth (Taboo absinthe). Of course, that's what I ordered.
The long red space had a burlesque feel, with black-and-white art film projections. I wouldn't be surprised if the ghosts of 1920s flappers were still dancing here.
There's another excellent Goth/Industrial/Rock club night on Saturdays: Dark Society at Viper Room (Landstraßer Hauptstraße 38). We unfortunately missed it, but you can see upcoming event listings on their Facebook page.
Stumbling back. The U-Bahn (subway) is open all night on weekends and holidays, so don't worry about partying late.
The next day, Eve and Nana took us on a tour of District VII. Remember my post about Budapest's 7th District? Funny enough, Vienna's also has a hipster vibe.
We spotted vegan cafes and ironic-retro stores. This t-shirt looks like my cat Basil Farrow on LSD. (The picture on the left might also melt your brain.)
We ducked into Nexus Gothic clothing store (Zollergasse 13). They had an impressive wall of boots and top hats, and skull-stamped clothes for all sizes.
In addition to accessories such as horror masks, Nexus carries brands such as Aderlass and Skeanimals. Don't fear the Grim Reaper…
… but look out for the white zombie bride!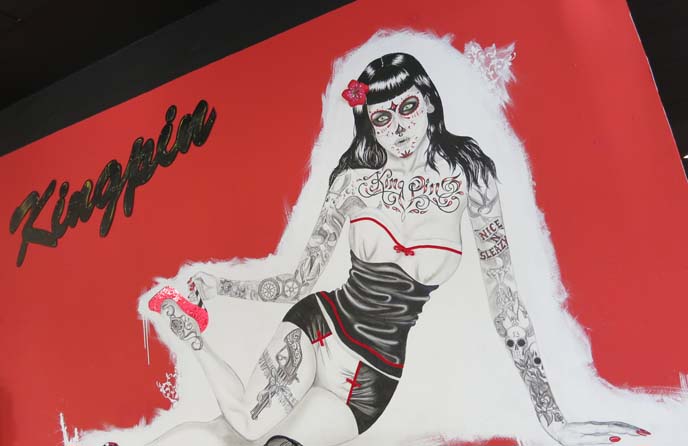 Down the street is Kingpin (Lindengasse 37), a pin-up and retro rockabilly boutique.
They carry Bettie Page dresses and other vintage-styled clothing. A great place to find cute shoes and accessories for Gothic Lolita outfits.
Did you know Vienna had so many underground haunts? I leave you with Mata Hari absinthe (oh, the Art Nouveau label!) and our breakfast of fruit and muesli. So, so good.
What do you think of my Sourpuss black lace dress? (You can order one here.)
Check back, as you don't want to miss the next post… where I join an Austrian Lolita meetup.