Hello Kitty sweater: Forever 21 Sanrio capsule collection. DJ Cat Scratch turntables & panda rug from Uncommon Goods.
Ready for a Hello Kitty outfit post, and video of my cat being a DJ? Let's do it.
During the holidays, I test-drove my new sweater from the Forever 21 x Sanrio collaboration. This black and white design, featuring characters like Chococat and Monkichi, is my favorite piece from the collection.
Wore it with a braided black headband I found in my wardrobe, white holy tights, and a black pencil skirt. (This Christmas tree belonged to Matchstick Coffee in Vancouver.)
I like the dynamic all-around design of the sweater (Bad Badtz-Maru looks angry to be on the back). The white outlines keep it from looking too child-like.
Accessorized it with my new Toru x Mandycat kitty ring, whose tail wraps around the finger. (A full post about this Hong Kong pop-up store to come.) Silver sparkly nail polish goes with almost anything.
My boots are old Dr. Martens, probably from the late 90s. (Similar to these Doc Marten boots.) I switched the shoestrings to two shades of green suede.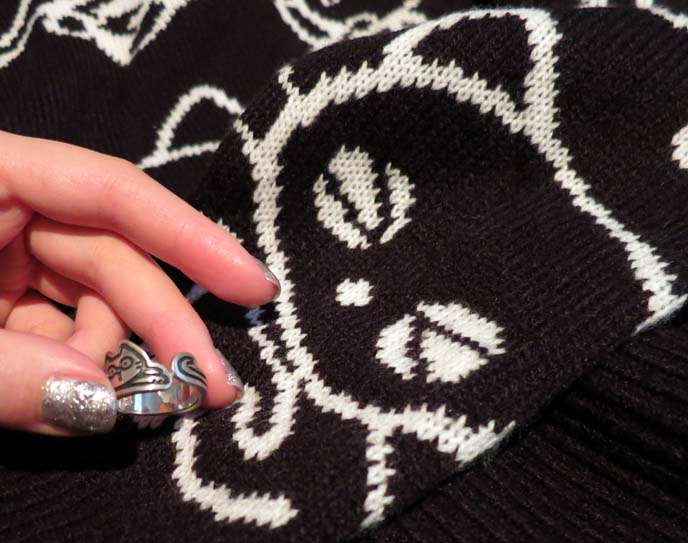 The Forever 21 x Hello Kitty collection is no longer being sold. However, you can purchase Hello Kitty clothing online: including these plush sneakers, and cat wrist-watch.
For more cuteness, check out my Hello Kitty shop photos from Hong Kong.
Speaking of kitties, Uncommon Goods sent my Scottish Fold the cutest carpet ever: it looks like a big-bellied panda bear!
Basil Farrow also received this marvelous DJ Cat Scratcher — a turntable with a vinyl-shaped scratching pad, all made out of cardboard.
"DJ Baz in the cathouse!" Would you like to see this ingenious scratching pad in action?
Watch our new video, where my fat cat tries his paw at being a deejay.
Thanks UncommonGoods — we love your selection of cute gifts for women, pets and travelers.
PS: I created a Travel Blogger & TV Host page. It summarizes my TV presenting and writing work, and links to my City / Shopping guides (including Tokyo, Hong Kong, NYC, Goth culture.) The focus is on young, female, alternative travel. Take a look — I hope you find it helpful.
Thoughts on the Hello Kitty sweater and cat DJ set? Tons of funny photos of my Scottish Fold on our Twitter and Instagram.