Hong Kong Avenue of Comic Stars: Kowloon Park. Chinese comics characters & cartoon statues. Off to Tokyo for TV!
A quickie announcement… La Carmina & The Pirates are in Tokyo, from mid-February to mid-March! We're working on a show, and can't tell you much about it yet… but suffice it to say, you'll be seeing more of my Goth beehive on your TV screen soon.
On that note: I'm currently in the Oddities TV show trailer, airing on Science & Discovery Channel. (That's me, pushing the cart at 0:13.) The new Oddities season begins February 9th; I'll let you know when my episode airs, so please check back.
Since we're on the topic of Asia, let me share my photos of Hong Kong Avenue of Comic Stars. Last September, this exhibit of statues opened in Kowloon Park, Tsim Sha Tsui.
Rememeber the Doraemon 100th birthday exhibition? Seems like cute statues are big in HK.
The HK Avenue of Comic Stars celebrates Chinese characters from the 1960s to today.
Here, you'll see citizens posing with sad pandas…
… and McMug the pig (麥嘜).
Do you recognize these comic book and cartoon characters? Likely not.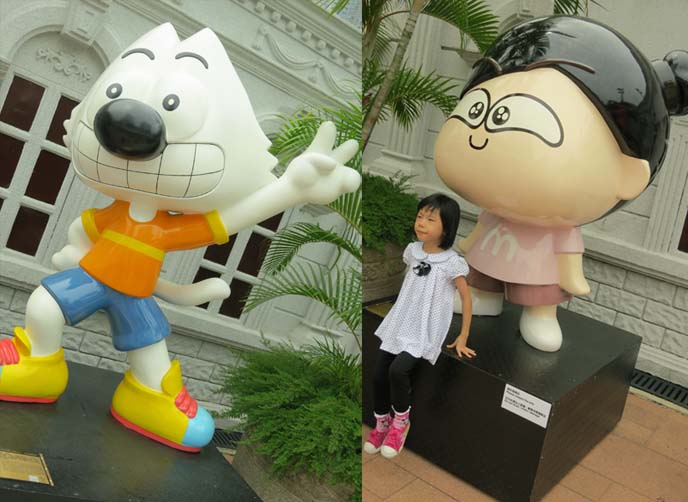 Unlike Japan's manga and anime heroes (Pikachu, Sailor Moon), Hong Kong's comic and cartoon figures are largely unknown outside of China.
These characters are, however, as cute and beloved…
… and fun to pose with!
The exhibit aims to "recognize the achievements of Hong Kong comic artists and promote the local comic industry." It complements the traditional "Avenue of Stars," dominated by the Bruce Lee statue (as featured in my Hong Kong food video).
When I was young(er), I read Old Master Q (老夫子) comics. He's the funny old man on the left.
The exhibit also showcases the comic book production process, such as the tools and in-progress sketches.
Have you heard of any of these characters? What do you think of the designs? If you visit Hong Kong, which I highly encourage, don't miss the Avenue of Comic Book Stars.
There's more pop culture coverage in my China travel category. Also add Discover Hong Kong on Facebook; the page's full of travel tips and inspiration from the tourism board.