Downtown Phoenix Roosevelt Row: art galleries, murals, Arizona cultural arts district. Little white Miffy dress!
I'm not the tanning type, but it's nice to be able to wear a little Miffy white dress in the depths of winter! No wonder Phoenix, Arizona is a popular travel destination for Canadians.
White dress with pink bunny: Miffy fashion collaboration, from TwoPercent Hong Kong
Fuzzy ankle boots: Liz Lisa, from Hong Kong
Bone bead hair clip: gifted by SassyNPunk
Eyes faux fur purse: Hyoma by Izzue, Hong Kong
For the second half of my press trip, I stayed in the ultra-mod Westin Downtown Phoenix hotel. Big fan of their courtyard and South American Province restaurant, which served me six types of ice cream and sorbet!
At Civic Square Park, I met up a Downtown Phoenix Ambassador. These orange-jacketed friendlies act as concierges and tour guides.
We started with almond milk lattes at Fair Trade Cafe. The coffeeshop's dedicated to humanitarian causes, and has vegan and vegetarian snacks on the menu.
We continued with a tour of the Roosevelt Row Arts District (RoRo). Every First Friday of the month, the galleries open up to art-walkers.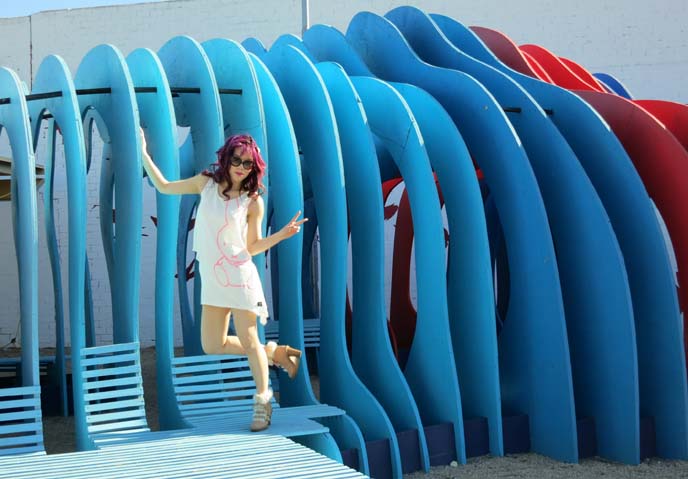 New works are constantly beautifying the district. This "Peritoneum" ASU installation was recently moved to the unused lot on Roosevelt & Second Street.
Outside: functional benches. Inside: waves of color.
The "Ro2 Lot: Neighborhood Mural Project" turns temporarily vacant spaces into public art installations. Locals gathered to plant gardens and paint walls together.
Phoenix's big walls are ideal canvases for artists. At 3rd St and Roosevelt, Lauren Lee painted "Three Birds."
Day of the Dead is a popular theme. Lalo Cota's mural brightens Golden Rule Tattoo, at 2nd and Roosevelt.
Scenes from the Cats musical celebrate the Valley Youth Theater on 3rd.
Lalo Cota and Breeze painted this lady on Angels Trumpet Ale House, a gastropub committed to craft beer.
Across the street is FilmBar, a chill space to have drinks, listen to music and watch artsy films.
Back to the Westin Phoenix Hotel, to soak in my free-standing tub overlooking the city. In the evening, I Gothed up with my friends… wait til you see where we nightcrawled.
Do you like to gallery-hop? Did you expect Phoenix to have so much vibrant, public art? Tons more Arizona travel blogs are on the way.
PS: Thank you to Phliss for interviewing me about JGoth, dark fashion and TV hosting — for Vampire Freaks and Alteria Motives.