DOWNTOWN SEATTLE BOUTIQUE HOTEL: KIMPTON VINTAGE PARK, WINE HOTELS. GOTH CLUB SCENE, NOC NOC INDUSTRIAL MUSIC.
Thanks for supporting our GPKISM dance video on the anniversary of the earthquake! Mary Nine and tank9 are an amazing duo. We hope the video encourages people to take action for Japan.
The charity project wouldn't have been possible without Seattle's Kimpton Hotel Vintage Park. (Remember the time we stayed at this boutique wine hotel?)
As a seasoned traveler, I can vouch: Kimpton's customer service is through the roof. The charming concierge Louis greeted us with hugs, and sent this hand-written note to our room — along with chocolates, a DVD, and a bottle of Syrah!
The rooms are lushly decorated, each with individual artwork. No beige here.
The hotel upgraded us to a double suite. We love the leopard print bathrobes.
Local producers hold afternoon wine tastings, which let the guests mingle. This time, we tried rose and syrah by Washington's Adamant Cellars.
The beds were comfortable, and had a good bounce! (No, we don't encourage such naughty behavior…)
Guess who brought these bear bags.
When you travel to Seattle, keep Hotel Vintage Park in mind. You can't find a warmer hotel (and it's pet-friendly too).
For more tips about why boutique hotels rock, watch my Huff Post video.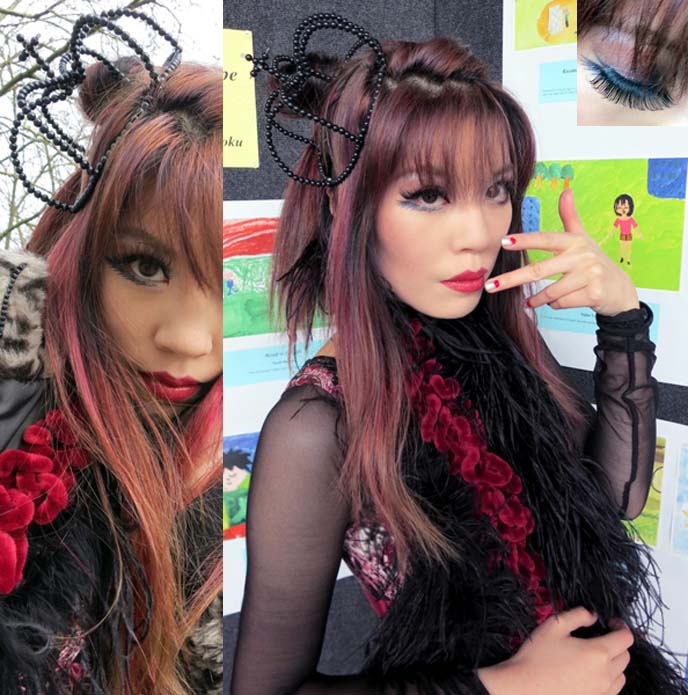 Closeup on my DIY crown, scarves and nails. The sheer sleeves are gifted by Sleevey Wonders.
My dashing eyelashes are a gift by Sugarpill by Shrinkle. Basil Farrow loves the packaging.
Sugarpill's eyelashes are well-made: no sharp edges, and lightweight. They went on easily and kept their shape, so I can wear them multiple times. Paws up.
Rose also rocked spider lashes.
Lolita-Punk fashion, and leopard half-shaved hair.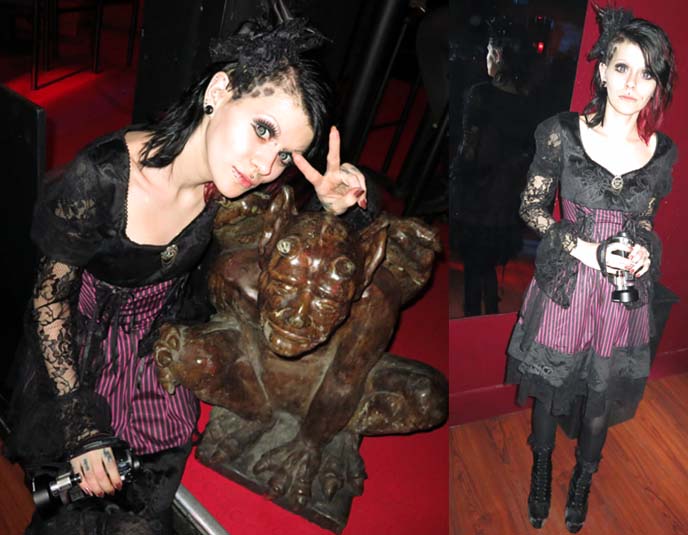 That evening, we went to the Industrial night (Resurrection) at Club Noc Noc.
Hugs for everyone who came and supported our project.
PS: I'm posting daily photos with the Instagram app, including cute Scottish Fold cat snaps. Let's be friends? My Instagram name is lacarmina.
What's your favorite hotel, and why? Did you enjoy our Seattle Goth adventures? Take a moment to watch my industrial dance video with tank9, Mary Nine, and jumping kigurumi.
❤ Did you heart this post? Like it (below): ❤