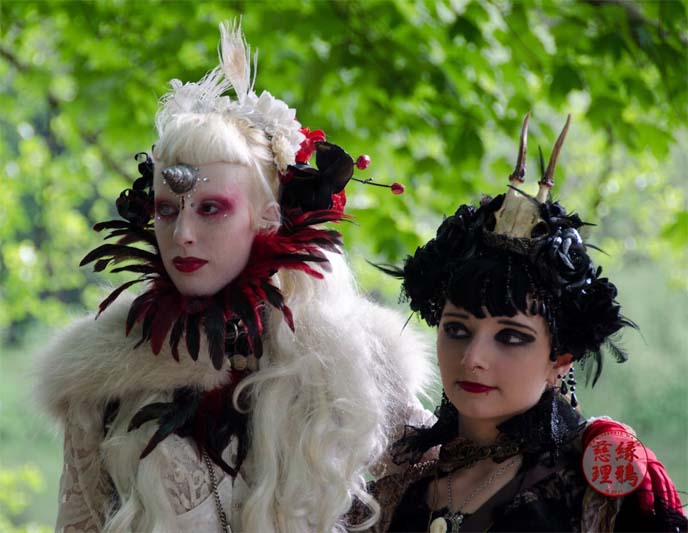 Every summer, the streets of Leipzig are strewn with black feathers and glitter… for the world's biggest Gothic festival, Wave Gotik Treffen! This year's celebrations are from June 6-9, 2014, and musicians like The Cruxshadows, UK Decay and Apoptygma Berzerk will be taking the stage.
A trip to WGT is at the top of many Goth bucket lists. I still think back fondly to my experience in 2012. If you missed it, you can look back at my Wave Gotik Treffen posts and travel video.

If you're thinking of going to Treffen, you're in luck: my friends Jen Hoffert and Holger Karas wrote this post with all the details you need, including where to stay and how to get around. They attend WGT each year, so you could't ask for better experts. Enjoy their photos from the 2013 festivities, and find out more on their Seventh Sin Tumblr.
The first 145 bands have been announced for the 23rd annual Wave­Gotik­Treffen and we're eagerly awaiting the arrival of our friends from around the world to our home city of Leipzig, Germany. Wave Gotik Treffen is one of the largest gothic and industrial festivals in the world, with over 20,000 visitors and roughly 200 bands playing at dozens of venues throughout the city over four days. In our opinion, it's also the most stylish festival, where people go all out to express themselves.
This year WGT falls quite late, June 6­-9, so the weather should be perfect for exploring the city. In addition to the concerts and parties, there are dozens of other events: operas, musicals, films, a display of historical hearses, and more. Many of the museums and galleries in Leipzig will features works of particular interest to the Gothic crowd such as the Grassi Museum of Ethnography's global exhibitions on celebrations of death from Sumatra to New Orleans, a special showing of H.R. Giger's work at the SansvoiX Gallery, and a multi­media presentation from Slovenian electronic pioneers Borghesia at the counter­culture gallery Kultúrny dom B31.
Our dear friend Danarama of TwoKnottyBoys from San Francisco will be presenting a bondage workshop on Friday evening at a special downtown location. Dan will also be releasing the first EP "Inside Out" from his project Harm Joy with Olaf of Tyske Ludder at WGT. You can find out more about the many unofficial events surrounding WGT here at the online gothic event calender Schwarzes Leipzig.
The Victorian Picnic at Clara Zetkin Park is a highlight of WGT for those who like to dress up. Hundreds of beautifully costumed participants gather here on the shores of a lake in a manicured city garden, the perfect setting for Lolitas, Steampunks and other romantics.
The pedestrian road running thorough the WGT's main venue, the AGRA, is known as "the catwalk" for good reason. There will be many people strolling up and down, wildly costumed in every imaginable version of dark attire with photographers, and even a few video crews taking it all in.
If you find yourself missing the perfect piece to finish your outfit, one of the massive halls of the AGRA hosts the WGT Black Market for vendors of clothing, house­wares, music, and just about anything else your little dark heart desires.
You can purchase your tickets to the festival when you arrive (which is much easier than using a wire transfer to purchase them online), but hotel rooms in Leipzig are notoriously hard to come by during the festival weekend. One alternative is to seek private accommodation on the official WGT sub­forum called "Do you need sleep?" Here you can browse through the offers made or post your own request. Leipzig also has a number of good listings on AirBNB. Private accommodations including a bed and use of the bathroom and kitchen generally run about 20-­50€ a night per person.
For the truly adventurous among you, there's a large official campground set up for WGT visitors (25€ for the weekend). Although for the life of me, I've never been able to figure out how people manage to come out of their tents looking so good.
Confirmed performances for WGT 2014 include well known acts such Anne Clark, Apoptygma Berzerk, Hocico, Mephisto Walz, Six Comm, The Crüxshadows, and UK Decay, as well as hidden gems such as Antichildleague and Sieben. Naturally there's a smart­phone app for WGT to help you plan your concert schedule, keep track of where your friends are, and find the best tram connection between venues.
However, it never fails that two of your favorite bands will be playing at the same time at opposite ends of the city. Don't despair, you're still going to have a great time and you'll see an unbelievable number of great performances over four days. The WGT organizers know their stuff about this music, which means that each venue will most likely host a particular sub­genre. It's often worth staying at one venue for multiple bands to discover new bands similar to one you showed up to see.
After the concerts and cultural events shut down each night, DJs from all over the world will invite you to dance at clubs throughout the city. From Neo­Romantic parties held in ballrooms and Batcave themed old school nights in cellar vaults, to the hardest industrial and noise and even one of the largest fetish parties in Germany, no matter what your taste is there's something, somewhere in the city to keep everyone on their feet from Thursday night till the sun comes up on Tuesday morning. We hope to see you there!
Back to La Carmina. Thanks to Jen and Holger for the report and photos, and I echo their words: I hope you'll make it to Wave Gotik Treffen one day, to see the inspiring fashion and culture for yourselves. One is never too young to enjoy, as you can see from the "baby Goths" in Victorian prams…
While you may not want to take a youngster into the crowded concert halls, they'll enjoy the outdoor food courts and fashion stalls.
Want to see more of the "black market" clothing and bands? Watch my Wave Gotik Treffen video (it includes tons of travel tips), and peruse my blog posts about the festival.
What do you think of the dark outfits in these photos? Do you know any Goth or punk parents? If you have more Treffen tips for newbies, please share them in the comments!
As we approach the New Year, let's reflect on the second half of 2012. One of my favorite moments was doing this professional photoshoot, involving latex feather dresses and sugar skull makeup, with my talented Vancouver team. The images were published in Sugar Heart, and Gothic Beauty Magazine — a total honor. (More images and full credits here.)
I also did a pro shoot with a blow-up bear, in a potato field…
… and it ended up making the cover of Vanity Magazine! I blogged more of these Goth modeling photos.
I got to cross off a "bucket list" travel destination, thanks to Go With Oh. The wonderful apartment rental company sent me to Wave Gotik Treffen, the largest Gothic festival in the world. I also explored Prague with Rock n Roll Bride, and Berlin with Yukiro, DJ SiSEN, G-sus and spooky friends. View our adventures in my Germany Goth travel guide.
After Europe came Asia. I spoke on the fashion blogger's panel at Hong Kong Social Media Week. It was great to see family and John Skeleton, and do some hardcore shopping — especially at the Hello Kitty shop. See more of my favorite Hong Kong stores.
In betwen, I hopped around the USA. I was Guest of Honor at Animegacon in Las Vegas. Spoke at PRSA Travel & Tourism conference in Ohio. Flew to New York City to be a guest on Discovery TV's Oddities (my appearance will air early next year). Did some heavy pre-Halloween partying in Los Angeles, and hosted Gothic club night Bar Sinister with Amazing Race's Kent Kaliber.
I've been writing about Tokyo bagelheads for years, and nobody paid much notice. But then, my Tokyo TV company worked on National Geographic's "Taboo" episode about saline forehead inflation, and the extreme body mod went viral! I even flew to LA to be on "The Doctors" talk show, where I discussed bagel heads and deflated misunderstandings about body mods.
What a colorful year! What's coming up in 2013? More TV work and global travels (stay tuned to see where I go next). I've just completed a press trip to Phoenix, and will be in Tokyo to appear in a documentary. And I'll be in a warm destination this January… announcement to come.
Above is a compilation of my television presenting clips; full videos are on my La Carmina bio page. PS: thank you to Hostelbookers for interviewing me about my life of travel blogging and cat-craziness.
Do you have any goals for the New Year? What do you hope to accomplish or improve? Any "bucket list" items you're determined to cross off? Here's to a grandiose 2013!