I've been itching to return to the Middle East, and am excited to announce (Terminator style) that "I'll be back!" From late January to February, my filmmakers and I will be in Israel and Jordan for the first time.
Can't wait to explore Tel Aviv, Jerusalem and the Dead Sea, all thanks to the Israel Ministry of Tourism. Our friends at Ya'lla Tours are helping us get connected, and will also take us on a guided tour of Petra, the historical city and archaeological heaven.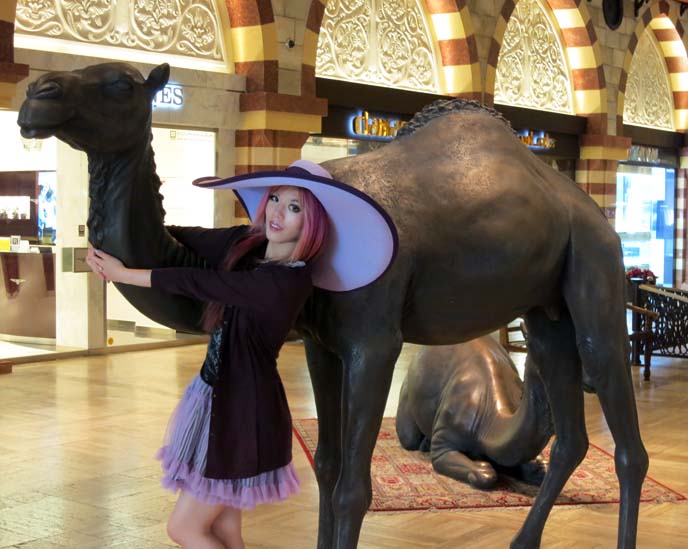 My travel team and I will be shooting stories about the alternative nightlife in Tel Aviv — there's a colorful LGBT scene here, including an Orthodox Jewish drag queen. We'll also make travel videos, photos and blogs about the modern local fashion, Israeli wines, and even a hummus restaurant.
Maybe this time, I'll get to ride a real camel? To get in the spirit, you can revisit last year's Abu Dhabi and Dubai coverage in my Middle East category. And send us your travel tips; we'll always keep them in mind.
Before we dive into tabbouleh and falafel, let's hop back to Japan: the land of cute food.
At the Swimmer store in Shinjuku Alta, I spotted these "hitsuji" or kawaii lamb-faced cakes. Clever, how they use a coiled cookie for the horns.
The bakery also sells "kuma-chan" or little bear cupcakes. I've never eaten anything from Swimmer; the pastries look too sweet and cute to consume!
Mr Donut, the Japanese doughnut store chain, has seasonal collaborations with cute characters. Around Halloween, they offered spooky Hello Kitty donuts. For Christmas, they teamed up with Snoopy and Woodstock. Unfortunately, looks trump taste. I tried one, and gagged at the flaky icing and bready interior.
While "character bento" recipe books aren't as popular as before, there are still kawaii food items everywhere. I found Rilakkuma bear cookie boxes in a convenience store.
Plus a bottle of white cat sake.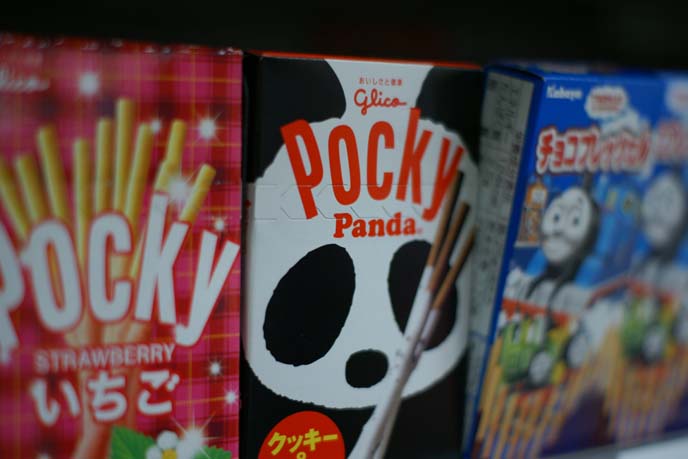 I grew up eating Pocky as snacks. Fun to see these panda versions, made with white chocolate over brown sticks.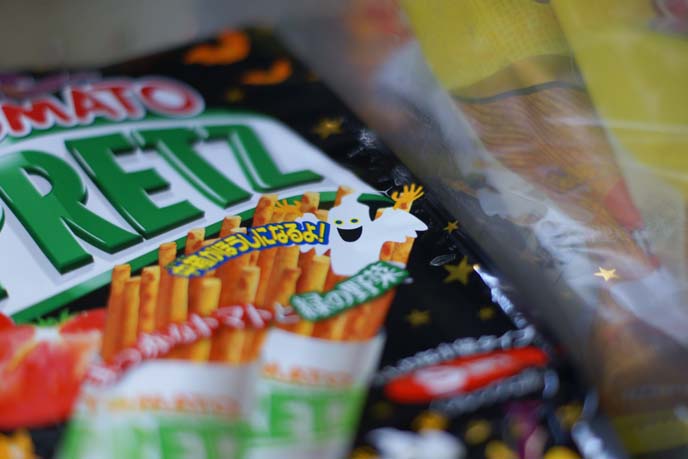 Do ghost tomato Pretz taste extra scary?
In Japan, you'll often see vans or trucks decorated to the nines. I stopped short when I saw this one, plastered with cute animals… made from flowers!
Similar to bento decoration, the flowers are arranged in clever ways to mimic figures like Santa Claus. Paper or felt cut-outs form the eyes, nose and details.
These panda bear flowers were my favorites. At first, I thought they were onigiri or rice balls.
Just when you think the Japanese have thought of every possible way to make things cute… a new idea comes along.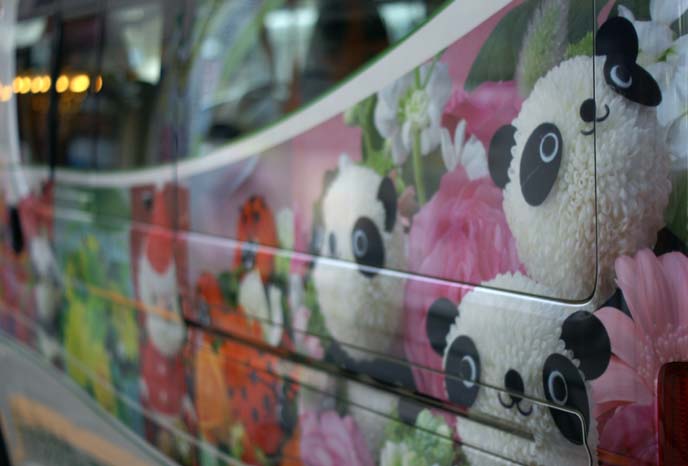 Perhaps these photos might inspire you to try "kawaii flower arrangements" of your own.
Back to food, minus the cuteness. Whenever I'm in Tokyo, I gorge myself on sushi since the quality is outstanding here. At "kaiten" conveyor sushi parlors like Hibari in Kabukicho, each plate is only about $1.40.
If you don't know Japanese, there is usually a photo menu that you can point to. My favorites are unagi (eel), hamachi (yellowtail), bintoro (albacore tuna)…
… and if I'm lucky, toro salmon topped with ikura, (fish roe). It melts in your mouth like nothing else, and is only about $2. I once ate about eight of these!
While not so pretty-looking, okonomiyaki or savory pancakes are a must-try, especially in Osaka. Also visit an izakaya, or homestyle pub, and pop into Coco Ichiban for mouthwatering Japanese curry.
How about dessert? If it's around October, you can find pumpkin flavored Haagen Dazs ice cream in convenience stores.
Basil and I hope you enjoyed this post about cute and yummy food in Japan. We urge you to step out of your comfort zone, and try new dishes whenever you are traveling. I'll be doing that soon in Israel and Jordan.
For more cat-ness, I just posted more photos of Basil Farrow on his Scottish Fold blog, and Facebook.
Also add us on Instagram and Twitter — @lacarmina — for previews of my Middle Eastern journey. Above are some snaps from Tokyo.
What type of reports would you like to see from Tel Aviv and Jordan? Do you have suggestions for places to see, and things to eat?
Ever dream of being on a TV game show? I did… and I've now achieved that goal! On July 31, watch me compete on CTV's new primetime quiz show, Battle of the Generations!
Battle of the Generations is a pop culture trivia television show, so it was a perfect fit for me as a subcultures blogger. In each episode, four contestants from different generations (Gen Z, millennial, Gen Z, and boomer) battle it out over questions about popular culture from 1945 to the present.
The new CTV (Canada network) gameshow puts contestants through different type of trivia battles. Sometimes, contestants go one-on-one against each other. Other times, they answer rapid-fire questions, and might have the option to pick the pop culture category or generation.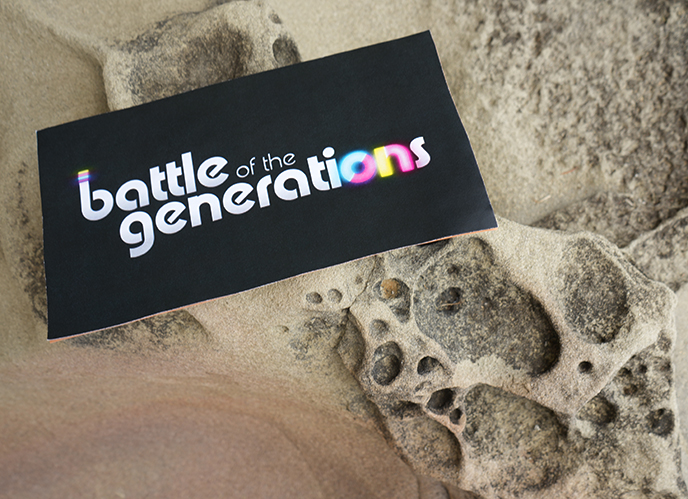 You can see me compete against three people on Episode 7 of Battle of the Generations, which airs on CTV at 9pm PT and ET on Monday, July 31! If you miss it, you can stream the gameshow on CTV's site.
I can't tell you more until the episode airs, but it was a thrilling experience to represent millennials on a new TV game show. (We filmed in Toronto in January — the producers selected me after a screening process, and flew me in for the shoot. Above is what I wore on-screen: skeleton swim top by Towers Swimwear, skirt is vintage.)
The game show questions are all about pop culture (films, music, trends, tech, celebrities, etc), which span various generations. Herein lies the fun: the boomer might be familiar with a 1950s film star, but be clueless about viral TikToks.
Do you like watching TV game shows? Hit the buzzer with me and see how I fare on Battle of the Generations: my episode airs Mon, July 31 on Canada's CTV! Whoever comes out on top and unlocks the Vault gets $25,000.
(Photos of me by Bindipop, taken at Gabriola Island's Malaspina Caves in British Columbia. More photos from this girls getaway to come; see my reels on @LaCarmina Insta for sneak peeks.)
Another announcement: I've embarked on a new social media series, which I'm titling "La Carmina Redux!" I'm leveling-up my older content with revamped photos and tips about destinations worldwide — like Malaysia (above), India, Morocco, Taiwan, and Easter Island.
Why? I've been haphazard with my socials over the years as they weren't my primary focus. Also, upload quality and editing styles have changed over the years (remember when we added Instagram photo borders, and did dog-ear selfies and boomerangs?)
I want to give my older travel / fashion photos justice and have them fit today's vibes — so I've archived a lot on past posts on @lacarmina Instagram and am launching a "best of" series, one country at a time. From now, you'll get more frequent uploads of both new content and re-edited throwbacks to my trips in 70+ countries, along with my latest travel recommendations.
For example, here's a look back at my 2017 Langkawi, Malaysia travels with Her Majesty Yukiro. Luxury beach resort Casa del Mar treated us like queens with sunset dinners by the ocean, dragon fruit rum cocktails, and a boat tour of a lush mangrove forest with a bat cave.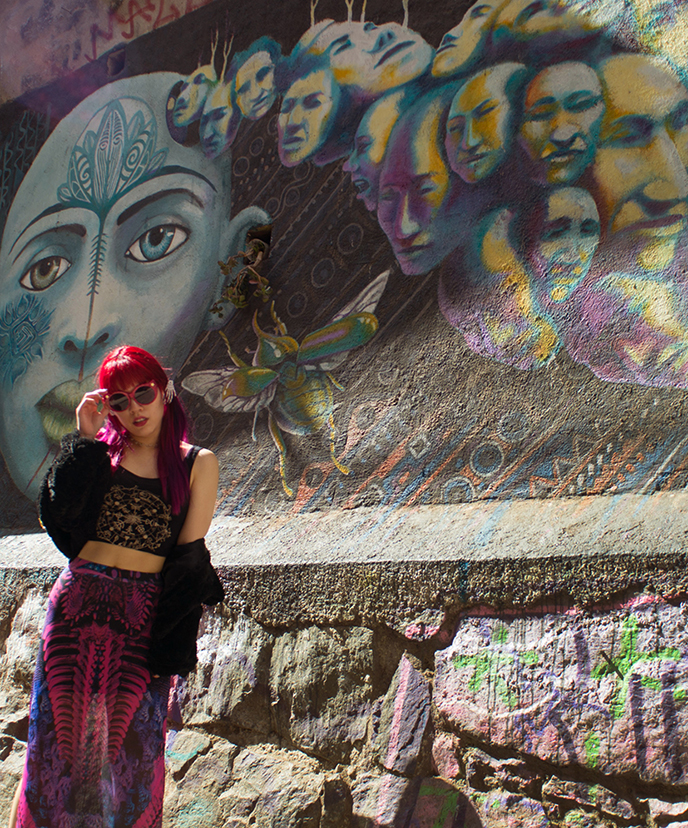 Throwback to my 2018 trip to Valparaiso, Chile: a UNESCO site known for its rainbow street art. It was a joy to stroll the hilly streets and get inspired by energetic murals, found art, 3D installations, and other creative works by Chileans. More photos in this blog from the trip.
"I'm going on an adventure!" One of my favorite memories of New Zealand (2016) was wandering through Hobbiton, the pastoral village from The Hobbit and Lord of the Rings films. The real-life Shire is a 2.5 drive south from Auckland, and visitors must book a tour in advance.
What a joy to duck into the tiny homes and gardens of Frodo and Bilbo — and then laze at the Green Dragon Pub with a Southfarthing brew and warm cheese scone. As JRR Tolkien famously wrote, "Not all those who wander are lost." (More from my Hobbiton Tours visit here.)
A lot of you loved my 2019 Goth guide to Paris, France (see the redux post on @lacarmina Instagram). As I wrote: Don't be put off by Paris because of all the beret-wearing influencers traipsing around the Tour Eiffel. J'adore the City of Light for its magnificent history, architecture, fashion, cuisine… And there's a spooky side to it for my fellow Gothic travelers
Each of the "redux" post includes tips on things to eat, do, and see like:
– Be an unabashed tourist and hit up the legendary art museums, opera house, jardins.
– Paris is one of my favorite cities for simply walking around and admiring architecture (such as Art Nouveau doorways).
– Goths, haunt Père Lachaise cemetery with its vampiric and bat lore (look for markings like the one above)
– And of course the Catacombs, stacked with skulls and bones!
Please let me know if you're enjoying the new "La Carmina Redux" series on my social media @lacarmina (Instagram, Twitter, Facebook). Some of my past "lewks" and edits don't fit with today's vibes, so I'm having fun revisiting older pics and giving them new life.
For example, I visited Petra, Jordan in 2014 (here's the Insta post). It was magnificent to see the ancient city, which lost under the sands until it was rediscovered in 1812.
Must sees:
– Wander through the siq, a narrow winding gorge leading to Petra
– Be awed by the famous Treasury, carved out of sandstone
– Say hello to the friendly camels and donkeys
The full blog post about Petra, Jordan is found here.
For more "redux" travel / fashion throwbacks, add me on @LaCarmina Instagram. I'm also posting more frequent photos and reels of recent travels — I hope you dig the levelled-up content.
And I invite you to watch me battle a boomer, Gen X, and Gen Z over pop culture questions on my CTV game show, Battle of the Generations!
Thank you to Vancouver is Awesome for interviewing me about my work, new book and latest TV appearance. I'm also featured in The Vancouver Sun's "Five Things to Do This Week."
Watch me rep millennials and take on challengers for a cash prize on Battle of the Generations! My game show episode premieres Monday July 31, 9pm on CTV (and can be streamed from their site afterward). Who do you think will win this Canadian trivia / game show?