Domo arigato, Mrs Roboto! I had a grand time this summer in Vancouver, as I do my best to avoid travel in the high season (too expensive and Collapse-prone these days).
Instead, I stayed home in British Columbia and enjoyed art exhibitions (including Hajime Sorayama's sci fi futurism), sushi on the waterfront, day trips to islands, and outdoor activities.
Read on for my offbeat, artsy guide to the top summer activities in Vancouver, BC — and check out the accompanying videos/reels on my Instagram @LaCarmina.
First, an announcement on the writing front…. My latest publication, "The Little Book of Satanism," was translated into Spanish! It's available now from Spain-based publisher Melusina, who did the translation and new cover design above.
To get a copy of my translated book, Google "El Pequeño Libro del Satanismo" (and more info below en español). The Little Book of Satanism is also available in English through Amazon, Kindle, Barnes and Noble and Simon & Schuster. Canadians can find it at Chapters/Indigo or Amazon Canada — or simply search for the title to find it near you.
Here's the Spanish description of my book "El Pequeño Libro del Satanismo":
"Con demasiada frecuencia, el satanismo se malinterpreta como una religión que hace sacrificios de sangre a un malvado Príncipe de las Tinieblas con cuernos y cola. En realidad, los satanistas modernos no son violentos ni teístas, y consideran que el Diablo es una metáfora significativa para la búsqueda del conocimiento, la razón y la justicia.
Nos asomamos así a la marca de la bestia en los movimientos culturales e históricos a lo largo de los siglos, que han informado las creencias y prácticas sinceras de los satanistas en la actualidad. Escrita por la galardonada periodista de cultura alternativa y bloguera La Carmina, esta completa guía incluye información sobre los orígenes bíblicos de Satanás y sus diversos nombres, apariencias y símbolos; su trato en la tradición esotérica del siglo XIX, así como su papel como chivo expiatorio, desde los juicios de brujas medievales hasta el «pánico satánico» desatado en la década de 1980. El libro concluye con una revisión concisa de la filosofía y las prácticas modernas, centrándose en la Iglesia de Satán, La Biblia satánica escrita por Anton LaVey y el activismo del Templo Satánico."
EL PEQUEÑO LIBRO DEL SATANISMO de La Carmina, una obra que ahonda en sus valores afirmativos como inspiración en la vida. 14 x 21 cm. Páginas: 112. ISBN-13:978-84-18403-80-4. Precio: 14,90€.
To grab a copy of my Spanish-translated book, Google "El Pequeño Libro del Satanismo."
The English version ("The Little Book of Satanism") is also available worldwide from all major retailers. See links below, or Google the book title to find it near you.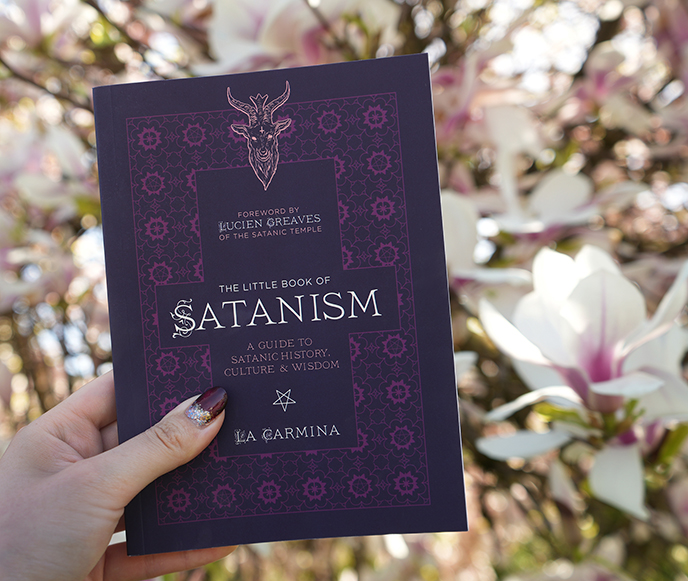 I asked ChatGPT to describe my book, and the AI spat out: "The Little Book of Satanism" provides a brief overview of the philosophy and practices of Satanism. Written by La Carmina, it covers topics such as the history of Satanism, the Satanic Bible, and the rituals and practices of Satanism. "The Little Book of Satanism" is a concise introduction to the basic ideas of Satanism and the worldview of its adherents."
Order my Satanic book worldwide via Amazon, Kindle, Barnes and Noble or Simon & Schuster. Those in Canada can find it at Chapters/Indigo or Amazon Canada. Thank you for reading — gracias!
Speaking of robotos — I was chuffed to visit the CICA Vancouver in Gastown for the first time. The Vancouver Centre of International Contemporary Art is a space for boundary-pushing works like the sci-fi visions of Japanese artist Hajime Sorayama.
Sorayama's superrealist Mrs Robotos and visions of artificial intelligence / femininity / human emotions are out of this universe. CICA's "Space Travelers" show features this immersive installation — doesn't it remind you of an alien movie?
Since the 1970s, Hajime Sorayama has been mesmerizing viewers with his robotic-space-fantasy visions, which have a surprising warmth. I got to see his earliest commercial works from the 1970s, and large-scale paintings with pop culture themes like his take on Marvel's Iron Man. (Wearing a leopard print active jacket by Mulu.)
Sorayama is known for his sexy robot ladies, which inspired films like Robocop and Ex Machina.
So shiny and chrome… To see how the light reflects off the metal surfaces and mirrors, watch my video of the CICA Sorayama show. (I always set my reels to the best space disco songs!)
Sorayama has become more well-known in recent years due to his collaborations with Dior (above), Uniqlo, and more.
Hajime Sorayama created mecha-dino sculptures for the film Jurassic World, which continue the theme of sentience vs AI. A remarkable show at CICA — and I can't wait to see more of his works when I'm in Tokyo, where the artist is based!
Here's a first look at my new blue-black hair by Katya at Kore Salon in Vancouver. Happy to change up my look from the purple, which I've now had for years!
I took my new lilac cloud bag from Verafied to Buntzen Lake in Anmore, BC. My jacket is Mulu — love the cropped fit and breathable fabric, and glad to rep a woman-run, size inclusive label (up to 7XL).
Buntzen Lake and this pier were the shooting locations of horror films Lake Placid, Freddy v Jason, and Jennifer's Body. Quite a few cult movies were shot in BC, which is known as Hollywood North.
Here's the purple-blue hair I had before switching it up. Catching the breeze at the rooftop pool of the Fairmont Pacific Rim. I was writing a review of this stylish luxury hotel, which gave me an opportunity to hang at their waterfront property.
(Wearing a black MISBHV shrug and UK Swimwear top.)
You couldn't ask for a better summer day at the Fairmont Pacific Rim's outdoor pool fringed by palm trees, overlooking the North Shore mountains and harbour.
My friends and I lounged in this private cabana, and devoured salads, falafel, poke, and Prosecco.
See my Insta reel / video of our Fairmont Pacific poolside hang here.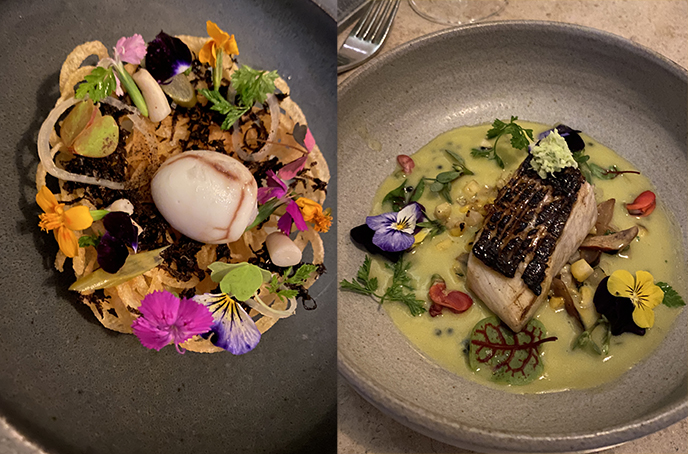 And then, dinner downstairs at Botanist Restaurant, one of the most exquisite fine dining spots in the city. The Chef's Selection at Botanist was to die for: gorgeous, gorgeous cocktails and full-flavored Pacific Northwest creations like a quail's egg on a floral black truffle nest, and perfectly charred kanpachi on creamed corn.
I also served Sporty Spice for a day at Capilano Suspension Bridge Park. I hadn't been to this iconic North Vancouver landmark since the 90s, and discovered that there's so much to see and do now — like a  daredevil cliffwalk and treetops adventure, and encounters with birds of prey!
I'm into the Y2K crochet bolero vibe these days. It's hand-knit by Maryuan77, who sells them here on Depop.
The Capilano Suspension bridge hangs 140 metres above the rocky river, and sways as people move across. The bridge was originally built in 1889, and became a leading tourist attraction in the 1980s. (Rest assured that there's nothing sus about the bridge's safety!)
Capilano Park now has many other outdoor activities for all ages, like the Treetops Adventures. I had fun moving across seven footbridges hanging between tall fir trees, and looking down at the forest floor.
Another highlight: Capilano's totem or story poles, which were carved by local indigenous artists. They depict spirits and animals that have special meaning in their culture, like the Raven and Bear. (If you're interested in BC First Nations art, I recommend UBC's Museum of Anthropology as well.)
Be sure to wear sneakers or good walking shoes. I'm a fan of active / fitness dresses these days, which come with shorts and a built-in bra.
Would you step onto Capilano's suspended bridge?
Check out my video from Capilano Bridge Park here (it's set to the Bee Gees!)
The forest is home to birds of prey, like this adorable kestrel.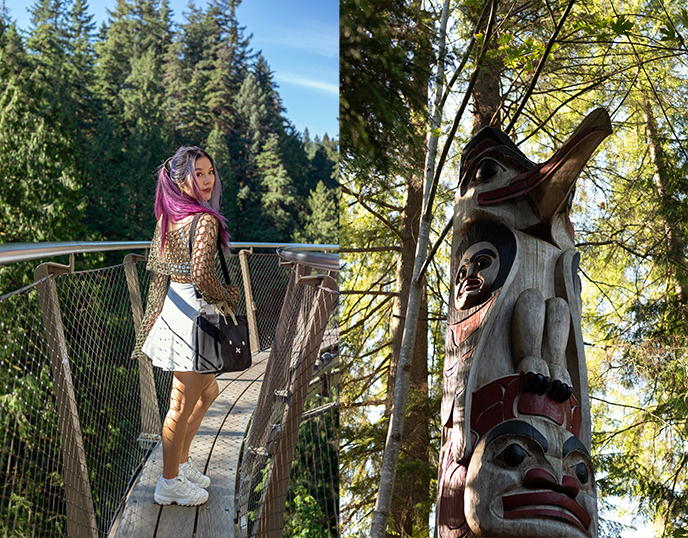 The Cliffwalk was beautifully designed — it's a narrow cantilevered walkway that curves around the Capilano River Canyon.
Capilano Suspension Bridge Park is lovely to visit year-round. It will soon transform into Canyon Frights for Halloween, and the attractions are then lit up with lights for the winter holidays.
Who here is part of Leo Nation? For my birthday on August 17, I received the best present imaginable from my favorite Vancouver restaurant, Miku. They invited photographer Joey Wong and me to try a seven course kaiseki of dreams!
For my bday dinner, I wore this eyeballs puff dress by Sourpuss Clothing.
Miku is part of Aburi Restaurants, which has become a worldwide name for their creative Japanese cuisine (they invented the pressed salmon and jalapeno oshi sushi, which is often copied but never surpasses the original).
Predictably, I ordered all the cocktails with yuzu (it's my birthday after all). The Paper Crane (whiskey, amaro, aperol, yuzu) came with an origami bird.
The chefs spoiled us with a multi-course menu featuring the freshest catch of the day and Miku's signature aburi nigiri. Everything was beautifully plated on handmade Arita plateware from Kyushu, Japan.
I loved visiting Tohoku last year with the Japan Tourism Board. The Iwate wagyu croquette with yuzu creme fraiche and black truffle snow brought back tasty memories.
Here's a video of my Miku kaiseki meal. The chef's selection of sashimi came with dramatic puffs of dry ice, and each slice melts in your mouth (scallop, tuna, hamachi).
Miku's waterfront setting and attentive service are also unbeatable (no wonder the Japanese restaurant is Michelin recommended). You can sit indoors or outside on the patio, and take in the lights of Canada Place convention centre and ferry terminal.
I'm a little allergic to shellfish, so the chefs changed up the menu and invented this wagyu x sukiyaki sauce x mushrooms dish just for me!
The nigiri platter was a show-stopper. Vancouver is known for having some of the world's best sushi, and Miku's high quality fish / seafood paired with creative sauces and ingredients are top of the line.
And the sweetest ending: peach earl grey mouse (even Joey got a belated birthday cake). Thank you Miku for a kaiseki dinner I'll always remember. (Check them out in Vancouver and Toronto, and sister restaurant Minami in Yaletown too.)
I leave you with some photos from a day trip to Bowen Island, British Columbia. It's a much-loved summer getaway spot for those in Vancouver — Bowen is only a 20 minute ferry ride from Horseshoe Bay, and you get to take in these spectacular views of the water and tall mountains.
When you arrive, stop at the pier for Earnest ice cream and smoked salmon tacos. Then, head over to Tunstall Bay beach — I'm wearing AmyLynn Clothing on the shore.
The waters are cool and oh so clear. (Photos by Yusheng.)
Thousands of you loved my video of the Bowen Island day trip — come give it a view, and see more Instagram @LaCarmina reels here.
I'm not a camping / hiking type, but it's lovely to get outdoors in the Pacific Northwest during the hottest months. Wearing fashion from Tokyo at Killarney Lake on Bowen Island.
Did you have a fun summer as well? Now, let's get ready for spooky season… including Halloween in Japan! Follow along @LaCarmina on social media to see my costume and adventures in Tokyo and beyond.
And thank you for reading my book! If you'd like the Spanish translation, Google "El Pequeño Libro del Satanismo" to find it. "The Little Book of Satanism" is also found on Amazon, Kindle, Barnes and Noble and Simon & Schuster. Those in Canada can find it at Chapters/Indigo or Amazon.ca.
It's going to be the best Halloween ever… because Japan National Tourism Board is sending me back to 日本 for a month and a half!
From October to November, I'll be Goth-ing it up around Tokyo and other cities. You're invited to join me and friends for spooky festivities on Oct 7 (Yukiro's drag Casket of Horrors) and Oct 29 (Mistress Maya's Bizarre Night Circus with a performance by Yukiro) — full info below.
Read on for my fab Halloween Japan plans — as well a look inside a Tokyo church-themed bar, robot cafe, and more.
I'm grateful to Japan National Tourism Board for supporting my upcoming trip. In return for the flights, train passes and more, I'll be delivering travel articles and photos about my experiences for leading publications (stay tuned).
My plans: first, I'll be in Tokyo from early Oct to Nov — of course, I timed the trip around spooky season! Get ready for a deluge of Halloween coverage on my @LaCarmina Instagram featuring friends who will also be there (John, Trevor, Yukiro and other familiar faces).
Then, I'll spend two weeks hopping around by train, thanks to the Japan Rail Pass from JNTO. l plan on maximizing the unlimited 14-day train pass and hitting up Hakone, Kyoto, Nara, Kobe, Osaka, Kanazawa and Shirakawa. Let me know if you have tips for any of these destinations.
If you're in Japan this fall, I hope you'll come to the following events with my pals and me!
⛧ Oct 7: Casket of Horrors, Tokyo's leading drag queen extravaganza masterminded by Yukiro. His Haus Von Schwarz and guest performers will be strut the stage at Shinjuku Club Science. Get discounted advance tickets here, or at the door.
⛧ Oct 29: Mistress Maya (of Midnight Mess) presents Bizarre Night Circus at Salon de Suigeikan in Kamakura. I can't wait to see the venue, which is a funhouse filled with taxidermy and outsider art. Maya's Halloween event includes a kinbaku rope show, a drag show by Yukiro, and other alternative performances (it runs from the afternoon to 8pm). More info here, and I hope to see you there!
Currently planning my Halloween costume for this year… (Above, I was Wicked Lady / evil Chibiusa from Sailor Moon last October).
Do you ever wonder how I have Internet on my phone when in Japan? My trick is to get an eSim from iFree MOGO for my smartphone! In the old days, people could only insert physical SIM cards into cell phones — but now, you can digitally activate a data plan for your device, and get online when you're in Japan or traveling elsewhere.
MOGO's website has electronic SIM plans for over 80 countries and different lengths of time (I got their 60-day 10GB Japan eSIM for my new iPhone 15 Pro). They offer stable connections and coverage at affordable rates, and have 24/7 live chat support. If you haven't heard of eSims, check out iFree MOGO — it's the easiest way I found to have the Internet on my phone when I'm abroad.
To get us even more excited for Halloween in Japan, here are some Akiba photos from my trip last fall, taken by Joey Wong (the tourism board sent us to Tohoku on a press trip, before the country re-opened to tourists). No wonder Akihabara is known as Electric Town — the vibe is electrifying here.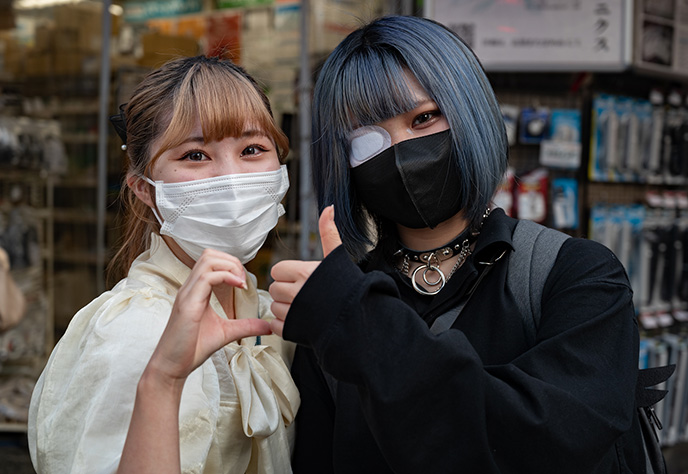 Akihabara is known as Tokyo's anime / manga / otaku / Jpop culture district. You'll come across young Japanese dressed up in alt fashion or cosplay, like these two friends.
People come to Akihabara to unapologetically "geek out." You can cosplay as your favorite cartoon, comic or video game characters…
… and shop for figurines, body pillows, retro game cartridges, you name it.
Head to one of the many game centers to try picking out a toy with a UFO catcher. (Japan's gaming arcades don't allow you to take photos inside, but Joey managed to sneak a few shots.)
Then, have lunch at a maid cafe — these theme restaurants are still popular in Akiba. (The staff wears French maid outfits, performs cute dances and treats you like royalty.)
We loved this local's guro Goth style and genki poses. (The eye bandaid is for aesthetic purposes only.)
A typical scene in Electric Town. You'll see lots of people dressed in anime/manga outfits giving out flyers.
Akihabara is the place to get new or used tech as well — robotos, computers, cameras, cell phones, etc. You can also get funky snacks like Sega-shaped taiyaki, and dine at themed restaurants like the Final Fantasy Eorzea Cafe.
We stumbled upon a racy Japanese vending machine… This one contains adult DVDs. (VHS tapes in this genre remain popular as well in Japan.)
Quite a few of my close friends will be in Tokyo for/around Halloween… can't wait to dress up and celebrate with them!
Akihabara is near the Dawn Avatar Robot Cafe, which is run by a staff of Mr Robotos! Here's our video of the Tokyo robot cafe, which lets you see the androids in action.
At DAWN Avatar Robot Café, different-sized robots are remotely controlled by disabled workers. They greet you with a bow and wave, take your order, and serve it to your table.
I also came across a police patrol robot at Narita Airport… AI is indeed taking over. Check out my footage of helpful Japanese robotos in my Instagram video.
Japan is full of contradictions… the robotics and arcade games are futuristic, but many businesses still use floppy disks, fax machines, and websites that look like they were coded in 1999.
Miffy has become omnipresent in Japan, much to my delight. It used to be difficult to find Miffy items…
… but now, you can find her X-mouth all over Tokyo, including inside UFO catcher / crane games.
Now, let's hang with my friends in Shibuya. I met up with the glamorous Triesste before she conquered the stage with humor at the Tokyo Comedy Bar.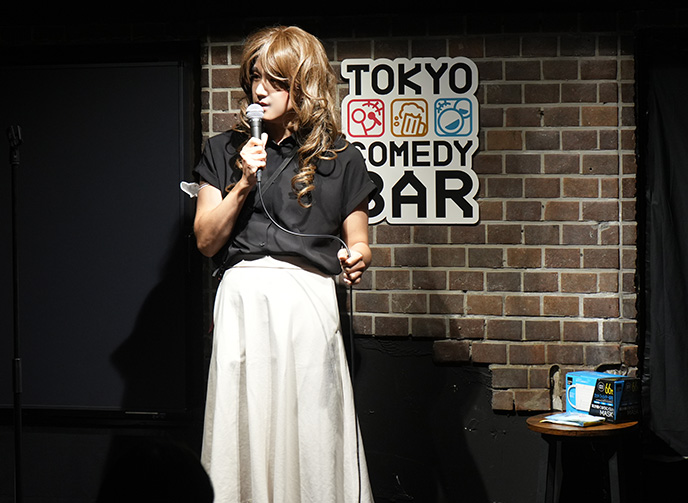 Tokyo Comedy Bar has stand up shows in English and Japanese, and draws a friendly alternative / LGBTQ crowd. Shota had the crowd in tears from his hilarious story-time.
Can't wait to see more comedy, music, and drag performances when I'm back in Japan. Of course, I'll be sharing all these stories with you on this blog and @LaCarmina social media.
And then, my Goth comrades and I had a blasphemous night out at The Church. This slightly sacrilegious Christian-themed bar is the Dōgenzaka district of Shibuya. With stained glass windows and crosses, the exterior looks like you're about to enter into the house of the Lord.
Nuns in full habits greet you — but instead of blessing you, they're here to tempt you into licentiousness and liquor!
Christon Cafe in Shinjuku is now closed, but The Church takes over with a similar kitschy Christianity vibe.
The Church's altar doubles as a DJ booth… but the music consists of live EDM instead of Gregorian chants.
The interior decor continues the sacred theme with Holy Bibles, rows of wooden pews, crucifixes, and pointed arches.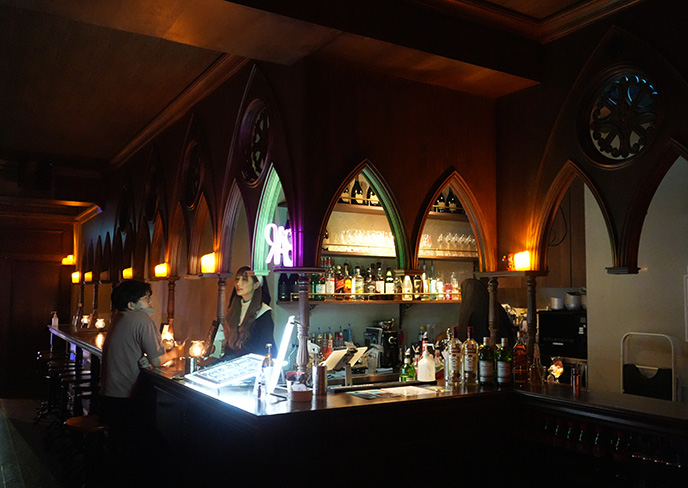 Ask one of the nun bartenders for a glass of blood red wine, and give a toast to Satan before dancing the night away.
We'll always make time on a Sunday to go to church… if it's The Church in Shibuya!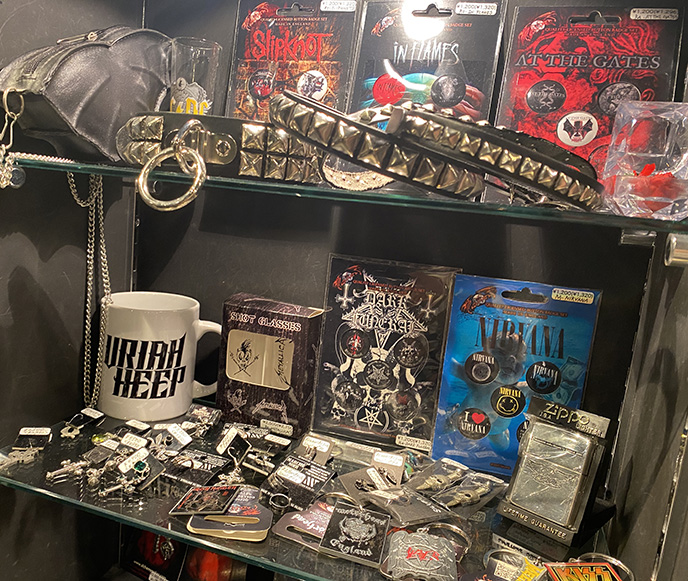 I'll leave you with some final demonic snaps from Shibuya. I popped into Blitz rock shop, which sells heavy metal and hard rock merch.
Shibuya is one of my favorite shopping districts. In Don Quixote and Village Vanguard, you'll be confronted by shelves of kawaii mascots like Pokemon's Gengar.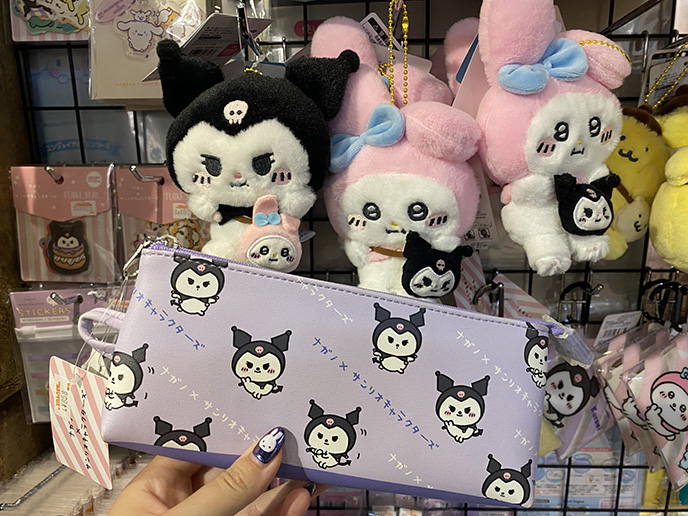 The devilish Kuromi is popular in Japan, especially around Halloween.
I love how plump they made these Sanrio characters!
Miffy the Dutch bunny has her own row of goodies at Village Vanguard.
You can find retro and lesser known characters in the basement of VV.
I'll never grow tired of Japanese kawaii character design.
I was into the subdued colors and rounder shapes of this Sanrio collection inside Shibuya 109.
You can find Hello Kitty shops all over Tokyo, including in Shibuya and Shinjuku.
In Japan, there's a greater selection of Sanrio goods as well as limited edition pieces like these Kuromi bags.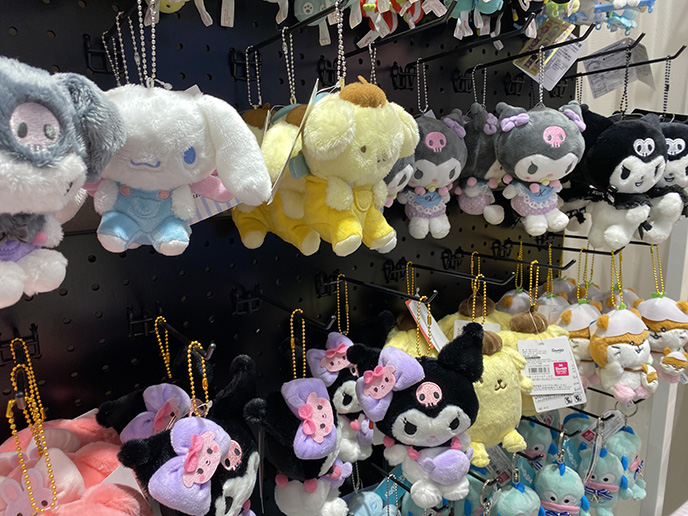 The yen remains low, so I'll be doing some damage when I'm back here…
See you cuties in Tokyo and other cities this Halloween! (Japan Tourism is sending me to the Land of the Rising Sun from October to November — join me at the alt parties on Oct 7 and 29, described at the top of this post.)
For tons of spooky Japanese content, add @LaCarmina on Instagram, as well as FB, TT and X (is that what we call Twitter now?). またね — see you later!