Category Archive for
Visual Kei + Music
I'm pleased you enjoyed my first report from Whitby Goth Weekend 2015! It was my first time at this massive British alt music and culture festival, and the entire town was filled with dark inspiration.
Let's continue this WGW series with style snaps of attendees, a browse through the fashion bazaars…
(Find Goth corsets, boots and more below)

… and a review of the Goth and Glam musical performances. 
Whitby is a seaside town in Yorkshire (northern England). At first, this seems to be a bizarre location for a Goth music and culture festival.
However, when you witness the dramatic skies, crashing waves and Dracula abbey on the horizon, it all makes sense.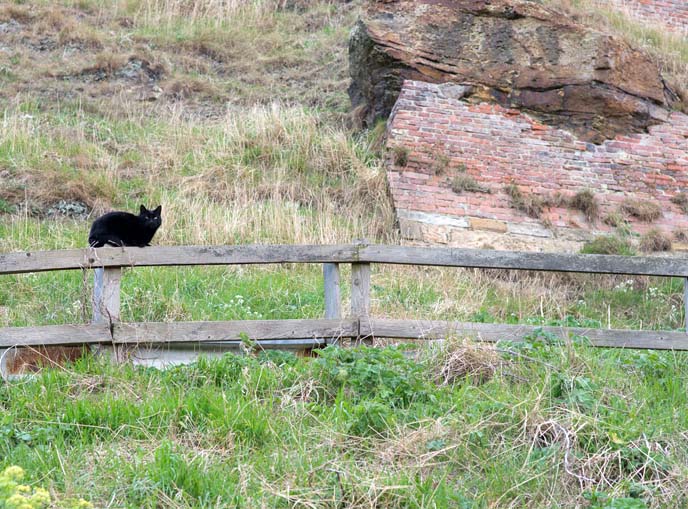 Photographer Joey Wong spotted this appropriately black cat, giving us the evil eye.
To get in the mood, I dressed as a Victorian "woman in black" and haunted our Sykes Cottages rental.
We were glad to have a quaint, comfortable place to relax between the various Goth concerts and activities.
Staying with Sykes Cottages meant we got to experience "country living," yet stay within walking distance to the center of Whitby. And we weren't at all "roughing it" — the cottage rental had several bathrooms and a fully stocked modern kitchen.
I recommending finding accommodations through their site, if you're coming to Whitby Goth Weekend. If only my ghost could linger here longer!
We spent most of our time at the Spa Pavilion, where the live music takes place. The Spa also has a cafeteria and multiple halls filled with vendors.
As I noted before, you'll have to climb a steep flight of stairs to reach the Spa, so wear appropriate footwear…
The Spa is also the best place to people-watch. We were stunned by this gentleman's DIY steampunk suit. Those clockwork gears and details!
He even rigged the outfit so that at the press of a button, steam emanated from the top of his headpiece. 
We saw an enormous variety of fashion at WGW — carnival, cyber, Goth, deathrock, Victorian, pin-up.
Many attendees wore elaborate clothing that they made themselves, out of materials like feathers.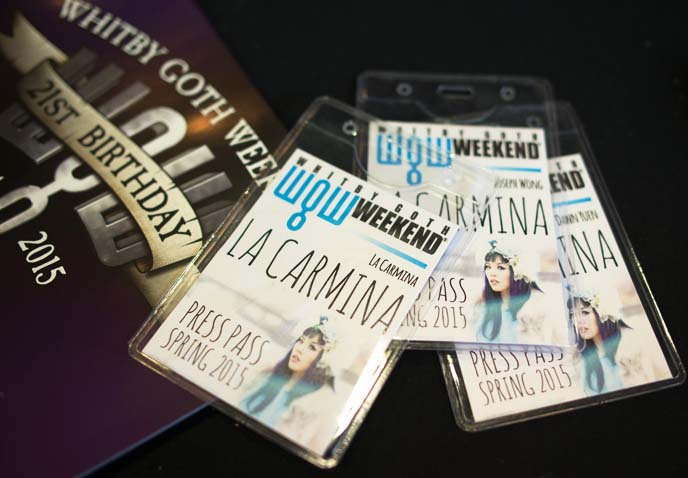 We recommend getting passes in advance via the Whitby Goth Weekend website, since early birds get discounts. The next event is in October, so you can plan ahead.
The organizers graciously gave us press passes. All of the staff was knowledgeable and well-prepared, and happy to answer questions.
Bring British pounds with you, as there are at least three different locations for vendor markets. These independent sellers set up booth, and sell one-of-a-kind alternative accessories, sweets, clothing, you name it.
This is what the scene looked like, in just one of the halls… As you can imagine, it gets overwhelming! I suggest briskly looking through everything first, and then coming back to narrow down what you want to purchase.
Steampunk is one of the most popular aesthetics at Whitby Goth Weekend. You can complete your outfit with a top hat or brass pocket-watch.
I'm loving this Goth wedding cake, which looks like a weathered book.
It was Whitby Goth Weekend's 21st anniversary, so they prepared a chocolate skull cake! There were also bat lollies and absinthe chocolates for sale.
The bazaar had lots of spooky-cute designs, like these coffin earrings and Victorian cameo necklaces.
(Below are some Steampunk items for sale.)

I gave the giant stuffed bat a squeeze. There are gifts for all ages, from kawaii-Goth pillows to toddler t-shirts.
Now, let's take a closer look at people's personal style at the festival. There was no set dress code — you'll come across all ages, all aesthetics.
The only overall link was "dark creativity," as exemplified in this apocalyptic gasmask and steampunk explorer.
My friend Nyx wears Dracula Clothing — love her vampiric collar and collection of silver rings.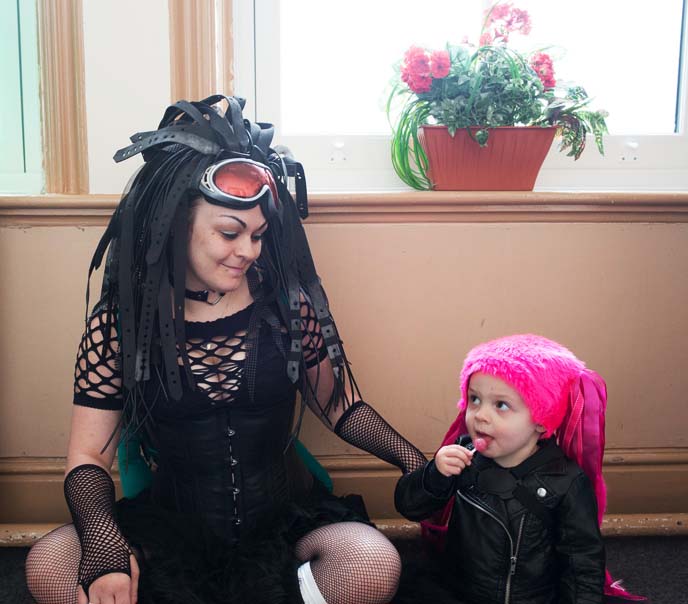 We saw a fair number of baby-Goths and children at the event. This one loved posing for photos, and rocked her pink cyber locks.
Very cool to see how Goths from the 80s and 90s now have families, who all take part in the lifestyle.
The Spa also holds the "Bring and Buy," where you can sell and purchase used clothing at discount prices.
Be sure to arrive early, since all the vending bazaars close around 5pm. After, only wristband-wearers (who bought passes) are allowed into the venue to watch the concerts.
Joey and I got to see the bands from the photography area, just inches from the performers. We began the evening with The Last Dance, a Goth rock band that has been releasing consistently strong albums since they formed in California in 1990.
Vocalist Jeff Diehm sang a few songs with female guest Velvet Shadow. The band's category-defying dark synth sound, coupled with a joyous stage presence, made for one of the most enjoyable performances of WGW.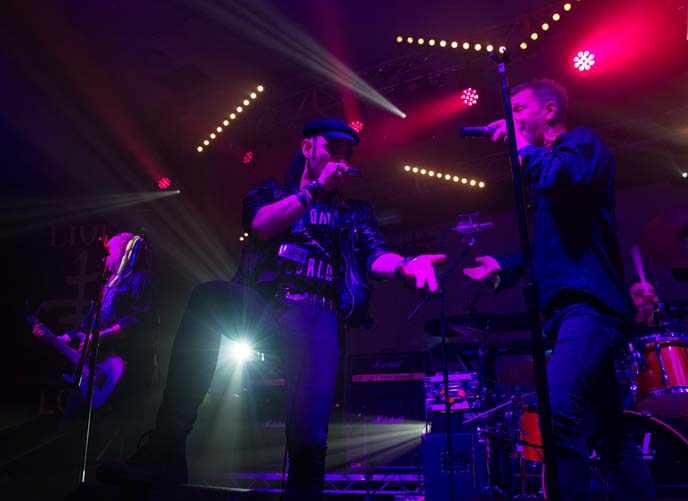 The Last Dance ended with a raucous cover of "Dead Man's Banter." You couldn't help but smile when Jeff and guest Ed Banshee linked arms and swayed together on stage.
Whitby Goth Weekend's concert hall has impressive acoustics. The space has an intimate feeling, perhaps since everyone in the audience traveled a long way to come to this festival.
For every band, there were fans leaning over the railing, singing along to every song. 
Next, it was glitter-punk decadence with Sigue Sigue Sputnik! Mohawks, sequined tops, horse tails, and codpieces took over the stage, and we knew we were in for a wild ride.
The band tore through glam rock numbers from the 1980s to the recent "Electronic" incarnation. The outfits and shenanigans took center stage, but each members had the musical chops to back up this visual candy.
Martin Degville looked like a dystopian punk, with his fishnet mask and salacious gestures. Near the end of the set, he launched into a cover of David Bowie's "Jean Genie," to the delight of the crowd.
Last but not least, we have Bella Morte. Joey's image captures the pure, visceral energy from frontman Andy Deane. He leapt all over the stage — sometimes veering dangerously close to the equipment and ledge — and kept everyone in rapt attention.
The group's name means "beautiful death," and it fits their music: sometimes hard and dark, but always beautiful. Bella Morte's latest album, "Exorcisms," encapsulates the feeling of watching them raw and live on stage.
After the last set, the Spa turned into the ultimate Goth party! The DJs' playlist veered towards old school Gothic, New Wave and post-punk tracks, which I personally love to hear.
The dancefloor looked like a coven of witches, swaying in their long black gowns.
See these bands and dancers in action, in the video above and on VideofyMe.
I leave you with the ominous Whitby Abbey… Later, I'll show you an editorial magazine cover photoshoot that we did right against the church ruins.
Isn't it wonderful to see dark, alternative bands and fashion thriving, at Whitby Goth Weekend? Perhaps you'll make the trip out for the next WGW during Halloween 2015!
I'm wearing Joy Division tights, and posing like Morrissey — in Manchester, England!
For years, I've wanted to make a pilgrimage to this British city, which is one of the birthplaces of Goth and Post-Punk. But as Ian Curtis sang in "Disorder" — "I've been waiting for a guide to come and take me by the hand / Could these sensations make me feel the pleasures of a normal man?"
The answer is yes, yes, yes. Manchester Music Tours took me on the perfect customized Joy Division / New Order / The Smiths journey…
… which included stops at Factory Records (above), Ian Curtis' grave and home, Salford Lads Club, and Manchester Cathedral. Read on for the photos and stories!
(UPDATE – RIP Craig Gill, whose kindness I will never forget… it was truly a special day. His tours are still being run by his family, and I encourage you to support them.)
Manchester Music Tours is run by Craig Gill, drummer of rock band Inspiral Carpets. I couldn't have found a more passionate and knowledgeable guide. Craig has lived and breathed the local music scene since he was in his early teens. All day, he riveted me with stories of the Mad-Chester rave days, Noel Gallagher auditioning for his group (and getting rejected), and personal tales of growing up in this gritty city.
Craig offers both bus and walking tours, themed around famous Manchester bands including the Stone Roses and Oasis. He also does bespoke tours, and customized one for me around my personal favorites: Joy Division and The Smiths.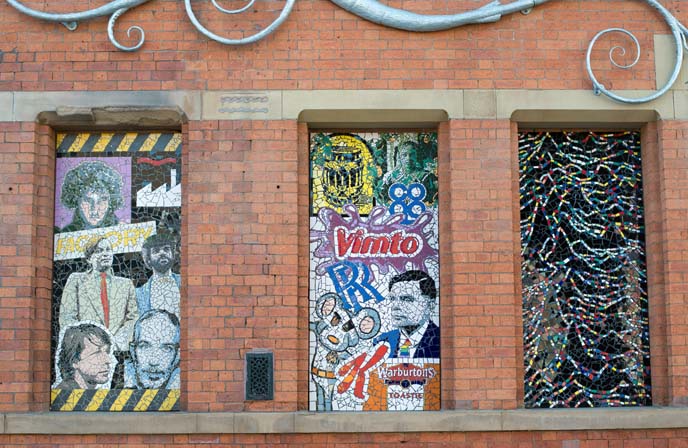 We started at Affleck's, an alternative fashion center in the Northern Quarter (I'll take you inside, in an upcoming post).
The exterior has tiled murals dedicated to Manchester luminaries. On the far right is a tribute to Joy Division's Unknown Pleasures album cover — notice it's the same pattern on my leggings and skirt.
Nearby, there's a Manchester musical walk of fame. I'm standing on a tribute to the Twisted Wheel Club, a 1960s and 70s nightclub for Northern Soul. (Craig's band has a triangular plaque on this street too!)
We hopped back on the bus, and drove to Factory Records — the label of Joy Division, New Order, Happy Mondays and other British indie bands. (I did my makeup in 80s Goth style, to commemorate this era!)
● Outfit Details ●
– LovelySally leggings and skirt, featuring the Unknown Pleasures album cover print. This brand has many unique prints, including forest scenes and galaxies.
– Skull t-shirt from Iceland's Dead Gallery. In an upcoming post, I'll take you inside artist Jón Sæmundur's studio.
Shop for Joy Division fashion and accessories below.

Nearby, we found a stencil of "Mr Manchester" by street artist Stewy. That's the nickname of Tony Wilson, founder of The Factory and energy force behind the Manchester music and nightlife revival.
Tony Wilson is portrayed brilliantly in the movie 24 Hour Party People — I encourage you to watch it, if you haven't already.
Today, this is building is home to FAC251, or the Factory Manchester nightclub. It's co-owned by Peter Hook, bassist of New Order and Joy Division.
Thanks to Craig's distinctive yellow bus, we were able to visit many famous spots in the course of a day. Photographer Joey Wong and I wanted to re-create famous visuals of the bands, so we stopped by Epping Walk bridge for a quick photoshoot.
This is the footbridge where Kevin Cummins took the iconic photo of Joy Division (above), in the late 1970s.
So cool, to be standing in their footsteps! The feeling of the bridge remains the same, over 40 years later.
(Although for some reason, the city replaced the original streetlamps and placed them on the other side. It appears they've added a safety hand rail too.)
Next, we drove to Salford to pay tribute to this famous photo, from the sleeve of The Smiths – Queen is Dead album.
Since 1903, the Salford Lads Club has run sports and recreational activities for young men (and now women). Today, the community is still going strong thanks to volunteers.
I did my best to imitate Morrissey's smug mug for the photos.
Located at the corner of Coronation Street, the Club has become one of the most famous musical landmarks. Fans from all over come to pose between the rounded arches.
Inside, I saw an old wood door marked with "The Smiths." Inside, I found Leslie Holmes putting up photos and notes from devotees! 
In 2004, Leslie led a project to turn the weightlifting room into a shrine for The Smiths. He loves meeting visitors from around the world, and puts his heart into maintaining this room for them.
He invited me to send in my photo taken outside the Salford Lads Club, which he'll add to the wall. (Look for La Carmina, if you visit…)
The wall includes album covers, signed photos, and the original Affleck's mosaic featuring Morrissey.
So happy to have Craig as my enthusiastic guide. He was fantastic at answering my questions, and sharing stories of the bands.
Since this was a customized tour, we could move at our own pace. We stopped for lunch at The Wizard Pub at Alderley Edge. What a special place: the inn dates back to the 16th century, and the surrounding countryside is the site of Merlin legends.
Still dreaming of that ricotta and spinach pie… (In an upcoming post, I'll show you how Manchester's food scene pleasantly surprised me, and defied stereotypes about British cuisine.)
It took about 45 minutes to reach Macclesfield, the town south of Manchester where Joy Division's vocalist grew up. I loved seeing the peaceful, green countryside outside my window as Craig drove us to Macclesfield Cemetery, where he is buried. 
Ian Curtis was cremated here in 1980. Fans continue to visit his curbstone, leaving photos and gifts for this beloved musician.
(The original memorial stone had a more Gothic font, but it was stolen in 2008!)
Perhaps you recognize this view from the movie Control. The final scene pans out to show the chimney where he was cremated. 
This Victorian-era graveyard is beautiful — the perfect resting place for the man who many consider to be the first Gothic musician. 
Manchester Music Tours also took us to the Macclesfield home that Ian Curtis shared with his wife (and where he ultimately committed suicide, in the kitchen). The house was recently sold to an unknown buyer. Let's hope he or she is a Joy Division aficionado, and will preserve the rose-stained door
Also in the movie Control, you'll see the actor playing Ian Curtis walk from this exact home to his job nearby, as an employment agent. The back of his jacket reads "Hate."
While working here, Ian witnessed a woman suffering a seizure, inspiring the lyrics of the Joy Division song "She's Lost Control."
Craig Gill and I posed in front of the Juveniles sign (there's a plaque for the band on another wall). We seem to be imitating the "dancing girls" emoji pose.
For our last stop, we drove back to Manchester and stopped by the cathedral where the band took these shivering pictures
That's as Gothic as it gets. (If you dig what I'm wearing, below are links to Joy Division shirts and more).

Love the Gargoyles perched on the pillars.
Manchester Cathedral has a history that dates back centuries. Today, it holds poetry readings, musical performances and more.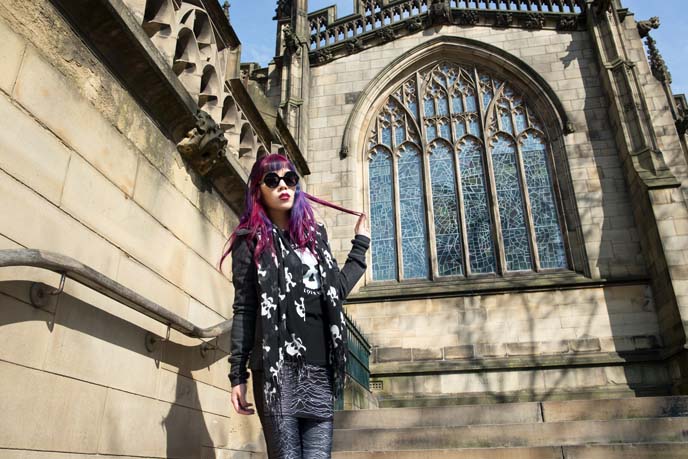 I can't thank Manchester Music Tours enough for this inspiring journey! Goth / post-punk music fans, I urge you to join one of Craig's tours. Having a passionate, easygoing guide like him was invaluable, and let us visit multiple locations in just half a day.
(Below is a bonus photo of The Hacienda, Tony Wilson's happening club and music venue. Today, it's an apartment complex but the name remains.)
Craig's band, Inspiral Carpets, recently released a new studio album that you can pick up here. Psychedelic organs, spoken word, and dark beats — I've been listening to it on loop in my car.
Manchester's music scene continues to rock hard. Inspiral Carpets is performing with Echo & The Bunnymen, Gang of Four and other indie bands on May 23rd at Manchester Academy (I wish I could be there.) Tickets are available online.
I leave you with a final shot of the Morrissey room at Salford Lads Club. "Farewell to this land's cheerless marches / Hemmed in like a boar between arches…"
Wouldn't you love to go on Goth music adventure like mine? Thanks to Visit Manchester for making these travels possible.
(For a taste of the bands featured in this tour, click on the player below.)