The Birthday Massacre concert: 2017 tour review & new album! Sumo Cyco, Kyoto Gion kawaii shops.
Summer is back, and I'm ready to play! I have some big new destinations coming up — all will be announced soon.
If you've been following my Instagram Stories or Snapchat (@lacarmina), you'll have seen me at the The Birthday Massacre live in Vancouver!
Read on for a review of the Gothic concert. I also included some snapshots from Kyoto, Japan because they remind of Rose (as I last saw this band with her in 2010.)
Greetings, Earthlings. We are now taking over your planet. (Couldn't resist posing with the UFO spaceship "Time Top," by Jerry Pethick.)
Before the concert, my friends and I spent the day walking by the ocean, and enjoying the sunshine that has finally hit Vancouver.
I'm shading my eyes from the light with these exact John Lennon Walrus eyeglasses (yes, he has a glasses collection!) These round, retro metal frames are based on the design that the Beatles musician wore in iconic photos.
If you can "imagine" yourself wearing John Lennon sunglasses, you can get them here.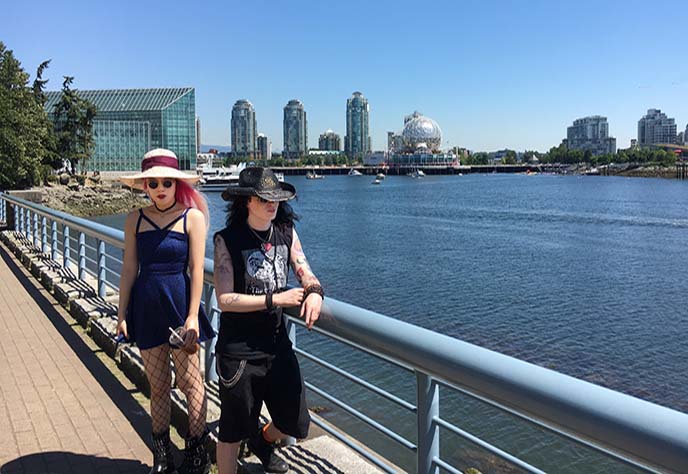 We encountered yet another alien mothership on our walk. (Okay, it's Vancouver Science World).
– Outfit Details – I bought my dress at Siam Paragon / Discovery mall in Bangkok, Thailand.
My diamond fishnet tights are from We Love Colors. They carry a variety of colored socks and legwear (mine are the wide mesh fishnet style in navy — great for warm weather).
A perfect day of wandering around downtown. We stopped for dinner and cocktails, and then headed to The Venue on Granville Street for the show.
The opening act, Sumo Cyco, started the show — and stole it. The stylish lead singer Sever (or Skye Sweetnam) is impossible to take your eyes from. She tossed her blue-green hair back and forth, crouched like a tiger, and went out into the crowd to down a whiskey shot. By the end of the set, her powerful stage presence had everyone smiling and bopping along.
Sumo Cyco's songs are a mix of punk and metal: catchy hooks and riffing guitars over heavy beats. I was impressed with Sever's vocals, which moved from the sweetness of Gwen Stefani to a deadly growl. 
My friends and I were all blown away by Sumo Cyco, and would see them live again. It's fantastic to discover an indie, female-fronted band that rocks this hard, exceeding all expectations for an opening act.
Next up: a solid performance by Army of the Universe. This industrial dance music group hails from Italy, and is signed to the Metropolis Records.
I'm often reminiscing about the 1990s these days… Army of the Universe spoke to my nostalgia, with an electro-techno industrial rock sound reminiscent of early Nine Inch Nails.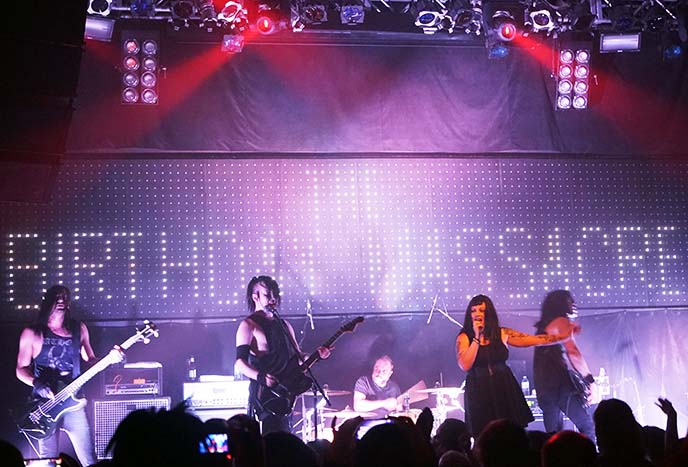 The crowd went crazy when The Birthday Massacre walked on. The Canadian Gothic group formed in 1999, and has cultivated a rabid following ever since.
It seems all my alternative friends have seen them at some point, and continue to love them (myself included). The band's dark vision yet inclusive, positive energy have made an impact on many growing up Goth.
The dynamic lead singer, Chibi, displayed as much energy as ever. She always gives 100% love to her fans, trading cheeky comments and reaching down to hold their hands.
The band's name, The Birthday Massacre, perfectly encapsulates front-woman Chibi: cute, chirpy, with a touch of evil.
Any time you see The Birthday Massacre on a concert bill, you know you'll get a brilliant performance. The musicians displayed their talent through a wide-ranging dark spectrum of sound: electronic, atmospheric, Goth-melodic, headbanging guitar, and the all-mighty keytar.
Michael Rainbow and Chibi are two of original founders (along with Michael Falcore), and you can sense the telepathic connection between them on-stage.
The touring drummer, Nik Pesut, only had two days to learn the songs, and rocked them. Even with a new addition, the live show is as strong as ever.
The Birthday Massacre treated us to two hours of nonstop fun and dancing. They played their most beloved songs, including Blue, Kill the Lights, Looking Glass. Chibi gave a shout-out to a fan celebrating her big day, at the start of the Happy Birthday song.
The group also debuted a few new songs from their upcoming album. I can't wait for this one: my friend Kevvy Metal (Kevin Maher) worked on the production, and the cover art looks fantastic. The newest songs are on the heavier side, with lots of headbanging riffs.
The band ended with a three-song encore, including a cover of Tiffany's "I Think We're Alone Now" that got me cheering. (All right, it's originally by Tommy James & The Shondells).
The Birthday Massacre put on a brilliant, fan-friendly show as always. Check out their site for upcoming tour dates; this is an act you must see live.
My friends and I were talking about how strange it is to talk about Rose in the past tense… she would have been the first to get tickets for this show.
Still, it feels like she is alongside us, at events like these. In this vein, thought I'd end by sharing some last photos from Kyoto: I took snaps of cute stores that she would have gone wild for.
Rose always wanted to go to Japan, but her health never stabilized to the point where it was possible.
When I saw this collection of cute little seals (San-X Mamegoma toys), I immediately thought of her. She'd run right over to them and give them a squeeze!
Rose loved Halloween everything (like me), and all things kawaii with a touch of weird. She would have swooped up these pumpkin-seal and witch-rabbit hybrids.
This Kyoto portion continues below…
Around Sanjo-Dori in Kyoto, you'll find tons of cute design / souvenir shops (and even an owl and Bengal cat "forest" cafe). I would have gotten Rose this purse featuring Artemis, the white cat from Sailor Moon. 
Kyoto is all about beautiful craftsmanship. She collected stationery, and couldn't have resisted these animal greeting cards. The artist depicts the birds, cats and rabbits brilliantly, just with a few simple strokes. Love the round tummies and sideways feet of the kitties.
I think this Halloween poster sums up Rose and me. The animals are round and adorable, yet surrounded by cobwebs, bats, pumpkins and graveyards. 
I was tempted to pick up one of these handtowels or cloth sacks / wraps, decorated with Jack O Lanterns and pointed witch hats. Isn't the shopping selection in Kyoto amazing?
I stayed at a hotel, Gracery Kyoto Sanjo, located in the Teramachi Shopping Arcade — consisting of a dozen streets filled with cute shops and shrines. This maneki neko cat statue didn't seem so lucky, with a butcher knife through his skull.
Rose and I always had too much fun in game centers, especially if purikura was involved. I have a treasured collection of our sticker machine photos.
We would have gotten matching fetish chokers for sure. I remember Rose had a red plaid skirt that would have paired with this perfectly.
She adored piercings and tattoos, and collected many over the years. Perhaps she would have gotten one more at this Kyoto piercing and body modification parlor. 
Rose loved every aspect of Japanese culture, and I know she yearned to see Kyoto's shrines. There is literally one (or more) every few blocks, in the city center. I walked by Nishiki Tenmangu shrine, and this oxen statue caught my attention.
This shrine's entrance is layered in rows of glowing lanterns, which especially look magnificent at night.
Despite being located in a busy shopping area, the interior is classic Shinto. I spotted these oxen-decorated wishing boards, statues and water purification basins.
Rose and I could have spent hours browsing the surrounding boutiques. So. Many. Squishies.
I love it when Japanese characters are a bit creepy-weird. This rabbit looks like a demented Miffy with three ears… and is that a frog with bulging eyes and a lascivious smile?
This Nara deer is frowning and baring his buck-teeth in front of a Kyoto dental clinic. Not sure if it's the most inviting mascot!
Contrast this with the classic pottery and other handicrafts found all over Kyoto, especially the geisha district of Gion.
I encountered another place of contemplation during my walk. Tourists are often surprised to see "backward swastikas" in Buddhist temples. This is actually an ancient symbol that represents the turning of the Dharma wheel, compassion and generosity.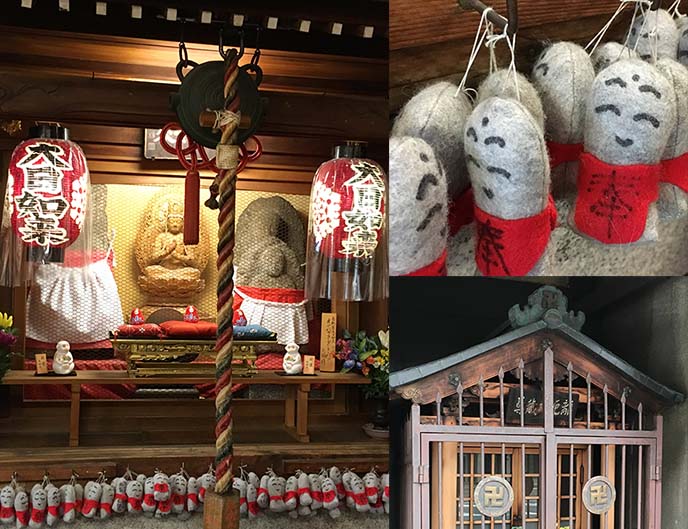 How adorable are these little smiling creatures, hanging below several stone Buddhas?
I wish Rose could have gone to a Japanese cat cafe, as she loved pets. I walked past a cat and dog petting cafe, with a Scottish Fold kitten in the window.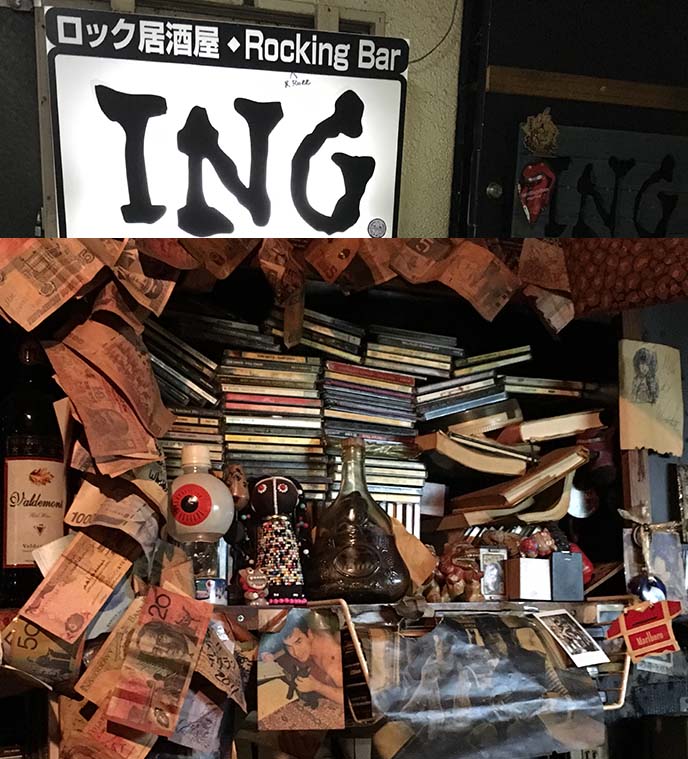 She would have loved the underground Kyoto bar scene. My friends Sandi and Nicholas recommended Rocking Bar Ing in Kyoto, and… it rocked! The owner Hako is a music fanatic, to say the least. He has an impressive collection of rock records especially from the 1960-90s, and knows everything about his favorite band, The Rolling Stones.
You can request Nick Cave, Joy Division or any favorites — and I bet he'll have it in vinyl. Ask for "Alice Cooper – Welcome to My Nightmare" and in minutes, you'd be nodding to this iconic album from 1975.
We also investigated an online tip about an underground, candlelit bar without a name. It turned out to exist: an attic illuminated only by candles, which served absinthe (Rose's favorite) and other drinks.
Finally, I took time alone to reflect at my favorite Kyoto temple, Rokkaku do. Legend says the hexagonal-shaped complex was built in the Heian period by Prince Shōtoku.
This bright Buddhist temple features rainbow flags, incense pots, willow trees, and a peaceful garden with a koi pond.
On one side, you'll find these stylish jizo (stone Bodhissatvas)! These are the protectors of women, children and travelers – which is maybe why there's a Donald Duck in there.
Devotees dress up the stones in lovingly knit caps and bibs, which are mostly red to represent safety. On special occasions, people leave offerings as well.
The temple also features a stone waterfall lined with rakan statues, or stone figures of Buddha's disciples. And the pond filled with white swans and golden carp… ah, so many reasons to love Kyoto.
I leave you with a shot of Nijo Castle, built in the Edo Period. Past, present, future — they all come together at times, in the strangest ways.
Anyone else on a 1980s and 1990s nostalgic kick at the moment? Have you seen any concerts recently that you loved? I'd love to hear your thoughts.