Category Archive for
Fashion
Ready for round two of my Puerto Vallarta travels? Read on for my offbeat, alternative guide to Zona Romantica — the LGBTQ district and best place to stay — including molecular mezcal cocktails, Day of the Dead skeletons, and a xenomorph alien!
I recommend staying in Zona Romantica as it's within walking distance of the beach and hippest restaurants, as well as LGBTQ clubs and bars. My daily protocols were a dream: get ice coffee, walk the Malecon (boardwalk) and dip my feet in the foam, eat 20 peso tacos, and watch the sunset. (You can see my fav Puerto Vallarta attractions at a glance in my @LaCarmina Instagram Guide.)
I took some photos to showcase my updated hair color — it has blue streaks in it now, along with dark purple and my natural black underneath. My stylist is Katya at Kore Salon in Vancouver.
Living the jungle life in Puerto Vallarta, Mexico. Wearing a halter bikini top by UK Swimwear — they have lots of chic swim styles, and I like how I can wear this as a crop top as well. My comfy animal print pants are from Medellin, Colombia.
I'm forever living in the 90s — that era is my makeup inspiration these days.
Digging the foreground blur. These images were shot on my Sony a7 IV mirrorless camera.
I also take images on the iPhone, as it brings out landscape and sky details nicely. I made it a habit to catch the sunset over the ocean every day.
Here's another beachwear look. My red bikini and long resort dress are by UK Swimwear.
I took these photos at the only uncrowded spot on Los Muertos beach, under the palapas. If you're looking for a quiet, deserted beach experience, go to Playa Conchas Chinas instead (all info and pics in my first PV post).
Speaking of living in the 1990s… I got these reissued Steve Madden Slinky sandals (I had the same ones in the late 90s!) The slight platform and "fwap fwap" noise bring me back. Get a pair below, in various colors:
Zona Romantica is Puerto Vallarta's rainbow district, as you can see from the pride flags and Tom of Finland murals. The streets are filled with LGBTQ clubs, bars, and shops with friendly vibes.
Always a fabulous time traveling with Trevor. (We met this local who was obsessed with my hair's realness!)
Long live the Queen in Puerto Vallarta (or the Queen Mother)…
I recommend getting a local Airbnb or booking a boutique hotel in the Romantic Zone, rather than staying in the distant resorts. Mine had a cute patio area. I'm wearing an Abysm Internal kimono that matches my hair and the turquoise door.
Abysm Internal has a wide selection of original, dark and fantastical designs — I was drawn to this Japanese horned hannya with a pentagram on its forehead. I chose it in the sheer fabric, and purple/blue color variation.
Leave it to us to find the most Gothic parts of Puerto Vallarta. We saw Day of the Dead skeleton figurines in a store near the Malecon.
This Mexican skeleton couple was looking out at the ocean from a patio by the boardwalk.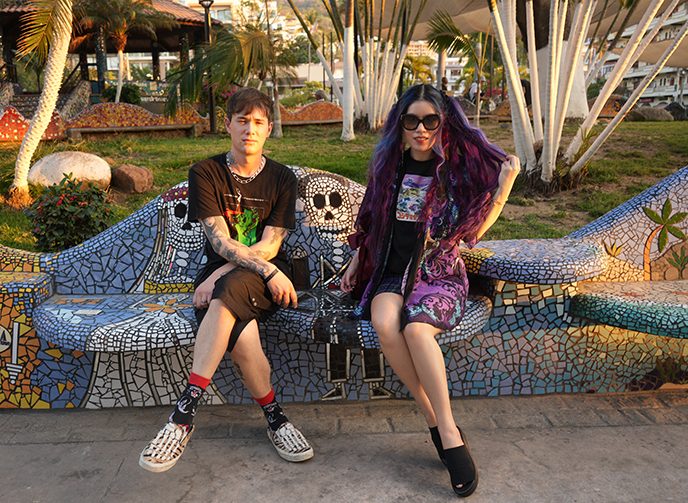 At Plaza Lázaro Cárdenas in Zona Romantica, there are a variety of colorful seats… including this Dia de los Muerto themed one. We had to take a photo here at Golden Hour.
Find my Steeeveee Maddennnn shoeesss below (if you've seen Wolf of Wall Street, you'll know what I mean).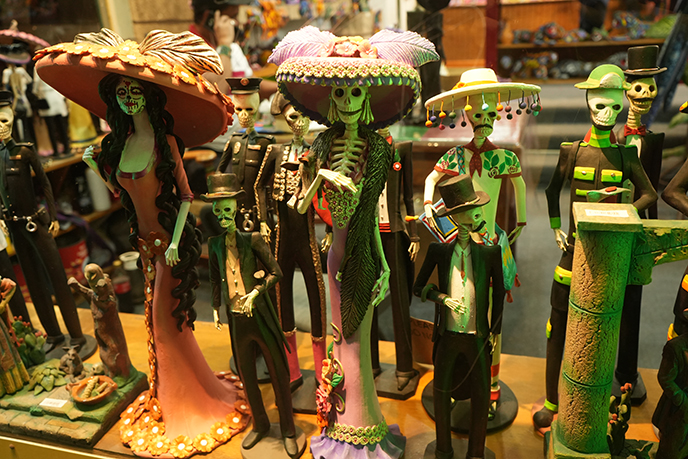 Puerto Vallarta has quite the party scene, and would be a thrilling spot for Day of the Dead. (You can see how I celebrated Dia de los Muertos and Halloween in Mexico City and Merida, in my past Mexico posts here.)
Although there weren't any Goth clubs or events in Puerto Vallarta when we were there, I loved visiting El Colibri bar, which serves mezcal craft cocktails and has an alt / Gothic atmosphere.
As The Collapse accelerates… Abysm Internal's Gothic / devilish kimonos are a stylish way to keep cool and covered from the sun.
Mexico's west coast has a dry heat and no mosquitoes (unlike in Riviera Maya / Tulum). It's easy and inexpensive to get here from the North American west coast, making it a perfect winter getaway.
Golden Hour at the beach by Zona Romantica. Take off your shoes, and have a "Gaywatch" moment.
My Japanese demon kimono is the perfect Goth summer beach coverup.
Been making it a habit to walk 10k steps a day and spend more time outdoors.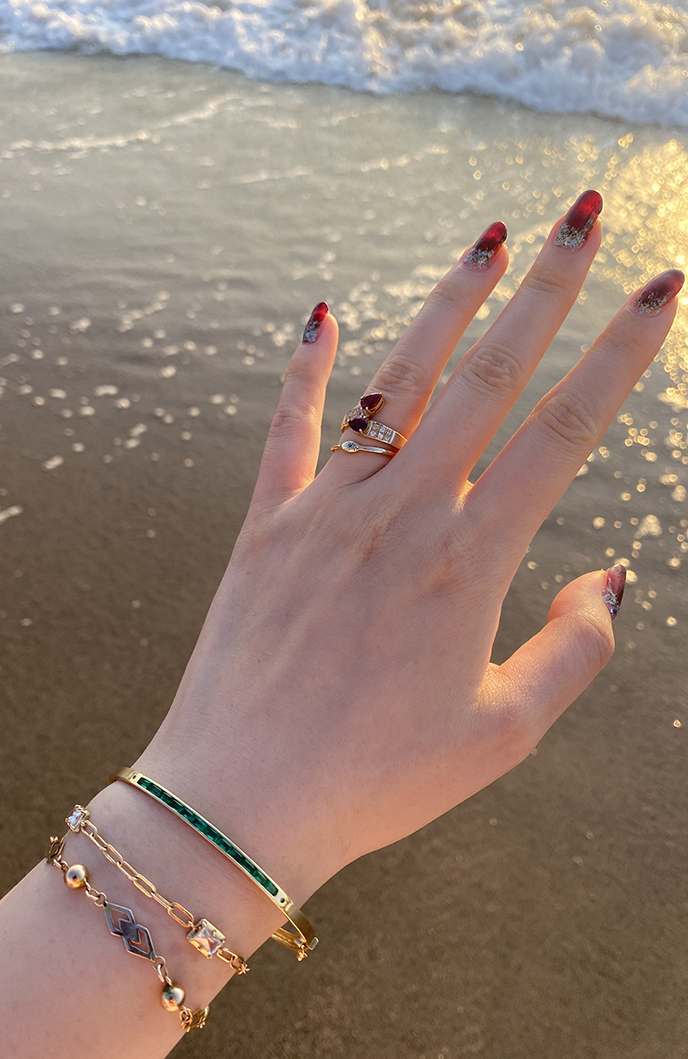 Here is a video of my jewelry at sunset. Wearing a gold and diamond ouroboros ring by Ingrid Valou (stacked with my mom's ruby/diamonds/gold1970s ring). The topaz and gold paper clip bracelet is from Anzie Jewelry (stacked with my mom's 70s gold chain bracelet, and a Colombian emerald and blue diamond gold bangle I got in Medellin.)
We were all about the witchy molecular cocktails at Mezcal & Sal, in Zona. The drinks came with magical presentations like bubbles, slides, and drops.
Mezcal y Sal also puts a creative take on Mexican dishes — such as watermelon tiradito (that tastes like marinated tuna), and cactus mousse for dessert.
I'm on a mezcal kick, as it's a pure alcohol. Visit Agave Liquors in Zona Romantica for a wide selection of artisanal mezcals. and also check out Vinos America (I got the Alipus San Andres there for 999 pesos). Stay out of the tourist stores, and make sure you purchase mezcal that is over 40% alcohol with no additives. I recommend getting a small-batch handcrafted Mexican mezcal for around 1000-1500 pesos.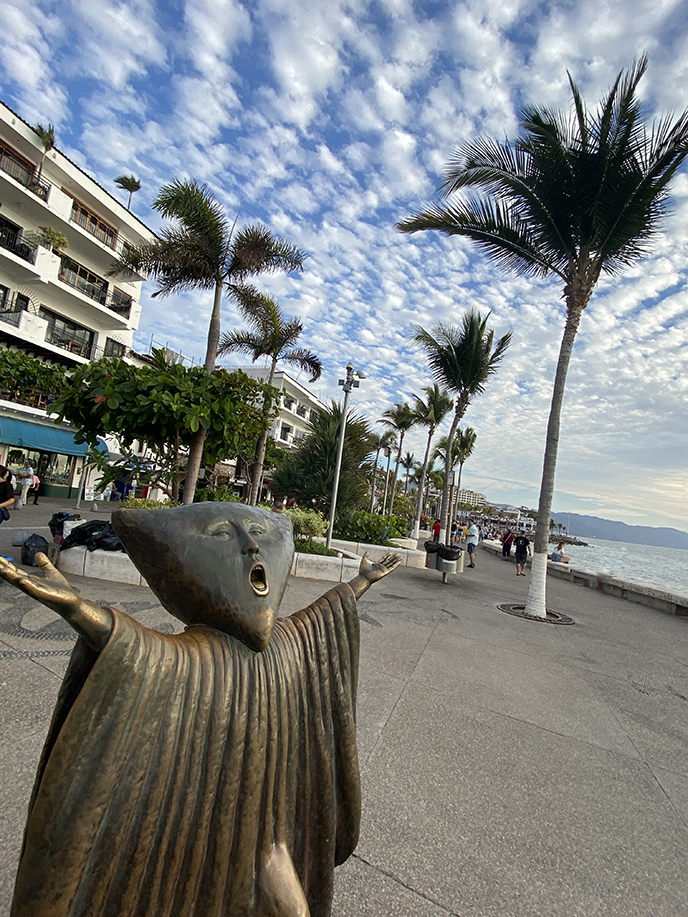 Ran into a Dorito-faced cult leader on the Malecon. While Puerto Vallarta is a popular tourist destination, it doesn't feel overly commercial or Americanized, especially if you avoid spring break and peak times.
As you walk the seawall, you'll come across weird sculptures, performance artists, and other inspiration.
We dared to approach this Alien xenomorph… What a costume! I passed by an Edward Scissorhands as well.
Loved being close to the water and birds in Mexico.
The skies turn dramatic after sunset. (See my first Puerto Vallarta post for more recommendations.)
Leave it to me to find Miffy wherever I go… next to a UFO!
The Tarzan life in Puerto Vallarta suited me well, and I'd jump at the chance to go back (especially in the coldest months)!
For more of my food / beach / attraction tips, see my Instagram Guide to Puerto Vallarta here. And if you'd like anything from my personal wardrobe, take a look at my Depop @LaCarmina (I ship worldwide, and can do bundle discounts).
Finally, a reminder that I've been ramping up my social media content… Add @LaCarmina on Instagram and other social networks (YouTube, X as it's now called) to see the latest updates, and learn where in the world I'll be next!
Welcome to the Fabulous Las Vegas, Nevada! Couldn't resist mugging for a photo at the classic sign, which was erected in 1959.
Photographer Joey Wong and I were here to report on how Sin City has become a wonderland of interactive and immersive art…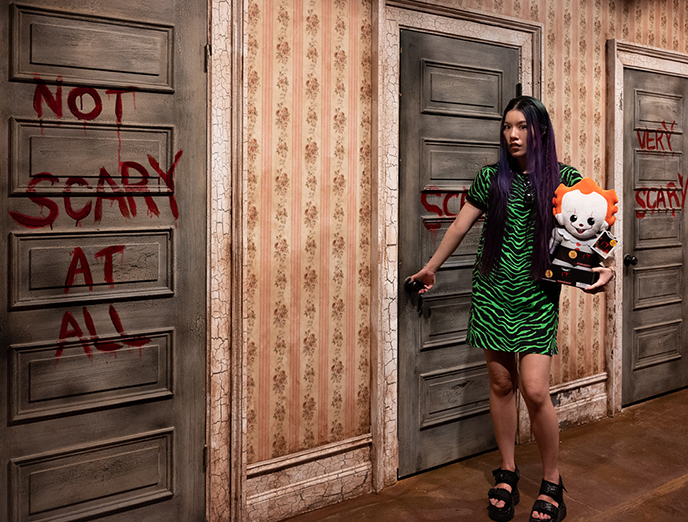 … which includes experiences like Escape It, a next-level escape room that makes you feel as if you're a character in the clown horror movie and novel!
I wrote about Vegas' grandiose multisensory art attractions for the new issue of TravelAge West magazine, out now in print and online here with photos by Joey Wong. Read on for a more in-depth, personal look at our interactive adventures in Sin City.
Jason Egan's Las Vegas escape rooms have been elevating the genre by dropping you into fully immersive worlds of horror. His latest big-budget production, Escape It, is possibly the world's largest with 16 rooms spread over 31,000 square feet. (The gigantic space also exhibits props from the Warner Bros hit movie, including Pennywise's costume!)
The exit game is based on It, the diabolical horror novel by Stephen King and its 2017 film adaptation. As a fan, I was impressed by the level of care and detail that went into the design starting from the moment you arrive. Escape It takes place in what looks like a plaza in the town of Derry (where the clown ran rampage), complete with the movie theater, Paul Bunyan sign, and Public Works building.
Outfit deets: Dress is by Sourpuss Clothing, backpack by Cyberdog, platform Goth sandals Anthony Wang, sunglasses DMY by DMY Billy.
Even the check-in process is immersive: we felt as if we were sewer-search volunteers getting oriented, and the staff never broke the fourth wall. They even claimed to not see a red balloon behind the counter, much like the experience of the children in It (only they could see the blood and horrors).
(The venue displayed official memorabilia from the WB movie, including the paper boat that little Georgie floated to the sewers, leading to his death.)
As I write in my new TravelAge West magazine piece: "Jason Egan started his career in his teens as a Nebraska haunted house creator. When he moved to Las Vegas, he combined his flair for the macabre with the escape room format." 
"His team built detailed, multi-sensory sets based on Stephen King's It, including foggy sewers and a soil path that winds through foliage to a decrepit house."
(He kindly let us take some photos inside as media — as you can see, the Neibolt house design and lighting are chilling.)
Beware of the clowns, as you solve puzzles that unlock new clues and doors! Joey and I are escape room veterans, and we were dazzled by the creativity of the puzzle designs. Escape It pulls out all the stops when it comes to cinematic effects, and uses terrific actors to guide or scare you throughout.
Players will get goosebumps from the innovative frights: a slaughterhouse gives off a meaty scent, and a panel bursts open to reveal the killer clown Pennywise!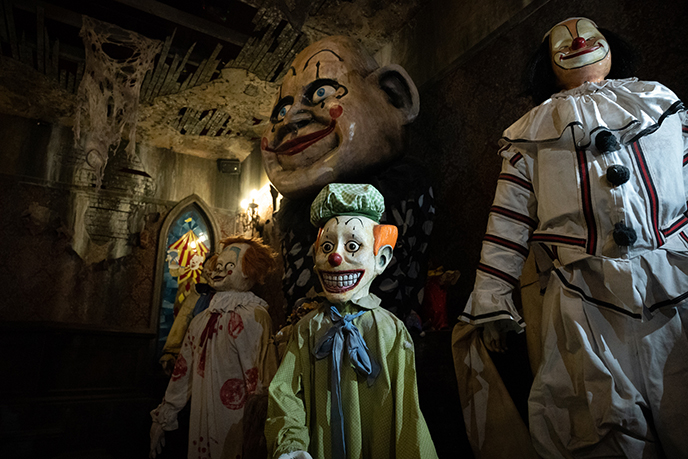 If you survive to the end, you can continue the journey with Jason Egan's other Las Vegas horror escape rooms themed after The Blair Witch Project, Saw, and It Chapter Two.
After surviving the clown attacks, we played arcade games and posed with movie memorabilia — including these original doors marked Not Scary At All, Scary, Very Scary! You can also pick up merch like a kawaii Pennywise plush.
Escape It was a frightful delight, and I mean it when I say it's the the best escape room / horror experience I've had to date. I can't wait to come back to Vegas to descend into Jason Egan's other worlds of horror (make sure you reserve tickets in advance, as spots sell out fast).
Sin City has plenty of other attractions for those with a Gothic disposition. We stopped by Cemetery Pulp, an oddities store that brings "all that is weird, nerdy and off the wall to the people of Las Vegas."
We were greeted warmly by the owner, who is always delighted to tell the stories behind the vast collections of dark / Goth homewares, craft items, books, and other spooky 'tings.
Cemetery Pulp is a Goth's dream shop (or nightmare?). There's even a Dracula coffin for photo ops!
You'll find many devilish handcrafted treasures, like this wood inverted cross coffin container.
How about a passport to Satanistan? It features the goat head in a pentagram logo (you can read about the origins of the symbol in my new The Little Book of Satanism!)
Las Vegas has become home to leading alternative conventions like the Body Art Expo for tattoos, extreme body mods, and suspension. The city also hosts leading music festivals like Sick New World (nu metal, alt-rock) and Cruel World (classic Goth, New Wave and punk).
Vegas' kitschy-weird vibe makes it a fab destination for travelers like me.
Cemetery Pulp has shelves of animal taxidermy, skulls, and wet specimens in jars. That's a pig stump with a tattoo on it!
This oddity shop truly puts the cult in culture. Shop til you drop at Cemetery Pulp, and say hi to the team for me.
After dark, you can experience yet another massive, fully immersive attraction — Transfix at Resorts World. The touring exhibition lights up the city with 50 gargantuan "participatory works" spread over 200,000 square feet. 
You're encouraged to engage with large-scale kinetic, sound, and light installations that respond to your body — like these helixes that glow as you move.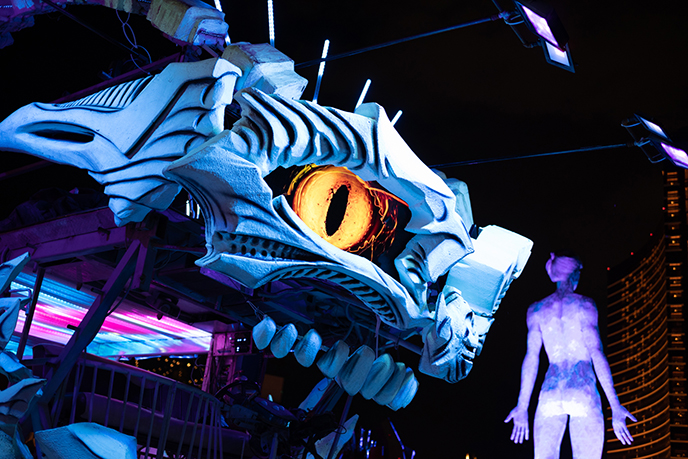 Many of the installations have an alien meets Burning Man vibe, and hit all the senses (this dragon-bus emitted neon lights and thumping EDM music). 
Great balls of fire! At Transfix, many of the works morph as you play with them, like a digital wall that creates unique patterns based on your dancing.
Love how everything is bigger in Las Vegas.
Transfix is a dazzling playground of immersive art — check it out at Resorts World hotel.
Finally, let's have a nightcap at an immersive bar: The Cabinet of Curiosities. Located at Horseshoe Vegas, it feels like a Victorian adventurer's lair with hundreds of bizarre curios from around the world.
Try a mezcal and chartreuse craft cocktail at The Cabinet, and then see if you can unlock the entrance to a second hidden speakeasy called The Lock. (You might have to crack the code to a safe, and do some crawling!)
Did you know that you could find Gothic / horror / interactive experiences like these in Las Vegas?
For more tips, see my travel writing for TravelAge West online here and in the print magazine. And thank you for reading my newest book with Simon & Schuster, The Little Book of Satanism!