Category Archive for
Egypt
Call me Queen of the Damned. If you dare rouse me from my sarcophagus, I'll unleash the curse of the mummy!
I think you can tell I had fun with Yukiro in Egypt, on our journey with Travel Talk Tours. Alas, this is the final story from the land of Cleopatra… but it's an epic one, featuring royal mummies, sphinxes, and other undead delights in Cairo.
(Wearing pants by Charli Cohen, and lace bodysuit by UK Lingerie.)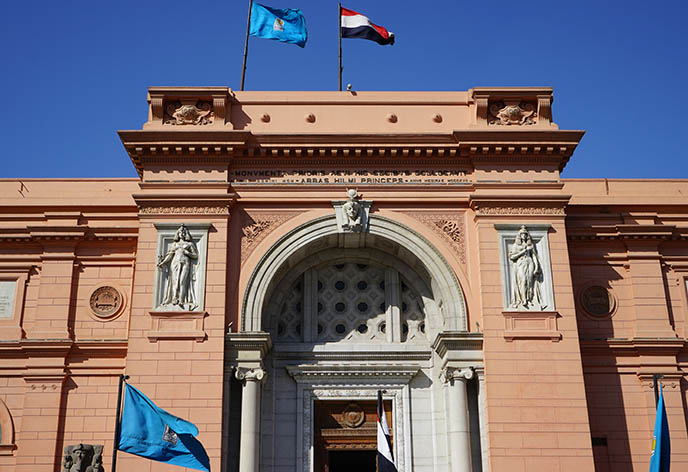 Our 12-day Travel Talk tour included two days in Cairo. I was most excited to visit the Museum of Egyptian Antiquities — I've dreamed of being here since I learned about it as a child.
But first, I wanted to share something meaningful I published in Fodor's Travel. On January 7, my close friend Elizabeth Wurtzel (who you may know as the author of Prozac Nation) died from breast cancer (BRCA mutation and metastasis).
I wrote a tribute to Lizzie here, highlighting what I learned about her during our trip to Brazil. I hope you enjoy it, and that it captures a sense of her one-of-a-kind personality — "forever wild and brilliant and impossible."
On that note – I'm delighted to announce I'll be at New York Fashion week… but this time, for a more meaningful reason.
One of my best friends, Molly, is a breast cancer thriver. She and her mom are walking the catwalk to share their story and make a difference.
NY friends, please join us on Feb 9th. We'd love to be with you at this fashion show.
Watch Molly and her mom walk the stage wearing AnaOno (designer of post-surgery bras for those affected by breast cancer), in partnership with Cancerland. 100% of funds will go to nonprofit METAvivor Research and Support Inc. for metastatic / stage IV breast cancer research.
More info & tickets here; I hope to see you February 9th!
And now, Egypt — the ancient land of powerful women rulers.
Cairo's Egyptian Museum was built in 1901, and parts of it shows its age (crumbling walls, tilted captions). In the outdoor sculpture courtyard, a Sphinx welcomes visitors.
However, the city is currently building a new Grand Egyptian Museum, slated to open in 2020. I caught a glimpse of it by the Giza pyramids: designed by Heneghan Peng, it's a modern structure of glass triangles.
Until then, you can go to the original Egyptian Museum to see tens of thousands of ancient artifacts. The museum houses around 120,000 items, with most of it in storage.
(Note: you need to get a photo pass in order to take images inside, like we did).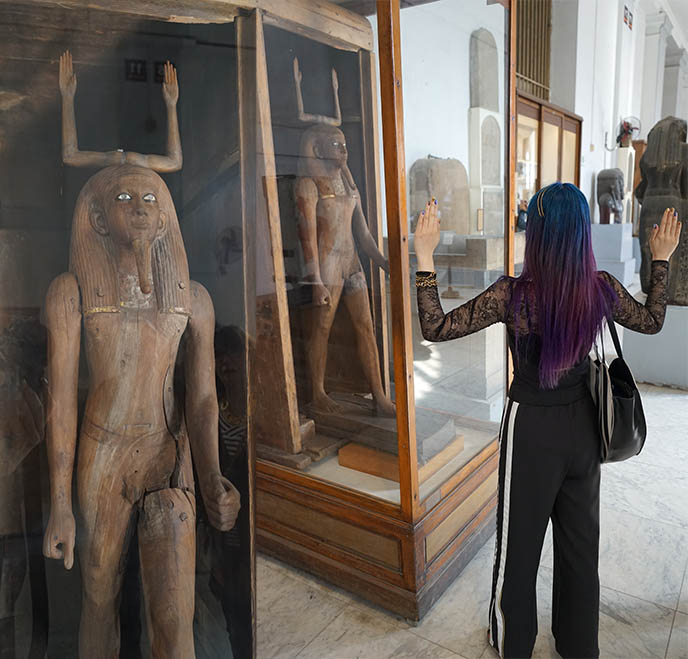 In books and blogs, you typically see the most famous Egyptian works (such as the Rosetta Stone and bust of Nefertiti). But I'm here to show you the most bizarre relics we encountered at the Egyptian Museum!
Is it just me, or does this standing male sculpture make you think of Beavis and Butthead? "I am the Great Cornholio, I need TP for my bunghole!"
Not all mummies look like the elegant King Tut. In the later era of Egyptian civilization, the sarcophagi had Greco-Roman-style portraits painted over the facial area.
(And it appears they understood the importance of elevating one's feet, even after death!)
I think you can guess why the sarcophagus room was our favorite area of the museum. From above, the shape resembles a vampire coffin. (I suppose that's why the undead emerge from both?)
Looks like a mummy has escaped from one of the coffins…
These are traditional styled Egyptian sarcophagi, with the nemes headscarf. Propped up in a row, the dark stone death chambers are as Gothic as it gets!
Speaking of morbid anatomy — we were delighted to see Egyptian canopic jars. During the mummification process, the viscera are removed from the corpse, and preserved in these carved jars for the afterlife.
Canopic jars are topped with four deity heads. Your lungs are protected by Hapi the baboon, while your stomach goes to jackal-headed Duamutef. Imsety the human gets the liver, and the falcon-headed Qebehsenuef holds the intestines.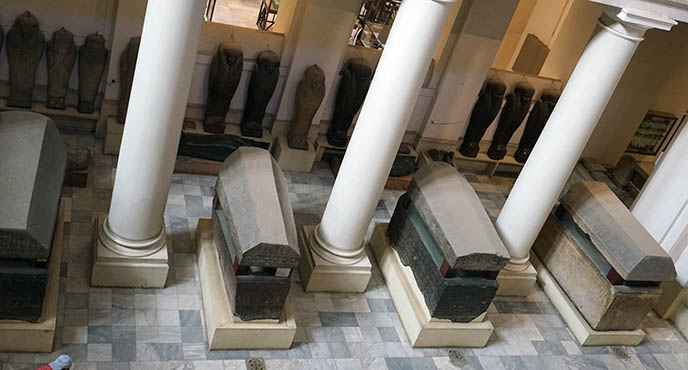 If you're fascinated by ancient Egyptian death rituals, you've got to see the Mummy Room at the museum. Entry requires a separate ticket, and it's well worth it for the special exhibits related to mummification… and the glass cases of dead pharoahs!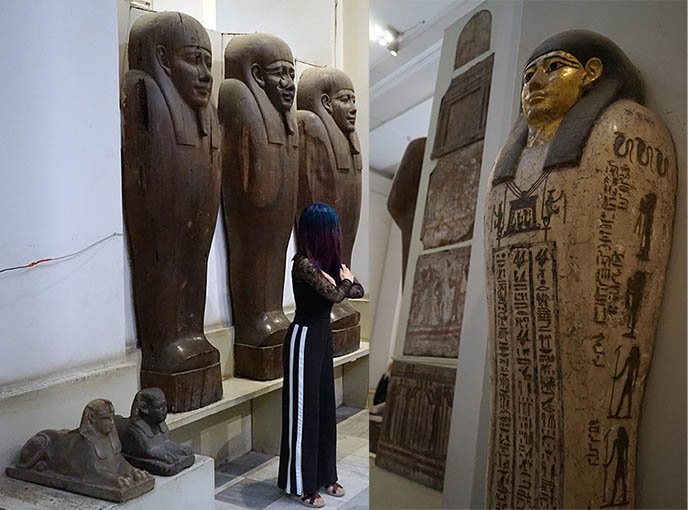 You aren't allowed to take photos in the Egyptian Museum's Mummy room, so you'll have to imagine the small, shriveled brown bodies of Egypt's most famous pharoahs.
We ooh-ed over the preserved corpses of Seti I, Ramses II, and various pharoahs named Amenhotep and Thutmosis. Each was wrapped up in bandages, with arms crossed over the chest. The mummification technique was so pristine that we could still see their teeth and nails, and strands of hair!
The museum labels couldn't possibly explain all the weirdness we saw. What's the deal with the two heads coming out of a stone covered in hieroglyphics, much like an Alien movie scene?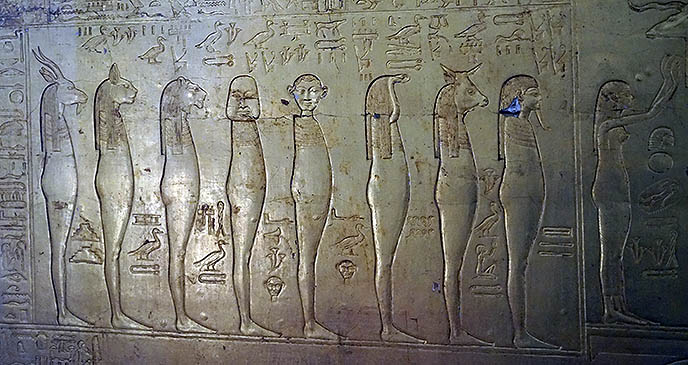 I did a double-take when I saw the potato head faces in the middle, staring at me from the side of a stone mausoleum. Why are they turned to towards the viewer, like something out of a horror movie?
Plus, they're flanked by horned and snake-headed deities… and led by a woman giving a "hail!"
It's obvious why the ancient Egyptians are associated with the occult and undead. (How heavy metal is this pose?)
Aleister Crowley, deemed "the wickedest man in the world," spent time in Egypt investigating the dark arts. In 1904, he was Cairo with his wife, and she had a dream where a voice was saying "They are waiting for you."
Crowley's wife described an ancient artifact in her dream. They went to this very Egyptian Museum in Cairo, and she discovered that it existed. The relic showed an image of Horus on a slab, which became known as the Stele of Revealing.
And then, Crowley looked at the number of the exhibit… and it was 666, the sign of the Beast!
(Unfortunately, the displays are no longer numbered, so we couldn't find it… but here is a rather Gothic double-ankh.)
Fascinating how the Egyptians worshiped gods with animal heads and human bodies. Here's the fierce lioness Sekhmet, and falcon-headed Horus in a shrine (or is it a birdcage?)
We were mesmerized by the wing of the museum dedicated to Akenhaten. The ruler is always portrayed in this strange way, with wide hips, a slender face, and womanly body.
This has given rise to theories that Akenhaten was intersex, or a woman cross-dressing as a man! However, he had several children… perhaps he chose to be carved like this for political or spiritual reasons lost to the sands of time.
Of course, Yukiro and I are fans of sphinxes — the mythical creature with the head of a human, and the body of a lion. You'll recall that we saw the Great Sphinx of Giza with Travel Talk Tours.
The Egyptian Museum had plenty of Sphinx statues on display. This one had big paws and ears, and appeared to be winking at me.
"Sphinx" was the name given to this deity later on. Nobody knows what the Egyptians actually called this feline… perhaps that's the true riddle of the Sphinx.
Could this be the first example of "kawaii" art? These smiling lions were certainly carved to look as cute as possible.
The ancient Egyptians considered cats to be sacred, and worshipped Bastet (the cat-god) and fierce lion goddess Sekhmet.
I could have spent all day at the Egyptian Museum in Cairo. The art techniques were remarkable for the time — and who knows what masterpieces are still buried under the sand.
When we think of Egyptian art, we usually picture the stiff, stylized "walk like an Egyptian" carvings. However, artists also made incredibly detailed, painted 3D sculptures. Aren't the anatomy and facial detail astonishing?
So. Many. Sphinxes! It's easy to spend hours wandering around, but leave some time for the excellent gift shop as well. I picked up a gold ankh as a memento, which I hang on my backpack.
Travel Talk Tours took us to see other cultural sites in Cairo, to round out our experience of the city.
We toured the Mosque of Muhammad Ali, which is located in the Citadel of Cairo.
Built in the mid 1800s, the mosque has a magnificent cupola lit with intricate lanterns. The soaring Ottoman-style interior reminded me of when I saw the Blue Mosque and Hagia Sophia in Istanbul.
Outside, there's a fabulous city view! Cairo is a massive capital, and has a population of 19.5 million.
Cairo is one of the oldest human habitations in the world. Do you see the points of the Pyramids of Giza in the distance?
Wearing pants by Charli Cohen, and a long sleeved bodysuit by UK Lingerie.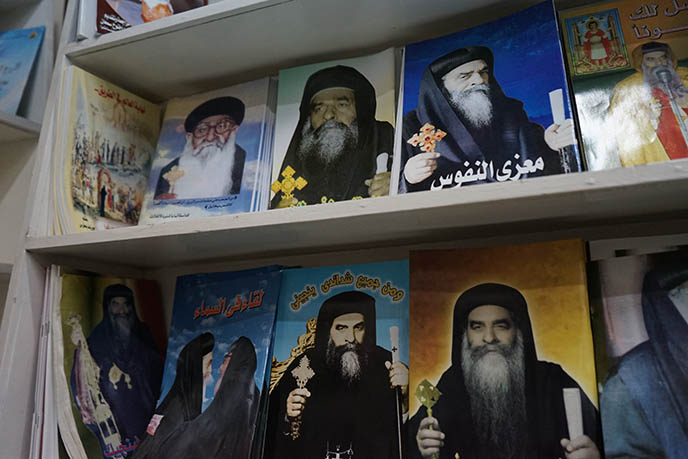 We also got to see the Hanging Church, one of the oldest in Egypt. The leaders of the Coptic Orthodox Church have a rather "vampire-slayer" look.
The Coptic Christian church is dedicated to Virgin Mary. She appears to have bats with human heads flying around her head…
As Elaine said on Seinfeld, when she realized she was going to hell… "and the heat, my god the heat!"
Expect to run into traffic jams when you're in Cairo — it's just part of the experience, and gives you a chance to take in scenes like this market.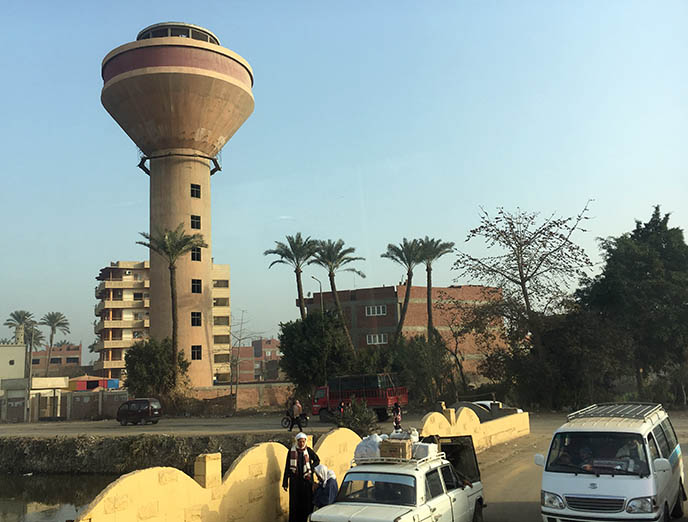 Love the juxtaposition of fan-shaped palm trees and an alien tower.
Our group stopped at Khan el-Khalili souk, which is the main market in Cairo. You'll find lots of shops and cafes here. (This man is balancing a tray of pita bread on his head!)
Most of the goods at this market are made in China trinkets… if you're interested in souvenirs, be sure to barter hard.
For more authentic items, look for boutiques that sell goods made by Egyptian artisans. (We stopped by a shopping mall, and saw these funny ancient meets modern murals.)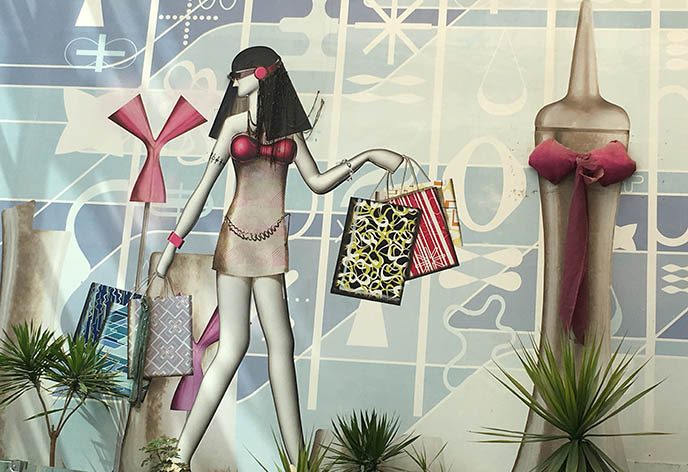 Cleopatra's hairstyle – straight black hair with bangs – never goes out of style. Pair it with kohl eyeliner and a mini-dress, and you've got a timeless outfit.
Travel Talk Tours offered a variety of optional excursions during the trip (Yukiro and I opted to do most of them). On our first evening in Cairo, we took a dinner cruise on the Nile River.
At night, the Nile lights up with rainbow colors from passing boats. (Imagine how this scene must have looked, in 2000 BCE!)
We helped ourselves to food, and watched an Egyptian culture show. The performance featured a sultry belly dancer, and a whirling dervish who spun in dizzying circles.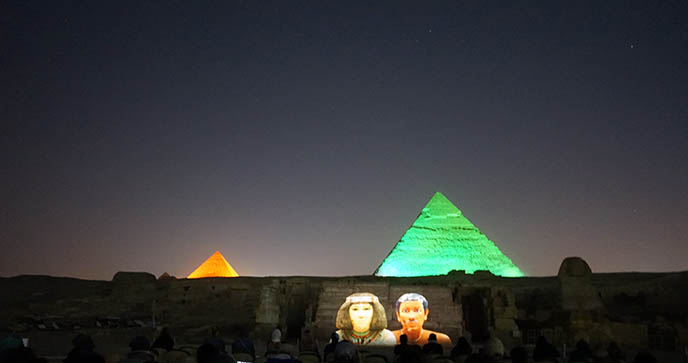 On another evening, we opted to watch the Sound & Light Show at the Pyramids of Giza. The show illuminates the Pyramids and Sphinx in neon lights, while you hear tales of ancient Egypt.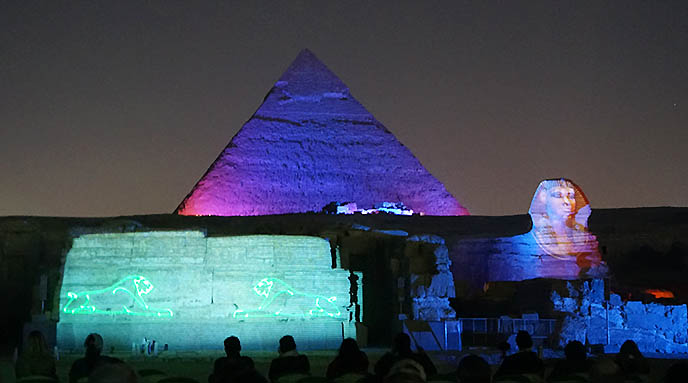 The Sound and Light show hasn't been updated since the 1960s, and the effects are rather kitschy — which we actually loved.
The male narrator speaks in a dramatic "Ten Commandments" voice. Imagine him announcing: "Behold… (dramatic drum roll)… the Pyramid of Cheops!" (The triangle turns purple).
The retro kitsch made the experience unintentionally funny at times — but again, that's why we were into it.
"Gaze… (lion roar)… upon the glory of the Great Sphinx!" (Can you imagine a synthwave party at the Pyramids?)
A final pyramid pose for you, as we say goodbye to Cairo for now.
Hearts to Travel Talk Tours for showing us the many sides of Egypt, over the course of 12 days. I recommend looking into their guided group tours, which cater to young travelers (18 to 30-somethings) and let you dive into destinations worldwide. Without them, we wouldn't have seen so much of Egypt — and had this much fun!
That's all from us Queens of the Nile… but I have good news. I'll be traveling again with Travel Talk this spring! Keep your eyes peeled to find out where I'll be heading this time (hint, I'll be in eight countries with them)!
PS thanks for your kindness about my reminisces on author Elizabeth Wurtzel, on the front page of Fodor's Travel.
"Perhaps the last lesson Lizzie taught me is that travel creates some of the most important moments we have with loved ones. Travel can also bring us peace, when we're acutely aware they will not always be with us." (Read my full piece on Fodors.)
PPS If you're in New York City, I hope to see you at the fashion show benefiting breast cancer – info here.
Goths adore ghosts… and Miffy the cute bunny… so why not bring the two together?
The twain have in fact now met: Miffy has a spook-tacular fashion collaboration with Ghostly!
Let's start this story with the new Miffy new clothing line. Then, we'll continue my Egypt Travel Talk adventures by descending into the tombs of pharoahs, and traversing the temples of queens.
Who's that haunting my t-shirt? As you know, I adore Miffy the cute bunny character from the Netherlands. She teamed up with Ghostly International, an indie music, art, and street fashion company, for a clothing collab. (Above is the print on the back of my shirt.)
The merging of Miffy x Ghostly is perfection. Both have cute mascots outlined in black and white, and take a playful, minimal approach to their designs.
Ghostly's sceptre logo floats over the center of the top. Can you spot Miffy peeking out from behind the yellow square? (This is a size S unisex shirt, which I hemmed for a cropped look.)
The Miffy / Ghostly limited edition collection includes four t-shirts, a hoodie, and a tote bag — I want it all! Everything is printed in the USA, and features original bunny illustrations by Dick Bruna, with a fun Ghostly spin.
Everything's available on the Ghostly International website; go swoop these up before they're gone.
I also wanted to share my early birthday gift to myself… I nabbed these Acne Studios platform python boots! The monochrome snakeskin is easy to match with outfits, and the Chelsea-style ankle booties are easy to slip on and walk in.
These Acne leather platform boots are currently 60% off here, in case you wanted to get a pair and match me… it's a crazy good deal.
I was also tickled pink to receive a copy of Moonsprout Station — it's a comic by Naomi Rubin (my First Mate who works with me on our crazy TV productions around the world). She created this hopeful fantasy comic about queer identities and relationships, which takes place in a sweeping, mysterious natural setting.
In her words: "Moonsprout Island is a diverse place where queer characters "just are" and their identity isn't questioned or stigmatized. I talk about issues and questions that are important to me without harmful fantasy tropes."
Naomi has made Moonsprout Station free for anyone to read online here, "because I want hopeful, comforting queer narratives to be available to anyone." You can also read the full pages on Webtoon and Tapas.
She has also published Foggy Mountain Letters, a chronicle of our recent adventures in Asia, as well as shooting with German TV in Tokyo. Above, you might recognize the crazy monster character we featured on the show!
"In the Summer of 2018, I went to Japan for a job with my swashbuckling captain La Carmina, and afterwards we got to travel for a bit around Japan and Thailand. I got to do lots of drawings on the trip but didn't know how to put them in my comic – so I started mailing letters and drawings about our travels to my own fantasy characters. It got kind of out of hand, and now it can be in your hands!"
I hope you'll consider supporting Naomi's art and mission — these comics are a joy to read, and let you peek into our alt universe! The print books also include bonus stories and extras that you can't see online.
You can get a copy Moonsprout Station here, and Foggy Mountain Letters here. Great news, La Carmina readers have a special promo code / voucher: 2 dollars off each, with the coupon code "basilmrao"!
You can also support Naomi Rubin via her Patreon, a "members-only sketch blog and tool shop, where I post sketches, artwork, and drawing resources that I don't post anywhere else."
Now, let's hang out with the ghosts of ancient Egyptian pharoahs! While in Egypt with with Travel Talk Tours, I got to see one of the country's most impressive archaeological sites: the Valley of the Kings.
If you are especially intrigued by strange Egyptian rituals and tomb art, then this burial ground cannot be missed.
The Valley of the Kings is located just outside Luxor (the ancient settlement once called Thebes). The Egyptians may have chosen this as a royal burial site because of the pyramid-like peak (on the left) in the Theban Hills.
To this date, archaeologists have excavated 63 tombs here — and many more mysteries lie beneath the sandstone. Every year, they discover new treasures, which lead to more questions than answers.
The Valley contains the tombs of some of Egypt's most famous pharoahs (Seti I, Ramses II, King Tutankhamun) as well as their wives, children, and some nobles.
Notice the cat in the middle of these god-figures… kitties were considered sacred and treated like divinities back then.
The art that covers the burial chambers is wild, especially considering that they date back thousands of years (16th to 11th centuries BCE).
Yukiro and I were captivated by the stars that covered the ceilings, as well as the devilish horned gods and Sphinxes.
Since these royal graves were so well-preserved under the mountain, you can still see the original pigment of the bas-reliefs. Most people think of Egyptian wall carvings as colorless, but in fact, they were painted in brilliant shades.
No wonder the ancient Egyptians are associated with death, aliens, and the occult… just look at these bizarre paintings. Who (or what) are they hailing?
I focused on snapping photos of the weirdest, creepiest artistic elements for you. The scarab-head god, Khepri, is quite the spooky sight… The ancient Egyptians had quite the imaginative pantheon of animal-headed gods!
One of the many benefits of Travel Talk Tours was the ease of visiting sights like Valley of the Kings. Our group arrived here by bus, and our guide got our tickets so we didn't have to wait in line.
The general ticket lets you visit three tombs (different ones are open to the public at different times; usually you can choose from around 10). If you want to take photos inside, you also have to purchase a photography pass.
King Tut's burial site (KV62) also requires a separate ticket. While most of the royal chambers had been looted over time, the famed tomb of Tutankhamun was discovered nearly intact in 1922 by Howard Carter. You can still see his mummified body inside, but not the famous blue and gold death mask and treasures (those are in various museums worldwide).
Unfortunately, due to a mix-up, we didn't receive a ticket and weren't able to enter… looks like the "curse of the pharaohs" lives on…
Nevertheless, we got to wander through three other Valley of the Kings tombs, which were covered in mysterious spiritual renderings. The three-headed snake with legs and ankhs drew our attention.
Aren't the rich colors outstanding (and surprising?) Most of the Valley of the Kings tombs were desecrated ages ago, and the treasures have gone missing. However, the decorated corridors remain in remarkable condition.
In their heyday, these hieroglyphics were likely rainbow colored! The ancient Egyptian writing system was remarkably advanced.
Most of the tomb artwork shows the dead's journey through the night, and into the afterlife. The pharoah had to travel safely through the underworld by boat.
Then, the king would have his heart weighed against a feather. If the scale found his soul to be lighter, Osiris would receive him into eternal life.
The ankh, which symbolizes life, is favorite of Egyptians — as well as vampire and Goths. These ankhs are so powerful that they have arms!
Egyptian symbolism tends to appeals to Goths, as there are many occult leanings, and deadly or horned creatures.
Case in point: coiled cobras and Anubis, the jackal god of death and embalming.
What's the deal with these headless creatures? And how odd are their poses…
I tried out this new "walk like an Egyptian" posture.
I wore a hat from Tenth Street Hats, wide legged pants by Charli Cohen, and a heart Hope bag by Lola Ramona.
Ready for the Satanic connection?
The depiction of Baphomet is based on the Egyptian ram god pictured above. He was known as Banebdjed, and had a cult of worship at Mendes; in Upper Egypt, his name was Khnum.
This devilish ram-headed god is found on the walls of many chambers and corridors.
At other Egyptian temples, the depictions of figures is relatively "standard." However, in the Valley of the Kings, things get literally topsy-turvy.
Plus, there are racy elements. I think you can guess what got scratched out…
Well that's an… interesting way to take a shower. (I'm guessing you will only find photos of Egyptian oddities like these on this blog!)
Here's Thoth as a baboon, hailing Anubis (watcher of the dead) and the horned one.
The Valley of the Kings let us get a deep look into the esoteric beliefs and rituals of the ancient Egyptians. To this day, we don't understand all the mysteries in these tombs.
Watch out, there's a scarab dancing on your head! Despite his eerie look, the black beetle god Khepri represented the rising sun and creation of life.
Gotta read em all… Most hieroglyphs were phonetic, meaning that a picture-symbol corresponded to a particular sound.
(Yukiro illustrates this with his Pokemon cap — R for Team Rocket!)
Most of the tombs burrowed deep into the mountain, with the tunnel ending in a shrine to the dead. This one held a giant stone sarcophagus decorated with jackals.
I'm sure you can see why we were captivated by the Valley of the Kings. I'm still wrapping my brain around the wonderful weirdness we encountered.
On the same day, Travel Talk Tours took us to see Queen Hatshepsut's mortuary temple, which is also in Luxor.
The powerful Egyptian queen ruled from 1507–1458 BCE. While she technically joint-ruled with her young son Thutmose III, you can say she was the one who wore the beard and held the whip!
The Mortuary Temple of Hatshepsut featured a chapel dedicated to Anubis, jackal-headed god of mummification.
I was glad to have my Tenth Street Hats sunhat to shield me from the sun. My pants are Charli Cohen, and this heart and bow purse is Lola Ramona.
The Egyptians were so progressive that Hatshepsut was the third woman to become a pharoah and rule the country. However, she stands out because she was the first to have full power.
Her temple also breaks ground by showing the divine birth of a female ruler through art.
The funerary temple includes this wall, showing an offering to Horus. Note the stars on the ceiling once again; the ancient Egyptians had a keen interest in astronomy.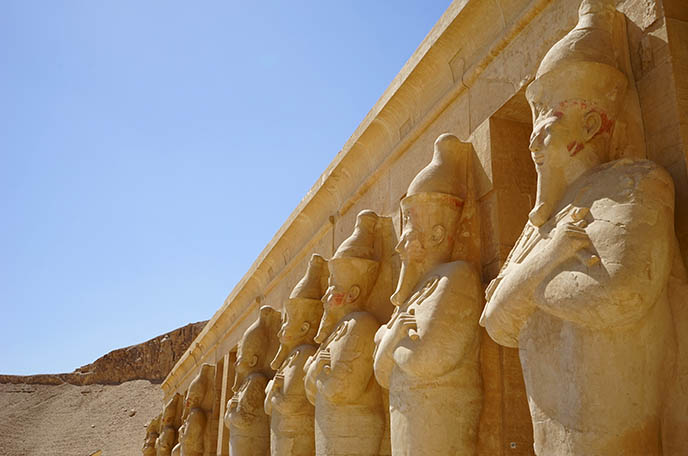 Walk up the stairs, and you'll be greeted by a row of bearded ladies. The pillars show Queen Hatshepsut as Osiris, god of the afterlife and the underworld.
Hatshepsut is depicted with all the symbols of a powerful pharoah. She wears a false beard, and the "bowling pin" double crown that signifies her power over all of Egypt.
The queen also holds a crook and flail, which were derived from farming tools and show her rule over the people. (They also look quite a lot like dominatrix equipment!)
We'll end with a final temple: Luxor after dark. I recommend visiting Luxor Temple at night, as the temperatures are cooler and the statues are illuminated in a haunting way.
This temple was an important religious site, and conveyed the power of Egypt's pharoah (it was likely the coronation site as well). Imagine how an ancient civilian would feel, standing in front of the colossal pylon entrance, obelisk, and king statues.
Even in this modern age, you can't help but feel floored by the gigantic seated statues of Ramses II. He wears a royal nemes headdress topped by the double crown, and has a uraeus (rearing cobra) at his forehead.
Luxor Temple was constructed by a succession of pharoahs around 1400-1200 BCE, including Amenhotep III, Tutankhamun, and Rameses II.
Cower past the giant seated statues, and you'll reach the court of Ramesses II. The pharoah is shown at different ages, and stands stiffly next to the columns.
As you wander through Luxor temple, be on the lookout for fine carvings. Love the elegant rendering of these flying birds.
Our tour guide also pointed out cartouches, or ovals encircling hieroglyphs that spelled out a royal name.
Ramses II truly knew the power of scale, in the temples that he built and number of children that he fathered. (Remember our visit to Abu Simbel, which was dedicated to him as well.)
Our guide pointed out this statue of King Tut and his wife Ankhsenamunat, who was also his half-sister. Tutankhamun, son of Akhenaten, became king at age 9 and died at age 19. They had two daughters together that were stillborn with defects (likely from inbreeding).
Luxor Temple is enormous, so we were glad that our Travel Talks guide showed us the major attractions, before giving us time to roam freely.
He pointed out this 4000 year old bas-relief of the god Min. Did the Egyptians somehow know about the shape of a sperm, thousands of years before microscopes were invented? (Cue the alien conspiracists…)
Later on, Alexander the Great conquered Egypt. He added a granite shrine to Luxor Temple, presenting his rule as legitimate.
What do you think ankhs taste like… birdseed? (This cross-like symbol gives the soul the breath of life, to bring them to the afterlife.)
With stiff shoulders like this, Ramses II looks like he could use a massage.
I hope you're digging our tales of Egypt with Travel Talk Tours. Their 18-30 something group tours are led by a local, and are a fab way to see the most impressive ruins in the country.
Alas, I only have one post left from this trip, but it's a good one… Cairo's Egyptian Museum awaits.
View this post on Instagram
PS: I was honored to be interviewed by Travindy about sustainable travel! I shared my thoughts on showcasing offbeat sites, issues with over-tourism, and how technology can help combat these problems.
PPS: a clip of my new Acne snake-skin leather ankle boots in motion. They're crafted in Italy, and have a chunky platform sole / heel for an edgy look.
You can find these Acne platform boots here for 60% off, along with other major reductions on designer fashion right now. Happy shopping!