Puerto Rico Travels! Viator El Yunque rainforest tour review, Vianda San Juan restaurant, Condado & Isla Verde beach.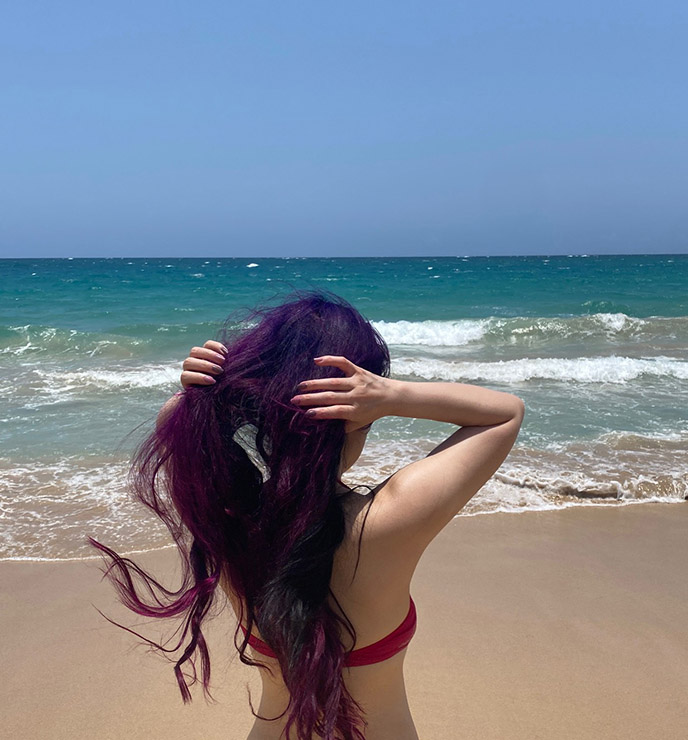 "Those grains of sand and waves are all waiting to take away what no longer serves you…"
In late May, I took some time off-line to fully appreciate Puerto Rico with one of my best friends, Molly. It was our first time on the Caribbean island, and we were intent on making the most of the uncrowded beaches and local restaurants. (Read on for a review of our outstanding dinner at Vianda.)
Read on for a guide to our favorite Puerto Rican spots, including a day trip to the lush rainforest, El Yunque, on a tour that we booked through Viator. (Still in awe over the waterfalls, rivers and mystical hiking trails…)
Molly and I stayed at an inexpensive Airbnb in San Juan, located within walking distance of Condado Beach. (I don't recommend renting a car — you can easily Uber everywhere.) We ventured out for iced coffees and brunch at the nearby Pinky's, and then made our way to the ocean.
(My red swimsuit is a Dolores Cortes Haiti bikini from UK Swimwear.)
San Juan has a laid-back and noncommercial feel that we loved. Condado Beach wasn't crowded with tourists, all-inclusive resorts, or advertisements — anyone can access this public beach with picture-perfect waves.
For $20 (Puerto Rico uses US currency, as it's a US territory), we rented an umbrella and chairs to keep us shielded from the sun. I took quick photos to show my mermaid hair… but most of the time, I'm huddled under a hat and parasol, with layers of mineral sunscreen!
Molly and I were keen to see the famous rainforest El Yunque, located an hour's drive from San Juan. We booked this rainforest day tour through Viator, and it turned out to be one of the best small group touring experiences we've had.
Viator is the leading global experiences platform, with nearly 400,000 easy-to-book travel activities (including guided tours, sunset boat cruises, airport / car transfers, and more) worldwide.
I went to Viator.com and searched for Puerto Rico tours, and was delighted to find an enormous selection. I chose this El Yunque adventure on Viator (out of multiple rainforest tour options) because it had almost 100 excellent reviews, and the photos and details seemed like a perfect fit (ie, the hike was not too physically demanding).
Our outstanding guide, Isaac, picked us up directly from our San Juan Airbnb so we didn't need to worry about transportation. After picking up four other guests from two nearby hotels, he took us on a small-group day trip to the famous rainforest, beginning at Yokahú Observational Tower.
Isaac riveted us with stories of the fascinating rainforest as he drove up the winding roads. El Yunque spans almost 29,000 acres, and is the only tropical habitat in the U.S. National Forest system. These peaks are typically rain-soaked, but we lucked out and had clear skies and views.
We walked up 98 steps to the top of Yokahu Tower for deep green panoramic views of El Yunque.
Then, our guide introduced us to Catarata Coca, a dramatic waterfall tumbling over a steep stone face and mossy boulders. (Swipe left on my Instagram post here to see video of this 85 foot tall El Yunque waterfall.)
To top it off, Isaac led us on a nature walk beneath the rainforest canopy, which opened up to one of the many rivers that flow through El Yunque. We met some charming creatures along the way, such as this curious orange lizard.
The leisurely day tour gave us plenty of time to take a dip in the Mameyes River, if we wished. While I waded around the rocks and streams, Molly dove in like a savage!
We were ready to eat after a day of rainforest exploration. Isaac drove us to a local food stand, where we could order fruit smoothies (including made from these odd banana-like avocadoes), and order Puerto Rican comfort dishes such as rice and beans, seafood croquetas, and plantain lasagna.
Molly and I are still talking about the rainforest magic we experienced on our day trip to El Yunque, which we booked through Viator. The tour included pick up and drop off, cold bottles of water, and a spectacular guide that let us dive into Puerto Rico's rainforest.
Thrilled with our experience with Viator, a travel platform that offers flexible global bookings (with free cancellation and various payment options), and award-winning customer support.
After a long day of adventuring, Molly and I were ready to dig into dinner at Vianda. Opened in 2018, Vianda caught our eye because it consistently made the list of best places to eat in San Juan, Puerto Rico (and was named one of the 20 Best New Restaurants in America by the James Beard Foundation).
Owners Amelia Dill and Francis Guzmán brought 22 years of hospitality experience to their first restaurant. The Spanish word "vianda" comes from the Latin "vivanda," which means a place of living. True to their name, Vianda brings to life creative and constantly changing dishes that rely on local ingredients and the flavors of Chef Guzmán's Puerto Rican upbringing.
Vianda's chic interiors, with trailing plants and mid-century modern wood accents, make it the perfect hangout for cocktails and dinner before a night out on the town.
The talented mixologist specializes in fresh infusions with a striking presentation. Vianda's spin on the gin and tonic — with Botanist gin, grapefruit and rosemary tonic, citrus mist, and Gran Marnier — was the best that Molly had ever tasted.
The other outstanding craft cocktails we tried: a Cupina with mezcal, spicy chili liqueur, pineapple shrub, lime. And a Romero Apasionado with gin, rosemary passion fruit shrub, and lemon juice with the top torched for taste.
Vianda's menu highlights fruits and vegetables from local farmers, many of whom are still working to restore their lands after the devastating 2017 Hurricane Maria. We shared an appetizer of raices locales with roasted roots, horseradish vinaigrette, dill and puffed quinoa. On the right: atun al pastor, a melt-in-your-mouth tuna with pineapple aguachile, radish, and cilantro (with peanuts on the side).
Vianda's small farm-to-table menu is constantly evolving, drawing in a loyal clientele. (Wearing a dress by Too Fast.)
Much of the menu is anchored in the flavors of Puerto Rico, but plays with other influences such as Italian and Asian. The handmade ravioli, and striploin with chimichurri, piperade, and guanciale cream were exceptional — I wouldn't be surprised if Vianda ends up with a Michelin star.
We didn't want the meal to end… but at least it did on the sweetest note. In my mind, I'm still savoring the chocolate cake with white and dark chocolate mousse, vanilla and coffee pastry cream, and berries. The burnt caramel custard with cinnamon tuile, foster sauce, and caramelized bananas was also fresh and balanced.
Cheers to Vianda, a young and sophisticated restaurant that is certain to keep on making waves in San Juan.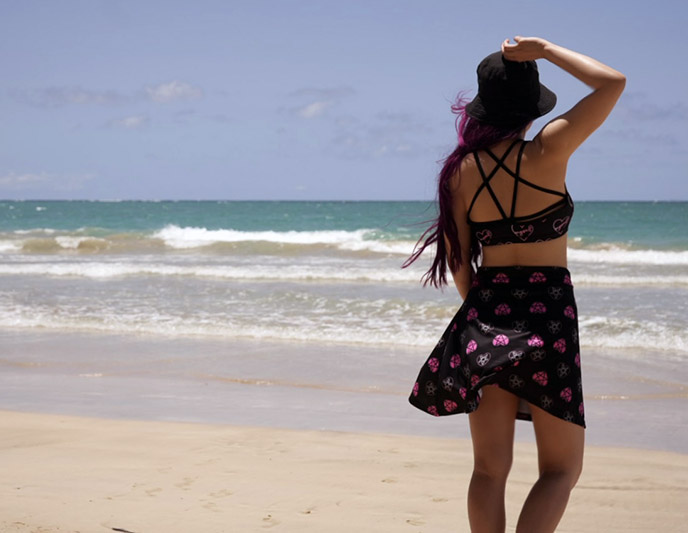 As you can see, there's so much to enjoy in easygoing Puerto Rico. I got more "Goth on the beach" time at Isla Verde, a beach east of San Juan. I'm wearing an outfit by Too Fast: the pentagram straps and wrinkle/water resistant fabrics were perfect for the ocean.
Molly did a surf lesson at Isla Verde, and stood up on the board for the first time! Other water sports and activities are available here, with equipment rentals and lessons at affordable prices.
Meanwhile, I relaxed on the shore. I brought my goat-head in a pentagram bag from Territory store in Osaka. (Owner Taiki-san recently passed, and his Satanic / occult shop is now closed… an enormous loss, and the Japanese dark subculture won't be the same without him. Yet again, a reminder to make the most of life while we can.)
Hard not to smile at Puerto Rico's warm ocean waves and uncrowded, clean beaches.
Since Puerto Rico is classified as a US territory, Americans do not require a passport to visit. Flights are also generally inexpensive from the east coast USA. (Just be careful with extra baggage fees and less-than-stellar service if you fly one of the budget airlines.)
This "Goth in hot weather" has been to a few destinations in the Caribbean. Puerto Rico stands out for its natural beauty, and San Juan is well-developed (lots of places to eat and stay) without feeling too touristic.
Old San Juan, the historic colonial district of the capital, is a must-see. We had a lovely day walking up and down the hilly cobbled streets, and admiring the colorful facades that shows a mix of architectural styles.
You'll find lots of Instagrammable photo spots in Old San Juan. We posed in front of a door painted with a Puerto Rican flag, located at Calle de la Virtud, Viejo San Juan.
We also came across a black-and-white version of the flag, which symbolizes the people's ongoing resistance in Puerto Rico (whether it is to colonization, corruption, or other issues).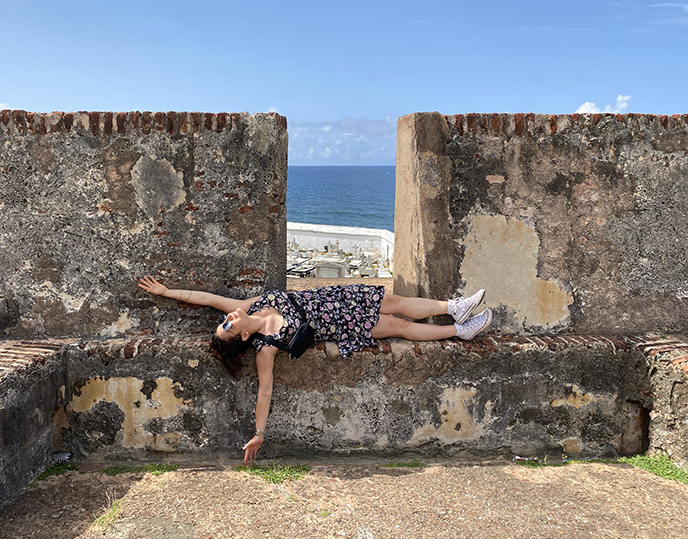 I think you can tell we had fun moseying around Castillo San Felipe del Morro, a 16th century citadel that protected San Juan from pirates.
Next to the fortress is Old San Juan Cemetery – Santa Maria Magdalena de Pazzis, which features ornate Goth headstones overlooking the ocean.
We enjoyed peeking at the local clothing and swimwear boutiques in Old San Juan, and admiring the rainbow buildings and balconies.
Get an iced coffee at the excellent Cuatro Sombras, and have lunch at a bare-bones Puerto Rican eatery such as Deaverdura, El Jibarito, or Vaca Brava.
There's also lots to see around the Condado beach area, including surf shops and the above bookstore. The clubbing / party district, La Placita de Santurce, is not far from here. (We weren't into the rowdy club scene of La Placita, but loved watching locals dance la bomba, salsa, and more at the open-air Delavida.)
And be sure to taste all of Puerto Rico's local specialties! We drank pina coladas (the coconut, rum, pineapple cocktail that originated here) and chichaito shots (made with Anisette liqueur and white Palo Viejo rum). In the district of Piñones, we had fresh-caught grouper with mofongo or trifongo (a mash made from plantains and yucca).
I hope this look back at Puerto Rico inspires you to plan a trip to the friendly island, and play in the waves yourself. (Red bikini by UK Swimwear.)
For more Caribbean travel stories, you can see my Dominican Republic adventure with Molly from five years ago (how time flies, and how things can change in unexpected ways). We're both keen to do another trip soon… Got any destination suggestions?