Dorawyn apocalyptic fashion! Dune x Star Wars film style in Seville, Spain: Plaza de Espana, Real Alcazar, Casa de Pilatos.
We live in apocalyptic times… and I'm dressed to meet The Collapse head on!
Let me show you more of Seville, Spain's historic sites –wearing Dorawyn, a conceptual, experimental slow fashion brand that reminds me of the outfits in the Dune movie (which I very much enjoyed).
Located in the south of Spain, Sevilla was the filming location for scenes in Star Wars: Ep 2, Game of Thrones, and Lawrence of Arabia as well.
The Arabic architectural elements formed the perfect backdrop to shoot Dorawyn's "Bunker" Collection. I am wearing her "Keyword" wrap cardigan, which can be tied at the waist and has a hood to protect you from the sun and sandstorms. My Dorawyn "Uprise" black fingerless gloves complete the look.
Before we continue, a quick announcement — Dr John Skutlin and I have relaunched our "Satanic Show + Tell" series by interviewing a real-life cannibal turned macabre artist, Nico Claux! This meaty new episode is now out, exclusively on The Satanic Temple TV. 
(Watch the hour-long cannibal chat at this link, as well as see our trailer. More info at the very end of this blog).
This magnificent palace is the Real Alcázar, or Royal Alcázars of Seville, which is one of Sevilla's most famous sites. The palace was first built for the Christian king Peter of Castile in the 14th century. Above the Patio de las Doncellas (Courtyard of the Maidens), which references a Moorish tale.
The palace was built over the site of a Muslim alcazar, or residential fortress. The Mudéjar architecture retains Arabic elements such as these tiles and rounded arches, and adds Romanesque, Gothic, and Renaissance influences.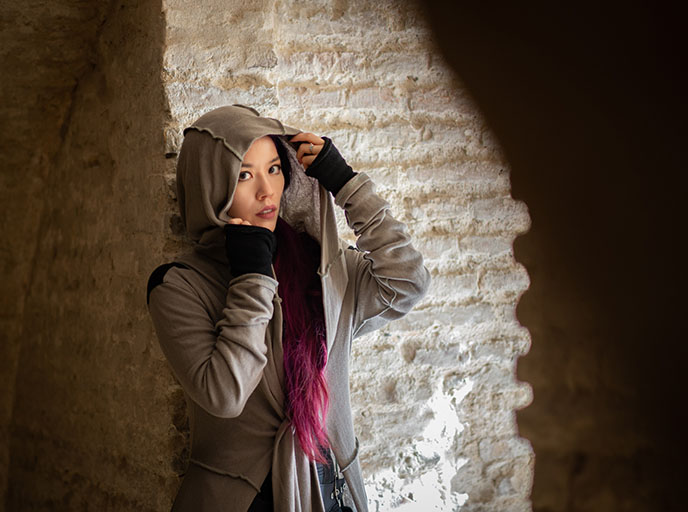 The Iberian Real Alcazar was the perfect site to feature fashion by Dorawyn, a Budapest-based label designed by Dóra Tesényi. Her clothing imagines a post-apocalyptic world in which everyone is fighting for survival. However, a tribe of women joins together and carries out a vision of the future that lives in harmony with nature, and makes positive changes.
Real Alcazar may look familiar to you… because it was a shoot location for HBO's TV series, Game of Thrones. It stands in for the palace of the kingdom of Dorne, run by the Martell family.
I visited Seville in November 2021, so the weather was comfortable. (I encourage you to avoid visiting the Iberian Peninsula in the summer, when temperatures are excruciating and it's difficult to walk around outside and enjoy the gardens.)
Here are the "Water Gardens of Dorne," as featured in Game of Thrones. What better place for strolling with royals, and plotting to take down your rivals?
Don't forget to look up — above is the ceiling of the Hall of Ambassadors.
The famous oranges of Seville frame a fountain. (Photos by Joey Wong.)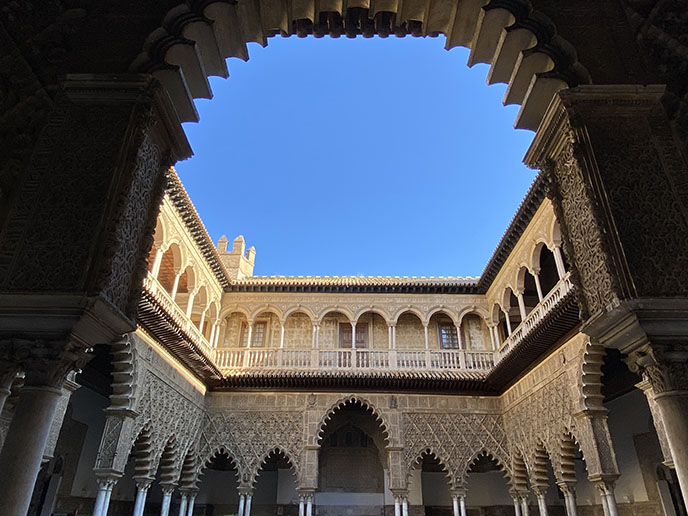 If you'd like to visit Real Alcazar, be sure to get tickets in advance via their official site. Plan ahead, as bookings may sell out.
I've been on a post-apocalyptic, dystopian, cyberpunk kick — and Dorawyn lets me live out my fantasies. Her fashion is made from slow and sustainable methods, such as hand-dying and knitting with recycled cotton. Each piece is handmade and conveys a unique feeling; I haven't seen styles like these anywhere else.
Onward to the Plaza de España, which turned out to be one of my favorite spots in Seville. You may recognize it as the shoot location for scenes in Lawrence of Arabia (1962) and Star Wars: Episode II – Attack of the Clones (2002) (it stands in for the City of Theed on the Planet Naboo).
A close-up on one of the many devilish details. The Spain Square was built in 1928 for the Ibero-American Exposition of 1929.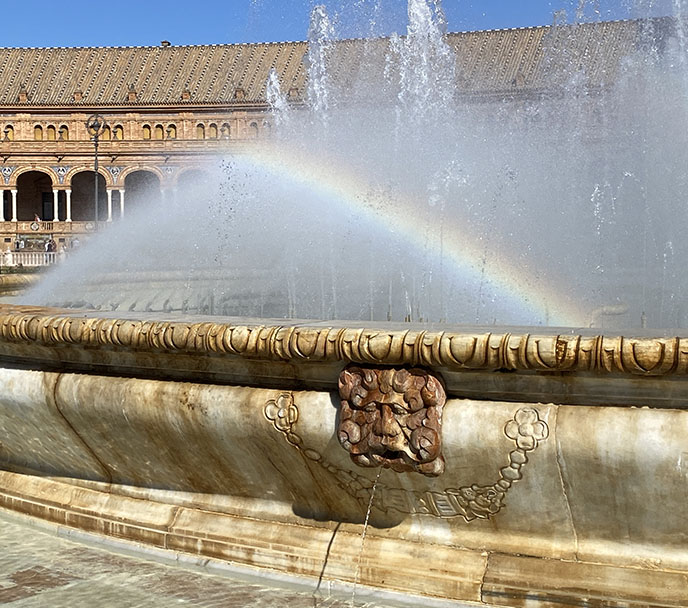 In the centre is the Vicente Traver fountain. The water shoots up high, framing the central building of Plaza de Espana and glowing with rainbows.
Plaza de Espana is designed in a huge half-circle. The buildings are accessible by four bridges over a moat, which represent the ancient kingdoms of Spain.
This is a spectacular site for photography (no wonder these corridors are in so many movies). Go during different times of the day, to make the most of the dramatic light and shadow.
Plaza de Espana is a free public space, and has a lively atmosphere with young locals hanging out on the steps.
You can rent a cute blue and white rowboat, and paddle the canal that weaves through the pavilion.
The Plaza de España was designed by Aníbal González, and sits next to Maria Luisa Park. The architecture is a playful, fantastical mix of 1920s Art Deco, Spanish Renaissance Revival, Spanish Baroque Revival and Neo-Mudéjar styles.
When I visited, there were two groups of flamenco dancers performing for free. The singing, stomping, and strums of guitar added to the vivacious atmosphere of Plaza de Espana.
Closet up on the ceramic white and blue painted balustrade.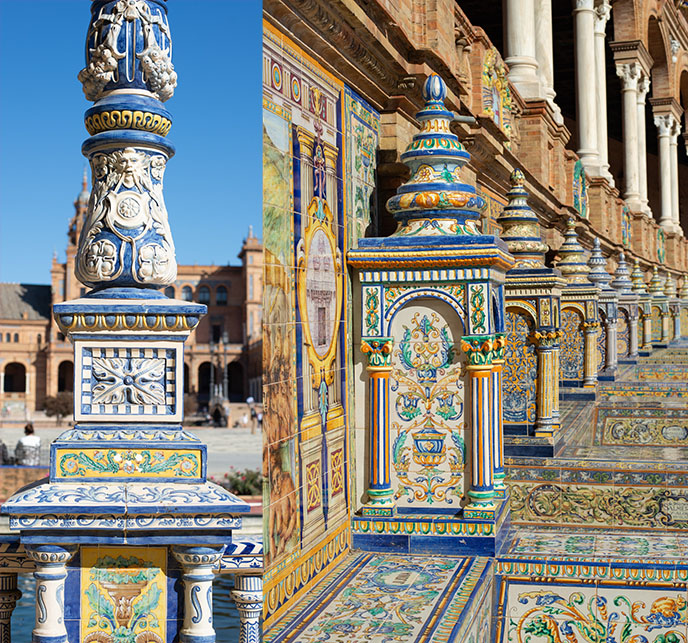 And the colorful tiled Provincial Alcoves along the walls of the Plaza de España.
Access to Plaza de España is free. Hanging out here was one of my favorite experiences in Seville, Spain.
Finally, a look inside the stunning La Casa de Pilatos (Pilate's House). This Andalusian palace was built in 1483, and was the permanent residence of the Dukes of Medinaceli.
Casa de Pilatos has one of the largest collections in the world of azulejo (Spanish glazed tiles), arranged in majestic colorful formations.
Parts of Lawrence of Arabia were filmed in the mansion. I arrived at golden hour, which was ideal for dramatic portraits.
The Casa de Pilatos is small but worth visiting, as it is one of the finest examples of 15th century Andalusian architecture.
In addition to the architectural details, you can admire classic paintings, furniture and sculptures.
The rear contains two lovely tiled gardens, filled with flowers and manicured in a 16th century style. To visit Pilate's House, order tickets in advance from Fundación Casa Ducal de Medinaceli's site.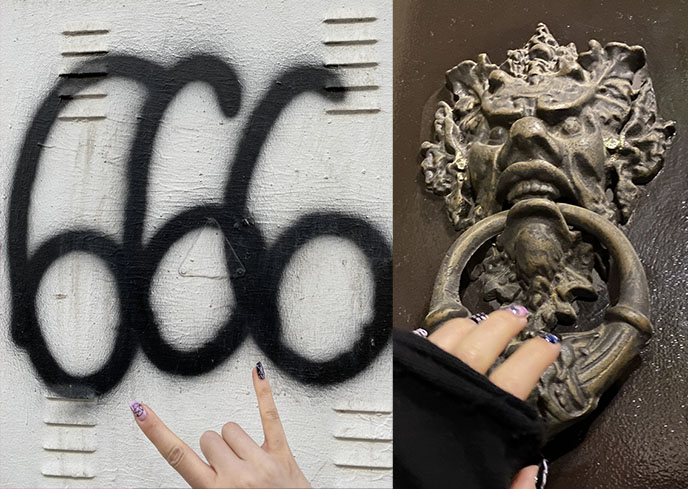 I leave you with a few devilish snaps from Seville. (I have some Satanic news coming up for you soon… stay tuned…)
For more Sevilla travel tips and photos, see my first post featuring Las Setas, the cathedral, and more.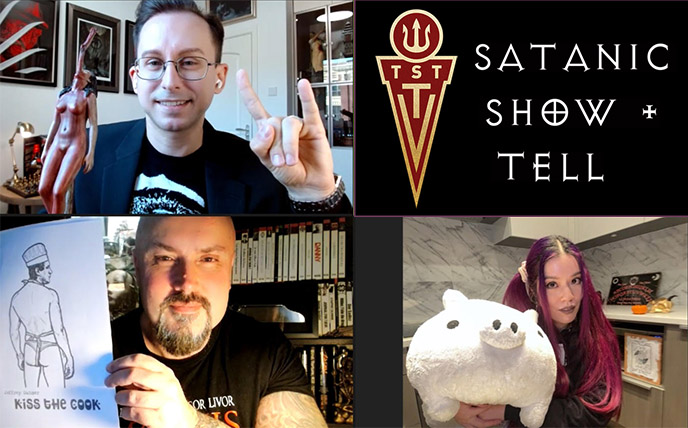 Finally, I wanted to let you know about my Satanic TV interview with a French cannibal!
Dr John Skutlin and I interview former human flesh-eater Nico Claux about his collection of serial killer artifacts — including mementos from Japanese cannibal Issei Sagawa, and German wiener-eater Armin Meiwes.
In this screenshot, John is holding a Cannibal Holocaust figure, Nico shows a page from his Cannibal Killers Coloring Book, and I am squeezing my "long pig" (a nickname for eating human flesh) — which Nico said was long and chunky.
We have now released four episodes of "Satanic Show + Tell," our TST TV series produced by William Morrison (Skinny Puppy). Please check out the two-minute trailer for a peek of our cannibalism conversation — and see our newest show at The Satanic Temple TV!