Chinatown, New York City: Goth fashion shoot! 3Wishes Gothic punk lingerie & pajamas, Halloween devil costumes.
If I had three wishes… One would be to have ongoing travel adventures with friends. This wish came true recently in New York: I got to hang out, eat well and shoot this Gothic look in Chinatown!
Here's how I styled Goth nightwear from 3Wishes, including this fabulous black kimono robe with ostrich feather sleeves. (All photos Joey Wong)
I wore it with a Luna Bats maxi dress and hand fan by Sourpuss Clothing. I've been modeling their dark designs for years; read their interview with La Carmina here.
To amp up the dark glam, I wore Anastasia liquid lipstick, and these Roberto Cavalli oversized sunglasses with gold snakes on the arms.
3Wishes is an online shop with an enormous selection of sleepwear, lingerie, costumes, clubwear, and other fun and edgy fashion. There's something for every style — from cute hearts pajama sets, to pentagram harnesses!
Chinatown in Lower Manhattan was the perfect place to take photos. The vibrant neighborhood reminds me of Hong Kong, with neon lights, strings of lanterns and storefronts marked with Chinese writing.
Serving up some "Crazy Rich Asians" realness, in these giant designer sunglasses by Roberto Cavalli (get them here). They're the RC 1047 Chianciano style.
Although I can't travel to Asia these days, I can still eat dumplings and wave around a fan in NY Chinatown!
If this were a "Kung Fu Hustle" throwdown, you wouldn't want to fight me…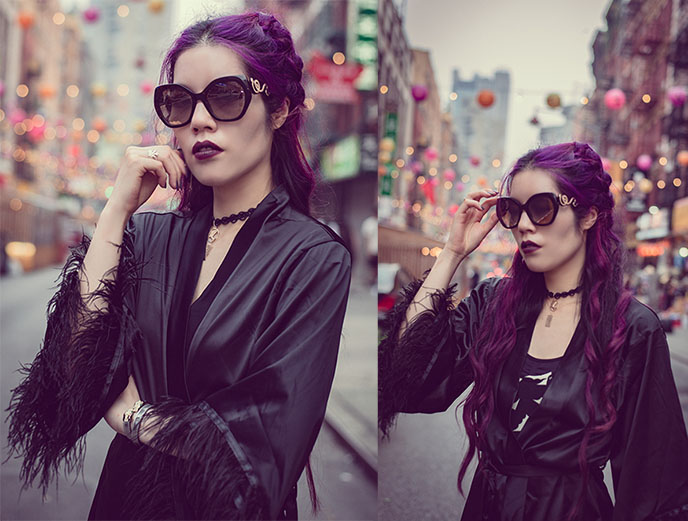 I had a hard time choosing this black satin robe with ostrich feather trim from the many decadent options on 3Wishes.com. Their selection includes many creative possibilities for Halloween costumes and cosplay…
… including multiple Satanic options! Their sexy Halloween costumes include devil horns, pentagram harnesses, and witch dresses.
And you can pick up nightgowns and pajamas with a Goth-punk vibe. I styled this leopard print red and black lace chemise with fishnet tights (3Wishes stocks hosiery as well).
And here's a black satin chemise / slip with adjustable straps.
Dive into 3Wishes to find alternative swimwear, bustiers, corsets, sexy lingerie and more.
When in New York Chinatown, be sure to eat your heart out. I snacked on a Rilakkuma-themed matcha and hojicha soft serve, from Taiyaki NYC. (They did an ice cream collaboration with the cute Japanese bear.) I also enjoyed the shrimp rolls at Joe's Steam Rice Roll.
Loved how these photos by Joey Wong turned out. Wearing these Cavalli luxury sunglasses, and a dress and fan from Sourpuss Clothing.
Trick or treat… Halloween is right around the corner! Have you thought of a costume yet, or gotten any dark goodies?
(I got a skulls latte mug, and had my first pumpkin pie of the season… and I'll be showcasing some local haunted events. Stay tuned to @lacarmina Instagram for the first look.)