New York City's Most Instagrammable Places! One World Observatory, SuperReal immersive art, Yotel NYC robot hotel.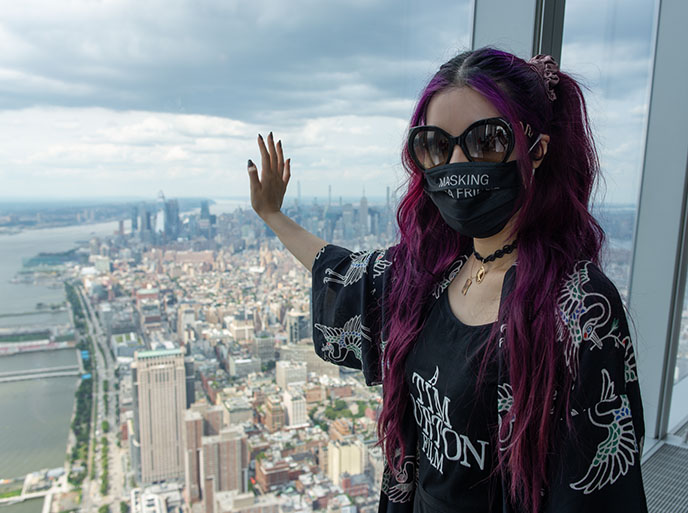 The Pet Shop Boys knew what they were talking about when they sang: "New York City boy… You'll never have a bored day!"
I've spent so much time in NYC over the years (including living there for a few) that going back feels like a homecoming. There are always innovative new exhibitions, and landmarks I never got around to checking out.
Read on for my 2021 guide to New York's art and travel attractions, including the most Instagrammable spots in the city. Such as One World Observatory (I'll never grow bored of this view from the deck)…
… and the trippy SuperReal immersive projections at Cipriani 25 Broadway. (I flew to NYC in late July to report on culture in the city. As you can see, I kept as safe as possible, staying away from crowds and masking indoors.)
And leave it to me to find Mr. Roboto. Read on for a peek inside my stay at Yotel New York, a sci-fi space hotel with a luggage "Yobot" robot!
Let's take it from the top: I went to the southern end of Manhattan to ascend One World Trade Center. Also known as the Freedom Tower, the skyscraper soars up from the former site of the World Trade Towers, and stands next to the 9/11 Memorial and Museum.
One WTC was designed by architect David Childs, and completed in 2013. It is currently the tallest building in the United States and the Western Hemisphere, and the sixth tallest in the world.
Photographer Joey Wong and I were keen to take in the sky-high views from One World Observatory, located on the top levels of the skyscraper.
(It was bright up there, so I wore these exact Roberto Cavalli snake sunglasses. They're the RC 1047 Chianciano oversize frames, with gold serpents on the sides!)
Travel these days requires a fair amount of planning, as many attractions require advance bookings and have limited time slots. Tickets to One WTC Observatory are available online, with various options including skip-the-line VIP passes. 
Address and directions: While the building address is 285 Fulton Street, note that the doors to the Observatory are on West Street between Fulton and Vesey Streets. Once inside, go down the escalator to find the entrance.
From the enormous windows of One World Observatory, New York City looks miniscule. I was reminded of the Jigsaw disco song "Sky High" — as they sang, "We could have touched the sky."
The tower has a three-story observation deck, located on floors 100–102.
Visitors ride the SkyPod elevators, which climb up 102 stories in only 47 seconds, reaching top speeds of 36.5 km per hour! (And there was no ear-popping or discomfort.) During the swift ride, we saw video footage of the transformation of New York City from unsettled land to a metropolis of skyscrapers.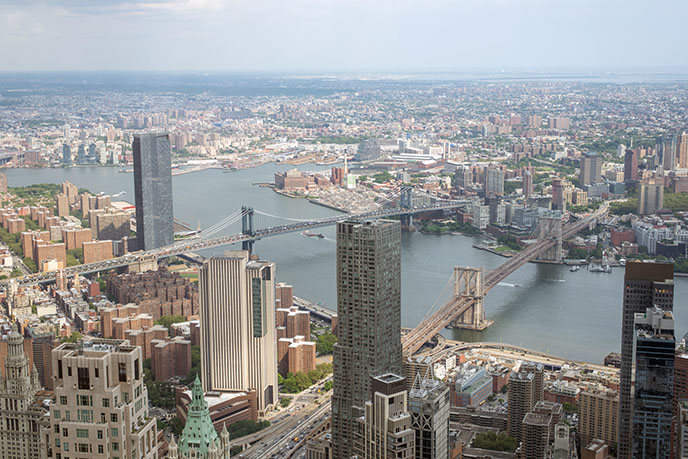 When you step out of the elevator, you're greeted by a visual show that ends with a rising curtain, revealing the magnificent views from One WTC.
Then, you're free to wander around the circular observatory, and take in views from several floors. Here's one of my favorite perspectives: you can see Brooklyn Bridge, Manhattan Bridge and 8 Spruce Street (the rectangular tower in the center). Formely known as the Beekman Tower, this iconic 76-story skyscraper was designed by architect Frank Gehry.
And can you recognize the tiny figure, outside these picture windows? That's the Statue of Liberty, raising her green torch over Liberty Island.
Architecture buffs like myself will enjoy peering out the glass, and spotting famous NYC buildings. In the center, you might recognize the 1913 Woolworth Building, which towers 60 stories above downtown Manhattan. It was financed by millionaire Frank Woolworth, and designed by Cass Gilbert.
New York City has other observation points and decks, including the Empire State Building, Top of the Rock, and The Edge at Hudson Yards. One World has by far the highest viewpoint, providing plenty of opportunities for Instagram-friendly photos like this.
Every ticket option to One World gives you access to these stunning 360° views. However, the VIP pass has benefits including access to the priority lane for security, elevator, and exit. You'll also get a Flexible Arrival time, so there's no stress about making a specific timeslot.
One World's observation deck is indoors, which was a relief on a hot summer's day.
One of NYC's most bizarre buildings is the "Jenga tower" on the far left. (The apartment high-rise is actually called 56 Leonard Street in Tribeca.)
Visit One World Observatory for these bird's-eye views over the Big Apple. More info and tickets on their website.
You can also find One WTC on Facebook, Twitter and Instagram. (And don't miss out on the nearby September 11 museum and memorial pools, as well as the subway station designed by Santiago Calatrava.)
Now, for something new in New York. I dove into a dream world of moving projections at The SuperReal Experience, a 45-minute experience that pays tribute to the city.
These immersive digital shows are an exciting new way to experience art (I've seen a few worldwide, including Teamlabs Tokyo and Imagine Van Gogh Vancouver). The lighting and visual effects are constantly changing, creating new moods for photography.
SuperReal is located at Cipriani 25 Broadway, inside the former Cunard Building. The event space has decadent Italian neo-renaissance domes and arches, which provide a framework for the projection mapping.
Look up, and all around you — including the floor. SuperReal uses every inch as a canvas for digital effects.
One corner of SuperReal has a bar. Lie down on one of the beanbag chairs, and sip on a drink. If you're feeling playful, you can bounce the white balloons around the venue.
Music and sound effects accompany the visuals. The vibe constantly changes with each "dream," from psychedelic 90s to dark thunder and lightning.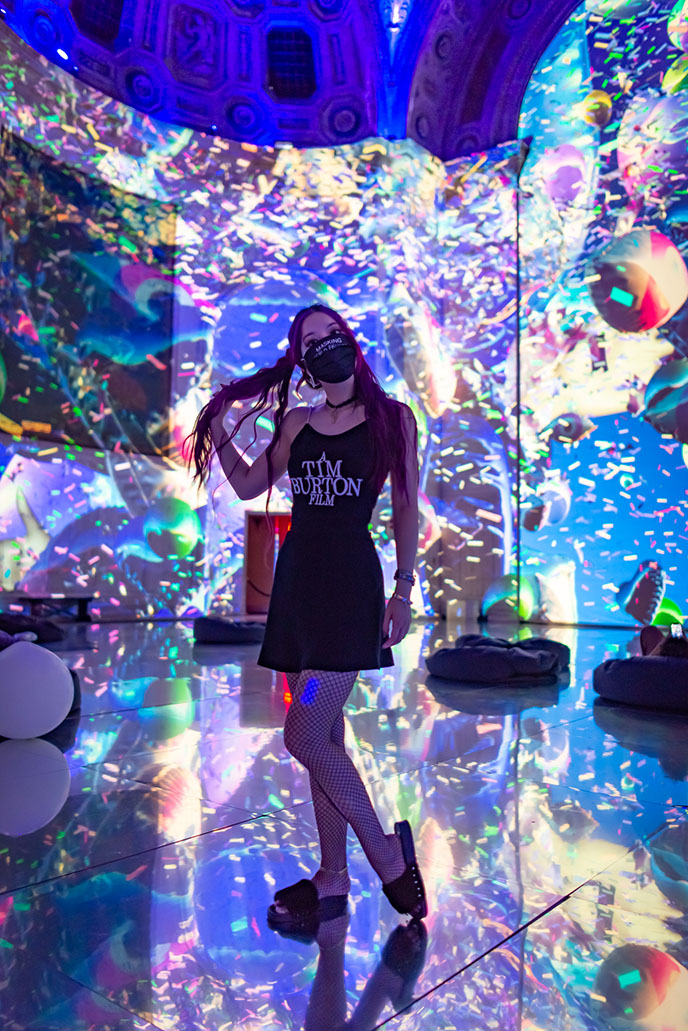 I wore "A Tim Burton Film" dress from Forest Ink — appropriate, for this fantastical atmosphere!
The projection mapping encompasses the entire 12,000 square foot grand hall of Cipriani 25 Broadway.
I loved how SuperReal highlighted the building's majestic architecture, creating virtual realms that blur the lines between reality and illusion.
The original art is accompanied by 360 degrees surround sound. My favorite part: when they blasted Sylvester's disco hit, "You Make Me Feel (Mighty Real)."
Amazing how the high-tech moving visuals exactly match the interior details.
From Art Deco to decadent flowers, the mood keeps on shifting.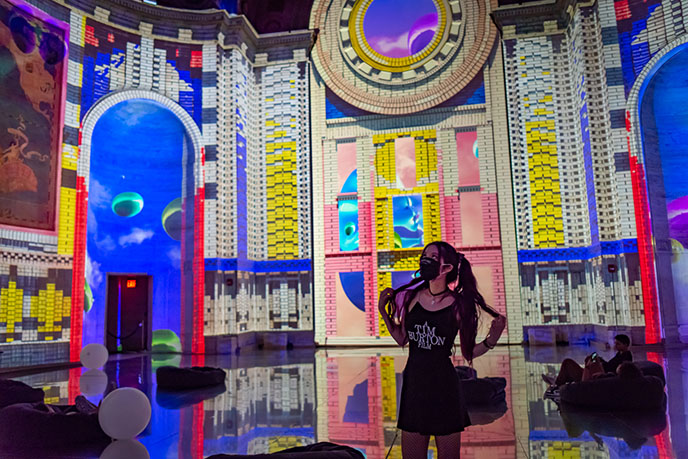 Head to the historic 25 Broadway in NY's Financial District, to see these superb visuals in motion. You can book a time-slot ticket to The SuperReal Experience here.
Finally, a "Yo" to the aliens… I had a blast staying at Yotel New York, a hotel inspired by outerspace! (I hope there's a press trip to space in my future.)
Yotel NY has a convenient mid-town Manhattan location (not far from 42nd Street Port Authority), and the spaceship design is prime for photo-taking.
Yotel has a sleek modern design, and the rooms are affordable. The NY hotel has 713 "cabins," and the hallways made me feel like I was a passenger on a rocket to Mars. (Wearing Sleevey Wonders under sleeves as a top.)
I didn't run into any aliens at Yotel — unless you count the two grinning, horned "deer" statues in the lobby!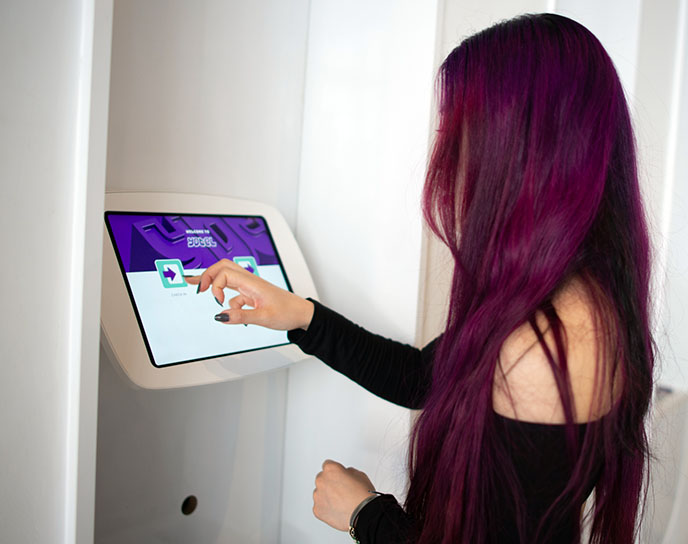 Everything at Yotel has a high-tech design. Guests check themselves in at the computer kiosks; it's a simple process that only takes two minutes, and includes creating your own room key.
Instead of a "lobby boy," Yotel has a giant white robot to carry and store your luggage! The Yobot's arm can handle 500 pounds, and maneuver hundreds of suitcases a day.
Using the touch screen computer, you can have the Yobot store your bags in an assigned locker. All you need is the receipt with a bar code to get them back.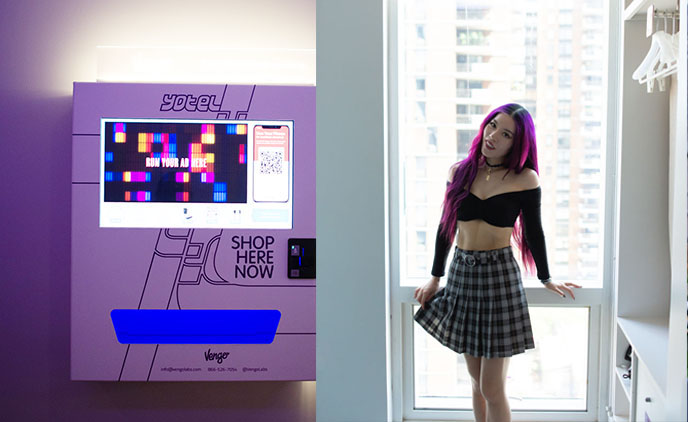 Even the vending machines have a futuristic edge. This Vengo dispenser is the size of a picture frame, yet contains items like toiletries and headphones. You can purchase them from the touch-screen with cashless payment.
Yotel NYC's rooms are ingeniously designed like space-cabins to save space. The shelving is built-in, and the flat bed retracts into a sofa with the push of a button!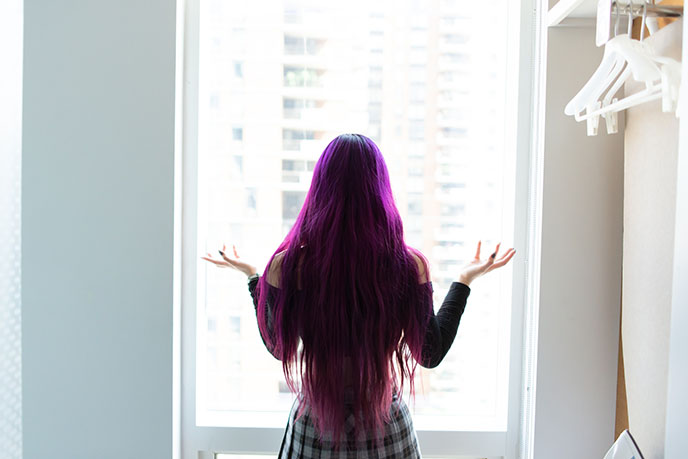 The Yotel room pods are designed for maximum compactness, yet you have everything you need for an enjoyable stay — including views of Midtown from the window.
There's even a neon lighting option, to get you in the mood for an intergalactic disco party! Such a fun stay, at Yotel NYC. 
I leave you with some NYC subway outfit photos. Wearing a vintage Japanese kimono jacket / coverup from Burcu's Angels Vancouver.
Tim Burton dress from Forest Ink. Anastasia liquid lipstick has been my go-to, as the lip stain stays on when you're wearing a mask.
Do you have any favorite Instagrammable spots in New York City? (I've been living in these Roberto Cavalli snake sunglasses.)
More from NYC to come, including reviews of museums and art shows. And you can enjoy my previous New York travel stories here!