Gothic Outfit Ideas! The Apiologist sustainable fashion, Sapphire Studios Goth earrings & rings, Skandinavik gloves.
Middle-parted hair and face-framing highlights… Here we are back to the future. (Although I never did the side part hairstyle or skinny jeans; I stayed in the 1990s and remain there today!)
Today, I'll share some of my favorite ways to style and accessorise Goth outfits in 2021. Featuring this funereal dress by The Apiologist, dark jewelry from Sapphire Studios, and other garments by indie Goth, alternative and sustainable designers. From the start of La Carmina Blog, this has been my focus — and so it shall remain to the grave.
I've been fashion blogging since 2007, so it's no surprise that my Gothic styling has shifted over the years. But some things never change: I love to play around with hair colors, and discover fresh underground designers.
And Miffy remains my favorite cute character for life! I'm squeezing two Miffies from the new Douglas Cuddle Toy collection, available from Maisonette. Keep reading for more kawaii photos. 
It's interesting to reflect on how social media has changed over time. I started out on MySpace… and now, I've been active on Clubhouse, the new audio chat app.
In fact, I founded the first Goth-themed club on Clubhouse — and you've invited into my lair! Search for "Goth Talk" — or click here to join my Gothic club. Please add @lacarmina on Clubhouse as well. Looking forward to discussing dark matters with all of you.
Let me show you several ways to coordinate a witchy outfit with striking accessories.
I'm wearing a leather visor by Jennifer Ouellette, and slinging an "I am a Friend of Satan tote bag" over my shoulder. It's from The Satanic Temple Shop (all proceeds go to their campaigns for pluralism and reproductive rights), and designed by co-founder and spokesperson Lucien Greaves. (More devilish TST clothing features to come soon). 
Dancing with the dead, in my Funeral March dress by sustainable designer The Apiologist. The design is one-of-a-kind, and made for movement. Those sheer sleeves and skirt layers, and abstract flowers embroidered in red!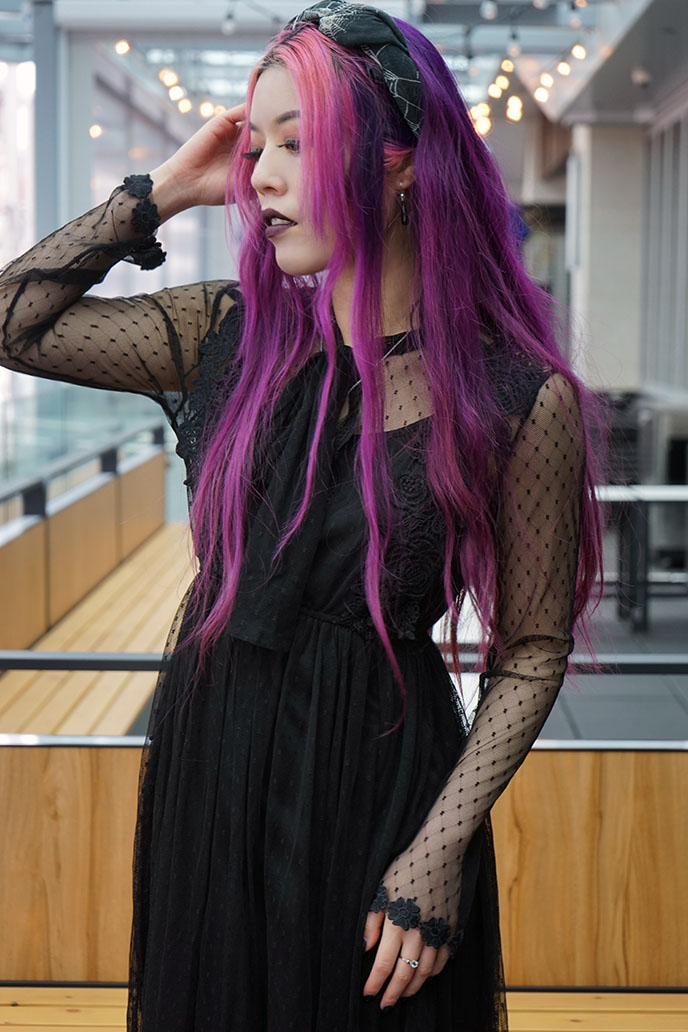 An apiologist is someone who studies the science of bees. The London-based independent brand takes inspiration from the bee, which "represents both fragile beauty and strength. The bringer of the sweetest nectar, and yet able to slay those foolish enough to interfere."
This dichotomy perfectly describes their clothing line, which has Goth / occult / witch vibes along with delicate detailing. Notice the neck ribbon tie, and the glove-like sheer sleeves with a floral hem.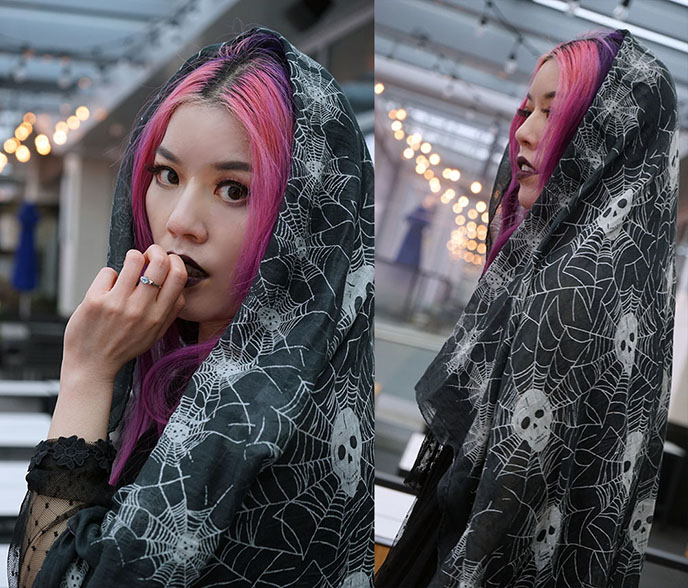 The Apiologist has a wide selection of women's clothing, from cardigans to cuddle coats and berets. I had fun styling one of their spooky scarves in different ways. 
(You can also catch a sneak peak of my gorgeous ring by Kipkalinka. I'll be featuring their jewelry in depth soon.)
In the first photos, I tied the skull and cobweb scarf like a headband. It can also be worn as a head or neck scarf, face covering, or something to sob into! 
I'm a longtime supporter of Gothic jewelry designers Sapphire Studios. As you can see from these close-ups, they're famous for their dark and alternative fine accessories. 
Putting on their Down the Rabbit Hole necklace made me feel like Alice in Wonderland. The pendant is inspired by Lewis Carroll's classic story: the silver and red garnet design includes a rabbit, a garden maze, a cut-out heart fit for a Queen. (It's available in 14k gold as well.)  
I paired it with their Shadows ring, which looks like three black bats! The rhodium and black stones add texture and a touch of glitter to the vampiric ring, which is adjustable to any size.
Sapphire Studios is known for its beautifully crafted skull rings. The St Noir lets you express 'until death do us part' — with two black skulls sitting beneath a 1 carat round cut stone, and smaller stones cascading down in the shape of an X.
"Take thee to a nunnery!" The spiderweb detail at the edges of my The Apiologist scarf is to die for.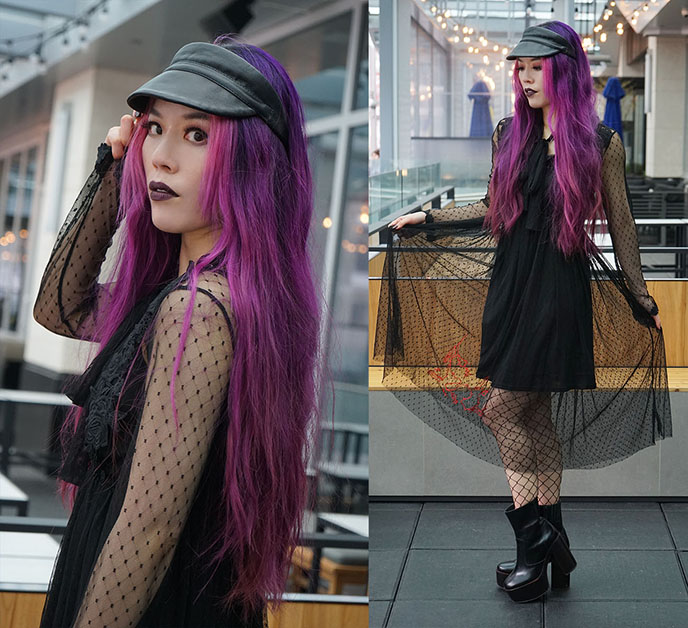 Switch around your headgear, and the same outfit takes on a different vibe. I'm wearing a leather visor by Jennifer Ouellette, who crafts environmentally friendly hats, headbands, and fascinators.
My black leather ankle boots are Jeffrey Campbell Mexique shoes –– click to get them.
My leather cap contrasts with the sheer overlay and embroidery of my witchy dress. The Apiologist's clothing reflects their passion for dark subcultures, and everything is made locally with ethical practices. 
Details of the hand-finished embroidery — an abstract red floral motif, on one side near the skirt hem.  
My Goth styling may shift over the years, but fishnets and these platform leather boots are eternal. 
How would you describe this occult look — witchcore? Wearing a Skulls and Webs 'N That scarf and Funeral March dress from The Apiologist. 
I'm ready to celebrate sakura season with Sapphire Studios' eye-catching three-tone Earrings from their Cherry Blossom Collection, Inspired by Japanese spring blossoms, these dangle earrings are silver with yellow and rose gold accents, set with 0.28ct Swarovski stones.  
Sapphire Studios Design also makes this Down the Rabbit Hole Key necklace, from the 'Two Worlds' Alice in Wonderland Collection.
The scarf and my Jennifer Ouellette black leather visor have an added bonus: they keep this vampire shaded from the sun. 
My hair has never been this long! Thank you BlameChad for keeping it healthy and vibrant purple, with pink front highlight strips.
All photos by Joey Wong. He quarantined alone for two weeks, and then we took photos outside with this Sony A7 camera.
Here are some additional photos we took, at Vancouver's Mountain View Cemetery. Been haunting graveyards since 1666! It was windy that day, but my hands were snug thanks to these black leather gloves by Skandinavik Fur.
A cemetery is a fitting place to take my Shadows bat ring and St Noir double skull ring, by Sapphire Studios. 
Sapphire Studios is all about elegant Gothic jewelry that stands out, as you can see. The Down the Rabbit Hole necklace contrasts nicely against a black and sheer top. The three tone floral earrings from the Cherry Blossom Collection match the pink in my hair.  
Their jewelry comes packaged beautifully, and includes velvet boxes for the rings — ideal for a Gothic engagement. 
I haven't been able to see many friends over the past year, due to the lockdown…. Good thing my ghost-buddies are always here for me.  
And Miffy the Dutch Bunny is always ready with a cuddle or two. I think the whole world knows that Dick Bruna's cute character is my animal spirit.
These new plush toys are beautifully made by Douglas Toys, and available via Maisonette. 
As you can see, the stuffed rabbit detailing is fantastic, from the rounded shapes to the embroidered eyes. I can't stop hugging the larger classic deluxe Miffy. She is so plump and fuzzy, and I am all about that minimalist aesthetic.
The smaller Miffy has a modern palette that matches my apartment's color scheme (including this Eames chair). She wears an aqua dress that says It's Cool To Be Kind. 
Maisonette has more Miffy toy variations including bunnies in full pink and yellow, or wearing different colored dresses.
I've been staying cozy in my Snow Bunny shirt from Truffle Shuffle. They carry a range of Miffy clothing items and home accessories, starring the X-mouthed rabbit. I also have their Japanese Miffy t-shirt and more. 
This is what happens if you try to take away my Miffy bunny rabbits! Get your own designer plush toys on Maisonette. 
Bonus: a fourth look! I went for a sort of hippie-Goth aesthetic. I'm wearing a black and gold stars headband by Jennifer Ouellette.
Skandinavik's soft gloves are masterfully made, with a handy opening so I can show my nails. The side has a Gothic lace-up adjustable tie. 
And I am wearing Chloe Rosie Heart sunglasses — get them here. I always wanted heart-shaped glasses, and love Chloe's brown-tinted designer ones with gold detail. 
Another look at my headband, and dress by Ains & Elke StyleHaus. They create vintage and antique-inspired clothing, with a focus on inclusivity. 
Their Gemma Sarong dress has a sweetheart neckline and elastic straps that can be worn off-the-shoulder. 
With a subtle vertical polka dots, a tapered waist, and layered fabric detail on one side, this Ains & Elke dress will make you feel like a million bucks. 
Jennifer Ouellette also made this charming blue headband with a floral twist detail. It fits well with my hair, which I've been curling using the "heatless bathrobe curls" method that went viral on TikTok! As you can see, it really does work. 
I hope these Goth styling tips inspired you to play around with your wardrobe, and create a variety of occult / alternative / witch looks. For more of my outfit photos, find me on @lacarmina Instagram, Twitter and Tik Tok.
PS: I was featured in the Globe and Mail newspaper, in an interview about travel and lucid dreams. I share how "I dream of Tokyo and Hong Kong. I'm walking through busy cities, looking at people… it's as vivid as if I were actually there."
Finally, are any of you on the Clubhouse app? I founded the first Gothic-themed club there, and you're invited to come and chat with me. Simply add @lacarmina, or use this direct link to join my Goth Talk club on Clubhouse.
If you follow me on @lacarmina Instagram / Twitter, you'll know that I've been moderating a Sunday Scaries event for Sleep.com. Come chat with me and sleep doctors about ways to maximise sleep health – you can ask me questions about traveling in lucid dreams, or anything! I hope you'll join our next chat about debunking sleep myths (Sunday, 6-7pm PT). See you on Clubhouse!