Buenos Aires street style! San Telmo market, La Boca, coolest barrios or neighborhoods.
Obelisk, ob-la-da. It's time for part two of my travels in Buenos Aires, Argentina! 
The city is divided into 48 barrios, or neighborhoods — each with its own vibe. Of course, we concentrated on the coolest and most creative areas, as you saw in my first post about Palermo and Recoleta cemetery.
This time, we'll sight-see in San Telmo, Puerto Madero and La Boca. 
The Argentinian capital city has a retro feel to it, in part to the colonial architecture and spirit of Eva Peron. Inspired, I put together a classic 1950s meets street style outfit of the day.
OOTD: My Ghoul Gang top is by Unique Vintage (talk about #squadghouls!). My tortoise-shell sunglasses are McQ Alexander McQueen from Sunglasses Shop. (Photos by Joey Wong.)
Line Friends' Brown bear is one of my favorite cute characters (but obviously, nobody tops Miffy the bunny). I was pleased to find the emotion-less bear on the back of this Chocoolate bomber jacket. (It was drizzling a bit, so please excuse the frizzy hair.)
I'm standing in Puerto Madero, a waterfront area of Buenos Aires that has undergone recent development. There are pristine gardens and sleek, modern buildings overlooking the water. All of Puerto Madero's streets are named after women, and the Puente de la Mujer (Women's Bridge) is designed by neofuturist "starchitect" Santiago Calatrava.
My cross and fishnet tights are Lip Service, from Salemonster,
Close-up on my Ghoul Gang t-shirt from Unique Vintage. Hail the original queens of Halloween: the Bride of Frankenstein, Lily Munster, Elvira, and Morticia Addams! As a fan of classic horror films, this is a Gothic girl gang that I'd join in a heartbeat.
Buenos Aires is home to the widest street in the world, 9 de Julio Avenue. It's over 300 feet wide, and named after Argentina's Independence Day (in 1816).
This Egyptian-style monument, "Obelisco de Buenos Aires," is the symbol of Buenos Aires. The obelisk is located in the Plaza de la República, intersected by 9 de Julio. It was quite the challenge to run into the wide street and vogue for photos before the traffic lights changed… but worth it, for these shots!
Detail shots. I'm wearing silver rings by the "Goth-father," Alex Streeter. My nail art is by Glam Nail Studio; there are close-ups on the designs in this Easter Island post.
Argentina is of course famous for its beef. Instead of the crowded traditional steakhouses, I went to La Carniceria in Palermo. This cozy, hip restaurant takes reservations for two dinner seatings, and has a hidden glass panel door for a members-only feel.
I enjoyed sitting at the bar and watching the chefs stoke the fires, while sipping on a refreshing gin and tonic flavored with fresh huacatay (Peruvian black mint).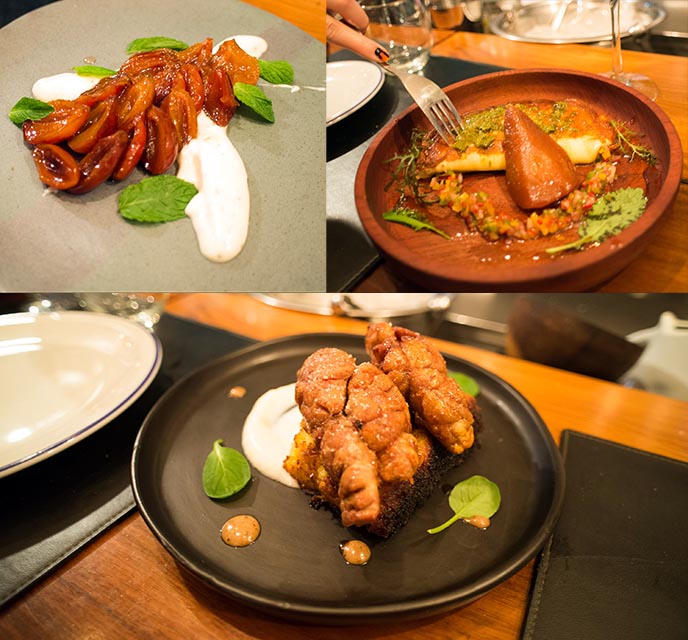 La Carnicería's owners Pedro Peña and Germán Sitz put a modern spin on traditional steakhouse dishes. We whetted our appetites with a warm, smoked provolone cheese. One of their specialities, sweetbreads, were a delightful surprise: caramelized and on top of cornbread. A glass of malbec (Argentine red wine) was the perfect accompaniment.
The main event were these generous, fire-grilled cuts of grass fed beef. The steaks had wonderful smoky flavors, and came with chimichuri dip.
At La Carniceria, the creations change depending on what's fresh and available. Small, ripe plums with cream made up the perfect seasonal dessert. A delightful meal, from start to finish.
On another day, we explored the colorful district of La Boca. As you can see from this mural, the 90s are forever here.
La Boca is a working class barrio (neighborhood) that has been brightened by street artists. The main alley, Caminito, is surrounded by rainbow-painted zinc houses, theaters, tango dancers, and walls of art.
Look up at the balconies, and you'll find statues of Argentina's most famous residents. Mafalda, the cute cartoon girl, stands next to a national football player. On another ledge, Eva Peron waves her arm at passersby. (Recall that I visited the Peron Peron theme restaurant in her honor.)
La Boca's Caminito was originally developed by a local artist, Benito Quinquela Martín. In 1960, he painted the dilapidated buildings and set up a performance space, which turned these cobblestone streets into an art hub. Today, you'll find plenty of studios amidst these colorful structures.
Parts of La Boca feel rather touristy, with lots of gift shops. However, if you wander the side streets and railroad area, you'll find uncrowded alleys with striking artwork.
Travellers come to see these corrugated-iron shanty houses, which used to house immigrants. The rainbow paint gives them a modern feeling.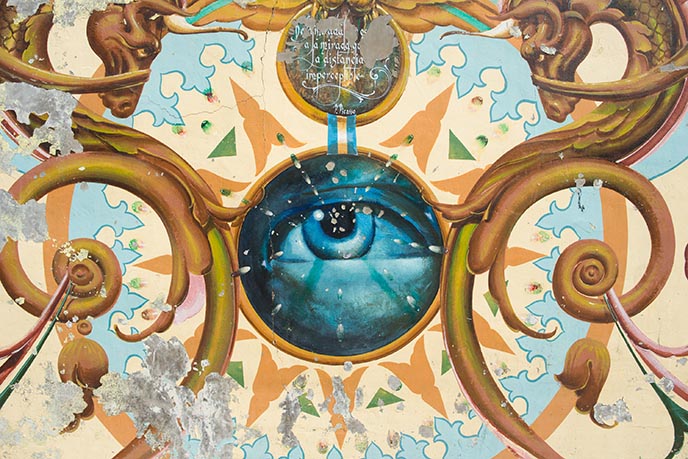 If you're interested in Buenos Aires street art, I recommend that you also walk around the hipster district Palermo (see this post for info).
Before leaving La Boca, take a moment to see the multicolored walkway by Riachuelo River. Buenos Aires is a great city for exploring by foot.
Finally, you can't miss San Telmo market. Every Sunday, this barrio transforms into a vivacious street fair with over 250 stalls.
The weekend bazaar is one of the best places to find antiques, local goods, handmade jewelry — and of course, cute memorabilia featuring Mafalda. San Telmo also has a permanent market area that you can visit any day of the week, which mainly sells food.
San Telmo's open-air market spans many streets. I saw crafts made from cassette tapes, sugar skull cat statues, wind-up toys, coffee stalls… you name it.
The market is a great place to snack on Argentinian food. I ate warm empanadas, and tried local-style pizza (it's uniquely gooey and delicious in Buenos Aires).
My hair color and undercut are by Chad Mitchell Evans at Kore Salon Vancouver.
I hope you enjoyed my travel guide to Buenos Aires' hippest attractions. (If you missed Part 1 of my Argentina adventures, see the post here).
What's coming up next? I'm heading to two familiar countries in Asia, as well as a new destination. All shall be revealed soon!