Casa de Campo Villas: Caribbean luxury vacation rentals! Catalina Island, Minitas beach, spa & resort activities.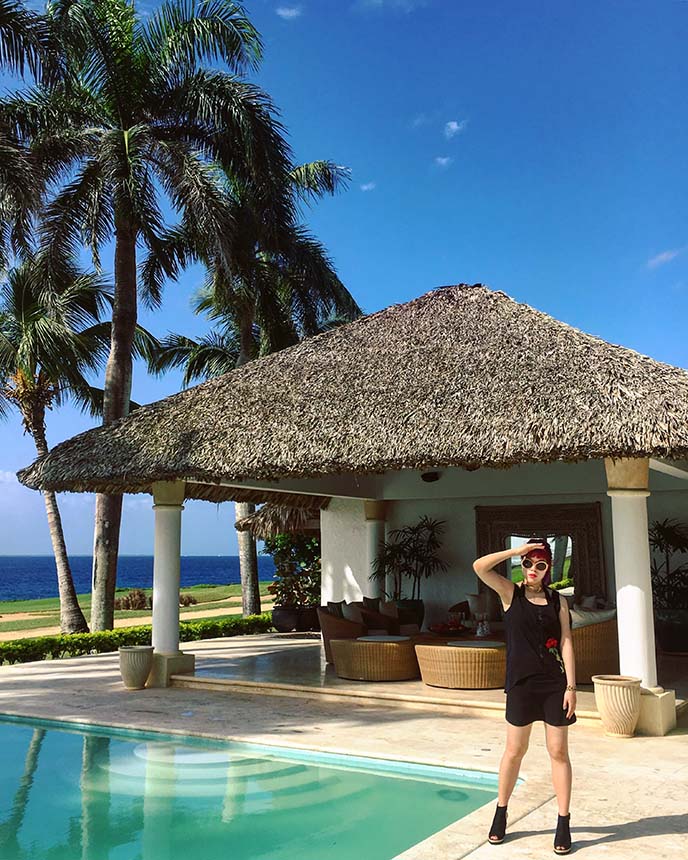 Coming at you… from my rock star villa in the Dominican Republic! I don't know about you, but I'm ready to move in.
In my first post, I introduced you to the elegant Casa de Campo resort. We'll kick things up yet another level: with a look at their tropical villas for rent, and activities including skeet shooting and horseback riding!
We'll also bask in the white sand and waves of Minitas Beach and Catalina Island, aka paradise on Earth.
Casa de Campo is in located in La Romana, which is considered the most exclusive and beautiful area in the country. Quite a few celebrities own mansions or vacation here regularly; perhaps you might recognize the names Drake, Beyonce, J-Lo, A-Rod, Jay-Z.
When you step into this backyard of dreams, overlooking the Caribbean Sea, it's obvious why this is an A-list destination.
Casa de Campo has multiple Oceanfront Villas available for rent. They each have bright bedrooms filled with modern decor, and a state-of-the-art kitchen.
The star of the show, however, is the long outdoor pool flanked by a luxurious gazebo. 
I could laze in this open-air lounge all day, reading a sci-fi novel. The space is airy thanks to the peaked roof and ceiling fans.
CDC's villas are decorated in muted Caribbean colors, which match the elegant natural surroundings. The wicker furniture is accentuated by local crafts and glasswork.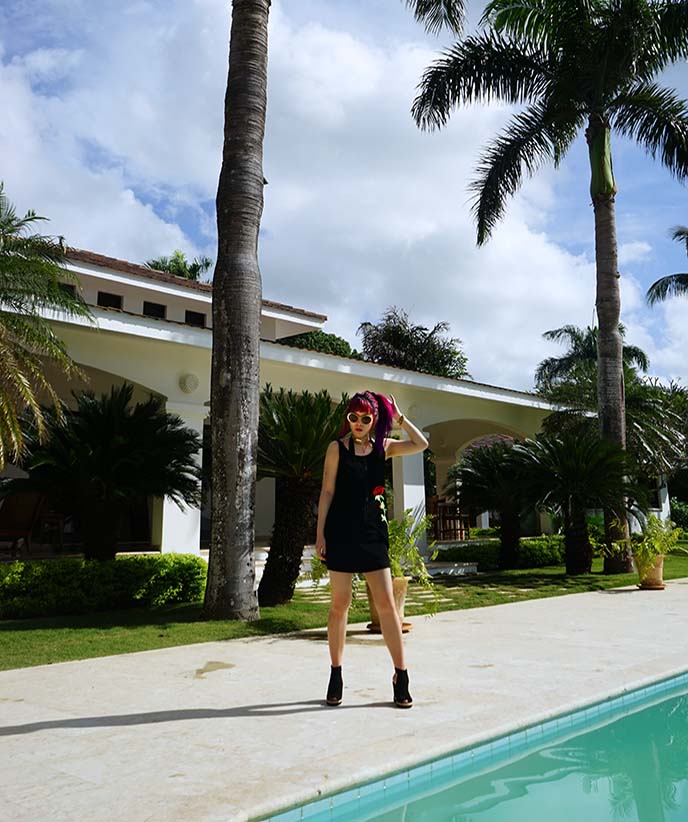 OOTD: I'm wearing a rose tank top by Jawbreaker London, sunglasses by House of Harlow, and black platform velvet sandals by Le Babe. (Shop more styles by Le Babe shoes with a click below:)

Photographer Molly Weingart and I daydreamed about living here in style.
As villa guests, we'd have access to maid and butler services, and a culinary staff that prepares daily breakfast in the kitchen.
The most difficult decision you'd have to make is whether to dip into the swimming pool, the Caribbean sea…
Or the pod-like hot tub next to the bedroom patio.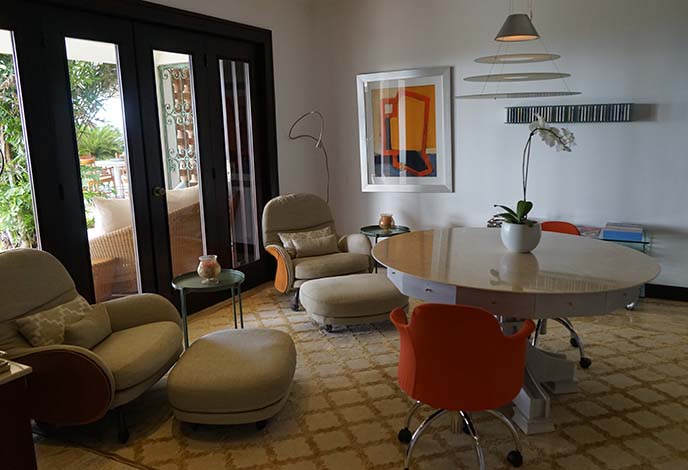 We'd never get bored indoors, with these pop-modern rooms. The villas are equipped with a sauna, full gym, and private cinema with theater seating.
"Scarface" vibes, in the central living room that is set up to entertain guests.
Molly and I loved the artistic details that make each villa unique. This handcrafted mahogany bench and rainbow canvas formed the perfect photo backdrop.
Casa de Campo makes the most of the Dominican Republic's tropical beauty. They also offer Garden Villas for rent, with lush natural surroundings as well as a swimming pool.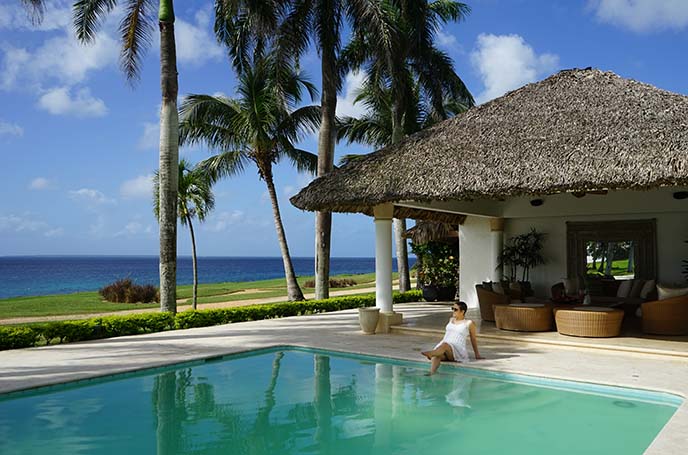 Although you'll feel like a millionaire, the villa rentals are actually quite affordable compared to others in the area (especially when split among a group of friends). Many guests rent a villa for Christmas and New Year's, hen getaways, or other occasions.
(If these photos make you keen to move in, there's more info on Casa de Campo's site.)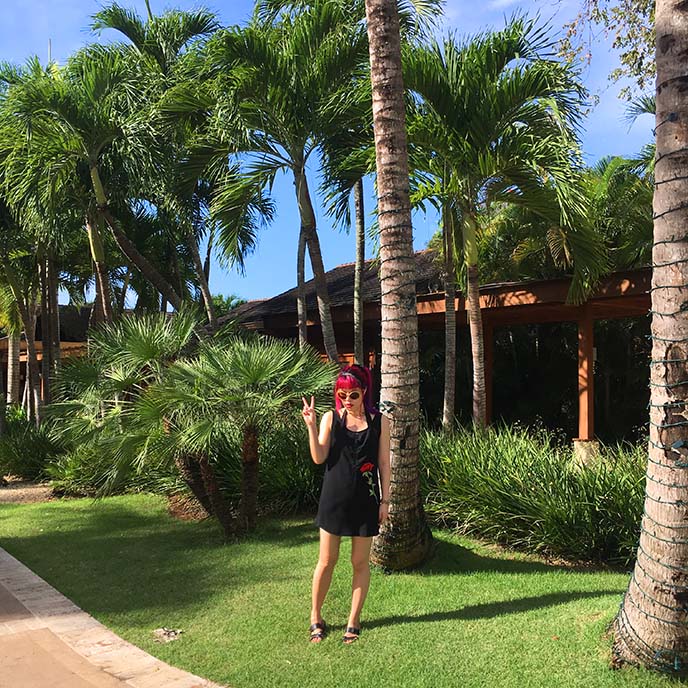 As guests of the resort, we had full access to "fun in the sun" activities — ranging from water sports to outdoor massages. Since Casa de Campo is a huge resort (at 7000 acres), we never ran out of options for activities, many of which are included in the package experience.
The Dominican Republic is known for its pristine beaches. One of the best is Playa Minitas, Casa de Campo's private beach. We drove here in our personal golf cart, and found ourselves on a quiet stretch of soft white sand.
At Minitas Beach, guests can try activities like snorkeling, kayaking, paddleboarding or windsurfing in these gentle waves.
Molly and I couldn't wait to wade into these clean, warm waters. This, right here, is my happy place.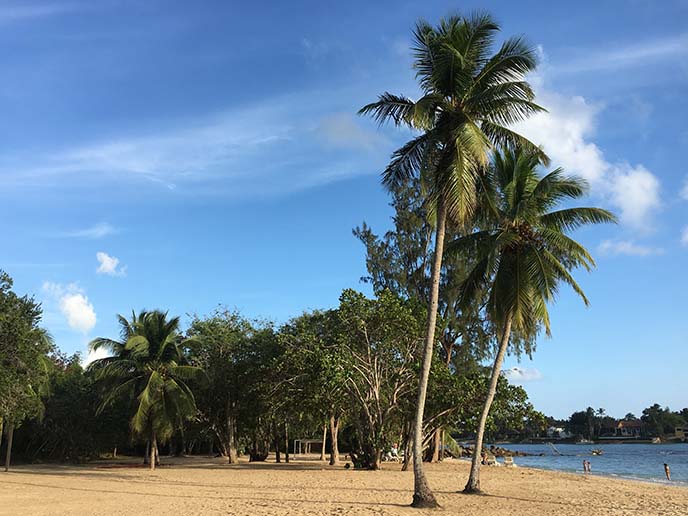 I've visited beautiful beaches worldwide (Maldives, Bali, Maui), and Minitas Beach ranks among the best I've ever experienced. Unlike other places in the Dominican Republic, this is an uncrowded and meticulously maintained spot.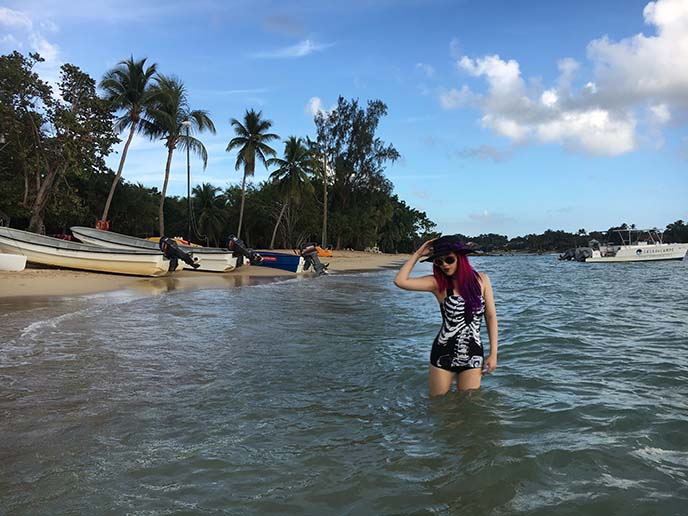 Casa de Campo offers free towel service at the entrance, and plenty of amenities including change rooms, several bars, and Minitas Beach Club restaurant (which we reviewed in this post).
(I'm wearing a skeleton swimsuit; similar one here).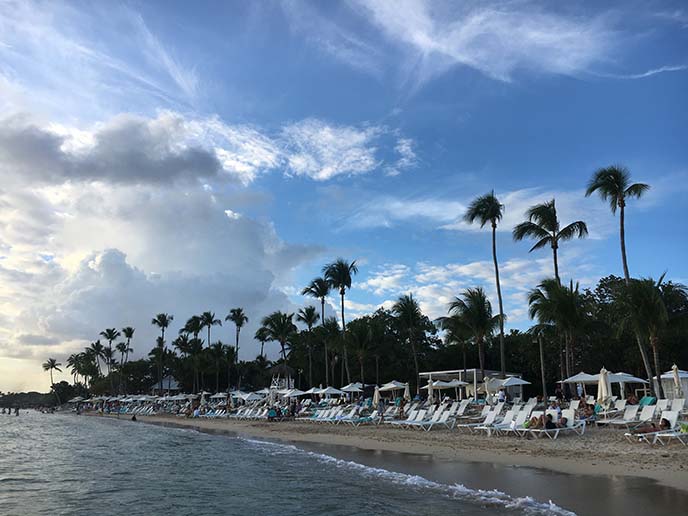 We alternated between dips in the crystal-clear waters, and lounging on the comfortable chaises under the shade of palm trees.
There weren't many tourists around, which let us feel as if were in our own Blue Lagoon.
If you stay until the sun sets, you'll get this spectacular light show over the horizon. 
We watched the sunset, while sipping their famous piña coladas served in a fresh, local pineapple…
I have to admit, I love being a "beach Goth" every so often!
Quite a few people recommended that we visit Catalina Island, and we were glad we took their advice. To get here, ask the Casa de Campo staff to help you make an advance booking for the catamaran ride. The boat departs from Minitas Beach and takes 25 minutes — and it's a fast and furious ride that made us smile.
We disembarked onto six square miles of beach paradise. No photo filters needed: the turquoise hues and perfectly clear waters are exactly what you get in real life.
Catalina Island is part of the Parque Nacional del Este, which preserves the diverse ecosystem that includes sand-dunes, mangroves, and reefs.
If you're a snorkeler, take a short swim from the pier, and you'll find calm waters teeming with sea life. 
Relaxing on Catalina Island turned out to be one of the best moments of our trip to the DR.
You may recall that we ate like queens at Casa de Campo, from sushi fusion to rustic Italian. To balance it out, we spent time in the fitness center, which has a large selection of weights and machines.
Guests can also book a private training session, or visit the physiotherapy center. Molly did a functional class with David, and says: "I went to the workout tired, but left feeling energized. David did a great job of assessing my strength. When he realized that I could do more than he had originally intended to give me in the workout, he adjusted it workout accordingly — all with a smile. I even got to learn how to say some of the exercises in Spanish!"
The resort also has regularly scheduled group fitness classes like Pilates, Zumba, Saco Box, Spinning, and aerobics. We woke up for the 8:30am Pilates class, and it was absolutely worth it. 
Molly's reaction: "Liliam was such a magical teacher. I felt like she saw my heart, and then just made my abs work hard! One of the things that I really enjoyed about her (and David, and fitness at Casa de Campo in general) was that there was a focus on wellness, so progressing an injury to advanced athletic performance could be done in one class. She exemplified this completely, as she took the extra time to show us those stretching machines that released the back."
The Spa was another place to rejuvenate both body and mind. Casa de Campo's spa uses traditional techniques and local, organic ingredients in their menu of treatments.
Molly booked the Signature Ayurvedic massage. She says, "Alexandra, the woman who took care of me, touched me with such kindness and knowledge that the 90 minutes drifted by. I've been suffering from a pretty serious injury and she did a great job of handling the tension around the muscles to release some of the pain."
I agree with her words that "The staff at Casa de Campo was spectacular. That's an understatement. They made you feel like you were at home with friends you just hadn't met yet. From checking in with Victor, to the bartenders who recommended we go to Catalina Island, and servers who pushed me to speak more Spanish… everyone just wanted to make us more comfortable and help us explore."
The all-inclusive package includes horseback riding. I was excited to get on a horse for the first time in over a decade.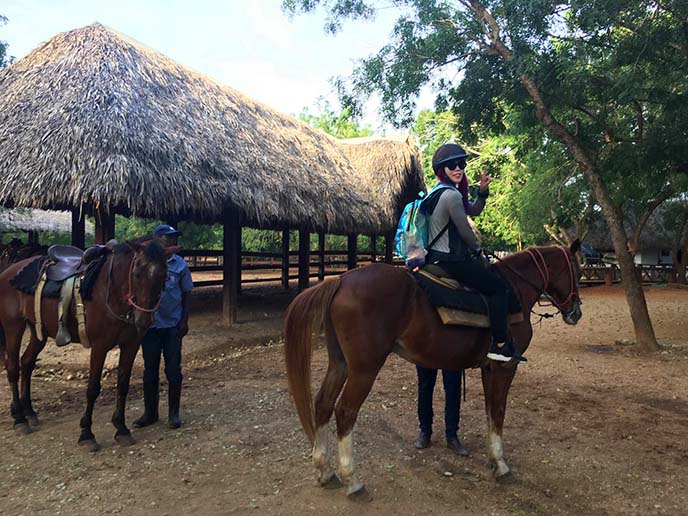 The horses are extremely well-trained, and will never dart off or disobey commands. We explored the ranch's lush pathways, by walk and trot.
I also got to try skeet shooting for the first time. The all-inclusive package includes 25 shots; it's nice how CDC encourages guests to experience new sports and activities that they wouldn't otherwise do on their own.
Our instructor was a kind, detail-oriented teacher who made us feel we were in safe hands. He patiently showed us how to use the two-barrel gun, which could hold two shots before requiring a re-load.
Skeet shooting means hitting clay targets that fly in the air. By pressing a button, he launched these disks from fixed stations, at a variety of angles and speeds.
I discovered that I'm surprisingly good at hitting clay pigeons. I credit this to my many hours of playing "Duck Hunt" on the original Nintendo console… the 1980s video game is remarkably good at mimicking the actual experience of skeet shooting!
Don't mess with travel bloggers. They learn skills on the job.
(Molly is wearing these Bulgari Serpenti sunglasses, and my sunglasses are for sale on my Depop.)
I've shot rifles in indoor gun ranges before, and didn't enjoy the experience much. However, an outdoor shooting center is a different story. Molly and I appreciated getting to know the history and skill of the sport, at one of the biggest centers in the Caribbean.
If you're a golf fan, then you might already know of Casa de Campo. The resort has three of the best golf courses in the Caribbean, if not the world: Teeth of the Dog, Dye Four, and The Links. We saw groups of golf buddies renting a villa together, and swinging their clubs in this postcard-perfect setting.
A big heart for Casa de Campo — Molly and I couldn't have had a better time in the Dominican Republic! Everything about the resort was as pristine as these waters, and the staff deserves a special mention for their kindness.
If these photos are convincing you to fly off to this beach, check out more info on CDC's website.