How to spend a 24 hour stopover in Panama City! Sortis Hotel & Manabi restaurant, Casco Viejo historic district.
Say yes to travel. Always!
When I realized I could do a free 24-hour stopover in Panama City, I immediately chose that flight. Even though I only had a brief time in Panama's capital, I got a nice taste of the culture, food, architecture… and it's something I'll never regret.
I had to fly through Panama, on my route between Dominican Republic and Cuba. I realized I could book a flight with a long connection time / stop-over, which allowed at least 24 hours to get out and explore. It didn't cost extra, and it was a better option than hanging around the airport for over 6 hours… so why not?
If you can choose to do a 24 hour layover in Panama City, you should go for it. The timing was enough for me to get the lay of the land, see some sights (like Casco Viejo and the waterfront), and enjoy Panamanian food. Read on to see how I spent a day in the city of the Canal…
But first, a quick announcement. I'm back in San Francisco in early March with friends! We'll be hitting up the synthwave party Turbo Drive (with a performance by retrowave artist Danger), as well as the infamous Goth night Death Guild. If you're in SF, come out and dance with us.
(Above, wearing jewelry by my favorite Alex Streeter: Mars Star stud earrings, and Ouroboros creatures ring.)
And now, back to my Central American stopover story.
Some cities are better for layovers than others. Panama City turned out to be a great one — because Tocumen International Airport is only a 30 minute drive from downtown Panama City.
If you have limited time in a destination, I recommend booking a hotel that is centrally located. I stayed at Sortis Hotel, Casino and Spa since it was right in the bank district, and near the waterfront and famous sites. The staff arranged private car to pick me up from airport Arrivals, which helped me to save time and keep my trip as seamless as possible.
Sortis Hotel address: Calle 56 y 57 Este, Panamá, Panama
Sortis Hotel's hip decor matched my pastel-Gothic vibe. They're part of the boutique design hotels collective, Autograph Collection, meaning you can expect luxurious, modern accommodations and service.
I arrived in the evening, so I was glad to spend time under the waterfall shower and then curl up for bed. Sortis' rooms are large and decorated in urban chic, with giant windows that let you wake up to the famous skyscrapers of Panama.
Outfit details: My velvet shoes are Le Babe, my t-shirt is Akade Wear by New Retro Wave, and my skirt is Print All Over Me by Coucou Suzette.
The next day, I woke up early for the included breakfast buffet, and so that I could have as much time as possible to see Panama City before my flight in the early evening.
I got a wonderful introduction to Panama City on the rooftop of Sortis Hotel. They have a panoramic terrace, and a swimming pool with a cute white duck in it!
I looked out at the iconic cityscape, marked with tall silver towers. Instantly loved the vibrant and energetic environment of Ciudad de Panamá.
Perhaps you might be surprised to see so many skyscrapers here. Beginning in the early 2000s, Panama City had a construction boom that resulted in dozens of futuristic high-rises. 
Panama City has become a major financial, tech and business center –– but it still has that laid-back, warm Central American vibe. Sortis' inviting swimming pool, with towers and palm trees in the background, captures this mix perfectly.
Unlike other parts of Central America, there's also a high-end element to Panama City. I'm hanging in the lobby's Veuve Cliquot champagne lounge. Sortis Hotel also adjoins a shopping center, and is near the new Soho Mall for luxury designer brands.
If you only have a twenty-four hour stopover, be sure to take the time to try the local cuisine. On my first night, I ate dinner at Manabi Restaurant and Rum Lounge, which specializes in Panamanian dishes. 
(My New Retro Wave shirt is Akade Wear, designers of synthwave / outrun / retrowave fashion.)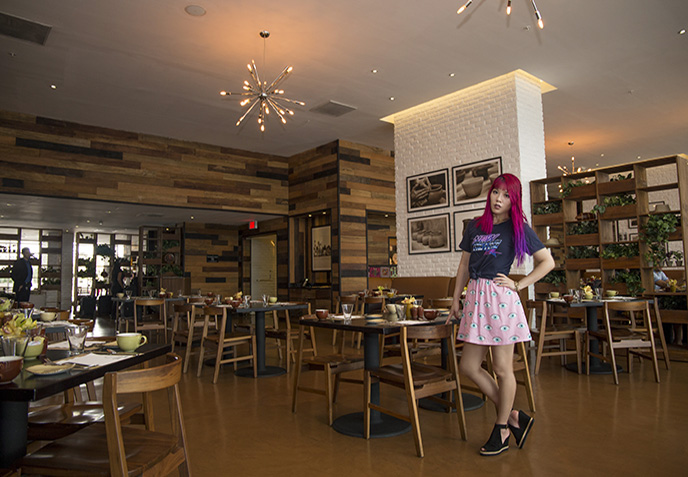 The cozy Manabi Restaurant was decorated with local crafts, and warm wooden furniture. They have an impressive selection of Panamanian rum… but alcohol wasn't being served because it was Martyr's Day! (Every year, the city commemorates the 1964 riots over sovereignty of the Panama Canal Zone.)
Nonetheless, I got to enjoy a tropical fruit smoothie with fresh fish ceviche, and Manabi's hearty seafood dish. I tend to order local fish wherever I go; this time, I got to taste "corvina" (a saltwater fish from the coastal waters of Central and South America) for the first time. I ended with the house-made creme brulee with blueberries — brilliant.
The next day, I was ready to see Panama City. Uber is quite cheap here, so I booked an UberX ride to Casco Viejo (Old Town).
Casco Viejo is located on the waterfront, and has spectacular viewpoints and walkways. Across the water, I spotted the rainbow colored Biomuseo (Museum of Bio-Diversity) designed by Frank Gehry. (If I had an extra day in Panama City, I'd certainly go there.)
30 minutes away, you can visit Miraflores Locks, one of the transit points of the Panama Canal. There's a history museum about the 77 km (48 mile) waterway, which connects the Atlantic and Pacific Oceans. Visitors can also go to an observation deck to see vessels pass through the Panama Canal.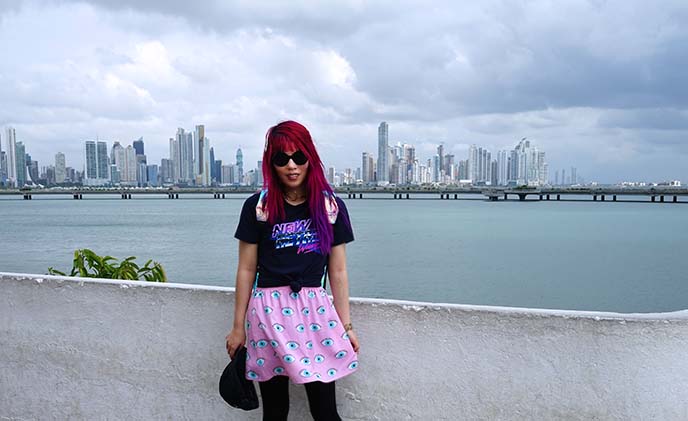 Panama is also known for its long seawalls, which are made for strolling. I looked out at Amador Causeway, the second longest boardwalk in the city and site of museums and restaurants.
I had a limited amount of time so I stuck to Casco Viejo, the historic district of Panama City. This settlement was founded in 1673 after the previous one had been destroyed. Since then, it has survived many natural disasters and attacks by pirates, including the scurvy Captain Henry Morgan. 
I passed by the yellow facades of Plaza Bolivar (with a statue of Simon Bolivar in front), and cute sidewalk cafes.
It's easy to see why Casco Viejo is a UNESCO world heritage site. The old town has beautiful parks, and the classic buildings carries traces of its past (a mix of Spanish, French and American colonial architecture.)
This Panama City neighborhood is also home to the archaeological ruins of the church and convent of Santo Domingo. The structures were built by Dominican Friars shortly after the founding of Casco Viejo, but burnt down in 1756 and were never restored.
I enjoyed seeing the contrast between these historic sites and glitzy, modern Panama (such as this light installation at Sortis Hotel.)
My favorite futuristic building was the F&F Tower, an office building not far from the hotel. I did my best to imitate the twisting green glass and reinforced concrete.
The corkscrew spiral building stands out in the skyline of Panama City.
Whenever the opportunity presents itself for you to experience something new, I say "do it." You'll never regret seeing a new destination, and who knows when you might get the chance again.
Gracias Sortis Hotel for taking care of me during my layover. My Panama stopover was short but sweet, and makes me keen to come back to do more.
PS: See everyone soon in San Francisco! Follow along @lacarmina Instagram and Facebook to see the fun first-hand.