Osaka, Japan Halloween shops! Japanese weird beauty products, costumes, makeup. Auxiliary Magazine modeling.
It's getting close to Halloween! To get you in the mood, I'm doling out two Treats from Asia. (And no Tricks, promise.)
1) Scroll on to see dozens of cute photos of Halloween shops in Osaka! As you'd expect, Japan celebrates the October holiday in kawaii-scary style. Read on to see the spooky beauty products and costumes found only in Japanese stores.
2) And… I'm thrilled to finally release my Hong Kong photoshoot, which was published in the spring issue of Auxiliary Magazine!
Bonus treat: isn't the new Lush Halloween collection to die for? I'm excited to try them all (I'll share snaps on my Instagram stories @lacarmina).
I look forward to taking a black cat bubble bath, and fizzling the glitter pumpkin, monster and "Lord of Misrule" bath bombs in my tub.
Also perfect for Goths: the Black Rose lip scrub and gloss (which appears black but turns pink), and Goth Fairy shimmer bar. The Hedgewitch and Magic Wand soaps promise to leave you with "boo-tiful, spellbinding skin!" There's a video on my Instagram with close-ups of Lush's spooky collection — which one is your favorite?
Now, let me share one of my favorite photo editorials to date. The images are by the brilliant Hong Kong based photographer, Rose Conway.
As always, my hair cut and color are by Stephanie Hoy (you can tell that we took these photos a while back, as my hair is pink and longer now).
Outfit details: I'm wearing this exact Michi Onyx bra, and a crescent moon silver necklace.
We shot these photos in – where else? – the streets of Hong Kong. I'm standing in front of a Buddhist temple in Kowloon. 
I'm wearing these exact Michael Kors black suede pumps. More items from my outfit below:
Hong Kong truly has a Blade Runner vibe: alleyways lit by neon lights, juxtaposed with old Chinese signs. My Lovecraft "Necronomicon gate" top is by Disturbia Clothing.
It was an honor to have these photos appear in the Spring 2017 issue of Auxiliary Magazine.
An absolute pleasure to work with HK based photographer Rose Conway.
We looked for interesting storefronts and colors to shoot. This Chinese shop sold statues of folk gods, incense, and other ritual items. The flamboyant owner insisted on coming out to pose for a photo!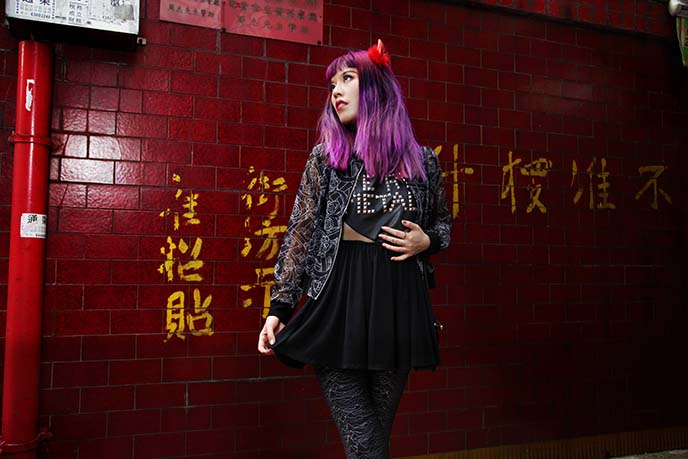 Red and gold are the signature lucky colors of Hong Kong. (The brick wall matches my devil horns as well).
I've been going to Hong Kong since I was a child, and certain scents and images are quintessential to the city. The Chinese butcher, with BBQ duck hanging under bright lights, for example.
I like how you can see "real world" Hong Kong in these images. Citizens live in close quarters, and carry themselves with an upfront attitude. It can seem brash at first, but you grow to love it for what it is.
Kawaii culture and street style are as popular in Hong Kong as they are in Japan. I paid tribute with a cat-ears headband and a white tulle skirt.
A curtsy for a hunk of meat? (Find my Michi top here.)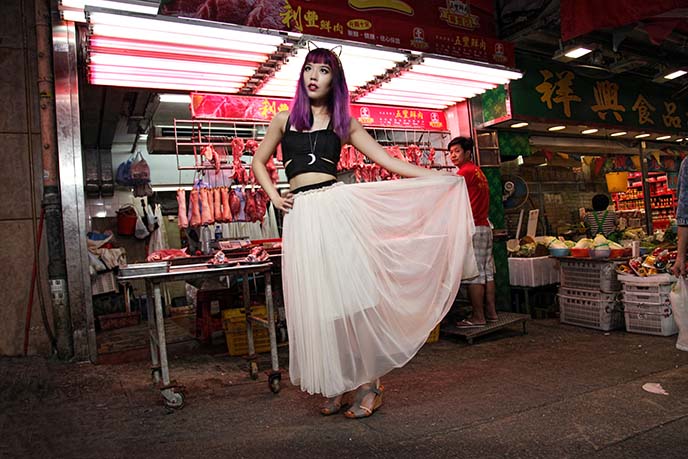 Perhaps Lady Gaga got her "meat dress" from this Chinese street market vendor!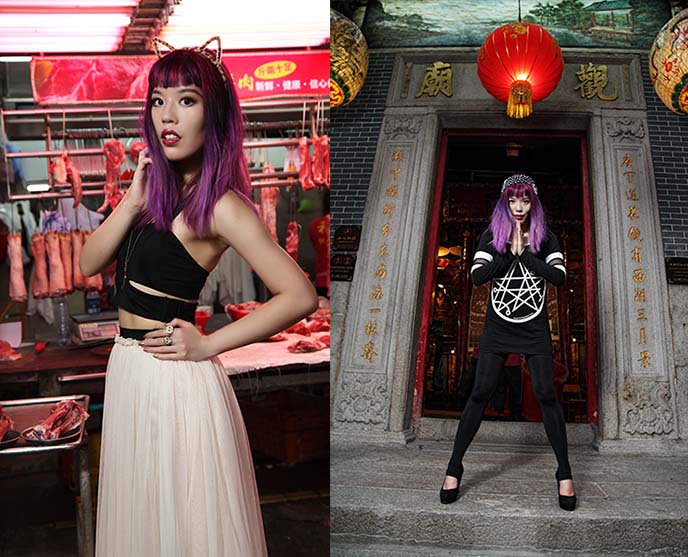 Major thanks you to Rose Conway for photographing me in Hong Kong! Hair is by the fabulous Stephanie Hoy, and makeup / styling is by yours truly. You can get copies in print in the current issue of Auxiliary Magazine (and stay tuned for the next one… I'll be doing something more with them!).
If you like what I'm wearing, click below to shop my look:
Now, let's get you excited for All Hallow's Eve — the best time of the year! When I was in Osaka last September, I took lots of snaps of the ghoulish-sweet items found in Japanese stores. 
The Sanrio store puts a whimsical Halloween twist on Hello Kitty and Friends. Above, you can see Dear Daniel as Frankenstein, and Hello Kitty and Pompompurin (the yellow dog) as witches!
Sanrio's favorite "kawaii" characters get a spooky makeover, while retaining their adorable look. On the right, Kuromi yells "Noooo!" while surrounded by smiling pumpkins, and Chococat with a cobweb.
The usually sweet bunny Cinnamonroll transforms into a red-eyed vampire. Pom Pom Purin gets a sewn-up skeleton look, and a deathly green pallor to his fur.
Sanrio releases a special Halloween collection each year in Japan. However, the store continues to sell its regular pastel cute merchandise as well. Witness Gudetama (the lazy egg) in many forms, and what appear to be… My Melody Crocs meets Uggs slippers? 
Many of these designs can be only found in Japan (they aren't sold online, as they are produced here). If you're a rabid Hello Kitty fan, it's reason enough to make a pilgrimage to Japan.
I went around to various Osaka beauty / 100 yen stores, especially in the Amerikamura and Umeda districts (two of my favorite shopping hubs). Since it was mid-late September, there were lots of Halloween designs available — such as these "come on!!" Halloween stick-on nails.
Fancy eyelashes and colored contact lenses remain very popular among Japanese youths. When I saw the Disney "Evil Queens" collection on the right, I thought of Yukiro.
I love how creative Japanese makeup can be. In spooky season, there are tutorials on how to use "hypersharp eyeliner" to create Day of the Dead, spiderweb and undead effects around the eyes and lips.
The Korean makeup brand, Etude House, is big in Japan as well. How sweet are the heart-eyed pumpkins and pink skulls, which contain product inside? The panda and kitten keychains also stole my heart.
More examples of Halloween cosplay makeup. This time: how to be a cute cat, or a Snow White witch.
Disturbed, yet cute as a button. That's the spirit of Japanese Halloween! (These female models are showing off glitter and rainbow face / body tattoos.)
From bloody wounds to fake blood, Japanese dollar stores have you covered.
Jelly moustache, anyone? For 450 yen ($4), why not.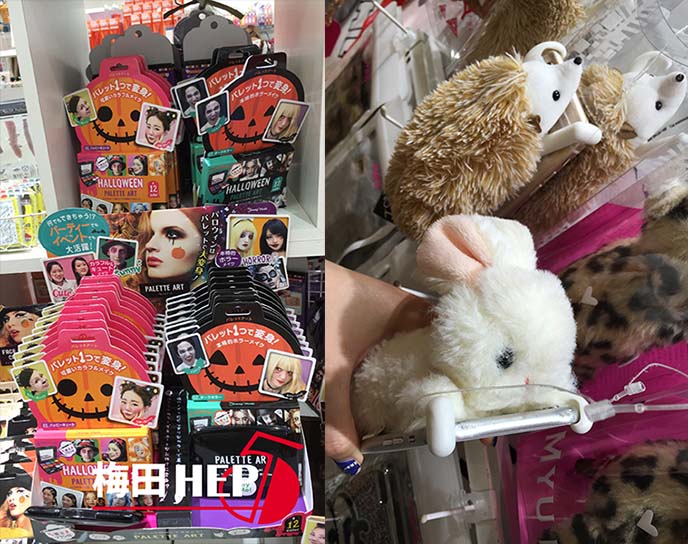 My friends and I tend to stock up around Halloween, such many items (like the dark eyeshadows) can be used year round. Not sure about the impractical stuffed animals clinging to the smartphone cases though…
Japan also gets into the Halloween mood with themed food. At Chococro, the addictive chocolate croissants come in a haunted house box.
Namba-Land (the Osaka arcade and amusement park) has Halloween celebrations each year. Above, the same flyer advertises a pumpkin pudding and tart that made my mouth water.
Now, let's look at some street fashion in Osaka. The neighborhood America Mura is your best bet for Gothic Lolita and underground styles. There are several secondhand stores dedicated to these style tribes here…
… as well as department stores that cater to youth fashion. Snoopy on the left; pumpkin-printed Sweet and Goth Lolita outfits on the right.
Follow the white rabbit to cute stores. Oversize pastel and monochrome garments are everywhere recently.
No matter how many times you visit Japan, you'll undoubtedly encounter something that leaves you scratching your head. At Funky Fruit, I was perplexed to see sweatshirts… with giant, heavy nooses around the necks! 
You saw it here first. Hangman-chic.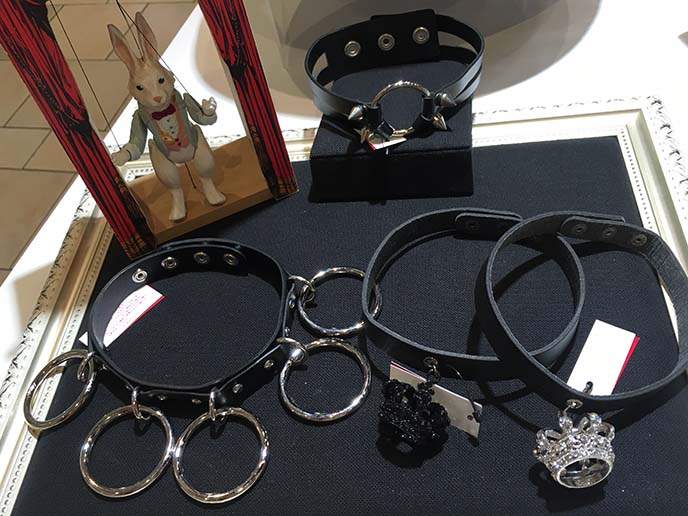 Funky Fruit carries all sorts of fetish-Gothic fashion, like these chokers with silver rings. 
Punk and fetish influences, combined with sportswear. Weird.
Around Halloween, many of the Goth / Lolita / Kawaii labels put out spooky-themed garments. The Jack-o-Lantern print top on the left caught my eye.
Rydia / World Wide Love remain one of my favorite designers. I tried on the "Night Wander" devil-ghost on the left, and left a note in the black cat post office box on the right!
Vampire fangs, floating ghosts, crescent moons, plaid and leopard print. You can tell why I'm into Rydia / World Wide Love.
I also made a stop at EST, the Umeda department store by Hep Five and the Osaka Ferris wheel. Inside EST, you'll find indie boutiques with out-of-the-ordinary items — like these vintage-style cat carpet bags.
Near the entrance, I found this eccentric pop-up.
These colorful critters have chains through their nostrils… more creepy than cute, in this case.
Trick or Treat — Halloween in Japan is sweet! Did you enjoy these snapshots from my trip last year in Osaka? Have you stocked up on any bat, ghost, zombie, Dracula or pumpkin goodies yet?
PS: If you're looking for a Halloween costumes — I have some of mine for sale on my Depop! Above are some of the many available (size small), which you may recognize from past Halloweens. If you'd like any, shoot me an email at gothiccarmina (att) gmail (dott-comm) and I'll send it to you. More details and prices here on my shop; lots of clothes available.
Here's to the spookiest time of the year!