Visiting Philadelphia's Magic Gardens! Philly alternative offbeat travel guide, Busbud bus trip review.
Coming at you from Philadelphia, Pennsylvania! This artistic, laid-back city is well worth a visit — especially as it's only a two hour ride from New York.
Many tourists come for historic attractions such as the Liberty Bell and Independence Hall… but this isn't your average travel blog. Let's take a walk on the weird, artsy side of Philly instead, on my weekend getaway with Busbud.
In the first installment of this two-part series, we'll wander through this wonderland known as Philadelphia's Magic Gardens. (Photography by Ashley Yuen.)
(My Spiral UK backpack matched the shimmering mosaic tiles that cover every square inch of the installation. More magical backpacks below):

I recently was in NYC, and wanted to travel somewhere nearby for Labor Day. Philadelphia, Pennsylvania was a natural choice: I have good friends here, and love the creative feel of the city.
My journey was a breeze, thanks to Busbud — a website that helps you easily find, compare and book bus tickets! Their site lets you search thousands of city-to-city routes all around the world, so you can view the best prices, companies and departure / arrival times immediately on one page.
Instead of spending hours on various websites, Busbud let me see all the New York City to Philadelphia round-trip buses available. After making my choice and booking through them, I received an email with clear instructions and the tickets attached. (Their customer service was extremely fast and helpful too.)
Traveling by bus turned out to be enjoyable: I boarded on time, settled into a comfortable seat, and had free WiFi for the two-hour ride. Bus travel is a great option if you're on a budget, and it's a more sustainable mode of transportation. I even made a fabulous new friend along the way: this lady and I connected over fashion, and she insisted on posing Japanese-style with me for photos!
Busbud's cross-platform website and app let you search all the major bus lines, in your local language and currency. They cover routes in 16,000+ cities across over 60 countries… I'll be using them again for sure, on my next journeys worldwide.
I'm sure you will be keen to visit Philly too… once you glimpse the mesmerizing Magic Gardens! I'm posing in front of the staircase, a favorite photo spot for Instagrammers.
Outfit Details: I wore some old favorites from my wardrobe. A Gladnews "Very Metal" dress from Japan, a Sailor Moon collaboration jacket from Hong Kong, and Linda Farrow x 3.1 Philip Lim  sunglasses that I'm now selling on my Depop (email me if you want them, or anything else in my store).
My skeleton leggings are Pamela Mann, from UK Tights. I've been a fan of their online store for years: they have a huge selection of stockings, socks and leggings, including many Gothic and kawaii styles.
These whimsical mosiacs stem from the imagination of local folk artist, Isaiah Zagar. Located at 1020 South Street, Philadelphia's Magic Gardens currently fill three city lots, including indoor galleries and a large outdoor labyrinth.
It was a joy to wander through these colorful tunnels with my cousin and photographer, Ashley Yuen. We passed by objects that made us smile (such as Japanese dolls), and took selfies using the shards of mirror embedded in the tiles.
I'm holding an iridescent metallic backpack by Spiral UK. Shop more unicorn bags below:

Access and tickets: I recommend that you buy timed-entry tickets to The Magic Gardens in advance, from their site. The venue is growing more popular each year, and passes are often sold out or require hours of waiting before an available time slot. Hint: there are student and group discounts available.
Once you walk in, be prepared for this eye-popping sight! Isaiah Zagar's 3D art surrounds you from all directions.
The mosaics made up of seemingly haphazard objects (kitchen tiles, glass bottles, bicycle wheels, china plates) — yet the colors and arrangements come together harmoniously. He was inspired by Latin-American art, and makes references to other visionary creators within the work.
Look closer, and you'll see visual references to the artist's life, family, community and passions. In the photo above, you can also glimpse mysterious words integrated into the found art.
What inspired Isaiah Zagar to create this garden of delights? The story begins in the 1960s, when he moved to the South Street area with his wife, Julia. The couple dedicated themselves to revitalizing this derelict area, by creating beautiful mosaics on neighborhood walls.
He developed an imaginative style — constructed almost entirely from found and recycled objects. Zagar literally used every inch of his environment. Don't forget to look down, or else you'll miss the quirky details on the floor.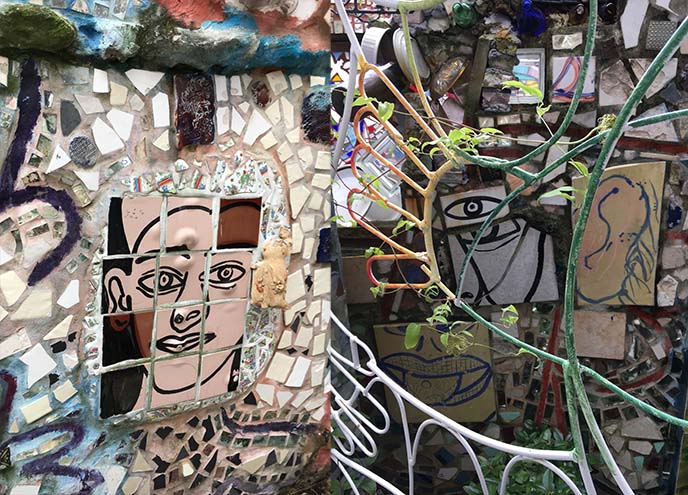 In 1994, Zagar started beautifying the vacant lots located near his studio. The sculptures grew, and the area expanded… becoming the Philly Magic Gardens as we know them today. Ashley and I spent over an hour here, exploring the various tunnels and grottoes, and taking in the uplifting details.
In 2008, Philadelphia's Magic Gardens opened up to the public. The non-profit organization aims to preserve Zagar's artwork in this district, and educate visitors with tours, interactive workshops, concerts, exhibitions and other community events.
These photos show only a fraction of the 3000 square feet space. There's also an indoor gallery space, which hosts international artists and puts the spotlight on fringe / outsider art.
"99 bottles of beer on the wall…." So much detail and color in a single shot. To this day, Isaiah Zagar continues to create mosaic murals that brighten up the streets of Philadelphia.
If you like my Spiral UK backpack, shop it below:

The Magic Gardens has a basement level as well, which is only open to visitors during guided tours. Some of the artist's larger works live down here, including a cheerful skeleton. 
I'm all about unconventional, outsider and folk art — especially if it veers towards the weird side. Zagar's playful and surreal visions were right up my alley.
I hope you'll take a trip to Philadelphia Magic Gardens, and see these fantastic mural masterpieces for yourself.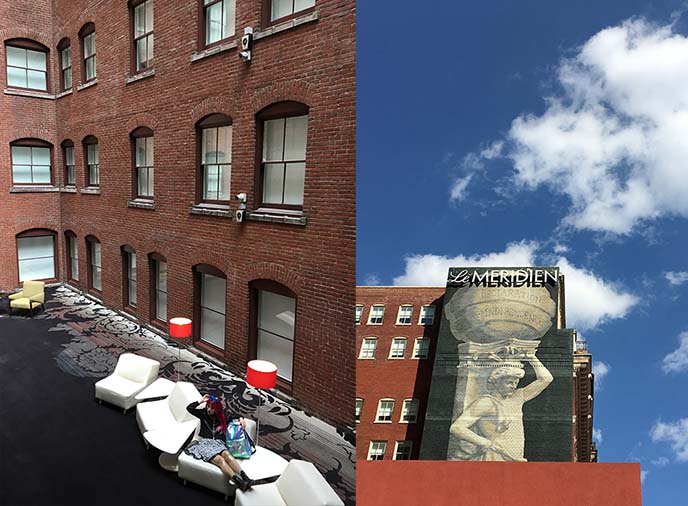 After our visit, we walked back to our hotel, Le Meridien Philadelphia. I've stayed with Le Méridien many times (including in Cambodia and Taiwan), as I love the modern design and ever-cheerful staff.
We had a comfortable room decorated in mod black, white and red. The staff delivered champagne and fresh fruit plates to our room, which we immediately devoured.
How cool is this view from our window? Le Meridien is located right in front of Philadelphia City Hall, built in 1901 and topped with a bronze statue of William Penn (founder of the "Province of Pennsylvania").
The French-chic style extended to the lobby, featuring sleek metallic furniture, wood panel walls and a tiered chandelier.
We had a spectacular dinner at Amuse, the classic French brasserie located in the lobby. The cocktail menu included hand-crafted creations named after female muses, such as Brigitte Bardot and Edie Sedgewick. Our mixologist, Victor, prepared some of the best cocktails I had in the city — including custom creations that perfectly matched my palate.
We had a hard time choosing from Amuse Restaurant's menu, filled with French classics like onion soup gratinee and steak frites. After a surprise amuse bouche (raw tuna on a crisp wonton cracker), we feasted on a cheese plate and tuna and crab tower. Next came filet mignon, perfectly braised with sides of asparagus and decadent macaroni and cheese.
We ended with a trio of desserts (including apple tarte tartin and chocolate warm molten cake), and I had a Vieux Carre absinthe distilled in Pennsylvania. Our meal at Amuse was sensational, and the service was impeccable — bravo.
I leave you with a spooky pose outside the Masonic Temple of Philadelphia, which is steps from the hotel. It's one of the most elaborate Masonic lodges in the US… I can only imagine what rituals take place inside.
Did you enjoy Part 1 of my journey in Philly? Cheers to Busbud for making my bus trip a seamless experience, thanks to their easy and informative booking system.
Coming up next, I got an exclusive look inside the Mutter Museum… you're going to love this treasure trove of medical oddities!