The Ritz-Carlton Kuala Lumpur hotel review! Malaysia hipster districts & shops, SS15 Subang Jaya, cassette culture.
Current obsessions: Cassette tapes, holographic bags, fishnets and unicorn hair!
This summer, I finally got a chance to visit Kuala Lumpur with Yukiro. Malaysia's capital is not known as a subcultures destination… but you can depend on us to dig up some indie places. Keep reading for our guide to hipster / youth culture neighborhoods in Kuala Lumpur!
KL is a city of opulence, and we were excited to stay in style at The Ritz-Carlton hotel…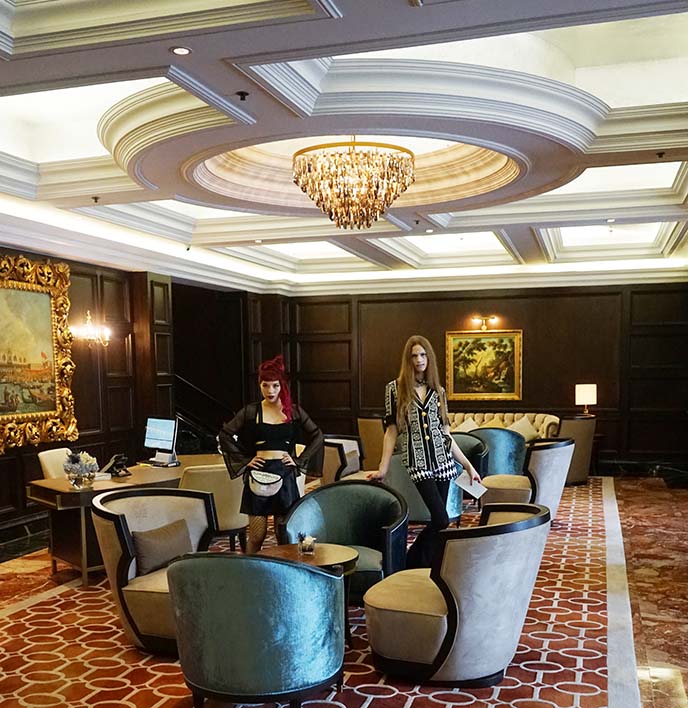 I think this photo sums up the feeling of "The Ritz," which is consistently named one of the world's best luxury hotel companies. No matter where you are, you can rely on exquisite furnishings and personalized attention from the staff. (You might recall my stay with The Ritz-Carlton Bali, in 2015.)
The hospitality began at the airport, where Yukiro and I were met by a private driver with a sign. When we arrived at The Ritz-Carlton Kuala Lumpur, the staff was waiting at the door to greet us by name, and take us to our suite.
My jaw dropped when I saw these sweets on the dining table. The Ritz-Carlton truly went above and beyond: the staff researched our aesthetic, and customized pastries to welcome us! Devil horn cupcakes, black and pink macaroons, dark chocolates… they nailed it.
It's these small touches that make the brand stand out. Yukiro and I quickly posed for this photo before devouring the raspberry and blackberry macaroons.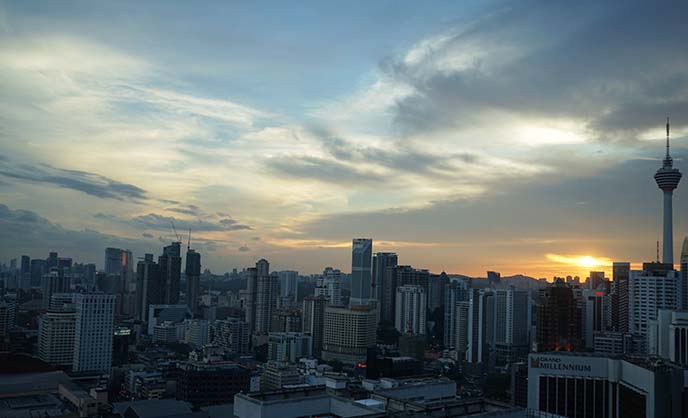 The Ritz-Carlton Kuala Lumpur is located right in the city center, near all the major landmarks. Our two-bedroom suite had this view of KL Tower and surrounding skyscrapers, which took on a Blade Runner vibe at sunset.
Address: 168, Jalan Imbi, Pudu, 55100 Kuala Lumpur, Wilayah Persekutuan Kuala Lumpur, Malaysia
We couldn't believe the size of our luxury suite. 1,885 square feet with two bedrooms, a spacious living / dining room, full kitchen, and more bathrooms than we could count (we kept on opening doors and discovering more!). The space is decorated with elegance, and equipped with the latest technology to satisfy both business and leisure travelers.
(Find out more and book a room at the Ritz-Carlton KL here.)
Outfit of the day: I'm in a 80s retrowave mood, and couldn't resist this glitter fanny pack by Spiral UK. I haven't worn a belted retro-style pouch since my visit to Disney World in the early 1990s!
My crop top is this exact Michi Onyx bra. More designs from this label below:

Yukiro and I had fun strutting down this long hallway, which opened into the living room like a catwalk.
No need to be a water-bearer: the Ritz-Carlton has 24 hour in-room dining, laundry and valet. Since we were staying in this luxurious suite, we also had butler service at our beck and call.
The Ritz-Carlton's pools and gardens are always beautifully designed. Love the stepping-stones over the swimming pool, and tropical foliage.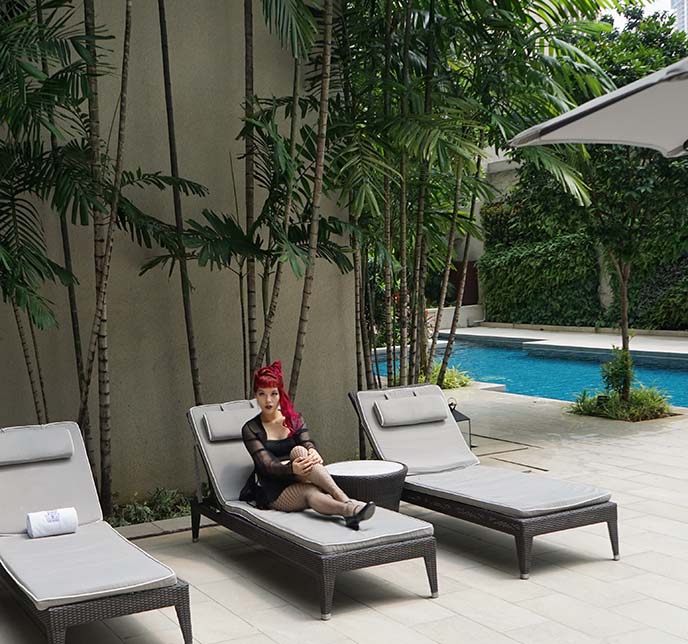 Not a bad place to lounge, wouldn't you say?
The terrace feels like a secluded garden, even though the hotel is located in the bustling "Golden Triangle" district. It's an easy walk to nearby shopping malls, as well as the entertainment / restaurant hub of Bukit Bintang. 
We wandered through The Ritz-Carlton Kuala Lumpur's meeting / conference / event rooms…
… and leapt for joy when we saw this futuristic art space. 
We loved chatting with our outstanding guest services liaison, Stefano. We asked him about alternative culture in Kuala Lumpur, and he passionately recommended that we visit SS15, a hip district in Subang Jaya. He snapped this photo of us, helped us call an Uber, and we were on our way.
I came across an article about Teenage Head Records online, and decided this should be our first stop. Located in SS14, this fabulous record store is family-owned and run. The posters on the doors featured grunge, punk, indie and underground bands… all signs point to Yes.
As you can see from the DIY signs, the music shop celebrates "Cassette Store Day." Every October 17, fans gather and pay tribute to the analog format that defined the 1970s, 80s and 90s.
(I have plenty of room in my holographic backpack to hold cassette tapes and a Walkman. This Spiral UK bag is also available in rainbow sequin, black glitter, and other scintillating colors.)
Inside, it felt like a party. Co-owner Radzi greeted us like friends, and joked that "Sigue Sigue Sputnik has arrived!" His young daughter hung out on the couch, engrossed with solving a Rubik's Cube.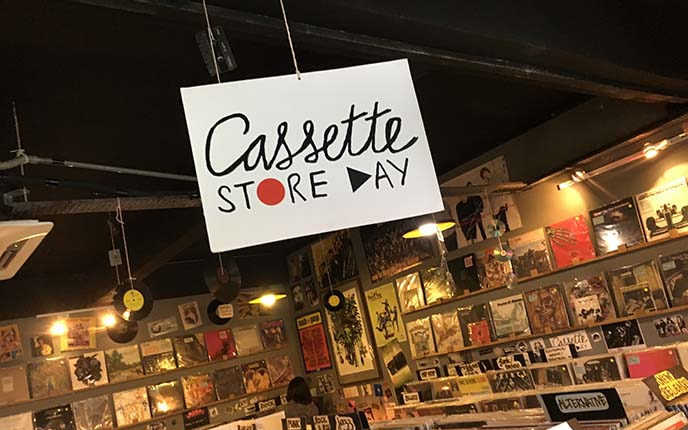 The staff is passionate about music, especially obscure bands and nostalgic formats. I was excited to run my fingers through several boxes of cassettes, featuring both regional and international artists. There are even cassette decks for sale, in case you've decluttered your old Sanyo or Teac player.
If you prefer to listen to vinyl, Teenage Head Records has got you covered. I spot Bowie, Queen and Tupac — there's a wide selection of musical genres here.
I'm in throwback mode to the 1980s and 90s these days, perhaps due to the dreadful world affairs right now (in comparison, these decades seem like a golden age). It's fun to rewind a cassette and blast synthpop, and pretend you've night-riding through Miami in 1987.
I was excited to turn up Depeche Mode's Black Celebration, perhaps my favorite DM album. It was a must-get, and only about $2 US. (Remember when I visited the Depeche Mode theme bar in Tallinn, Estonia?)
Kuala Lumpur is a conservative city compared to other Asian metropolises – but we can always find pockets of alt culture!
Take a ride to Teenage Head Records, and maybe you'll pick up a cassette or two as well. (I got this Malaysian mix of Italo Disco songs, win.)
Another day, another outfit. My seeing-eye skirt is by Print All Over Me. Anyone can customize a "template" such as this miniskirt, and create their own designs printed to order! PAOM also collaborates with fab artists, so there are thousands of designs you can choose from.
It matches my Spiral UK iridescent backpack – love the unicorn mermaid metallic look, which shifts and shines under the sun. This backpack is lightweight but sturdy, and comes in various finishes including rainbow sequins, black glitter and more below.

My geometric Ouija board cropped top is by Long Clothing.
Malaysia is a Muslim country, and the culture veers on the conservative side. In Kuala Lumpur, you won't find a crazy youth culture hub like Harajuku in Tokyo, Hongdae in Seoul, or even Causeway Bay in Hong Kong.
Subang Jaya's SS15 district would be the closest it comes to a neighborhood like this. There are several colleges in this area, and students come to this entertainment / shopping hub to hang out.
Cosans Coffee is a popular meeting spot in SS15. The drinks and snacks are excellent (and inexpensive).
If you're in the mood for a drink or Malaysian food, there are plenty of choices in this area. And if you're looking for something to do, we spotted pool centers and even a virtual reality gaming lounge.
We popped into the small stores found in SS15. Loved the mission of I Am Lejen, a bookstore that encourage youths to read and be part of their community. The cute lion logo sums up the mission of empowerment.
Lejen publishes paperbacks by emerging local authors, in small runs. The books are in both Malay and English, and always have eye-catching graphic covers.
The street art on the staircase was calling out for a photoshoot. Upstairs, I Am Lejen has a vape shop, and a boutique that sells clothes with positive messages.
Horror, cassettes and videotape… these are my type of paperbacks,
Lejen also carries works from local independent presses. We encourage you to swing by to give them some support.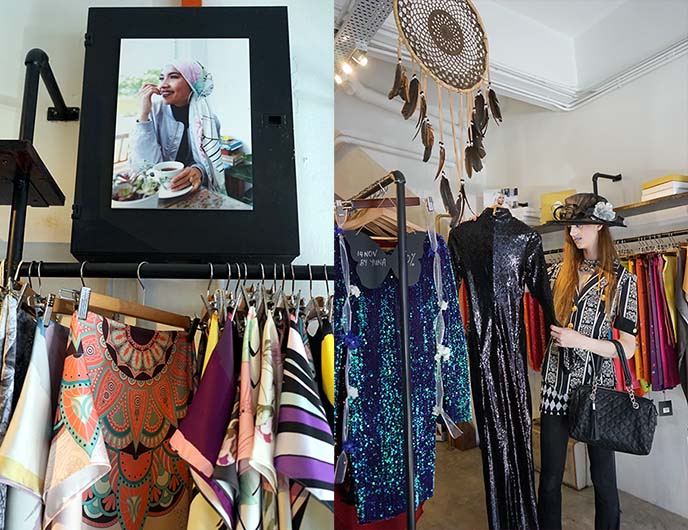 Many women in Kuala Lumpur wear headscarves or more (I counted nine burkas in my customs line at the airport). Even if you cover up, you can dress fabulously at November Culture, an independent lifestyle store in SS15.
The shop is founded by Malaysian singer Yuna Zarai, and carries her brand 14Nov as well as others. We were impressed by the scarves and long dresses and jumpsuits. The garments covered up limbs and hair, but had creative cuts, colors and sparkling sequins.
When fashion has restrictions, it often encourages creativity. Check out these Malay magazine covers: the women cover up their heads and bodies, yet rock a fierce pastel style.
Before returning, we made an visit to the famous Petronas Twin Towers, conveniently located within walking distance from our hotel. These were the tallest buildings in the world from 1998 to 2004.
The Petronas towers were designed by Argentinian architect Cesar Pelli. The style is postmodern steel and glass, and makes tributes to Islamic art motifs and Asian culture (there are 88 floors, a lucky number).
It was hot outside.. after a day of exploring, we were relieved to relax back at The Ritz-Carlton Kuala Lumpur. 
We were regulars at the Club Lounge, which is open to VIP guests. (How could we resist the food and drinks at all hours?) Nay Tun and his team spoiled us with fine wines and freshly prepared dishes, such as Malaysian noodles.
KL is a foodie city, and The Ritz-Carlton delivers with multiple dining options. The Patisserie serves up both freshly-baked sweets and savories. How cute is the teddy bear red velvet cake above?
In the Lobby Lounge, we enjoyed a leisurely Afternoon Tea. The experience was pure "eleganza" – Yukiro and I sank down into plush high-backed chairs, and drank from a perfectly steeped pot of The Ritz-Carlton's signature tea blend. Our server brought over a three-tiered tray of fresh scones with clotted cream, mini sandwiches, quiches and desserts. We indulged in these treats while listening to a live music quartet play jazz favorites.
Dinner at The Library was equally delightful. I'm a book-lover, and felt at home amidst these colorful shelves filled with volumes about film and art. The cuisine is international fine dining, featuring a daily Menu Du Jour paired with fine wines from around the world.
The deep red wines were a perfect match for our tender steak and salmon. For dessert, our server brought over a rolling cart of in-house sweets; we had a hard time choosing only these three.
To top off the pampering, I visited The Ritz-Carlton spa — talk about "serenity now!" This spa integrates contemporary with ancient Malaysian healing practices, using herbs and oils from the region. The spa menu includes unique offerings such as a "sound bath" and hot stone massages. I went for a treatment named after the Malay princess Tun Teja: a long massage and body scrub, followed by a soak in a giant round tub of milky water topped with rose petals. 
Every time I'm at The Ritz-Carlton, I know I can expect a world-class stay like the one I had in Malaysia. The staff works hard and graciously to make every guest's experience unforgettable. I was especially impressed by the attention to detail: they always greeted us by name, and knew our quirks and interests by heart.
Such as the devil horn red/black cupcakes that they made for us… perfection! Yukiro and I are also both Leos (born in August), and the Ritz's lion logo felt like our spirit animal.
Thanks to The Ritz-Carlton Kuala Lumpur and lovely staff, for this memorable stay. (Book a room here, and learn more about the hotel.)
Have you been to Kuala Lumpur, Malaysia? Did you find any other hip / underground culture attractions in KL, which you can recommend?