Casa del Mar, Langkawi review: 5-star beach hotel in Malaysia! HPL boutique hotels and resorts.
Your favorite Goths on the beach are back!
Yukiro and I spent a few days relaxing in Langkawi, Malaysia — a new destination for both of us. We were transported to paradise the moment we arrived at Casa del Mar Langkawi, a boutique hotel right on the pristine Pantai Cenang beach.
My friends and I like to avoid tourist destinations, so Langkawi was the ideal tropical getaway. You won't find large crowds or fast food chains here (unlike Thailand's Phuket, Bali's Kuta and other southeast Asian resort towns).
I found everything to be in perfect balance: There are top-end hotels, yet the cost of living is inexpensive. The location is quiet, yet there are enough activities to keep you engaged. And as you can see in these photos, the oceanfront is picture-perfect.
Transportation / How to get here: Langkawi is located on the north-west of Peninsula Malaysia. Several low-cost airlines fly regularly between Kuala Lumpur and Langkawi, in less than an hour. (There are many direct flights from global cities to KL, making this an easy destination to access.)
Once you land, it's just a 10 minute car ride to Casa del Mar. (Address: Jalan Pantai Cenang, Mukim Kedawang, 07000). The staff greeted us warmly with tropical drinks, and helped us get settled into our villa.
The hotel has 34 bungalow-style suites, each with a memorable name. (We were in Camaron, but I think Eksotic describes Yukiro's look well!)
At the gate, there's a jug of water and ladle for washing the sand off your feet. You can also flip a cute wooden sign to "eyes closed" if you don't want to be disturbed.
Our beach bungalow was thoughtfully equipped with everything we needed for a chilled-out vacation.
The spacious room had both overhead fans and AC, and the staff provided unlimited bottles of mineral water. There was a shower and bathtub, which I enjoyed soaking in with the bath salts provided. In the evenings, we hooked up the computer to the large-screen TV to watch Netflix, while munching on the fresh-baked cookies in the room.
The glass-front sliding doors open up to a gorgeous view of the ocean. Take few steps out of the villa… and you're right on the beach!
Outfit details: I'm wearing a skull shorter-all (overalls with shorts) by Print All Over Me.
Underneath, I'm wearing a spooky cute tank top by Stella Rose (who did a fashion collaboration with Print All Over Me).
My ear climber has a serpent holding a pentacle in it mouth. These rocking earrings are by the one and only Alex Streeter.
I'm in love with the slow-fashion, artist-supporting mission of Print All Over Me. They release unique silhouettes like these shorter-alls, which anyone can customize with their own colors and illustrations, and then offer for sale.
The garments are well-constructed in sustainable ways, and there are thousands of styles that you can choose from (each is custom-printed to order, so they'll always have your size).
Yukiro and I always ended up coming back to La Sal pool bar, which is shaded under a palapa. The bartenders know their stuff, and the menu is an enticing mix of both classic and innovative cocktails.
We asked them to custom-make us drinks that suited our tastes, with ingredients like Asian five-spice, lemongrass, ginger and fresh tropical fruits. It's hard to pick a favorite, but we'll never forget the dragonfruit cocktail with house-infused spiced rum.
Also a winner: the mojitos with fresh mint, lime and spiced pineapple. We paired these with a roasted pumpkin salad that was bursting with flavor.
Cheers to lounging by the pool, with drink in hand! At full capacity, the hotel only has about 70 guests — which means you never have to fight over space, or deal with rowdy party scenes.
Yukiro demonstrates how to properly recline next to the hot tub.
It's easy to understand why international guests keep returning to this laid-back palm tree paradise. Casa del Mar has a "fish club" for those who do multiple long-term stays (we saw names from Germany, Sweden, Canada, Japan). Some bring their families here for a month or more.
Every day, we looked forward to breakfast under the veranda. The menu has Malaysia, Asian and continental items that are all made fresh to order (there's also a buffet area, and a fresh fruit station to my left). Once again, it's hard to pick a favorite dish, but I kept returning to the eggs Benedict and veggie rice paper rolls.
Casa del Mar has free WiFi throughout the property, and plenty of activities on hand. The lounge area has a great selection of DVDs and books in various languages. Yukiro is excited to see the Japanese and Swedish shelves!
You can also borrow a bicycle to ride around the neighborhood (the hotel is flanked by international restaurants and small shops, which sell inexpensive clothes and souvenirs).
When you get an invitation to try the spa… always say yes.
We had a rejuvenating 60 minute massage at Satkara Spa, in the traditional Malaysian style. The ladies use only organic natural products, such as a bowl of flowers and orange peels to soak our feet. They moved on to healing each part of the body with pressure points and back-tapping, in the ancient tradition.
I think this image sums up the feeling of being on Pantai Cenang beach.
Although this beach is available to anyone, it's pristine and uncrowded. Casa del Mar sets up private lounge spots on the sand, with umbrellas for cover and pitchers of water for hydration.
The weather was tropical perfection: sunny with a touch of humidity, but never overbearingly hot nor rainy.
Despite the mermaid hair, I'm not much of a swimmer… I'm happy dipping my toes in the foamy ocean waves!
Further down on the beach, there were bars and restaurants that pumped out music and had a club vibe. At Casa del Mar, however, the atmosphere is peaceful: a perfect romantic honeymoon spot.
Langkawi is a laid-back ocean town that attracts both locals and international travelers. You can wear any kind of swimwear here, but since Malaysia is a Muslim country, we saw quite a few burkas on the beach! Very interesting to see the contrast between the couple's clothing (above).
I think we've been out-Gothed by this lady in black.
Such a pleasure to have dinner right on the white sand, at La Luna restaurant. The service is always spot-on: the chef came by to introduce himself and personalize our dishes, and the staff made sure we were taken care of all evening.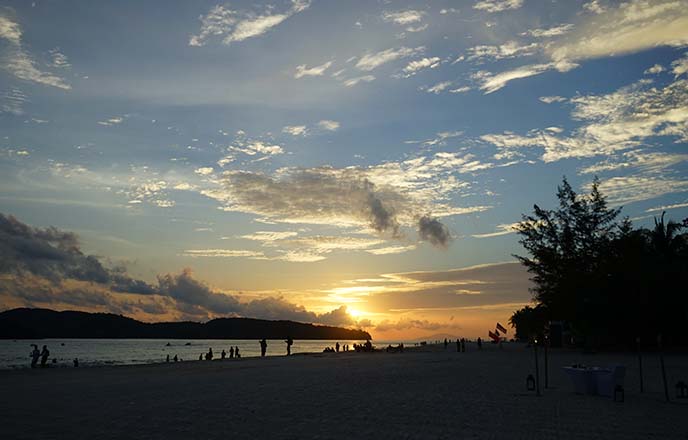 You can't find a better atmosphere than this. We dined while watching the sun set… listening to the sound of the waves, and enjoying the ocean breeze.
The chef made us a special order of laksa (Malaysian noodles in hearty soup), since we requested it! They did a local version with fish broth and pineapple, which differs from the coconut milk curry version I ate in Singapore.
On the right: an oozing chocolate bomb with a warm center, with coconut and mango ice cream. Happiness.
On another evening, La Luna set up the Premium Beach Dining experience for us. We sat closer to the waves and away from the other diners, surrounded by candles and rose petals. (Silly Yukiro, the flowers aren't part of the meal!)
We're always keen to try local cuisine, so Casa del Mar prepared a Malaysian tasting menu for us. The highlights included fish in banana leaf, sea bass with sambal, and a strong lemongrass "tom yum" cocktail with chili.
All of the in-house dining has a variety of cuisines, including Mediterranean and Asian, to satisfy any palate.
I think we drank at least a half-dozen dragon fruit cocktails, which matched the colors of the sunset!
Our stay at Casa del Mar was seamless, and the staff anticipated our every need. For instance, our seaview suite came with large beach towels and these thong slippers, which were perfect for a day at the beach.
The hotel offers half-day trips such as fishing, island hopping, picnics and mangrove tours. I'll show you what we did in the next post — the nature of Langkawi is not to be missed.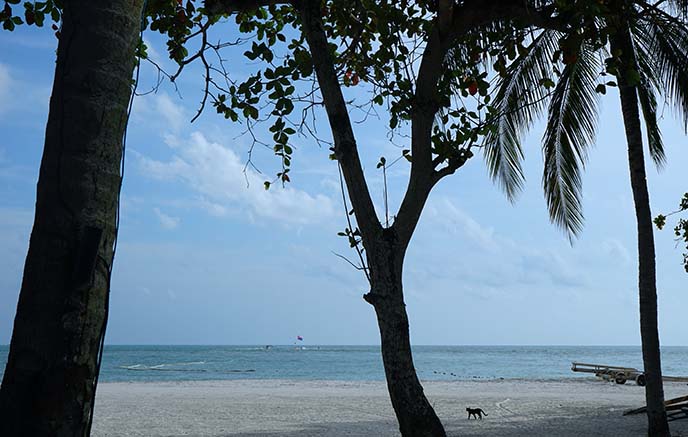 Or, you can just hang out under the palm trees, and pet one of the resident cats!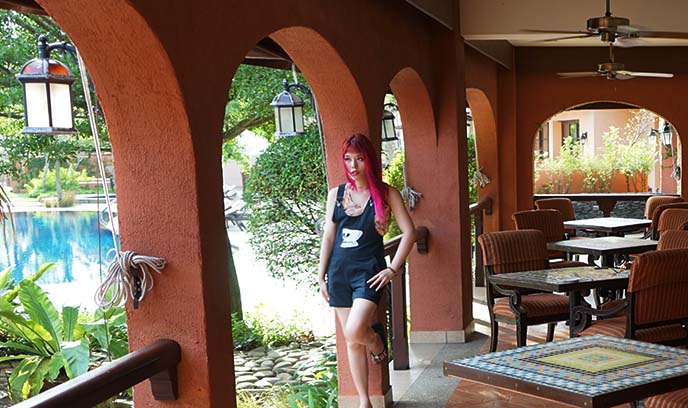 I loved the warm, understated Mediterranean design of the property. Lots of colorful tiles and greenery to enjoy.
No wonder Casa del Mar is part of the Boutique Collection by HPL Hotels and Resorts, as this group is known for its exquisite hospitality. (I stayed with them in the Maldives, at Gili Lankanfushi, as you may remember.)
I hope this photo diary inspires you to travel to Casa del Mar Langkawi, and experience all of this for yourself. I encourage you to choose lesser-known destinations by the ocean, for a more authentic and tranquil stay.
"Terima kasih" to the kind staff, many of whom have been at this hotel for a decade or more. Everyone was wonderful at making you feel at ease; the team was consistently gracious and knew each guest by name. I look forward to coming "home" again soon to the beautiful Casa del Mar.
Have you visited any beach towns in Southeast Asia? Would you make a trip to Langkawi, Malaysia?