Ljubljana Alternative Travel: street art & culture! Metelkova murals, Dragon Bridge, Slovenia castle.
Call me Khaleesi, Mother of Dragons!
I'm excited to share my alternative guide to Ljubljana, the capital of Slovenia. With Medieval red rooftops and dramatic canals, it could pass for one of the great cities in Game of Thrones.
And I hope you enjoy our latest Slovenia travel video! Follow me through this European city, as I discover a surprising world-class food, art, nature and culture scene. There's footage of the magical Lake Bled, coastal beaches, and lots of delicious cuisine. (Video produced by Borderless Media.)
Click to watch our Slovenia travel TV episode now!
Pronounced "lube-lee-anna", the Slovenian capital is the definition of charming. The city center is small but filled with beautiful sights, and doesn't have a touristy-commercial feeling. It's the perfect European destination for a laid-back, all-day stroll. 
But don't write off Ljubljana as quaint and quiet. There's a punk-political alternative scene here, which encompasses LGBT-inclusive squats and art factories.  
I'll show you all the fascinating sides of Ljubljana's culture, in my artistic city guide.
(If you're digging the cute top I'm wearing, you might want to check out these cat shirts by Animal Hearted! They're an indie apparel company for animal lovers, with a great selection of witty, adorable styles featuring cats, dogs and other animal companions).
My film team and I wanted to start by getting an overall sense of Ljubljana. A boat tour was the perfect way to get the lay of the land.
We went on the 45-minute River Ljubljanica boat ride, which took us down the canals and under the famous bridges. We loved observing locals enjoying summertime activities, from this unique point of view.
With a glass of champagne in our hands, we passed under Ljubljana's unique arches, including the three-way Triple Bridge, glass bridge, and Cobblers' Bridge (because it once housed the booths of shoemakers).
The colorful, historic European architecture is a feast for the eyes. Love these classic buildings overlooking the water.
My favorite bridge is "Zmajski most", with roaring green dragons perched at both ends. This bridge was erected in the early 20th century, and looks like a scene from Game of Thrones.
According to local legend, Jason (of Argonauts fame) was the founder of Ljubljana, and killed several dragons during his conquest.  Some say that when a virgin crosses the bridge, these dragons will wag their tails.
I found lots of heavy metal attitude at Metelkova, an  autonomous social and cultural center in the centre of Ljubljana, Slovenia. These former military barracks became occupied by squatters in the early 90s. Over time, they covered every available space with colorful street art.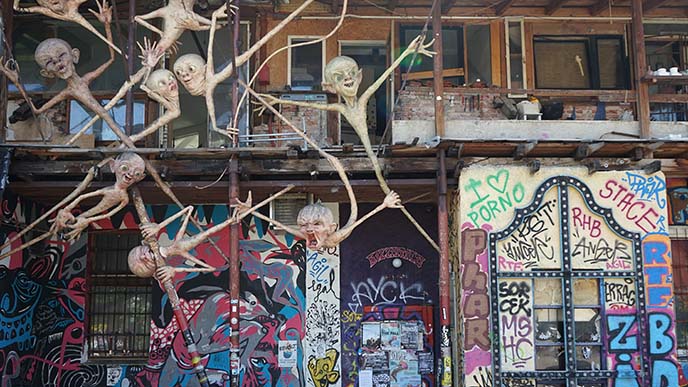 Metelkova Mesto feels like a giant acid trip. There are multiple buildings, decorated in everything from graffiti tags to moving installations.
This web of Gollum alien clones will haunt your nightmares. Metelkova encapsulates the eccentric, alternative side of Slovenia — perfect for alternative travellers like ourselves.
Metel Kova is a hive of creativity. There are artist studios here, as well as dive bars, design workshops, concert spaces. The young community works hard to organise social and cultural activities for anyone to join.
Can we talk about how talented these artists are? The murals are masterfully executed. And these images are only a fraction of what we saw here.
Slovenian artists used found objects to build playful sculptures throughout Metelkova. One had a motion detector: when you stepped up close, the parts moved and pounded on a drum.
In Metelkova, inclusiveness is everything. The residents host community organisations that support women, the disabled, and LGBT. These clubs run campaigns against racism and exclusive policies — above, this rainbow structure was the first gay club in Slovenia. 
Metelkova is within walking distance of the city center, but not in the main streets — therefore many travellers miss out on it. As you can tell from the photos, this commune is something you must see with your own eyes. I hope you'll get the chance to discover this alternative, eclectic side of Ljubljana. 
We walked past the entrance of Rog, another autonomous factory or squat. These abandoned buildings were occupied in 2006, and have morphed into gallery collectives and two skate parks. 
Time to escape heat, and enjoy lunch with a view. Thankfully, everything is within easy walking distance. We took the short glass funicular (cable car) up to Ljubljana Castle, the icon of the city.
I felt like Cersei Lannister, looking out at the rooftops from my tower window. "Ljubljanski grad" was originally a Medieval fortress, and remains one of the best look-out points in Europe.
We sat near the Medieval curved stone windows, and thoroughly enjoyed the lunch tasting at Gostilna Na Gradu restaurant. By now, I'm sure I've convinced you that Slovenian food is magnificent.
We sampled organic spreads with fresh baked bread (the Istrian cod was my favorite), with cold glasses of homemade pear juice. The bottom left image shows the best sea bass I've had in my life: it's paired with broccoli cream, and the fish comes from Fonda fish farm (remember I visited them?)
After the meal, we explored the art and antiquities displays around Ljubljana castle. We walked up the winding staircase to the viewing tower, and were rewarded with this panorama. (You can see my Snapchats from the castle here.)
I looked out at the canals, bridges, steeples and squares, framed by  blue mountains in the back. "Neverjeten," or "amazing" in Slovenian.
After a quick rest at our hotel, I was ready to do some shopping. As I mentioned before, there thankfully isn't a commercial, big-box vibe in Ljubljana. Instead, you'll find lots of local, handmade fashion and accessories — sold in little boutiques that line the cobblestone streets.
I also enjoyed roaming around the produce markets, and watched Slovenians relax at outdoor cafes near the waters. 
While you won't find a Goth scene here, I did run into the Skelet bar that my friend Zoetica Ebb recommended. There are, however, plenty of stores with hipster and twee designs.
We saved the best for last, and had a memorable farewell dinner at the family-owned Restaurant JB. Chef Janez Bratovž was named one of the best 100 chefs in the world, and if Slovenia had Michelin stars, he would without doubt have several.
We stepped into a 1920s building that was decorated in his handpicked art. The space was luxurious, yet comfortable and without pretension.
JB is the friendliest and most attentive chef you'll meet. He came by our table with each new plate, chatting us up with a smile, and then presenting his dishes with passion.
His menu is inspired by the balance between the four elements, which represent the tastes of sweet, salty, sour and bitter. Each is artfully presented, and a delight to the palate.
JB makes handmade pastas that melt in your mouth, and infuses international flavors (such as Asian sauces) into his preparations. Filmmaker Melissa's reaction to the tuna dish: "If I were in prison and had to choose my last meal, I would pick this!"
JB Restavracija changes its menu with the seasons, and I'm eager to come back for more of his culinary magic.
Cute, charming but with a gritty alt scene: this picture sums up why I adore Ljubljana. (Fun fact: Slovenia is the only country with "love" in its name!)
Hvala (thank you) to Slovenian Tourist Board (IFeelSlovenia) for the perfect travel itinerary, and to Ljubljana Tourism for organizing a tour of the alternative side of the city. (All photos by Borderless Media.)
I leave you with one of the many unique city bridges — this one is decorated with locks. It's a promise that I will come back to Ljubljana soon.
(If you missed my previous blogs about Lake Bled and Portoroz, you can find all my Slovenia travel guides here.)
Please take a moment to watch our Slovenia travel video! Thanks for watching and subscribing.

PS: Head's up, there's a big 3-day sale at Shopbop until Monday! All you need to do is enter promo code EVENT17 to receive 20% off orders under $500, or 25% off when you get $500 or more. I'm tempted to stock up on harness and cut-out fitness fashion, like my favorites above… Enjoy the weekend everyone!