A Roadtrip in Remembrance of Rose. A beautiful BC Ferries trip to Sunshine Coast, Langdale, Sechelt.
As you may have seen on my social media, I recently lost a close friend — Rose Schwarz.
Many of you have followed our Gothic adventures over the years. Rose's passion for life and artistic talent (especially her bold style) resonated with everyone who met her, or even just got to know her online.
This post is in tribute to Rose — but let's not make it a sad one. We'll dress up, have a road trip, visit her family, and marvel at her incredible collection of treasures ranging from freaky to kawaii. Life is short, so let's live it as fiercely as she did! I can think of no better way to honor Rose's spirit.
I'd like to first thank all of your for your kindness throughout Rose's long battle. As you may have heard, Rose was battling undiagnosed Lyme disease, gastroparesis and resulting complications for over a decade. She was in constant pain, yet kept on fighting hard and looking to the future. Despite her family's unwavering efforts to get her the best treatments and doctors, the disease had progressed too far. Rose passed away gracefully on Jan 11, 2017 at age 28.
I'm honored and grateful that I had Rose in my life. She inspired me to be myself to the fullest. She fearlessly expressed her passions, personality and creativity, regardless of what anyone else might think. Rose made friends everywhere she went; I've rarely seen such a magnetic, positive spirit. Above all, she was a wonderful friend to me, and I'll miss her.
I know her parents well, and they put absolutely everything they had into Rose's medical care. I'd love to help them get back on their feet again, after the loss of their only child.
● How you can support: You could donate directly to her family on Fundrazr. Alternately, I'd love to send you anything from my shop — come see my available items here and email me (gothiccarmina att gmail dot com), letting me know what you'd like. All proceeds this month will go direct to Rose's family.
It's a win-win — you get some fabulous fashion (I priced everything to clear!), and this will help them out enormously. You can browse my shop here and I'm happy to answer any questions.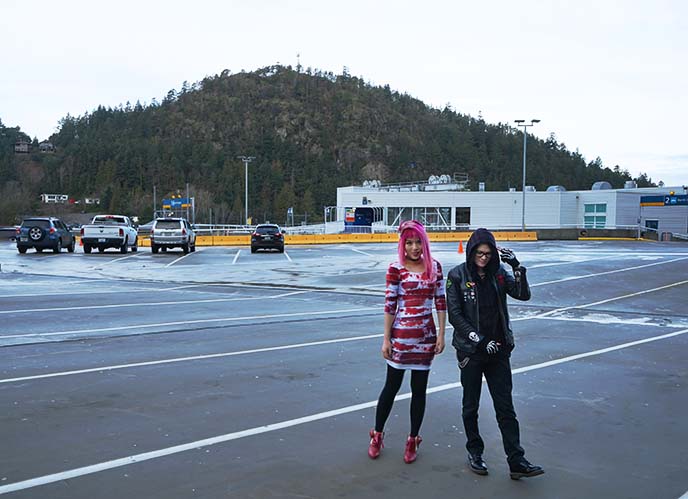 As long-time readers know, I've had many incredible road trips with Rose over the years. We got in all sorts of shenanigans with like-minded, Gothic spirits! I know she'd want us to give her a send-off in the same fabulous style — so that's what we did.
Rob and I are two of her best friends, and we met up to attend her celebration of life in Sechelt (on the Sunshine Coast, a 45 min ferry ride from Vancouver). It was an easy drive to Horseshoe Bay, the ferry terminal in West Vancouver. I hung an absinthe necklace from Rose on the rearview mirror; we played Garbage, Marilyn Manson and Sopor Aeternus CDs — and it was like old times.
I was excited to sail once again with BC Ferries. I don't do enough exploring in my own backyard, yet there's so much to see on the coast of British Columbia.
Rob and I had advance ticket reservations for the Langdale route, so we rolled right in to this scenic spot. (It's easy to reserve on the BC Ferries site, and they have a lot of useful travel information). While we waited a short time for the ferry to open its gates, we took in views of the ocean — and snapped some photos of my Hello Kitty shoes. (I'm letting them go on my shop, with proceeds to Rose, in case you want to snatch them up!)

All aboard! This ferry is one of the smaller ones, but it has picture windows all around for stunning views of the Pacific Northwest coast and islands.
I can't believe this was my first ferry ride to the Sunshine Coast. It's only a 45 minutes journey: an easy day trip from Vancouver, and a way to escape the city and enjoy the wildlife.
Rose lived in Sechelt, and rode this ferry often. I felt like she was with us on the entire journey.
I'm wearing the pink feathered headband that Rose made for me — she was a natural talent at making accessories. My velvet body-con dress is by Black Milk — a bloody bleeding mummy design that she would have adored.
Rob and I went out onto the ferry deck. The view was mind-blowing (get it?). We're lucky to live by the ocean, and surrounded by nature.
Tis a Pirate's life for us! We enjoyed the ride so much that we're already planning future getaways.
In April, BC Ferries is launching a new Salish Orca route from Powell River to Comox (from the Sunshine Coast to Vancouver Island) that sounds like a fun and scenic sail. The Salish vessels are also designed to reduce emissions, as they use either natural gas or ultra-low sulphur diesel.
Along the way, Rob and I reminisced about Rose. I'm glad I documented so many of her outfits, handmade accessories and makeup from these fun times.
I took a snap of Rob's "Genuine Monster Parts" patch and spooky pins. Rose's story is a sharp reminder to see your friends and family, and make good memories while you can.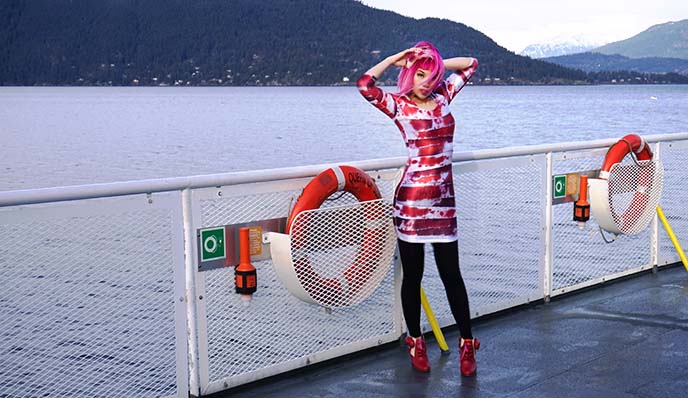 My stylist, Stephanie Hoy at Sugar Skull Studio, dyed my hair rose-colored in her honor. The undercut in the back is leopard print, as Rose used to do (see photo further down in this story). My bloody bandages dress is by Black Milk.
Getting close! We got back into the car, and drove off the BC ferry. Then it took about 30 minutes to reach Sechelt, where Rose and her family live.
I had never been to Sechelt, which has a population of 9000, and a peaceful hippie vibe. We stopped inside this Oracle store and browsed Buddha statues and tarot decks. 
Many Vancouverites have vacation homes or summer cabins here. Even in February, the rocky beaches are some of the most beautiful in the region.
Secluded beaches and rugged coasts, framed by old-growth forests and the towering Coast Mountains — wow! We stopped to take in the panoramic ocean vistas.
This is Davis Bay: a long pebbled beach coastline with a wooden fishing pier jutting out from the shore.
We wandered down the wooden planks, towards the water. There was recently a lot of snow and rain, but the sun arrived for us.
Next to the pier, I noticed a statue of a fisherman casting a line. You'll see lots of fishing boats around here year-round. In the summer, vacationers take part in kayaking, sailing, scuba and swimming.
There's a reason they call this "Beautiful British Columbia." I had also recently visited Victoria (on Vancouver Island) by ferry — here's the post in case you missed it.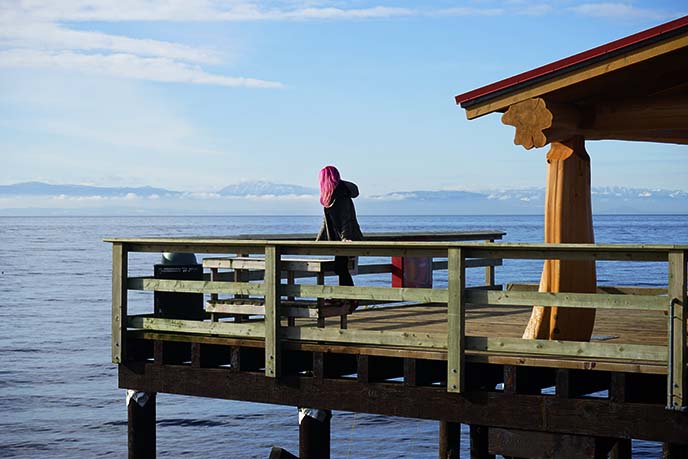 The blue sky blends into the mountains and ocean. It's hard to make out where each one begins and ends.
The name "Sechelt" means "land between two waters" in the Coast Salish language. Double mind-blowing.
I asked for rose colored hair, to remember my friend. My stylist Stephanie Hoy at Sugar Skull Studio delivered.
She re-did my undercut… with leopard print spots, just like Rose used to rock! Stephanie buzzed off the lower layers, then painted the animal print pattern in blue and dark purple with her fingers.
Rose and I always loved funky, kawaii shoes (as you'll see if you keep reading). She'd go crazy for these Sanrio booties.
Later that afternoon, Rob and I went to Rose's celebration of life. The Sechelt community gathered to share slideshows, music and thoughts about her.
However, we first visited Rose's parents at home to catch up in privately, and in person.
We arrived bearing Gothic red wine and roses. It was great to see her parents again, as we've known them for years. Around the home, they had framed photos of us and Rose.
Her parents had gone through the heartbreaking task of sorting out Rose's belongings. I always knew Rose had a keen eye for collectables — but I was amazed by the mountain of cute Japanese stuffed animals! The lazy bear Rilakkuma is one of her favorite kawaii characters, as you can see. There's also Doraemon and Disney's Marie in there.
Rose had a knack for finding intriguing taxidermy online, and customising the pelts with her signature flair. Rob took home the taxidermy kitten and white mouse that she gave devil horns.
In the last few years, Rose was unfortunately unable to even leave her home, as she had gotten too sick.
However, she never lost her passion for vintage / Japanese / cute design. She surrounded herself with collectables that reflected her personality and made her smile. If you shake the table, these cat bobble-head dolls will nod their heads in agreement.
As you know from our outfit posts, Rose lived for fashion. She experimented and combined styles, and rocked them all — from sweet pastel Japanese Lolita, to punk corset deconstruction. Many of her accessories were DIY original pieces. 
Rose's dad built a rack to hold her clothes. I see rainbow unicorns, Goth horror stripes, and tops from her favorite Japanese underground labels Hellcatpunks and Sex Pot Revenge.
Her family will be selling her clothing, although it will take some time to figure out the best way. If you'd like to contact them about purchasing something that belonged to Rose, you're welcome to via their Fundrazr (but please be patient, as it may take some time before they can properly list all the items).
I'm sure you will recognise the pink hat from our wine hotel trip (there's also a photo at the end of this post).
Rose and I always bonded over our love of cute meets Gothic fashion. Those cat shoes were tempting, but I ended up with the unicorn slippers instead.
There were tables upon tables of her belongings… in this Instagram video, you can see everything from antique bunnies to Sailor Moon jewellery.
Rose was fond of taxidermy — her interests and hobbies were wide ranging. She typically put a whimsical twist on them, such as the Cracker Jack box the paws.
When it came to retro kitsch, Rose knew her stuff. She had My Little Ponies from the 1980s, and this obscure Rainbow Brite plush cat from 1983!
I could imagine Rose having a successful online shop, or curating vintage, or designing… so many possibilities, if only she had time.
Rob holds up a 1960s Rushton rubber face doll. Hard to believe that children would have these in their rooms! The demented panda would give me nightmares… I'll stick to Miffy.
Rose was motivated, intelligent, talented… there was so much she wanted to do, and would have excelled at. She did well in both arts and sciences, and dreamed of studying forensic pathology. She and I made plans to visit Japan and other destinations worldwide, but she never got the chance.
It's tragic that her Lyme disease went undiagnosed, and I hope we can increase awareness so that others don't slip through the cracks. I encourage you to learn more here about Lyme's cause and symptoms, and the ways that we can help those who are suffering.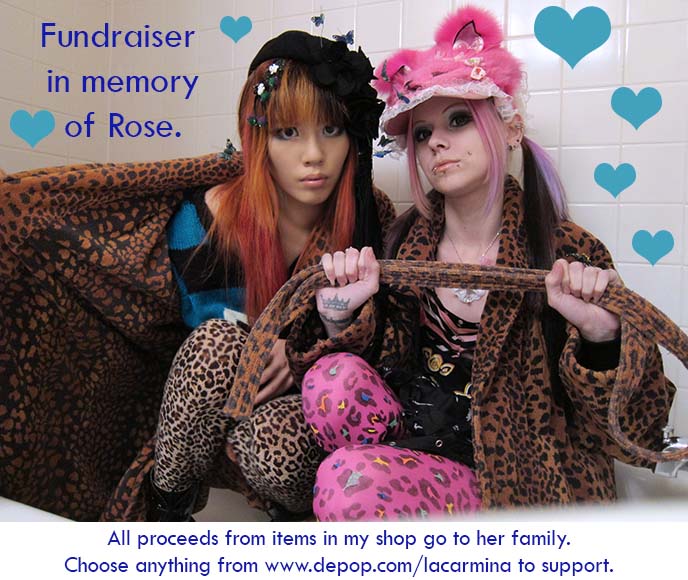 I hope you might consider helping out Rose's family — this month, ALL proceeds from my clothing sale goes to them. (It's also possible to make a contribution to her fund.)
1) Browse the available items in my store here,  and email me (gothiccarmina att gmail dot com) letting me know what you'd like. No need to use the app, you can simply tell me what interests you.
2) I'll send you a care package, and funds go direct to Rose's family. I have cute accessories, makeup, clothing, Lolita dresses, scarves and much more. Thank you everyone for your kindness
I'll leave you with dozens of old photos of Rose, which I uploaded to this Facebook album. I've changed a lot over the years, but she'll continue to be one of my dearest friends, and inspire me for the rest of my life.
The last words go to Rob: "Rose was my sister and even when things were getting worse, I never thought she wouldn't be there. Now that she's gone, I've lost a small piece of myself. All I can really say is: I miss my friend."
Thank you for reading, and lots of hugs.