Travel blogging favorite memories of 2016! Blog & social media year in review.
Wow, 2016 went by fast! Can't believe it is already time for my annual year-end reflection. Let's whip out the "member-berries," and muse about my favorite moments of the past 12 months.
I traveled to 15 countries this year, a personal record that takes the grand total to about 60. I made it to some of my dream destinations (New Zealand, Istanbul, Myanmar) and appeared on TV shows for NBC and Travel Channel.
"Member" my 2015 summary? ("Yeah, I member.") Looking back, 2016 built upon those goals, and took everything up a few notches.
"Let's start at the very beginning / A very good place to start." Yukiro and I flew to NYC at the tail end of 2015, and celebrated New Years Eve with our friends, in full Gothic fabulosity. While in New York, we also made "field trips" to the Morbid Anatomy museum, Lovecraft bar, and more.
♥ New York City, NY – find all my adventures from over the years in the Big Apple.
Next, we escaped the cold in Riviera Maya and Tulum, Mexico. Of course, we dove into the spooky side of Mexican culture: Day of the Dead skull art, and Mayan pyramids where human sacrifices took place.
♥  Mexico – see our stories here, along with more photos of Chichen Itza.
Soon after, I was honored to be invited to attend the World Tourism Forum. The journey began in Los Angeles,  where I reunited with friends and got my fangs on (rolling around Bela Lugosi's grave, and drinking blood wine at a vampire lounge and ball).
♥ Los Angeles, California – I've been blogging about LA's Goth and alternative scene for years, right here.
Then I flew to Istanbul, Turkey, and soared over the Sultanahmet district (the Blue Mosque and Hagia Sophia are beneath my wings). I've been longing to see "Constantinople" for years, and was happy that I reached this goal. With the world changing so quickly, it's more important than ever to travel now.
♥ All my Turkey (Istanbul) travel stories, focusing on the art and culture of the city.
We filmed with Brussels and Wallonia Tourism right after, capturing the art and carnival culture. This was right after the death of David Bowie, and two weeks before the Molenbeek terrorist attack…. Travel safely and intelligently, and do it while you can. Who knows when the zombie apocalypse will come.
See all my Brussels, Belgium blogs.
Next, I got to hang out with Hobbits in New Zealand! Contiki Asia reached out to me, and I partnered with them on a showcase of their New Zealand North Island tour. What a magnificent country, filled with natural wonders like the mangrove trees of Paihia, and blue glowworms in the caves of Waitomo. And let's not forget my photoshoot in the Lord of the Rings movie set.
♥ Enjoy all my New Zealand (Auckland and North Island) adventures.
Life is short, and you never know when you'll return somewhere, or have an opportunity window… With that in mind, I hopped over to Sydney, Australia for the first time. I only got a taste, but I'm keen to see more of Down Under.
I applied this same philosophy to my next journey. I wrangled a 24 hour stopover in the Netherlands — which was enough for me to visit the Miffy Museum in Utrecht! I'm mad about the Dutch bunny, and this was my chance to "get my Miffy on."
It doesn't matter how nonsensical or bizarre your passions / interests / quests are. Make them happen, now. 
I confess that Slovenia was never on my bucket list — but I'm all for saying Yes, and discovering something new. This little country turned out to be one of my favorite destinations of the year. My team and I fell in love with the creative food, kind locals, fairy tale castles…
♥ Read my guides to Surprising Slovenia (Ljubljana, Lake Bled, Portoroz).
I've been to all the major European countries, but didn't make it to Scandinavia until this summer. (You can find my exact eyeball shirt here.)
Stockholm, Sweden is gorgeous during this time of year. I walked all throughout the capital, ducked into the Yayoi Kusama exhibition, and ate like a Viking. How I miss the local fish and caviar.
I rekindled my passion for minimal, modern architecture and design in Helsinki. My team and I loved the Eero Aarnio retrospective (he's the Finnish designer of the 1960s Ball Chair).
You can get the spiderweb jacket I'm wearing here, on sale.
We took the ferry to Tallinn, Estonia. Once again, we discovered gems in a country that most people know little about. There's a Depeche Mode bar and hipster art collectives, and a colorful restaurant culture.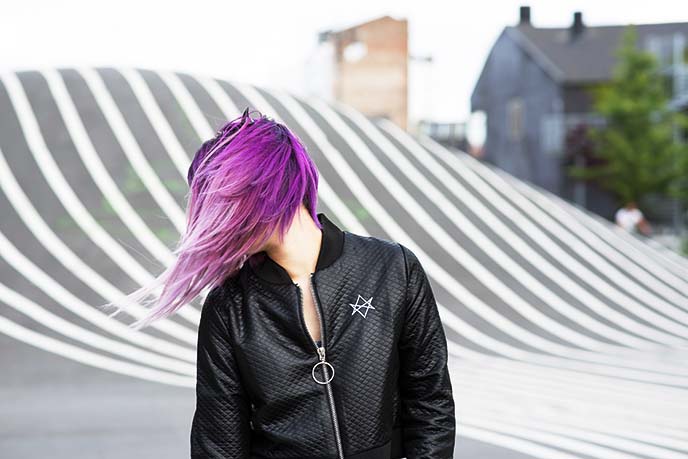 Finally, I strolled through the hip neighborhoods of Copenhagen, Denmark. This photo is taken in Superkilen Park — I came across a photo of the urban design years ago, and it was a joy to to see it with my own eyes.
♥ See all my Scandinavia and Nordic Europe posts here.
In the fall, it was back to my old stompin' grounds: Japan. I had the opportunity to work with J Rail Pass, and ride the rails throughout the country (I made it to Tokyo, Kyoto, Kobe, Osaka and Koyasan in a week).
I always feel energised here, and loved catching up with my friends. I also got to try something new: a Buddhist temple stay in the mountains of Koya. I'll share this experience with you soon.
♥ All my travel tips about Tokyo and Japan are here. I hope you find them helpful for planning a trip.
This year, I was also in some big travel TV shows. I hosted an episode for Travel Channel, and danced with Captain Kirk for NBC's Better Late Than Never!
In November / December, I returned to Hong Kong for a job with STAKK Factory, a new media site that specializes in fashion, travel and food videos. We shot a DIY nail art video about holiday nails, with much more to be released soon.
Finally, Yukiro and I flew to Yangon, Myanmar with HK Express. What an extraordinary country… I posted a few previews on my social media (@lacarmina), and the full story will come out early next year. Stay tuned — you don't want to miss this one.
Here's to friends, trying new things, and saying "yes" in 2017. As Yukiro wisely says, "Always go forward, but never straight!"
What were your favorite member-berries of the previous year? Do you have any bucket list destinations / goals for the New Year?