Auckland's alternative shops & clubs! K Road New Zealand drag queen show, Caluzzi Cabaret.
Now that I've been to New Zealand, I understand why travel bloggers consistently put the country on their "top destinations" lists. The photo above sums it up: dramatic nature and oceans, Lord of the Rings vibes. And Auckland has a fabulous underground culture as well, which I'll show you in this final post.
As you'll recall, I joined the Contiki Sun and Steam tour (with a fun group of fellow young travellers). The trip began and ended in Auckland, NZ's largest urban area.
I'll take you inside the fierce and funny world of Caluzzi Cabaret — a drag queen extravaganza located on the infamous nightlife strip, K Road.
Outfit details: I'm wearing a pentagram occult dress and cape by Black Milk Clothing. They also have a Game of Thrones map print dress that I love, and it's in the same style as the one I'm wearing.
I'm never going to part with this fluffy monster bag… but I do have other kawaii and Goth Japanese fashion available, on my fashion blogger shop (come browse).
Contiki group tours are catered to 18-35 year old travellers, meaning that we had a lot of free time to enjoy nightlife, and explore Auckland on our own.
At the same time, our tour leader Monique and driver Dyson made sure we had a superb overview of the city's top attractions. They were always glad to give us recommendations, and join in on the fun.
We stopped at Bastion Point to take in the gorgeous views of Waitemata Harbour and the city of Auckland. The wind added drama to my Black Milk cape!
(Photos by Salima Remtulla, who joined me on my Contiki journey)
I found this epic view of the Sky Tower, which rises like a spaceship in the distance.
We walked around the Michael Joseph Savage Memorial Park. It's a tribute to the first Labour Prime Minister of New Zealand, known for his progressive welfare policies.
Savage is revered as one of NZ's greatest prime ministers. His tomb lies by a reflecting pond and these beautiful gardens.
Contiki gave us a free day to explore Auckland, so I browsed the chic local fashion in Britomart (see more). But when dusk falls, it's time to party…
… And these ladies really know how to put on a show!
I was thrilled to see the famous drag queens of Caluzzi Bar and Cabaret, located on the famous K Road (the gritty, alternative nightlife strip of Auckland.) Address: 461 Karangahape Rd, Eden Terrace, Auckland 1010.
I was welcomed by the friendliest bartenders and queens, who made sure I always had full glass of local Matawhero wine.
Caluzzi is a drag queen cabaret with a wonderfully inclusive atmosphere. The tables were packed with groups of friends, bachelorette / hen parties, and lots of locals.
The gals put on a fierce floor show, with a funny air stewardess theme. They dazzled us with their choreographed dancing and singing, working the floor in their glittering stilettos.
Established in 1996, Caluzzi has become known as one of the best nightlife venues in the city. The drag performers are top-notch: makeup, wigs and outfits are all on point.
These ladies went around the room, chit-chatting and posing with the guests. Such a welcoming atmosphere, and I couldn't stop smiling at their wicked, campy remarks. 
Between the song-and-dance hilarity, the drag queens played the part of the perfect stewardesses, and took our meal orders. We got to choose from a variety of tasty main courses, and everyone got garlic bread and soup to start.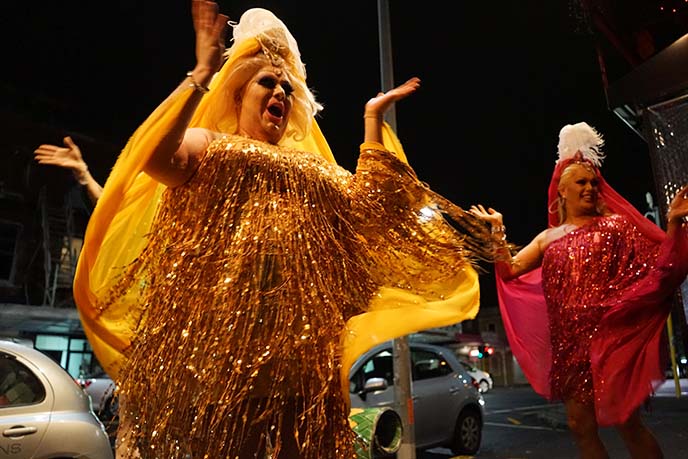 While we dined, the ladies put on decadent costumes, and entertained us with a variety of routines. In this group number, they went outside and performed in the street, while we watched from the window!
You've got to see this short video of them in action. Just another night on K Road…
Everyone got up and cheered during this Lion King inspired number. She spread her wings and lip synced to "The Circle of Life."
Other acts involved audience participation, dance-offs, and even a Maori-inspired performance.
Caluzzi Cabaret in Auckland is pure fabulosity. Be sure to reserve a space in advance, as the seats fill up fast. Check out their website for upcoming showtimes and bookings, and say "hiiii" to the gals for me.
K Road, the nickname for Karangahape Road, is known for its colorful and grungy nightlife. You'll find dive bars, strip clubs and tattoo shops here (but don't worry, Auckland is not at all dangerous).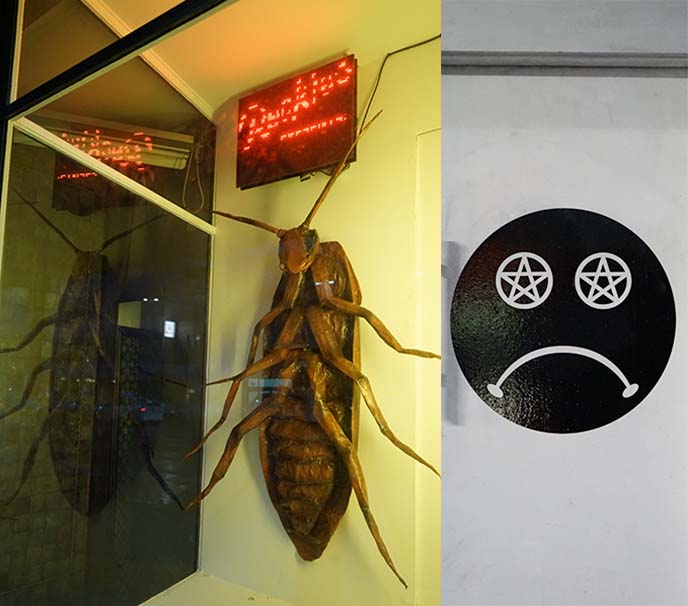 I spotted plenty of weird art installations and street art on K Road, such as this pentacle-eyed emoji. I guess Gregor Samsa (the cockroach man from Kafka's Metamorphosis) somehow wound up in New Zealand…
There are also lots of cute, hipster boutiques. These fox pillows caught my eye. 
K Road is one of the best places to shop for NZ made fashion, and independent designers.
Come during the day-time, so that you can shop the alternative design stores. 
You'll never be bored on K Road. At night, it comes alive with bars, performances, ethnic restaurants, you nae it.
I ran into a group of teenage skater boys. When the stores are closed, they use the smooth floors for practising tricks.
Ghosts of K-Road. If you're into subcultures and alt nightclubs, you can't miss this district (and Caluzzi's drag queen cabaret, which is located here.)
Kia Ora to Contiki for the once-in-a-lifetime journey! I also wrote about the experience on Business Insider Travel, and you can see all my New Zealand posts here, in this blog category.
And now, it's time to fly away to my next destination. I still have lots of Slovenia and Scandinavia posts to share with you, and I'll be somewhere both old and new in the upcoming weeks. 
If you could hop on a plane to anywhere in the world, where would you go? Hmm…