Visiting the Morbid Anatomy Museum in Brooklyn: Medical anatomy wax statues & Library of Oddities.
If you're a fan of Oddities (the Discovery / Science TV show that I appeared in) — then I'm sure you are dying (get it?) to visit the Morbid Anatomy Museum in New York! 
Housed in Brooklyn, this collection of strange medical wonders is dedicated to "the intersections of death, beauty and that which falls between the cracks." 
The Morbid Anatomy Museum also has an extensive research library. It's open for anyone to browse (in a devilish mix of "Guilt and Pleasure"!)
The two-floor museum has both permanent and temporary exhibitions on display.
My friends and I saw the House of Wax: Anatomical, Pathological, and Ethnographical Waxworks from Castan's Panopticum (Berlin, 1869-1922). It's curated by Ryan Matthew Cohn of TV's "Oddities." 
Yukiro, Jenny, Hiten and I couldn't resist lining up on the staircase for this dramatic shot!
UPDATE: the Morbid Anatomy Museum has closed, RIP. Check their website for any updates.
The exhibits and library are open from 12-6pm, every day except Tuesday. Admission fees, tickets and event announcements are found on their site.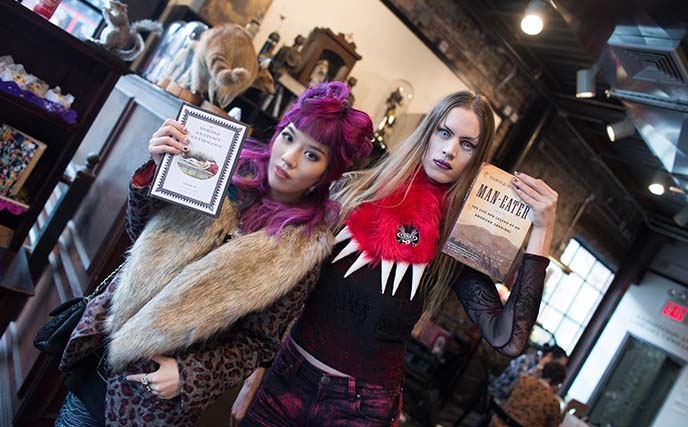 Yukiro and I began our visit with a snack and coffee at the museum cafe. So many curiosities to see in the lower level gift shop.
(I'm wearing a faux fur coat from Alice's Pig, an urban vintage-inspired clothing line from London).
I was enthralled by the Morbid Anatomy Anthology (edited by Joanna Ebenstein), a 500 page tome with lavish full color illustrations. I flipped through essays about demonic children and corpses.
(On a cuter note, my Scottish Fold rings are by PuraBobo. The designer custom-made them to look like my round yellow cat).
My spooky-occult nail art fit in with the theme of the day. (They're by Glam Nail Studio; lots of nail art inspiration photos are on their Facebook.)
Yukiro looks like one of the gift store curiosities, with undead makeup and a monster-claw scarf.
Curiosities lurked all around the Morbid Anatomy cafe and shop. We spotted taxidermy mice in a Ferris wheel, and mysterious creatures preserved in jars.
(Perhaps these objects remind you of the ones found at Obscura Antiques in NYC. If you aren't familiar with the TV series Oddities, you've got to watch episodes here.)
The Morbid Anatomy project is supported by scholars worldwide. Many have lent out their private collections, and anyone is welcome to donate a curiosity to the library.
The museum also has a Scholars in Residence program. Currently, the posts are held by Evan Michelson of Obscura Antiques and Oddities, and writer Salvador Olguín who specializes in death in Mexico.
We chatted with curator Spencer, who spoke with passion about the waxworks on display. You can tell that we're hanging on to his every word, as he describes the eerie history of the Berlin Panopticum!
Spencer explained that these panoptica were used in Europe from the 18th to early 20th century. Back then, medical knowledge was difficult to share. Artisans created these anatomical wax figures in order to preserve information of diseases and procedures. (Above are reproductions of horrific skin pathologies.)
We felt like we were descending into uncanny valley, as we examined these life-like bodies. Some had exposed organs and fake hair, with fetuses peering out.
Talk about a cabinet of curiosities! We're posing with a case of death masks, featuring murderers and celebrities.
Other wax busts showed people of different races, and performers that they considered "freaks."
Some of the wax specimens only showed body parts, with disembodied hands lurking about. I think this is an example of how not to use forceps to deliver a baby…
This exhibit's run has been extended, so you can still see it now. Appropriately, my shirt is by Disturbia – they make this outstanding Ouija board Goth shirt as well.)
Some of the artifacts were graphic, and you might feel disturbed by what you see. However, my friends and I adore collections like this one (the Mutter medical museum in Philly is another must-visit).
These anatomical waxes are a fascinating part of our history, and a forgotten method of sharing findings. These objects were originally meant to be private medical tools, but now we can look at them with a critical and even artistic eye.
We could have spent hours in the next room, a treasure trove of bizarre objects. Founded in 2008, The Morbid Anatomy Library contains thousands of books, ephemera, creepy art and other rarities.
This counter sums up what you'll find here: dentures, religious candles, Day of the Dead skeletons, and a shrine to a Goth Emo boy! 
Visitors are encouraged to pick up the objects. We couldn't resist doing a tribute to "see, speak and hear no evil." Jenny is holding strips of teeth, and I'm listening to a gorilla footprint.
Inspector Yukiro is on the hunt! The room is full of clues about how cultures worldwide represent death and the supernatural.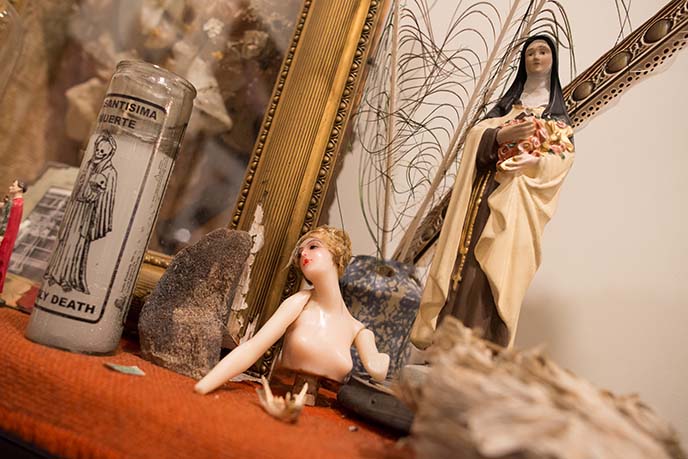 For those of you with a dark disposition, Brooklyn's Morbid Anatomy Museum cannot be missed. On their site, you'll find announcements for upcoming openings and lectures.
I dare you to take a funny photo on the stairs like we did! (Photos by Joey Wong.)
PS: for more New York alt-travel suggestions — including clubs, clothing stores and restaurants — check out my NYC Gothic guides here.