El Dorado Maroma: Karisma's Riviera Maya luxury beach resort. Le Lotus Rouge bar, Playa del Carmen.
Goths on the beach. Even in bright sunlight, Yukiro and I maintain our vampire attitude!
Karisma Hotels invited us to spend a day at El Dorado Maroma, their boutique oceanfront resort. It turned out to be our favorite property. We loved relaxing on this private beach so much that we delayed our leave by several hours!
(My pentacle top is this exact one by Rat Baby, a dark / alt clothing brand.)
Located in the Riviera Maya, El Dorado Maroma is for adults only, and cultivates a laid-back feeling. The grounds are filled with tall palm trees, giving the impression that you've stumbled upon a beach paradise. 
I couldn't wait to swim in the warm ocean. I wore a pentagram swimsuit by Pretty Attitude (here's where you can get a Goth swimsuit with occult symbols printed on it).
My oversize reflective sunglasses are Linda Farrow x 3.1 Philip Lim. The designer has a cute cat-eared sunglasses version too.
Yukiro and I had our own mega-suite, with sliding doors that opened into our private terrace, and a quiet swimming pool. 
Shop for Gothic swimwear and dresses below: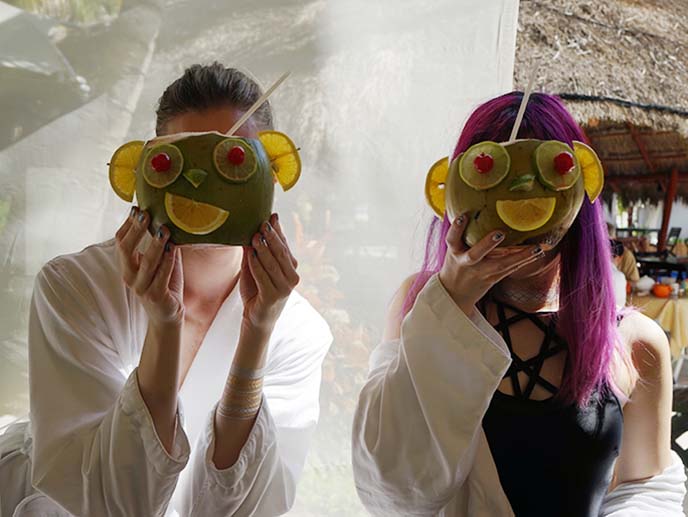 Things got a little crazy when the staff delivered two "Coco Locos" — a tropical cocktail of coconut, banana, rum and magic.
To top it off, they decorated the coconut shell like a monkey's face!
I've never had a better welcome drink than this one. At Karisma El Dorado resorts, all food and drink are inclusive — so you can order a dozen Coco Locos if you pleased.
Strike a pose, vogue.
El Dorado Maroma is the only property with thatch-roofed overwater bungalows (similar to the 5-star huts found in the Maldives and Bora Bora).
We had our very own palapa beach bed, so we didn't have to worry about other guests taking our prime spot by the ocean.
A staff member came around and offered sunscreen and margaritas. Yes to both.
We got to preview El Dorado Maroma's new overwater bungalows — perfect for a romantic honeymoon.
As you can see, the sand and waters were pristine. I was a happy girl, wading in the ocean.
(Closeup on the criss-cross straps of my Gothic swimsuit.  Shop more styles with a click):

Meal time! Karisma Hotels are known as "gourmet inclusives" because they put great care into their restaurants.
We hit it off with our cheerful server, who insisted that we try his grandmother's special coffee (dark, with a brush of cinnamon). He then brought us green and red chilaquiles, a layered tortilla dish known as a hangover cure.
This kitty-cat was pleased with the authentic Mexican dish. It was one of our favorite meals of the entire trip.
After, we walked down the long private beach. There's nothing like listening to the sounds of the ocean, and looking out at the horizon…
… and making friends with pelicans.
El Dorado Maroma is a quiet and exclusive space. Perfect for those who want a true beach getaway.
The resort will soon be home to 58 new "palafitos", or over the water suites. If you're dreaming of visiting Tulum, it's good timing for a stay at El Dorado Maroma, a beachfront resort, by Karisma. 
Later that evening, we went out with our new friend Paulina of LocoGringo tours. (Remember she took us to visit the famous Mayan pyramids?)
Paulina said we would love Le Lotus Rouge bar — and once again, she was spot on. (Address: 35th Avenue & Calle 2, Playa del Carmen, Mexico)
The Red Lotus is run by a French lady, who decorated the rooms to reflect her love of the arts. From the moment we stepped in, we felt at home in this eccentric, fabulous and slightly creepy space.
Le Lotus Rouge is infamous for its karaoke nights. Anyone can choose a song from the computer, and belt it out on microphones.
I have to say… Yukiro and I tore down the house, with our rendition of the 1980s Styx hit, Mr Roboto!
Glowing with lanterns and secret spaces, the Red Lotus one magical spot.
Playa del Carmen and Cancun tend have touristy nightlife — which is why we were pleasantly surprised to find this artistic bar, frequented by locals. The cocktails and food are also wonderful here.
There are multiple theme rooms, each decorated with whimsy. This one has a tribal theme.
Disco dreams come true, when Yukiro is around.
Boudoir furniture and skeletons are found all throughout Le Lotus Rouge.
I hope these photos show you an unexpected side of Playa del Carmen, which is typically associated with tourists and spring breakers.
Gracias to Loco Gringo for the insider tour of Tulum. More photos to come, including a visit to a cemetery and Day of the Dead art gallery.
Until then, you can check out all my Mexico travel guides here. Have you been to Riviera Maya before?