Watch me on Travel Channel's new TV show: Could I Live There? Karisma El Dorado restaurants, cooking classes.
Welcome to a new edition of my Mexican travelogue. Yukiro and I ate like queens at Karisma Hotels & Resorts… I hope you're hungry, as there are a lot of food photos ahead!
(I'm sure you are curious about my Basil Farrow cat top (above). It's by LA-based designer Lili Chin, who custom-makes shirts and drawings to look like your pets! There's info on her site, and I'll be posting more images soon.)
But first, some quick updates about my upcoming TV appearances and travel destinations.
Perhaps you'll recall that I was in Tokyo last spring, to shoot a show with Travel Channel. Now, I can officially reveal details about the series, called "Could I Live There?"
In each episode, a couple considers moving to a new country — and makes the decision after exploring it with a "relocator". I'm the on-camera host for the Japan show, titled "Tokyo's Cute Culture." Above is a scene from a Shinto temple, where I took the pair before they decided whether to stay in the US or move to Tokyo.
I had a terrific shoot with the production team, and hope you'll tune into Travel Channel to watch me on TV! "Could I Live There? – Japan" premieres Monday, February 8 at 9:30 pm (8:30 pm Central), and repeats the next day at 12:30 am (11:30 am Central).
If you've been following my Instagram and Snapchat (@lacarmina), you'll have seen me in Los Angeles.
Now, I'm boarding a flight on Turkish Airlines… and heading to Istanbul for the first time! I've dreamt of visiting "Constantinople" for years, and finally got the chance to go — thanks to a generous invitation from the World Tourism Forum. I'm honored to be one of about 20 international bloggers chosen to participate in the event. Can't wait to share images of the Blue Mosque, Hagia Sophia and more.
Right after, I'm excited to be doing a project with Brussels Tourism! My filmmakers Borderless Media and I will be shooting travel stories in Belgium, including coverage of the decadent Binche carnival. I'm looking forward to a taste of chocolates, surrealism, street art and underground culture.
(Above is a still from their Rene Magritte inspired video featuring cats taking over the city.)
And now, back to our Riviera Maya escapades at Karisma El Dorado. As I mentioned in the first article, Yukiro and I had full access to their three resorts.
We found this Ganesha elephant god statue in a little garden, hidden between the Casitas and Generations properties.
My t-shirt of the Hindu god, Shiva, turned out to be the perfect match for this mural! It's by 1991NewYork, a newly launched clothing line by designer and tattoo artist Hiten Damodar. The striking style pays respects to his Indian background, but with an Americana feel.
Hiten says: "We chose the name 1991NY because that is the year my family and I moved to this country. The style is influenced heavily by my tattoo background as well as imagery from mythology, religion, and symbolism."
In addition to Shiva the Destroyer, 1991NewYork has eye catching t-shirts featuring Ganesh, Kali and more. Everything is made in the USA and sure to turn heads. Pick out your favorite shirt here and check out @1991newyork on Instagram.
Now that our fashion vogue-ing is complete, Yukiro and I are ready to eat!
Each of the Karisma resorts has a different focus (Casitas is for couples, Generations Riviera Maya is for all-ages and families). We enjoyed aspects from each of them.
There's a suite and experience for every type of traveller. At the newest property, Generations, guests could walk right out into their own balcony swimming pool. 
Between El Dorado Royale, Casitas and Generations… we had over a dozen all-inclusive restaurants to choose from!
The cuisine offerings included: Caribbean, Italian, Mexican, Japanese, American. Yukiro looks like he's strangling himself out of amazement.
I knew that Karisma had a reputation for excellent food. However, I confess I didn't expect their restaurants to be quite this good.
Wine Kitchen (at Generations Riviera Maya) set the mood with chandeliers and candles. We loved the amuse bouche with watermelon and spices, and the special wine pairings that came with each plate.
When everything comes at no extra cost, you can live out your foodie dreams. We ordered a large range of plates to try… and dessert, always.
If only we had time to try each Karisma dining room! Jade Restaurant has an Asian menu, and the decor to match.
Karisma encourages guests to participate in the food experiences. At the Jade "tea bar," you could create your own unique blend of tea.
The resorts had several entertaining "dinner theaters" where you could watch guest chefs prepare meals — and take part in the cooking too. Several volunteers came up to help create Mexican dishes, which we then ate with pairings from Jackson Family Wines.
Fuentes Culinary Theater is one of the most popular attractions. The venue is set up like a Food Network TV show, and the chef riffs and jokes around with the audience — which teaching them how to make authentic Yucatan dishes. 
On the two big screens, we could see close-ups of the ingredients. The chef walked us through each step of the preparation. As soon as he finished making the dish, a team of servers came out and served it to each table.
That evening, his menu was based on traditional Yucatan Peninsula flavors. To start, we had a fantastic soup made from avocado, octopus, radish, apple, and X'catic pepper.
I particularly enjoyed the segment where the chef introduced us to masa (corn dough), and showed us how to build it into tortillas, tamales, pupusas and more.
After three small bites inspired by street food, we devoured the mahi mahi (with pumpkin seed puree, corn, beans and crispy achiote tortilla). Above is the pork loin marinated in charred chilies, sweet potato and tamal. We had never tried these types of flavors and combinations before — what a meal to remember.
Karisma also had dozens of all-inclusive bars. We took the advice of this swing — "Enjoy" — and cooled down with salt-rimmed margaritas. 
Since we were in Quintana Roo, Yukiro and I mainly ate Mexican food. We particularly are fans of avocado, mahi mahi and ceviche (raw marinated fish),
All of the above were on the menu at "La Carreta" in El Dorado Royale. Once again, if all the food is included, why not order one of everything…
… and a double serving of the outstanding ceviche? 
We ate our fill of fresh berries, including in this strawberry dessert with avocado cream.
For lunch, we usually hit the Health Bar. In North America, I always cringe at the price of a fresh green juice (usually around $7-10). But at Karisma, everything is included… I think we must have ordered 25 smoothies and juices between the two of us!
The Health Bar had a long list of drink concoctions, and we also could create our own. We paired them with fresh salads and sandwiches made with whole grains.  
Thanks to Karisma El Dorado, we were able to relax and enjoy the Riviera Maya.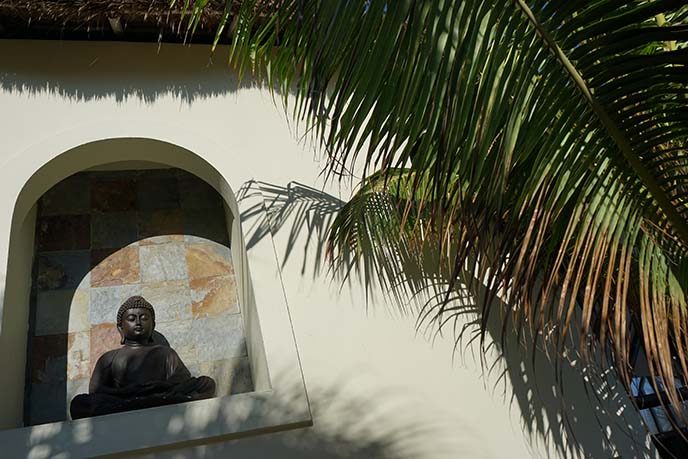 No need to stress over anything… it's all taken care of here.
I hope you are enjoying these Mexican posts. Don't forget to watch me on Travel Channel (Feb 8), and check out my Snapchat and Instagram @lacarmina for the latest updates from LA, Istanbul and Brussels.