Morocco travel video: Essaouira, Argan oil & cooking classes! Berber Cultural Center family homestay.
Morocco road trip and travel video — let's do it!
My friends and I continued our journey from Marrakesh to Essaouira, where we relaxed in the beach town and saw the famous tree-climbing goats. We then met women running an argan oil collective, and stayed with a Berber family that gave us cooking lessons. 
All these eye-opening adventures are featured in our new travel video about Morocco. (Produced by the amazing Borderless Media.)
We wanted to put the focus on women in this country, running businesses and carving out their own paths. Please take a minute to watch the episode above and here — we appreciate your support!
None of our Morocco travels would have been possible (especially in a single day!) without our expert guides, Plan-It Fez.
Our driver highly recommended Essaouira, a seaside town about 2.5 hours away. He was spot on: Essaouira turned out to be one of the highlights of our Morocco journey.
We drove down a long stretch of beach, and immediately sensed the laid-back hippie vibe. No wonder Jimi Hendrix and Bob Marley loved Essaouira (we saw his face on a few buildings here!)
This port city has a history that goes back to prehistoric times. It was taken by the Portuguese in the 16th century, and surrounded by fortress walls. 
Outfit Of The Day: Top by Cameo The Label, and black pants by Armani.
Today, Essaouira still feels like a Medieval city. We wandered the streets sandwiched by tall stone walls, and browsed for colorful handicrafts in the kasbah.
We saw quite a few cats along the way! They stayed true to the Essaouira vibe, relaxing among the camel-skin purses.
Moroccans love to come here for honeymoons and getaways. I spotted this woman sitting on the medina wall, looking out at the sea.
We stopped for mint tea at a restaurant by the beach. The view from above: timeless.
Game of Thrones is partially filmed in Morocco (for the scenes with Daenerys the Dragon queen — remember my photoshoot inspired by her in Iceland?) Essaouira's medina and fortress towers look like the sets from the HBO series.
Flying carpets and cobblestone tunnels. Morocco gets my imagination going.
Where else in the world can you come across a scene like this? One of the many joys of travel is being able to see, hear and breathe it all for yourself.
We enjoyed leisurely walking around Essaouira and seeing the arts and crafts for sale in the streets.
Outfit details: My black crop top is by Cameo The Label, and the silky pants are Armani.
Fez and Marrakesh's vendors can be a bit aggressive, getting in your face and hounding you to buy something.
Essaouira, in contrast, is a laid-back experience. You can browse items as peacefully as this sleeping cat, without feeling pressured.
So many fez hats to choose from! I can't get over the amount of colors and textures in a single frame.
I found giant double-doors to pose with, next to street art that read "Mogadooor!"
Good thing we had our Plan-It Fez guide/driver with us to explain the meaning behind the pun. The Portuguese couldn't pronounce the town's name, so they called it Mogador. (What an ominous , Tolkien-worthy title!)
We piled back into the van and continued the road trip. Do my eyes betray me… or are those goats standing on top of tree branches? 
There's no Photoshop here. Moroccan goats can scramble up argan trees, and feed on the leaves while balancing on the branches!
Morocco is rich with plantations of these short argan trees.
We stopped by an argan oil collective, run by Berber women. They showed us how they turn the nut of the fruit into oil, using a manual process. Fantastic to see these ladies working together and running a business, like the bakery that we saw with Plan-It Fez.
Recently, argan oil has become a favorite ingredient for beauty products. It's rich in natural oils and vitamins, which keeps your hair and skin silky.
I have been using argan oil in my hair for years, and also love argan oil body butter for moisturizing. Even if you can't be in Morocco, you can find organic argan products online (click below):

The nut is also rich in vitamin E. After grinding and filtering, Moroccans love to dip bread in the oil, or drizzle it over couscous and salads.
The road trip was a pleasure thanks to our driver Lotfi, who entranced us with stories of Moroccan culture, and even gave us a CD of Berber folk music. He stopped by a viewpoint, and a camel came to say hello.
We drove further through the foothills of the Atlas Mountains. Finally, we arrived for a very special stay at the Berber Cultural Center in the village of Imintanoute (about 3 hours from Marrakesh).
This cozy, home-style stay is run by Mohamed and his family. The facilities are safe and secure, and the family goes all out to offer warm Moroccan hospitality.
We sat on the carpets and drank mint tea, made in the Berber way by Khalid (rinsed and poured from up high).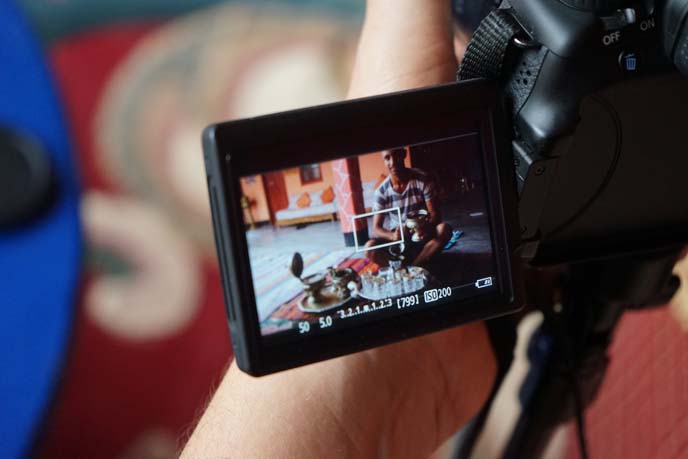 Filming, always. You can see this scene in action, in our new travel video about Berber culture and traditions.
We enjoyed getting to know the sweet family — all the adults spoke fluent English, and the children were curious and playful. This little girl was fascinated with Melissa's iPhone camera, and then ran around the picturesque courtyard with her dad.
The Berbers are the indigenous people of North Africa — many of them have light colored eyes!
One of my favorite ways to learn about culture is by taking cooking lessons. The family showed me how to prepare goat stew with turmeric and other spices, heated in a tagine.
I followed along with the cutting and layering of ingredients such as onions. The tagine is heated with coals — we let the food simmer, stirring it from time to time.
Meanwhile, Melissa learned how to roll and pat bread in the Berber way.
We took the dough outdoors, and it was baked in a stone oven. Such a joy to experience the Berber lifestyle for a day!
The best part was sitting with the family to share the feast. Melissa was the "Bread Queen," meaning it was her duty to break and pass bread to everyone at the table.
Then we went to look at the clear night sky dotted with constellations — and saw a shooting star. 
If you are in Marrakesh, I hope you'll consider spending at least a night at the Berber Cultural Center in Imintanoute. It's a rewarding and immersive experience, and we were glad to support this kind family-run hotel. Make a funny face at the boy Anir for us!
I leave you with this peaceful scene from breakfast, where we shared fresh-made bread dipped in argan oil and the freshest jams and butter, washed down with mint tea.
Thanks to Plan-It Fez Tours, we met so many lovely people and got immersed in Berber culture. It was well worth having them as our guides, as there was no way we could have seen / done all this in a day, on our own. I encourage you to look them up when you visit Morocco, as they can customize a trip for you too.
PS — please take a minute to watch our Morocco travel video — I hope you enjoy our work!