A Cooking Boat Cruise of Ha Long Bay! Sailing to Halong caves with Vietnam Food Tour.
No Instagram filters needed, when you're traveling in Ha Long Bay. The humidity naturally gives you a blurred vignette effect.
Vietnam remains one of my favorite destinations of 2015. I got to live my dreams of being a Pirate… by taking a boat trip through Halong Bay, with Vietnam Food Tour!
We had our very own private ship, thanks to Hoa Binh Cruises. Keep on reading to see how we climbed the mast, dined on seafood, and drifed through Vietnam's misty mountains.
I'm sure you have seen photos of Ha Long Bay before. This UNESCO World Heritage Site is famous for its green, funny-shaped islands.
The name Halong translates to "descending dragon bay" because legend says it was created by a charging dragon.
My tank top with silver pentagram symbols is by Rat Baby Clothing — get it here! I paired it with a skull scarf.
Shop more Gothic fashion by clicking below:

If you're in Hanoi, going east to Halong Bay is a must (it's a 3-4 hour drive away).
We recommend hiring a reputable driver and guide, as we did with Vietnam Food Tour. They arranged everything for us — the car, hotel, boat tour, activities. It's absolutely worth it. We could sit back and soak everything in, without having to haggle or stress about logistics.
Since we were on a food-centric tour, we began by visiting the local outdoor market. Like on our Hanoi tour, we saw vendors selling all sorts of fresh seafood that came straight out of Halong's waters.
A colorful group of vendors. Our guide, Bao, told us about the special squid pie sold here. She picked up a few specialties for us to try during our cooking boat cruise.
Motorcycles zipped around us, as we took in all the colors and action.
The wet market section was full of live oddities from the sea. Locals come here to pick up the catch of the day.
This view is even more majestic in person. Ha Long Bay is dotted with thousands of limestone islands like these.
We saw Vietnamese boat people refilling their supplies of water. They live and work in these floating homes.
We learned that according to another legend, a family of dragons spat out jewels, which formed these islets and protected Vietnam from invaders.
My mate John Skeleton and I took photos non-stop — Ha Long Bay is the definition of photogenic! 
(This skull print scarf protected me from the mosquitoes.)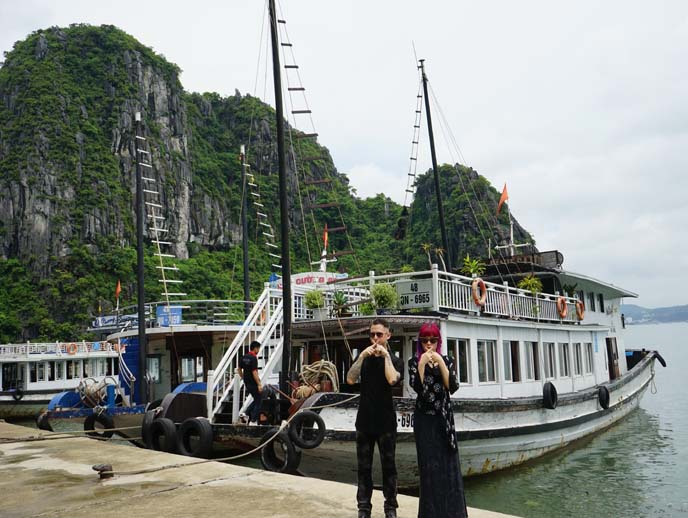 We were looking forward to the boat tour of the bay, on a Hoa Binh cruise. However, we were amazed to find… that we had the entire Pirate boat to ourselves! 
Vietnam Food Tour is all about custom, personal experiences — so they book their clients on private boat tours. Now that's the life for a Pirate.
Spreading my arms wide as we sailed, I felt like Captain Carmina. The only other people onboard were Long John Skeleton, our first mate Bao, and a few cabin members who served food and drink. (And actually steered the ship.)
"Yo ho, there be a pirate's cove of treasure ahead!"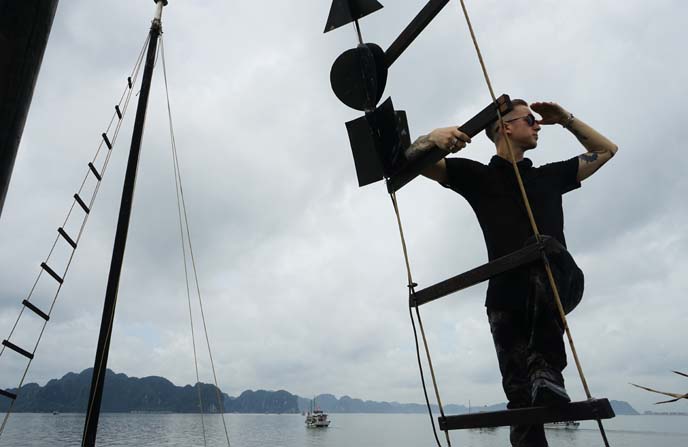 John climbed the mast, all the way to the top — as you can see in our fun travel video!
Before long, our boat was nearing these jewel islands. We prepared for plunder.
(My tank top is by Rat Baby Clothing — more picks below.)

Most of these islands are uninhabited, and lush with tropical vegetation. I imagined them to be hidden with secrets and chests of gold. We docked on Driftwood Island, climbed up the path…
.. and found ourselves in the famous Dau Go Cave (Wooden Stakes Cave).
The humongous grotto is filled with hanging stalactites. The shapes seemed like something from a sci-fi movie, reminding us of bones and Giger's Alien.   
Different parts of the cave are dramatically lit so that visitors can admire the details. Or in this case, "Hail Miffy!"
That's me at the bottom, arms raised. Like a bat in a cave.
My tiny scale of the photo conveys how grand it feels to be inside this grotto, which dates back to the Pleistocene era around 2 million years ago.
Doesn't this look like the set from an alien horror movie?
Vietnam Food Tour organized our visit so that we came during a less busy hour– so we were able to avoid the tourists.
I flew our flag, upon exiting. I hereby claim these caves for my crew!
A hook for a hand. Arr, there's nothing like the Pirate's life.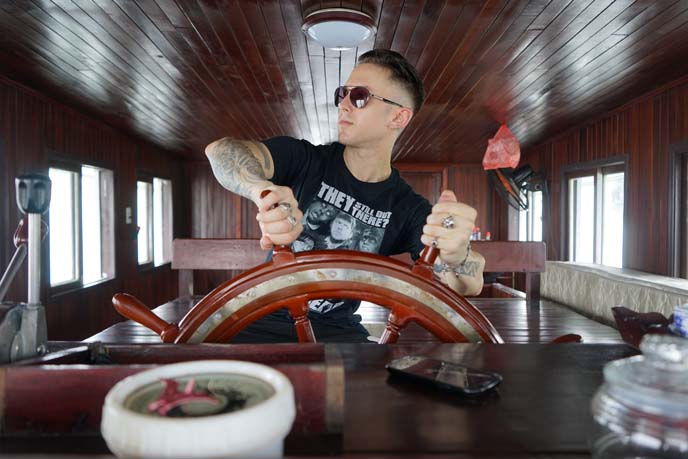 We continued to explore Halong Bay. Our boating adventure is among my favorite memories of the entire year.
Time to plunder the ship's seafood. Our crew helped us to grill fresh clams, prawns, sea snails and other delicacies of the ocean.
What a treat, to dine on fresh seafood while taking in these grandiose views of Halong Bay.
For a closer look at the grottoes, we piled into a kayak.
What can I say? It's an absolute dream to paddle right up to these mysterious islets, and duck through hidden tunnels that open into lagoons.
But let's give credit where it's due… John did pretty much all of the rowing work!
(Watch our Pirate cooking cruise in action, above and here in this video.)
Some visitors choose to stay overnight on a boat cruise. We chose to only do a day tour, and spend the night at the top-rated Halong Plaza Hotel. 
I was glad to sleep on a stable surface, and in a spacious room. We also enjoyed hanging out at the hotel's lobby bar, which offers a nice selection of cocktails.
Halong Plaza also had an impressive buffet breakfast, which was included with our stay. I tried the steamed rice noodles, a traditional way to start the day.
The restaurant also hangs garlic to keep vampires away!
John took a dip in the outdoor swimming pool. The large hotel also has a sauna and gym.
Our room had a magnificent view of the bay and bridge, which lights up with rainbow lights at night.
The manager took us to the rooftop — what a view!
For dinner, our guide took us to a classic seafood restaurant. As always, Vietnamese food was full of fresh, healthy flavors. We had soup with ginger and this small fish found only in Ha Long Bay. 
Then, we went to the Halong Bay night market to shop. The night market has a new location, with a modern setup.
The vendors sell everything from Vietnamese loose tea, to beaded Hello Kitty purses…
… to a stuffed goat head! Mr Skeleton shows his appreciation for the horned one.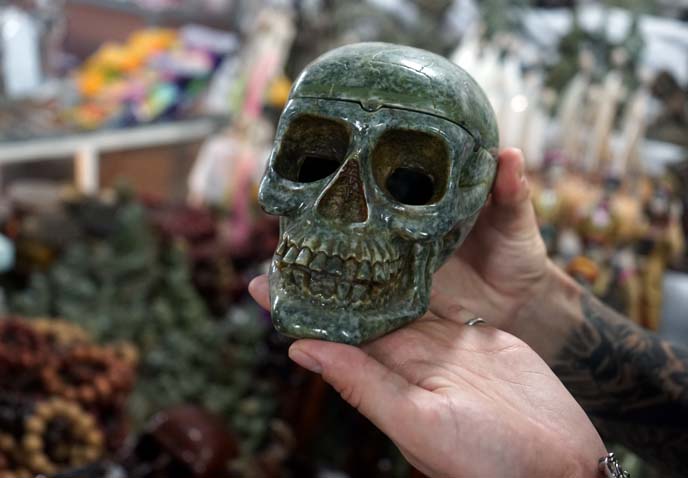 The goat was a bit too large to take home, so he decided on this green skull. Pop the top, and there's a space to keep treasures.
Thanks to Halong Plaza Hotel for the excellent service and big rooms. They're one of highest rated hotels in Ha Long Bay for a reason.
And of course, to our guides Vietnam Food Tour. Their Savor Vietnam package, which includes sailing around Halong Bay, let us see the best of Northern Vietnam.
Have my Vietnam travel stories convinced you to come here yet? If you have questions about traveling, or anything at all, please let me know in the comments!